We have driven in over a dozen countries and, as you probably know by now, Pauline and I consider a road trip the best way to experience the world. And in my opinion, right at the top of the best road trips in the world has to be an American Southwest road trip.
So we set out to create and experience the ultimate Southwest road trip itinerary. We had three weeks to drive it, covering around 1700 miles, and couldn't wait to get on the road.
I'm sure every one of them will have their own part of the USA they consider the best for a road trip but for us, a Southwest road trip has absolutely everything. So many incredible State and National Parks, a crazy range of spectacular scenery, unique wildlife, and lots of cool little towns with interesting histories and ridiculously over-the-top food.
Planning the ultimate Southwest road trip itinerary
After sitting down and discussing where we would most like to spend almost a month on the road it soon became apparent that the Southwest USA was topping both our lists. And while we had been to parts of the region before and loved every minute of it, it seemed that every Google search result that came up just added to the realisation that we had barely scratched the surface. Actually, we had barely gotten within scratching distance of the surface.
After a couple of weeks of research, the first draft Southwest USA itinerary was on the screen. A few weeks later and we had agreed on a plan and booked flights and cars. There would be some tweaking over the coming weeks, and there would even be some tweaking while we were on the trip, but things were looking good.
The first casualty of the tweaking was New Mexico. We had briefly visited Albuquerque and Santa Fe on a previous trip and had always said we wanted to go back. But once we discovered Moab and the amazing scenery on offer there, New Mexico had to be cut because of the additional driving time.
It's always difficult to drop a place that you already know you will love to fit in a place you have never been but new experiences are half the fun of travel. The plan was based around a few multi-day stays and lots of short(ish) driving days, with only a couple of days with long drives and potentially little of interest along the way.
We used the planning tips we wrote about in another post to help us put together what we believe is a sensational southwest road trip filled with so many amazing things along the way.
Southwest USA Road Trip Map
[put_wpgm id=5]
As mentioned above we would spend three weeks travelling about 1700 miles (2750 km) and visiting around a dozen National and State Parks. If it ended up being half as good as our research suggested then it would be a pretty awesome road trip.
We went to our usual sources and found some great value hotels and got an absolute bargain on an Alamo SUV through Discover Car Hire. We love using Booking.com because we can usually hold a hotel reservation while we plan everything knowing we can change without fees almost until the date of stay.
Top Tips for the Perfect Southwest Road Trip
Without a doubt, our top tip is to buy the Annual Pass for the US National Parks, or the America the Beautiful Pass as they call it. It cost us $80 but with all the Parks we visited it saved us about $150 more in entrance fees.
You may think there will be quite a bit of driving through boring desert landscapes but be sure to leave time to explore hidden gems. You will find them.
Save some money by booking hotels outside of town centres. You have a car so don't need to be right in the middle of the action.
Some of the driving legs will be quite long but never drive for more than two hours without a break. Fatigue is a killer and sneaks up on you.
Consider the time of year that you will be traveling. We did this road trip in February and March with unusually cold weather and more snow than expected. Some parts of National Parks were closed due to icy conditions.
Ultimate Southwest Road Trip Itinerary
The general overview
I find the toughest part of planning a road trip is fitting everything into the time available without spending all of your time stuck behind a steering wheel, or behind the other side of the dashboard if you are like Pauline and politely decline the opportunity to drive on the wrong side of the road.
Sometimes it feels as though you need the wisdom of Solomon to decide what to include and what doesn't make the cut. FOMO is a big factor and the goal is to come back excited about what you were able to experience rather than wonder if something you left out may have been better.
Using our usual planning method we started by making a list of all the things that we wanted to see before sorting them into two categories we call non-negotiables and bonuses.
Our must-see places on this road trip, the non-negotiables
We had whittled down this list to the following places that had to be part of this itinerary. They would be the points on the map that I would then connect in the most sensible way.
Saguaro National Forest – ever since I first saw a photo of these giants I wanted to walk among them.
Grand Canyon – we had been before but is Pauline's favourite spot in the world.
Meteor Crater – who doesn't want to see a big hole in the ground?
The famous corner in Winslow, Arizona – because it's part of Pop Culture.
Mesa Verde National Park – ancient cliff dwellings have to be on the list.
Arches National Park – we had been amazed by the beautiful scenery we had seen in photos.
Horseshoe Bend – one of America's iconic scenic views.
Antelope Canyon – every time we saw this place on Instagram we wanted to see it a little bit more.
Monument Valley – the epitome of the wild west.
Zion National Park – for some of the most beautiful scenery in America.
Things we hoped to include on this road trip, the bonuses…
we wanted to visit a ghost town or a town with a wild west past, so Tombstone was on the list.
eat at traditional diners along the way.
stay in an original Route 66 Motel.
to get as close to ski areas in the hope of catching some late Winter snow.
spot some interesting wildlife during the trip.
try new food and eat some better barbecue than we can get back in Australia.
allow enough time in the schedule to discover and explore hidden gems.
Starting as an Arizona Road Trip in Tucson
Day 1 – starting a road trip in Tucson
After all the planning had been done there was only one place that made sense to be the starting point for this epic Southwest road trip. Only one place that was home to one of our non-negotiables, close to one of our bonus places, and the clincher, it would not have fit in at any other stage of the trip.
That place was Tucson, Arizona which is home to the Saguaro National Parks and close enough to the infamous town of Tombstone. We would also get our first chance to get into some American food.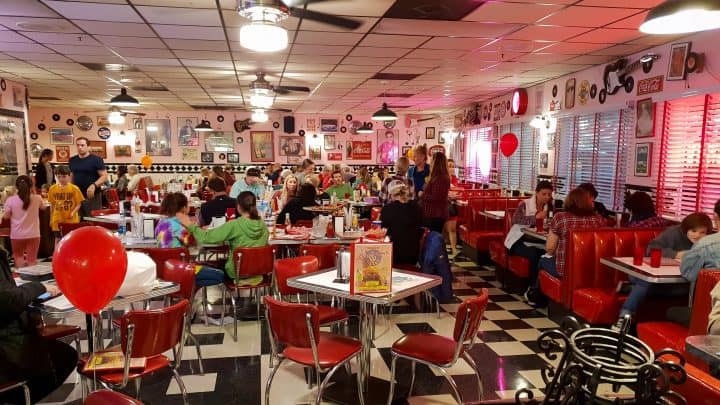 Today is just about arriving in Tucson, getting your car, and having a look around town if you arrive early enough.
Where to stay and eat
We had two nights at the Quality Inn Flamingo which was comfortable, clean, and well-located for everything we planned to do in Tucson. It is rated a little under our usual cut-off score but options were limited due to events happening in town at that time.
The first night we found a highly rated Diner which ticked another of our bonus items off the list. Little Anthony's Diner is a great 50's style restaurant that really puts you back in that era. And the crazy milkshakes should be on your order for sure.
Day 2 – a day trip from Tucson
Driving distance 180 miles (290km)
Day two and things are really starting to feel like a road trip. We begin by heading out of town to see what the Old West might have been like at the infamous Tombstone, Arizona.
A bit of sightseeing there in the morning before heading back to Tucson via the impressive Pima Air and Space Museum, before sharing a sunset with some of the spiky giants at Saguaro National Park.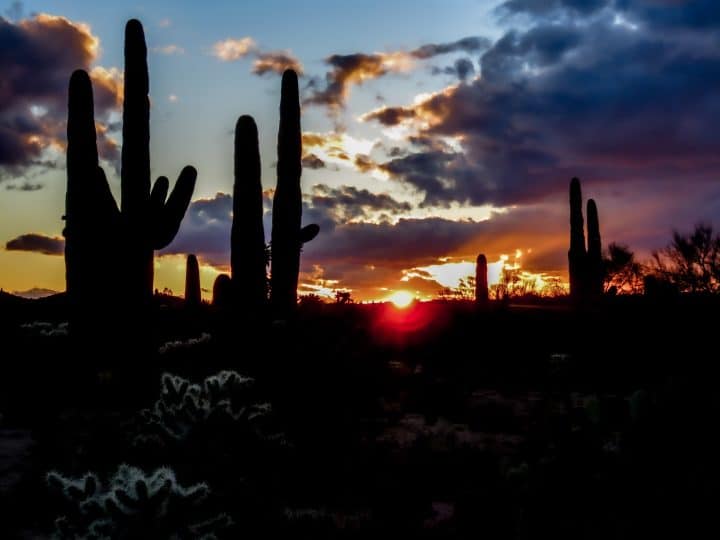 Highlights
Take a round trip to the Wild West with a drive to Tombstone and back. This town is a piece of living history, part movie set, and part operational town. Most of the town is free to explore but some activities have a fee.
On the way back to Tucson anyone with kids or aviation buffs should call in at the Pima Air and Space Museum which has a massive collection of decommissioned aircraft and many other exhibits.
Sunset of Saguaro National Park East. This side of the Park is less hilly than the Western side which gives you a better chance of catching the sun setting close to the horizon rather than losing it high behind mountains. Find a spot on the loop road, sit back, and watch the silhouettes of Saguaros against a colourful sky.
Where to stay and eat
Another night at the Quality Inn Flamingo which was better than we expected and good value for money.
Tonight we just wanted a quick feed and chose a very highly-rated burger place called Serial Grillers. The burgers were very good but for me didn't live up to the hype. Some really good burger ingredients though.
If you get a chance and can fit in another meal at some stage I suggest finding one of the many places that serve Sonoran Dogs. This local variant of the traditional Hotdog takes it to a new level with a bacon-wrapped dog topped with pinto beans, onions, tomatoes, and a variety of additional condiments.
Day 3 – driving from Tucson to Phoenix
Driving distance 130 miles (210km)
Start the day with a visit to Saguaro National Park West and maybe some hiking. Don't be put off by that term as you can make it as strenuous as you choose. We climbed the David Yetman Trail which rewarded us with beautiful views across the city in one direction and over an actual forest of Saguaros in the other.
You can't make a Southwest USA itinerary without seeing Saguaros, so we took our time exploring this unique area as we didn't expect much to do or see for the remaining drive to Phoenix. There is a very good Shopping Outlets Mall just before you get to Phoenix which is worth a visit if you are in need of some retail therapy.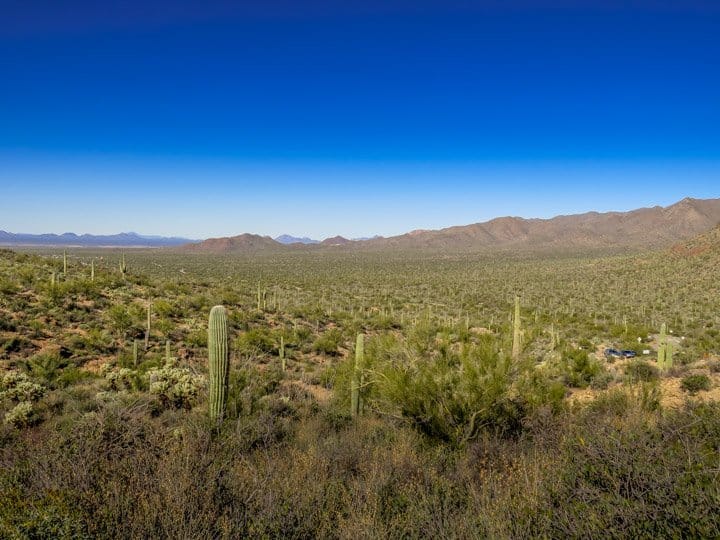 Highlights
The western side of Saguaro National Park, and the adjoining Tucson Mountain Park, has many more cacti than the eastern area and they also look a lot more mature and bigger. A few hours here exploring was a unique and memorable experience well worth the effort.
Where to stay and eat
Unfortunately, I made a terrible decision on accommodation in Phoenix after putting price as the primary factor. We had two nights in the Motel 6 in Tempe which now rates among the worst 5 places we have ever stayed anywhere in the world. As I stated in my review of this dreadful place online "If this is the only hotel you can afford in Phoenix then stay home or sleep in your car".
On a previous trip we had been lucky enough to stumble upon an absolutely amazing barbecue place in Phoenix and our luck remained as we were able to visit Bobby Q Barbecue again. This highly-rated place should be at the top of your to-do list next time you come to town.
Day 4 – explore Phoenix for the day
Driving distance 20 miles (30km)
The capital city of Arizona has plenty of options when it comes to finding ways to fill in a day. We spent most of our time wandering around the shops in Old Town Scottsdale, which is a fun and relaxing way to kill a few hours.
Options range from stand-up paddleboarding to hot air ballooning, through to cycling tours or hiking. Or you can just wander around and make your own food tour which might be interesting, and tasty.
Heading North on the Arizona Road Trip section
Day 5 – the scenic route to Sedona
Driving distance 165 miles (265km)
After spending a couple of nights in Phoenix we continue north for a couple of days in one of the most scenic places we had ever stayed in the USA, Sedona. Home of the Red Rocks, wall-to-wall psychic readers, and rattlesnake sausages.
Since the previous days driving had been pretty uneventful it is a worthwhile option to get off the main highway and take the more scenic route today. After all the best parts of any road trip are often the unexpected things you find along the way, and not many of them are found on the highway.
We recommend taking State Road 87 through the Tonto National Forest for a peaceful drive surrounded by thick forests that open up to beautiful sweeping views down through the valleys. And, if you time it right, quite a bit of snow which makes it even more enjoyable.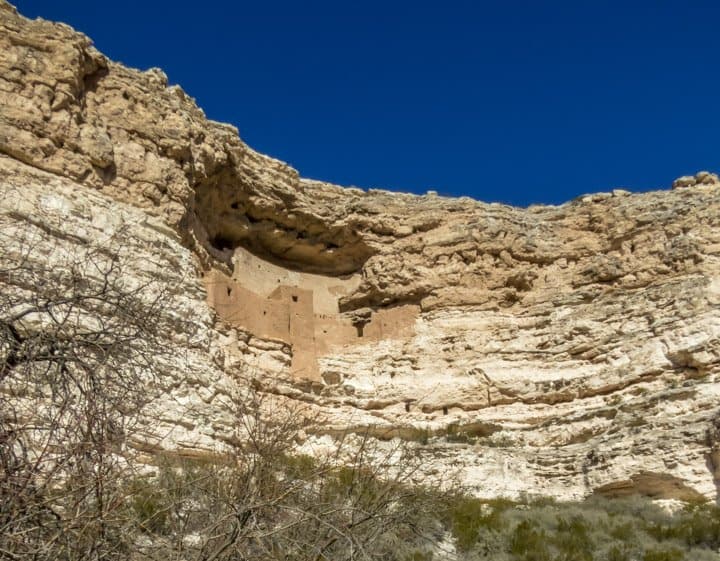 Highlights
Tonto National Forest is a beautiful and peaceful alternative to speeding up the I-17.
Montezuma Castle is found just a few miles from Camp Verde near the intersection of the I-17 and State Road 87. The cliff dwellings here are a reminder of just how advanced and innovative people were many hundreds of years ago.
The nearby Montezuma Well is a huge limestone sinkhole fed by underwater springs and also has a small cliff dwelling built below the rim. It dates from the same period as the Castle.
Where to stay and eat
We decided to stay a few miles from Sedona town centre due to limited availability and high prices for accommodation in town. When you have a car this can be a great money-saving option. We stayed at the Wildflower Inn at Bell Rock which was perfect for our needs and budget.
After arriving late we took advantage of the range of hot food options at most of the major supermarkets. Fried chicken and apple pie filled the gap.
Day 6 – what to do in Sedona, Arizona
Driving distance 50 miles (80km)
Our previous visit to Sedona had been hampered by rain and so we took advantage of the cold but dry weather to take an easy drive around the sights and have some time walking through the rocks.
Start the day early, really early, and catch a sunrise at Courthouse Vista which is just a mile or two from the hotel. I found myself totally alone with nature watching a sensational sunrise with nothing but the occasional bird chirping. What a way to start a day.
One of your first stops of the day should be at the Sedona Visitor Centre to grab a map of the best-known sites around the town. You can also get special GPS units that are preloaded with additional tourist information about each of the highlight sites.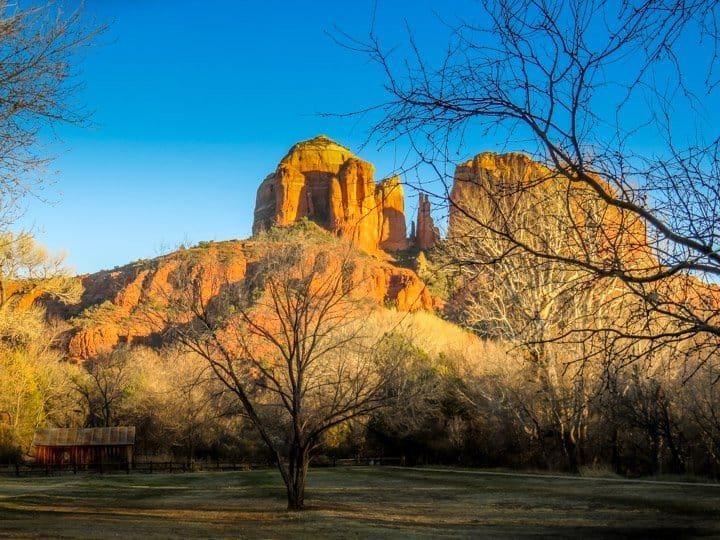 Highlights
Watch a sunrise surrounded by some of the country's most remarkable scenery.
Take the time to hike through the landscape and also time to just sit and take in the surroundings. Many people claim this is a place of great spiritual energy so relax and see if you get the healing effects.
Visit the Red Rock State Park for some riverside walks and incredible views of Cathedral Rock. Don't be surprised to see quite a few photographers hanging around, it's that type of place.
Catch a sunset at one of the recommended places around town. Airport Mesa seems to be the pick of the bunch and is a place you should visit at least once during your stay to witness its sweeping panoramas from one of the highest points in the area.
Where to stay and eat
Another night at the Wildflower Inn at Bell Rock
We had an impressive dinner at the popular Cowboy Club in the town centre on the second night where we ticked off another bonus item and got to try Buffalo kebabs, Cactus fries, and Rattlesnake sausages. Two of the three were amazing and the Agave Margaritas were delicious and sweet.
Liking this article? Please Pin it!
The Grand Canyon, Route 66 and crossing borders
This stage of our epic Southwest road trip would see us ticking off three of our non-negotiables but also includes some of the longest, and potentially dullest, driving days.
Day 7 – driving to the Grand Canyon South Rim
Driving distance 120 miles (185km)
The drive north out of Sedona is chock full of beautiful scenery but unfortunately for the driver, there are a few spots where you need all your concentration firmly focused on the road ahead with nowhere to stop and take it all in. So when you do find somewhere to stock and look around, stop and look around.
Drive north until you hit the I-40 and take a left. You will find a few parts of historic Route 66 running beside the Interstate so whenever you see there is a town along the old road take some time to pull off and have a look. Why go to Route 66 if you don't get the full experience?
Take the turn right to Tusayan and it is straight through to the Grand Canyon. While it is undoubtedly one of the trip highlights don't push to get there too early in the afternoon. The hour before sunset and the hour after sunrise are the best times to get the full glory if possible.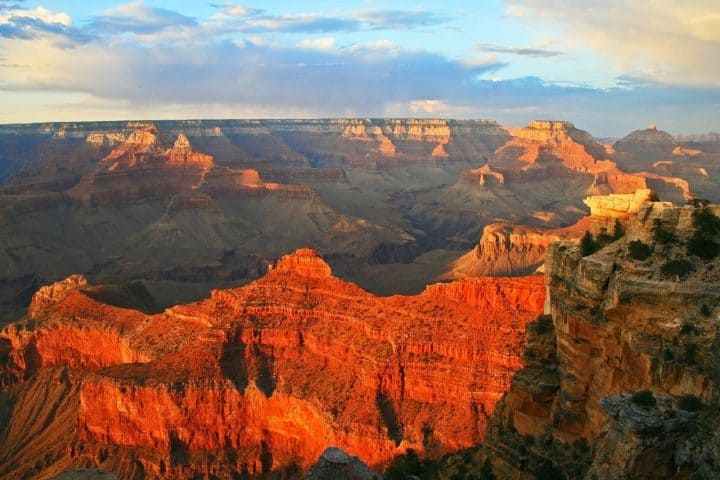 Highlights
Slide Rock State Park is your chance to experience something very different and the name pretty much sums it up. Natural rock slides down the river making it a perfect summer option. Unfortunately it was closed due to icy conditions when we drove past.
Get off the Interstate and drive as much of the original Route 66 as you can find. Help keep the dream alive.
Sunset is the perfect time to experience the majesty of the Grand Canyon. Watching the shadows claw their way across this vast chasm is one of nature's greatest spectacles.
Where to stay and eat
Tusayan is the place to stay if you want the best balance between cost and location. There are limited options inside Grand Canyon National Park but expect much higher prices.
After spending sunset at the edge of the Canyon you are probably more interested in bed than food, but you will find a couple of options mainly at the Hotels.
Day 8 – meteors, pop culture, and more of the Mother Road
Driving distance 200 miles (320km)
Instead of backtracking to the Interstate head back into the National Park and exit to the east heading toward Cameron. You will find plenty of spots to see some smaller parts of the Grand Canyon but without any crowds.
Once you get to Cameron turn right and keep going until you intersect with the I-17, or Route 66. Stop off in another of the towns mentioned in the getting your kicks song, Winona, for some food or just to stretch your legs.
Once you are back on the road heading east you will be on the lookout for signs pointing you to Meteor Crater. It's about halfway between Winona and Winslow and a place you have to stop and see for yourself.
Something completely different after this as you make a brief stop in Winslow to immerse yourself in a very famous piece of pop culture. For it is here that you have the chance to be Standing on the Corner in Winslow, Arizona as the Eagles did a few decades ago.
It seems like such a random place for such fame and doesn't seem to have much more to offer but you have to stop there. After all, it's probably the greatest pop culture stop on any Southwest USA itinerary.
Continuing on you will make your way to the destination for tonight, another town that seems to have very little going for it except some old-school Route 66 flavour still alive today. Tonight we stay in Holbrook.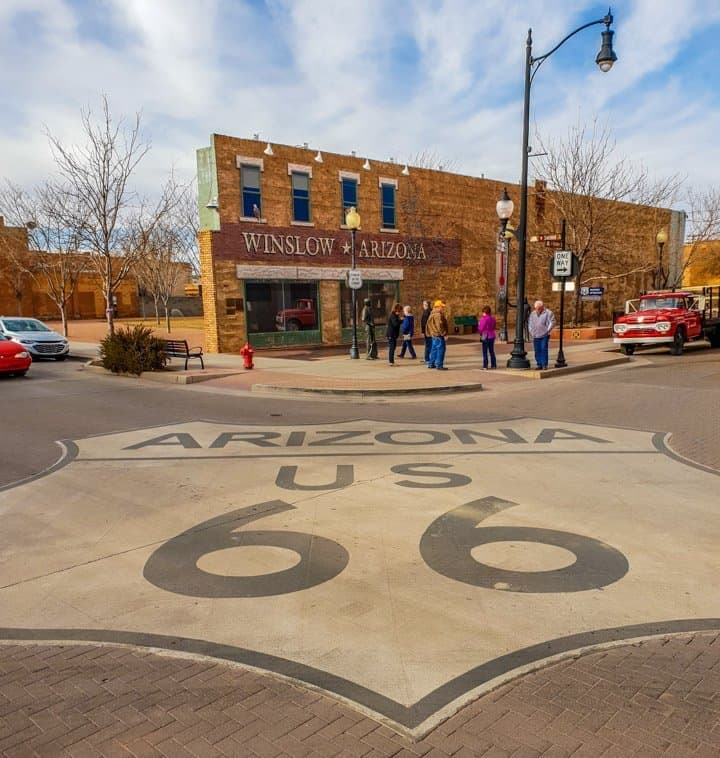 Highlights
take time to see more of the Grand Canyon as you exit the National Park to the east.
visit Meteor Crater and see for yourself the massive damage that is caused when a space rock actually scores a direct hit on Earth.
Get touristy and have your photo taken on the most iconic small-town corner in America at Winslow, Arizona.
Stay in an original Route 66 Motel and eat at an old diner in Holbrook.
Where to stay and eat
If you are a massive Route 66 fan Holbrook is the place to spend a night in the original Wigwam Motel although be warned it is in a pretty sad location and looks extremely tired.
We stayed at the 66 Motel which was in a quieter location and looked quite a bit more appealing than the Wigwam. It also filled our hope of staying in an original Route 66 Motel.
It doesn't get any more original than Joe and Aggie's Cafe in Holbrook. This Diner has been in the hands of the same family since 1946 and is almost more museum than Diner. It's too authentic to pass up.
Day 9 – three states in one day
Driving distance 230 miles (370km)
On paper today is one of the longest and least interesting driving days of the whole road trip but at least there is some interesting scenery along the way. Remember to do everything you have to so fatigue does not sneak up on you.
On the outskirts of Holbrook is one of the most underrated National Parks we visited on this road trip, Petrified Forest National Park. Most of the photos you find Googling this place show little more than bits of trees that have been turned to stone but this Park is so much more than that and should be your first detour of the day.
Don't worry, it's not really a detour as you can drive from one end of the park to the other and it pretty much runs beside the highway so you don't have to double back. After that, you are back on the main road continuing east.
Pretty soon you will be crossing the border and coming to another of the towns listed in the Route 66 song, Gallup New Mexico. Start heading north from there until you hit the Colorado border, and then keep going to tonight's stop, Cortez.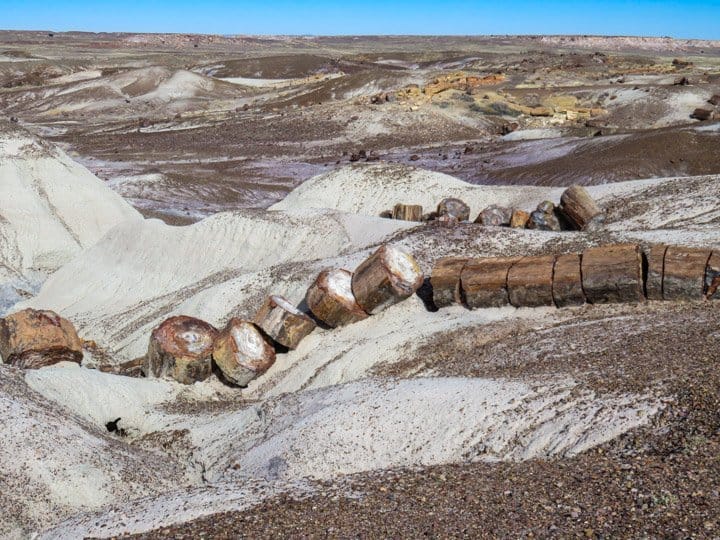 Highlights
The Petrified Forest National Park will have you wondering if it really exists as you see a totally different-looking landscape around almost every corner. We were going to bypass this as it looked boring but ended up being one of the biggest surprises of the trip.
Where to stay and eat
Our hotel for the next two nights was the Super 8 by Wyndham which was clean, comfortable, well located, and had a good breakfast included which is always a pleasant bonus in our book.
Gallup was timed perfectly for a slightly late lunch and you will see plenty of signs on the way in shouting about the famous El Rancho Hotel. This place is a beautifully maintained place that used to be the temporary home for any Hollywood stars shooting one of the many films made in this region. They do some good food as well.
After a long day on the road, tonight's dinner was to be simple and eaten while resting on our hotel bed. The large local supermarket almost directly across from the hotel had a great range of tasty hot food which fit the bill perfectly.
Three days and three National Parks
After a couple of long driving days, today gives you the opportunity for less time behind the wheel and a lot more time rubbing shoulders with Mother Nature. There will still be some driving but this time it's worth the effort.
Some amazing historic sites and a couple of the most stunning National Parks in the country make this section one of the highlights of this southwest road trip.
Day 10 – what to do in Cortez, Colorado
Driving distance 60 miles (95km)
The focus today is on visiting one of the most remarkable ancient places in the United States, Mesa Verde National Park not only for some beautiful scenery but to see and explore the Ancestral Puebloan cliff dwellings throughout the Park.
If that doesn't keep you amused for the full day you can backtrack and drive to the Canyon of the Ancients National Monument which covers an area that contains more than 6000 documented ancient sites.
After you have had enough exploring, or more likely after you have run out of time, head back to Cortez for another night and a dining surprise.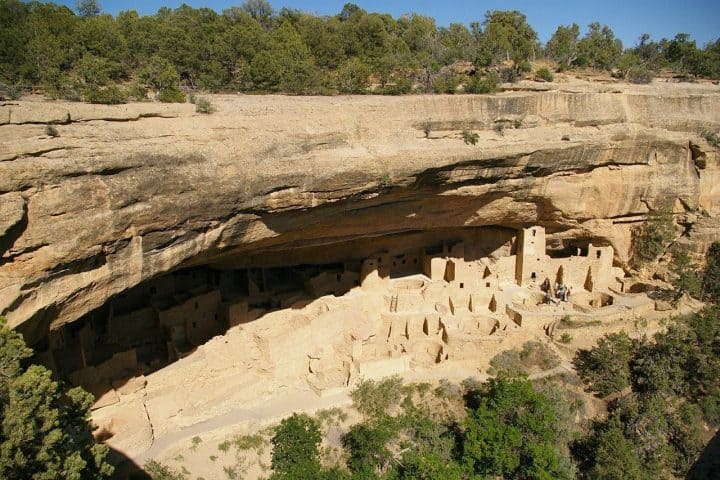 Highlights
Mesa Verde National Park not only has some stunning panoramic views but is home to an unbelievable collection of cliff dwellings, most notably the huge Cliff Palace. Some of the sites are only able to be explored as part of a Ranger-led tour which can be arranged at the Visitor Centre.
Canyon of the Ancients may not have the wow factor of Mesa Verde but for anyone interested in history or that just loves experiencing beautiful places, it is somewhere you should find a little to visit.
Where to stay and eat
Back for another night at the Super 8 by Wyndham.
Dinner tonight at La Casita de Cortez for what we say is the best Mexican food we have eaten outside Mexico. This cosy little place is within walking distance of the hotel and serves up authentic food at very reasonable prices.
Day 11 – driving to Moab and sunset under the Arches
Driving distance 130 miles (210km)
We leave Cortez today but the scenery level, even though Mesa Verde had pushed it pretty high, is about to go through the roof as we make our way to Moab, Utah. Only a reasonable amount of driving today and huge rewards for your effort lay in wait.
We begin the morning heading north and have the option of a short detour if you are in the mood for some more impressive Indian ruins. Take a left at the wonderfully named Pleasant View and follow the road and signs to the Lowry Pueblo.
Whether you decided on this option or not continue on until you reach Monticello where you make a right turn onto Highway 191. About 20 miles or so along you will see the intersection with the 211 and signs pointing to Canyonlands National Park.
This is the southern section of the park and you should venture in to see one particular point of interest, Newspaper Rock State Historic Monument. Leave the rest of Canyonlands for tomorrow and head into Moab.
One more stop along the way at Wilson's Arch gives you a glimpse into the awesome rock formations you will see later. When you arrive in Moab check into your hotel first as you are heading off to see another sunset, this time among the massive rock formations in Arches National Park.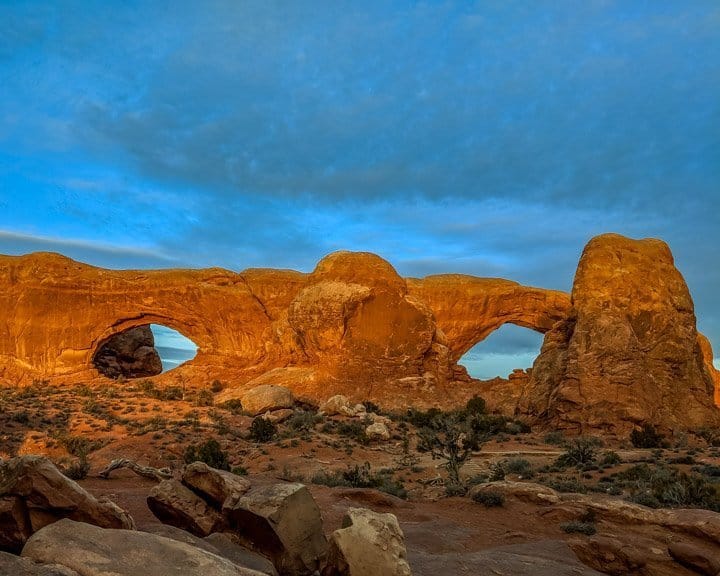 Highlights
Lowry Pueblo is the ruins of an ancient village dating back almost 1000 years. It is a great example of communal living from this era.
 Newspaper Rock State Historic Monument is considered a piece of living history. It is covered with Petroglyphs that date back as far as 2000 years.
Wilson's Arch is one of the few of these incredible rock formations outside of the National Parks, actually, it is right beside the road and as impressive as any of the others you will be seeing.
Arches National Park not only contains some of the most famous natural rock arches in North America but so many more unbelievable formations. There are many great spots for watching or capturing a sunset in this Park.
Where to stay and eat
Once again we found a great place to stay in a central location which is perfect for visiting the National Parks. The Adventure Inn at Moab had everything we could want and more for a great price. We rated it at 9.6 on booking.com!
It was getting late when we got back into town after watching the sunset so another easy takeaway dinner made sense. Good decision as we ended up with the best burgers of the entire road trip at Milt's Stop and Eat. A buffalo meat cheeseburger and a BBQ brisket cheeseburger… amazing.
Day 12 – too much scenery for just one day
Driving distance 50 miles (80km)
Start the day by heading north on the 191, past Arches National Park, until you get to the 313. There is an interesting little Dinosaur place on the corner called Moab Giants which is worth a quick look if you like that kind of thing.
The 313 takes you into the top half of Canyonlands National Park which is where you will spend the majority of the day. There are plenty of spots to stop and try to take in the enormous vistas on display and you will be returning on this same road.
On your way back to Moab turn left immediately after crossing the Colorado River and follow the road along the river's edge. It is a peaceful drive with some lovely scenery but be sure to turn around when you have had enough because it continues on out of the area.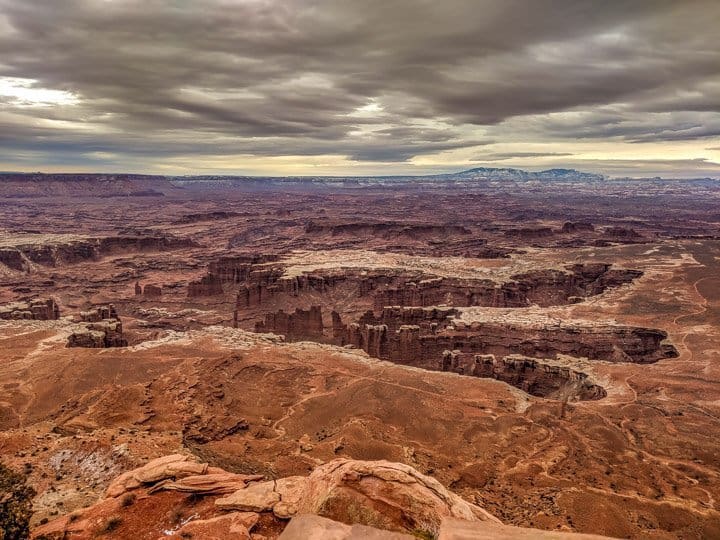 Highlights
Canyonlands National Park is a lot like a dozen other Parks all rolled into one super Park. There are so many contrasting landscapes and views to the horizon, canyons, arches, and so much more. You easily spend a couple of days in this place and still want more.
Colorado River driving on the 128 gets you up close and personal with the landscape, as opposed to the vast areas in Canyonlands.
Where to stay and eat
Another night at the Adventure Inn at Moab.
Time for some more barbecue tonight so head on over to the Blue Pig BBQ and Blues Joint. It may not reach the lofty heights of our dinner at Bobby Q in Phoenix but is still home to some pretty tasty barbecue offerings.
Driving through the iconic Wild West
What is the first thing you picture when people mention the "Wild West"? I mean the landscapes and not the Cowboys or Indians. I imagine most people conjure up the iconic images so often seen in the old Hollywood Westerns, and most likely it is an image of Monument Valley.
We might only have one night in the region but in all honesty, that is plenty of time to take it in and move along. In photos it may look like Monument Valley goes on forever but in reality, the parts of the Park that you can visit and explore can be easily covered in less than one day. But that doesn't mean you shouldn't experience it.
Day 13 – in the footsteps of Forrest Gump
Driving distance 150 miles (240km)
Get an early start today so there is enough time this morning to have another look around your choice of Arches or Canyonlands National Park. There were a couple of interesting parts of Arches that we missed when we arrived so we headed back to check them out before leaving Moab.
Once you leave you will be heading south for one of the few times on this itinerary where you will backtrack, past Wilson's Arch again and all the way back to Montecito. From here you are back in uncharted territory, for you anyway.
Stop off in Bluff and have a look through Bluff Fort. It's a bit of fun and an interesting insight into life back during the Indian Wars. Speak to the passionate people inside the information centre and take some funny photos inside the Fort grounds.
Shortly after you drive through Bluff the 191 turns off onto the 163, which you follow until you see the signs for Gooseneck State Park on the right-hand side. It's a bit harsh that they charge to get in but for about $10 you will get a view that is arguably twice as good as the more famous Horseshoe Bend
Stretch your legs, admire the views, and snap off a few piccies before getting back on the Highway. Not much further down the road you will get to a little place called Mexican Hat, stop and look around and find the unusual rock formation that gives this place its name.
You are now driving toward the iconic Monument Valley, but before you get there keep your eye out for another very famous piece of pop culture. You will see one of the most amazing road trip views in the distance, and a small sign stating "Forrest Gump Point". Stop here and see if you can work out how it got its name.
From here it's time to head to tonight's accommodation. If there is still time find a spot to watch the sunset at Monument Valley, but if you are arriving too late for that get some dinner, then have an early night before rising early for an awesome sunrise.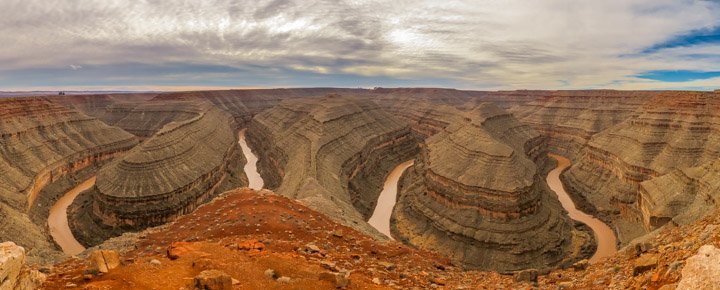 Highlights
Bluff Fort is an interesting stop to find out about life in the true "Wild West".
Gooseneck State Park is one of the few places you will see a double bend in the Colorado River from a single viewpoint. If you think Horseshoe Bend looks amazing then imagine two of them side by side.
Mexican Hat is named after a local rock formation that not only looks the part but seems to defy gravity. You only need 10 minutes but worth stopping for a look.
Make sure to get your tourist on and recreate the famous scene from the movie at Forrest Gump Point.
Look for a great spot to watch the sunset at Monument Valley if time and weather allow.
Where to stay and eat
Have a night where the Hollywood Stars of yesteryear stayed at Goulding's Lodge. It may have been over our usual accommodation budget but for the history and a location that simply can not be beaten, well worth splashing out a few more dollars.
Options are very limited in this area but luckily the restaurant at Goulding's has good food at surprisingly reasonable prices, especially considering they almost have a monopoly.
Day 14 – time to turn the Page
Driving distance 125 miles (200km)
Whether you watched the sunset across Monument Valley or not, do your best to watch the sunrise this morning, even if it's from your balcony at Goulding's Lodge. You can then have a look around the Hotel grounds and find the buildings and sites used in the movie Stagecoach with John Wayne.
Car packed and it's time to drive the loop road among the giant Buttes of Monument Valley. You can catch some good views from near the Information Centre, and watch all the Instagrammers jostle for position and strike unnatural poses but the million-dollar views are found deeper in the Park.
Unless you plan on hiking through the Valley you will only need three or four hours to take in the splendour of this majestic landscape, leaving you plenty of time for the drive to our next destination.
Follow the only road out of there and drive until taking a right at Kayenta. There are plenty of signs pointing the way to Page / Lake Powell so watch for them and the turnoff to the 98 which will take you right through to Page.
Have a bit of time off this afternoon and wander around town. They have some really interesting food options in town and now is the perfect time to get your bearings. The next two days will be big!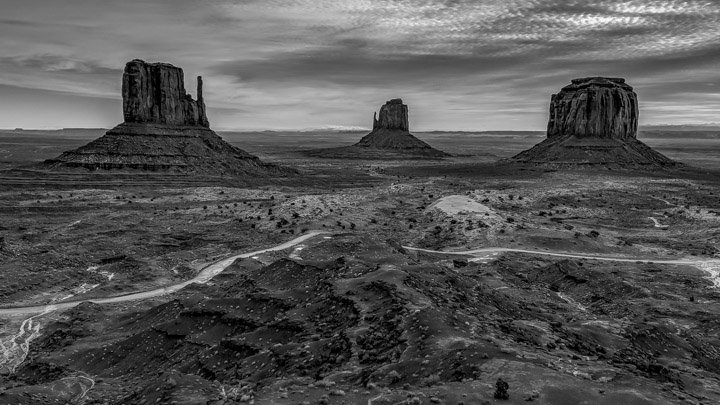 Highlights
Sunrise at Monument Valley is something you will remember forever, even better if you can capture some great photos to sharpen the memories. *You will have views from your Hotel balcony which are really good but closer to the action is always a better option.
Take a slow drive around the Monument Valley Loop Road, it's not that long and you are in no hurry so stop every chance you get and take in one of the world's most amazing places.
Where to stay and eat
This is the longest stay in the one place on this itinerary and luckily we found an absolute gem of a property for our three nights. The Best Western Plus at Lake Powell was excellent in every way, so much so that we gave it an extremely rare rating of 10 on Booking.com.
We were looking for another simple and cheap meal today and found the highly-rated Birdhouse just up the road from the Hotel. Don't be fooled by the limited menu at this place, I know it's a big statement but this is hands down the best fried chicken I have ever eaten. So good we went back two nights later.
Liking this article? Please Pin it!
Where everything is ready for the 'Gram
No long-distance driving for the next couple of days as we settle in to explore what Page, Arizona has to offer. While you may not remember this town's name I would bet my house on you having seen photos of plenty of the highlights to be found in this area.
Even with the three nights we are here being the longest stay in one place during this epic southwest road trip, this is a location that could easily hold your attention for twice that or longer.
The itinerary for the next two days is totally interchangeable and will depend on when you are able to book some of the attractions. In the peak period we strongly suggest pre-booking your Antelope Canyon tour.
Day 15 – the black lake in the desert
Driving distance 65 miles (100km)
The plan for today is quite leisurely so if the past two weeks are starting to catch up with you it might be your chance for a bit of a sleep-in. Once you are ready to face the world take the short drive to Antelope Point.
There is an Information Centre on site where you are able to hire boats or book tours on the beautiful Lake Powell. For those of you more interested in staying on dry land follow the signs to the nearby Antelope Point Boat Ramp, then take a right onto the dirt road just before the ramp itself.
I expect this cool little beach area would be packed when the weather heats up, especially on weekends, but at any other time, it is a perfect spot to take in the amazing contrast between the red shore and the black water. The sound of the millions of tiny shells vibrating in the wind here is quite strange as well.
There are plenty of places around the lake for stunning scenery and to capture some beautiful shots of this desert oasis but note that some of the most amazing parts are only accessible by boat.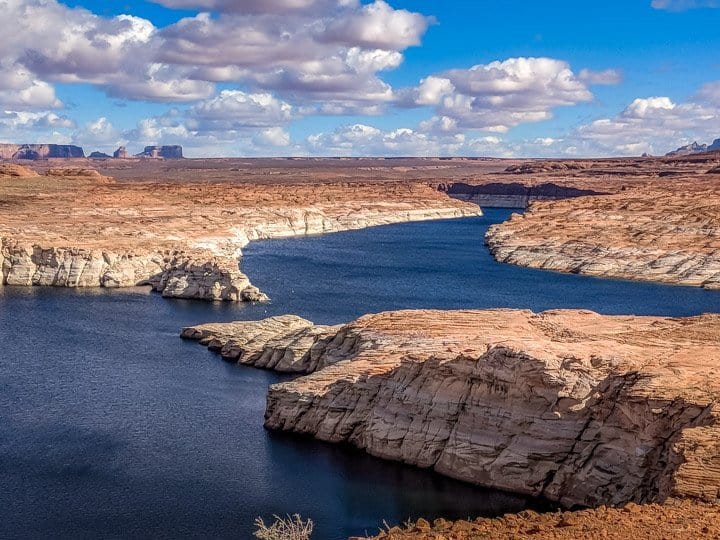 Highlights
Lake Powell is the star of the show today. The contrast between the black water and the red and white landscape is truly stunning, while the distant mountains complete the scene in what is the perfect photographic subject.
Where to stay and eat
Continue your stay at the excellent Best Western Plus at Lake Powell for two more nights.
For dinner tonight try something with a bit of local flavour. Right around the back of the hotel, you will find a steakhouse called Steer 89, where you can get a delicious Navajo taco and some really good chicken wings. Prices are pretty reasonable as well.
Day 16 – the Antelope and the Horseshoe
Driving distance 50 miles (80km)
Today is the day when you can capture enough images to fill your Instagram feed for the next few months, or if you're not social media obsessed, it is a day when you will visit the locations of two of the most photographed landscapes in the world.
The day begins with a short drive to Horseshoe Bend to fight with the inevitable crowds for the perfect spot to view this looping canyon and the river at its base. Don't be deterred by potential crowds as is it still a beautiful sight to behold, and be prepared to watch dozens of idiots posing too close to the edge for that "perfect" shot.
Some people say sunrise or sunset is the best time to catch this scene but I disagree. The surrounding area is so flat that when the sun is low on the horizon there is very little light inside the canyon. Early morning, after the sunrise hunters have gone, is my pick for the best time to visit.
Why? Fewer people around and more light in the canyon creating some nice shadows on the walls.

The afternoon takes you a few miles further up the road as you make your way to Antelope Canyon. There are a number of Canyons each with their own company running tours, some you meet on-site and others pick you up from in town. Be sure to check the arrangements with your tour company.
You will find tours to Upper Antelope Canyon, Lower Antelope Canyon, and Antelope Canyon X, and each of them is slightly different, run by separate companies, but equally as amazing.
These Slot Canyons have absolutely stunning rock formations featuring incredible swirling patterns on the walls. We chose Antelope Canyon X as it is a newer operation with fewer people on each tour, meaning some nice photos without 20 people in the way.
Finish the day with another quick takeaway meal and back to your room to go through the hundreds of beautiful photos you have just taken.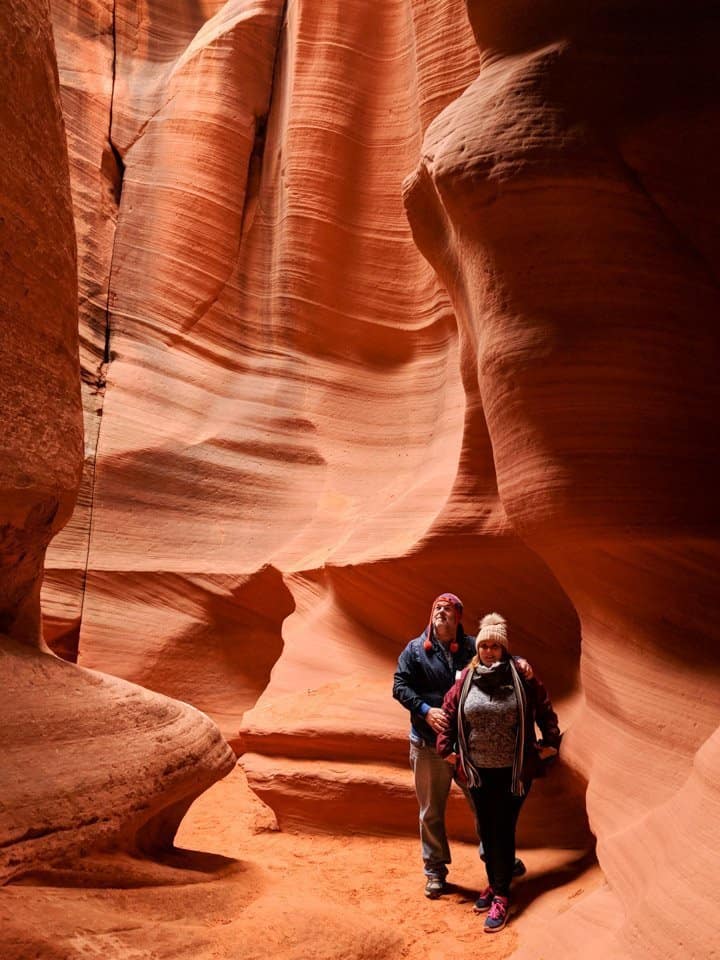 Highlights
Horseshoe Bend is one of the most photographed sections of the Colorado River and a hotspot for Instagrammers. Don't let that put you off as it is more than impressive to see in person.
The Slot Canyons at Antelope Canyon have to be seen to be believed. It is easy to look at the many photos online and think they have been heavily edited but walking through these caves is an unforgettable experience.
Where to stay and eat
We have our final night at the great value Best Western Plus at Lake Powell.
Another quick dinner tonight and it's back for more of that sensational fried chicken we had on the first night here. So head back to the Birdhouse or try one of the barbecue places in town if you crave some more smoky meat.
The scenic route to the bright light city
Over the next few days you will see some weirdly alien landscapes, visit one of the most beautiful National Parks in the USA, and discover a hidden gem just outside Las Vegas. It's a diverse group of experiences with something for everyone along this section of our Southwest USA itinerary.
Day 17 – dinosaurs and toadstools
Driving distance 80 miles (130km)
Start your day with some more lakeside exploration by driving across the dam and seeing the area from a different perspective. There is a road that takes you along the water's edge all the way to Wahweap and the Lake Powell Resort and Marina, which has some incredible views to the horizon.
At the Highway 89 intersection turn right and head north until you get to a very small town called Big Water. The Big Water Visitor Centre on your left is an interesting place to stop for information on local dinosaurs including fossils from the area.
Our last stop on the way to tonight's destination gives you a chance to stretch your legs and go on a 1.5-mile easy-to-moderate hike to some of the strangest rock formations you are likely to see anywhere, the aptly named Toadstool Hoodoos.
End your day in Kanab and plan for an early night to be well-rested for a big day tomorrow.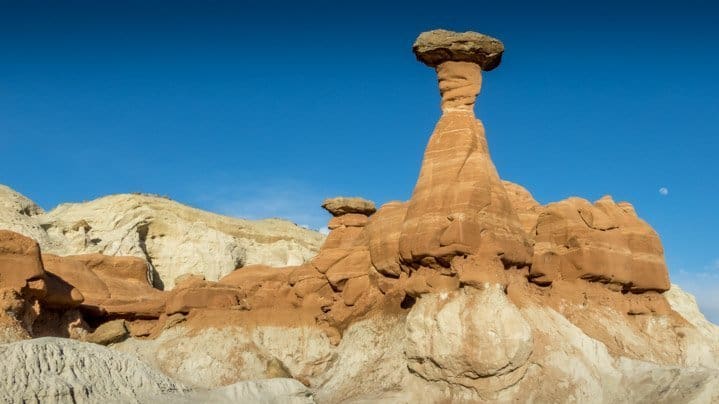 Highlights
Massive views across Lake Powell that seem to go on forever.
Talk with the well-informed staff at Big Water Visitor Centre about the local dinosaur history.
Get up close and personal with some of the strangest rocks you may ever see.
Kanab is a great town to wander the streets and explore. They have a long and proud history with Hollywood movies filmed in the area and have signs detailing that history along the streets.
Where to stay and eat
A few good options for your night in Kanab and we stayed at the Rodeway Inn. This was an average budget offering and decent value for money but we probably could have done better.
We felt the urge for more Mexican food and found a highly-rated place called Escobar's which had excellent food and was well-priced.
Day 18 – the mountains at the end of the desert
Driving distance 100 miles (160km)
The earlier you get on the road this morning the more time you have to explore the beautiful wilderness area that is Zion National Park. Head north on Highway 89 until you hit Mt Carmel Junction, where you will make a left and head into the National Park.
Call in at the East entrance Ranger Station for more information about the Park and then sit back and enjoy the scenery, unless you are driving of course. There are a number of places to pull over so that you can take it all in, and plenty of hiking trails of all levels.
The road does not double back and will eventually meet up with the Interstate which leads you into St George, Utah for the night.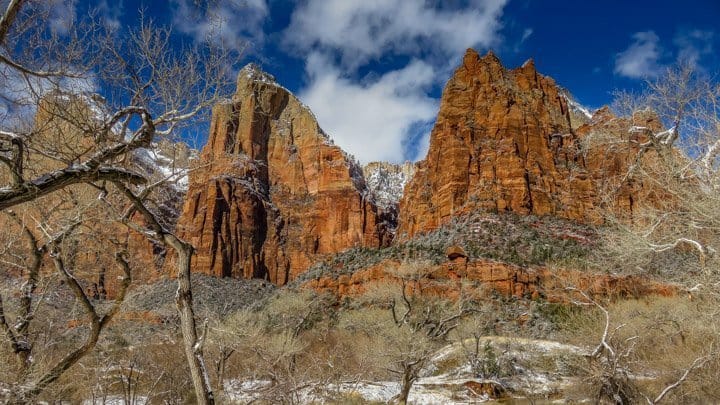 Highlights
Zion National Park is not only the highlight of the day but rates right up there with the top highlights of this entire southwest road trip itinerary.
Where to stay and eat
The Inn at St George was located in the perfect spot to have easy access to some good restaurants but was only average in every other aspect. We would choose a different Hotel if we were to book again.
Something different for dinner tonight so head to the Pasta Factory which is almost right beside the hotel. Excellent pasta including a Szechuan Chicken pasta which sounds terrible but is weirdly delicious.
Day 19 – a day of fire and lights
Driving distance 150 miles (240km)
Today we head to a desert oasis of a different type, the neon capital of the world, Las Vegas. And what appears on the map to be a fairly straightforward and even dull drive does include one of the hidden gems we stumbled upon during this trip.
Just over halfway to Las Vegas you will start to see signs for Lake Mead and Valley of Fire State Park, take the left turn onto 19, and keep following the signs. Valley of Fire is a totally unexpected collection of otherworldly landscapes you could imagine. No wonder so many movies and TV shows have been filmed here
It is a State Park so your National Park Annual Pass does not cover the entrance fee, but for $10 it is well worth the price of admission. Stop everywhere you can and make the effort to take a few of the short but visually rewarding hikes.
Try to avoid peak-hour traffic on your way into Las Vegas as it can turn into a giant car park at times.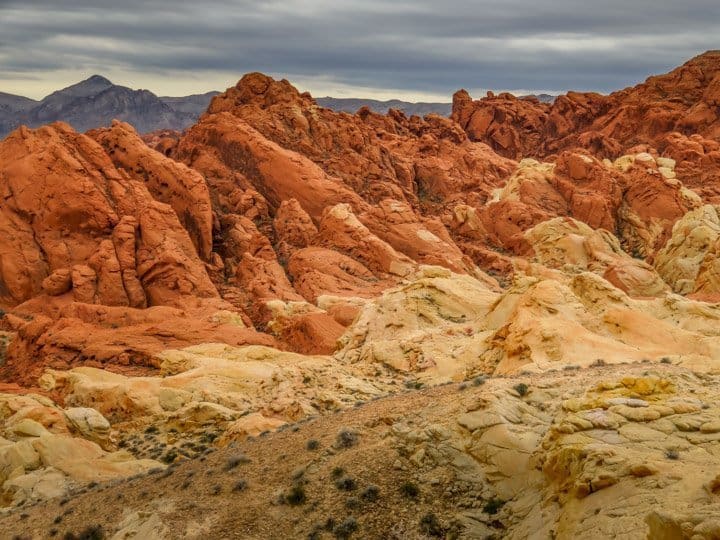 Highlights
Valley of Fire is not only the highlight of the day but sits high on the list of unexpected treasures for the entire itinerary.
Where to stay and eat
You are only in Las Vegas for one night and you have a car if you really need it, so don't make the same mistake that we did. You do not need to be on the strip and, unless you are lucky enough to find an absolute bargain, driving on the strip is a nightmare.
We stayed at the Travelodge on the Strip and would not recommend it to anyone. If it is the only Strip hotel you can afford… move a few blocks further out.
It was a toss-up whether we wanted an All You Can Eat Buffet or to try one of the many celebrity restaurants in Las Vegas. We settled on the AYCE Buffet at the Palms Casino and found it good value with a few particularly good food choices, especially the Prime Rib and the roasted cauliflower.
Day 20 – a free day in Las Vegas
Driving distance 0 miles – time to explore on foot
There are three ways you can spend your time today, see if Lady Luck is on your side when you hit the Casinos and maybe catch one of the many amazing shows on in town (if you have any money left), or start at one end of the Strip and take advantage of the free shows taking place at many of the Casinos (for the non-gamblers and frugal), or a combination of both.
Las Vegas has grown from its old reputation as a Disneyland for adults to a much more rounded entertainment centre even suitable for families. You will have no problem finding something to do for the day.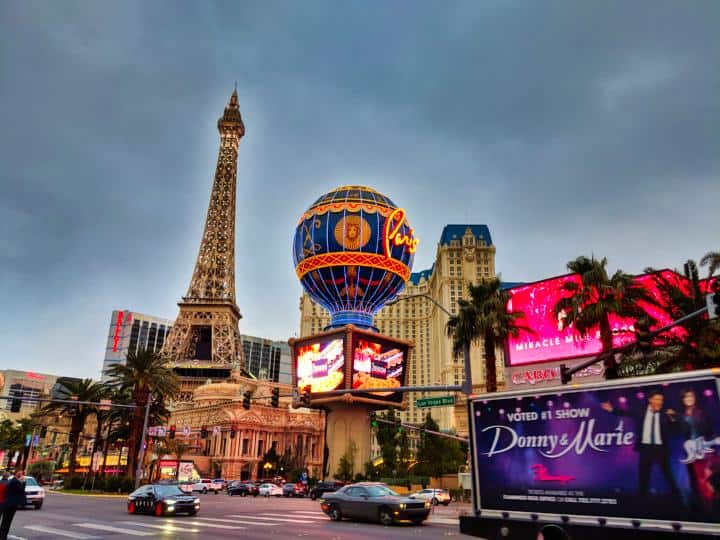 Highlights
Some of the world's top entertainers perform in Las Vegas so it is the perfect place to see one of your bucket list acts.
There are many awesome and free shows at some of the Casinos along the Strip which can easily fill an entire day. Watch some performers under the Big Top at Circus Circus, enjoy the incredible Bellagio fountain, or watch a sea battle with pirates outside Treasure Island, the options seem endless.
Where to stay and eat
There are times of the year when top hotels are ridiculously cheap. If you are lucky enough to be visiting at those times take the opportunity to treat yourself to a bargain bit of luxury.
Maybe tonight is the night to put one of the celebrity chefs to the test. The hardest part is deciding which one.
Day 21 – all good things come to an end
It's the end of the road today as we wrap us this epic Southwest road trip and head on home. No doubt you will be leaving with plenty of amazing memories, and more than enough photos to annoy your family and friends for months.
There are definitely places we had to miss due to time constraints and you could honestly spend a few months driving around this part of the world and not be bored. But at least you have a good excuse to come back again, revisit some of the highlights and finally catch some of the things you missed the first time.
Liked this article? Please Pin it!
The wrap-up
And so ends this amazing adventure. It's a month of stunning scenery, American food, and a smattering of history, and we believe it is the best part of the World for a road trip. So what did you think?
Have you driven all or part of this epic Southwest road trip itinerary?
Do you have any suggestions on how to make this trip even better?
Do you think there is an even better part of the world for an epic road trip?
Let us know in the comments!