Our epic Southwest USA road trip continues with us revisiting the Grand Canyon and Route 66. After starting in Tucson and spending some time in Sedona it was time to go back to Pauline's happiest place on Earth, not Disneyland but the Grand Canyon.
If you haven't read our overview of this amazing adventure then you may want to read it first.
Day 5 – Sedona to the Grand Canyon and Route 66
Driving distance approximately 120 miles (185 km)
We had driven this stage once before and did not plan or make allowances for many stops along the way. The scenery is undeniably beautiful for most of this trip but for us, there was nothing new and a chance to spend a bit more time at the Grand Canyon and see another sunset was key.
More than just a big hole
I have to admit that before we went to the Grand Canyon for the first time I was far less excited about the prospect than Pauline. To me, it was a big hole in the ground and surely could not be as scenic as something protruding well above the ground.
That time I was a bit behind Pauline and our daughter Dana after grabbing something out of the car while they typically raced ahead. Before I saw any scenery all I noticed was Pauline sporting the wildest look of wide-eyed wonder I had ever seen. And then I saw the scene and wow!
If you feel the same way as I did about seeing the Grand Canyon I suggest you rethink your beliefs and give it a shot. I was speechless as I stood on the edge of this enormous landscape. There are no words I could find to express how gob-smackingly huge this is, and I now know I would have missed seeing something truly remarkable if I stuck to my preconceptions.
Where to stay near the Grand Canyon
The best bet for accommodation is to stay at nearby Tusayan which puts you close enough to the action but has enough hotel choices to at least make the prices somewhat reasonable for what is definitely a touristy place.
We had spent the morning in Sedona doing a bit more exploring and then had an uneventful drive to the Canyon. It was early afternoon when we arrived at Tusayan and we took the opportunity to check in and drop our bags at the hotel. We wouldn't be back until after dark so it made sense.
Not surprisingly the canyon had changed little in the few years since our last visit but remained just as immense and breathtaking as it had the first time. I recalled the sheer joy on Pauline's face back then and she had a similar beaming smile this time.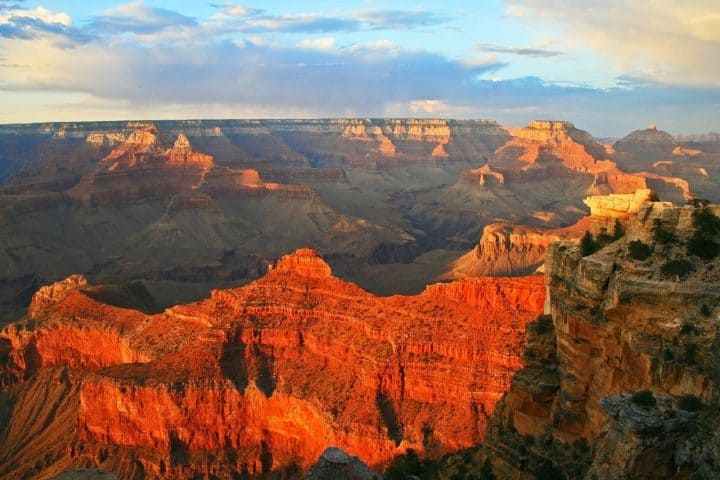 They say sunrise or sunset are the best times to visit the Grand Canyon because once the shadows begin to claw their way across the rocks you finally get a true sense of the magnitude of this place because it helps show distances. Plus it hugely elevates the beauty factor.
There is usually a crowd in the main viewing areas but you don't have to walk far to find more secluded areas to get dramatic photos, contemplate your place in the Universe, or watch in terror as idiots get too close to the edge for that "ultimate" selfie.
Day 6 – Getting some new kicks
Driving distance approximately 200 miles (320 km)
Today it was time to drive another part of the Mother Road. We had driven a couple of sections of Route 66 previously but this time we would visit two more of our preselected highlight experiences as we stop at Meteor Crater and then joined the Eagles standing on a corner in Winslow, Arizona.
After a few last-minute stops to see more of the canyon we headed out of the National Park but his time we changed up the route and came out via Cameron just for some different scenery.
Literally out of this world
Meteor Crater is a few miles off the main road and located about halfway between Winona and Winslow, but if you're in the area make sure to check it out as I can guarantee it's like nothing you have seen before.
The wind was absolutely howling when we arrived and felt like it was blowing straight from the North Pole. Walking up to the top viewing area was impossible without tightly gripping the guide rail. We looked like those idiot weather reporters in a Hurricane!

The crater is huge and you certainly get a good idea of the power with which an object from space can hit the Earth. And when you learn how relatively small the meteor was you start to hope the bigger ones flying around keep well away from the little ball of dirt we call home.
Take some time to walk through the museum section at the Information Centre and have a chat with the staff. It was far more interesting than I expected and gave you a greater insight into how the crater was formed. Meteor Crater is well worth the side trip.
Where Eagles dare
After getting back on the Interstate, and Route 66 wherever it still existed, it was east to Winslow. We had no idea what to expect here and just set the GPS to the town centre. Well, the GPS site for the town centre left much to be desired, just a bit of run-down residential.
We wandered around for a block or two searching for the well-known corner but to no avail. We decided to get back in the car and drive around instead. It's a relatively small town so how hard can it be to find?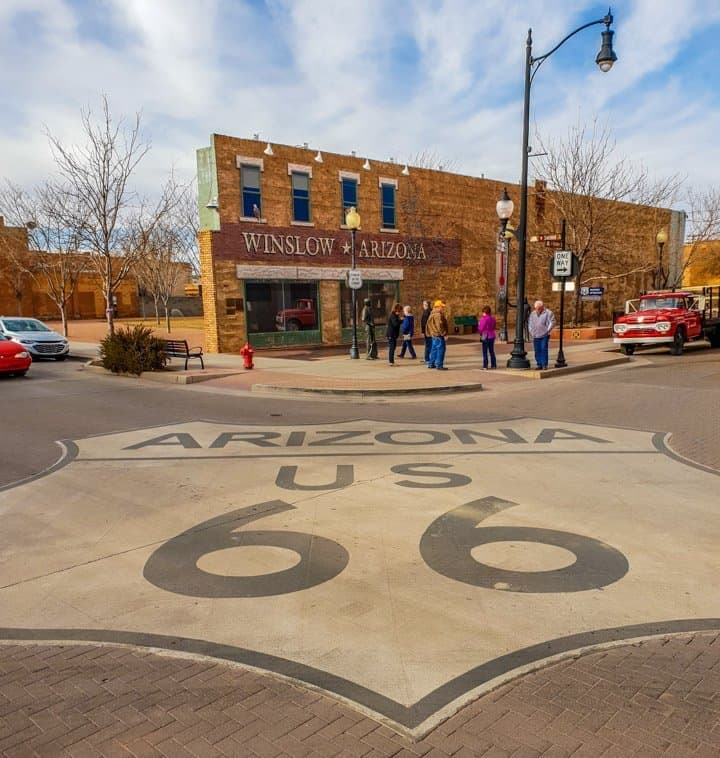 Five minutes later and there it was. There is a small car parking area about a block away and it seems everyone in the small crowd of tourists was parked in the same place. And then it was time for us to stand on the corner.
Everything in this part of town is about that one corner, the Eagles and the song. A giant guitar is a good prop for silly photos, the corner itself is set up just for tourists, and every shop selling souvenirs featuring exactly the same Eagles and Route 66 merch.
Overall Winslow is a sad little town (apologies to those who live there or love it) with no redeeming features except for the tribute to the Eagles great Taking it Easy song. That one corner is a fun little piece of pop culture but don't plan on spending more than an hour here or you may feel time has been wasted.
Liking this article? Pin it!
Holed up in Holbrook
Speaking of towns with no redeeming features, this night we would be spending in Holbrook purely because of its location mid-way between the Grand Canyon and our next point on our must-do list, Mesa Verde National Park.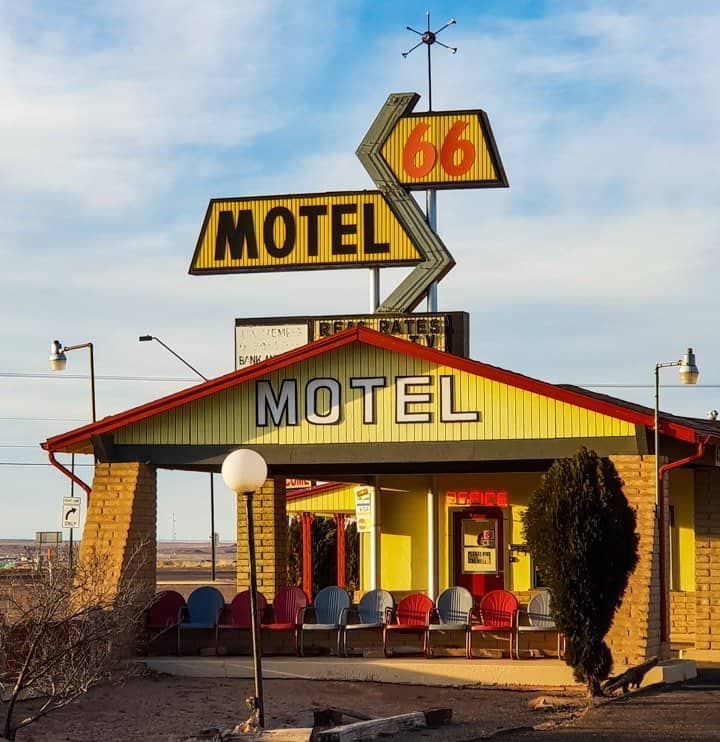 Our hotel was one of the original Route 66 motels, actually, it was the 66 Motel and was about what you would expect, clean but tired. But it allowed us to tick something off our wishlist which was to spend a night in one such hotel.
Speaking of original Route 66 hotels, Holbrook is home to a Route 66 icon with the Wigwam Motel but even that is much sadder than you may have been led to believe. Photos make it look like a quirky and fun place to stay but in reality, it is old, tired, and located right beside a noisy and busy rail line and a highway. No thanks.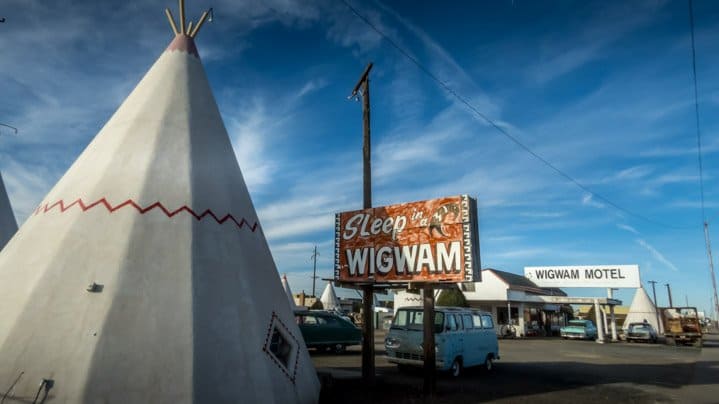 We also took the opportunity to eat at another old-school Route 66 diner which was exactly as expected. Standard diner food at standard diner prices, good but not great. But then do you ever really expect great from a diner?
We did get some good advice from the guy at the Motel who convinced us to drive through Petrified Forest National Park on our way out. We had originally ruled this out as most photos we saw made it look extremely boring but his enthusiasm meant it would now be part of the trip.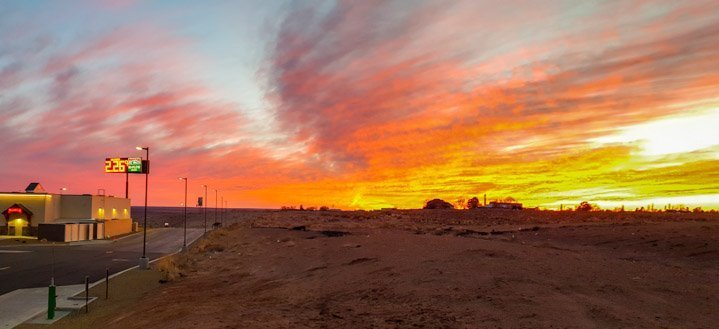 The day also ended with one of the most stunning sunset skies I have ever witnessed. Unfortunately, there was not a single thing of interest in Holbrook to use in the foreground for this incredible backdrop. I might be the first person ever to use a truckstop as a sunset focal point.
Day 7 – Three States in a Day
Driving distance approximately 230 miles (370 km)
We found out the next morning that not only was Petrified Forest on our way but you could actually drive through it rather than looping back to where you started, so we took a drive through. Plus we had the Annual National Park Pass so it wouldn't cost anything to enter.
We still didn't expect much and thought it would be a fairly quick drive, turns out this place is way more interesting than the photos we had seen suggested and it turned into about a two-hour side trip with some diverse and impressive landscapes.

At first I was afraid, I was petrified
The first section of the Park as you enter from the west gives you exactly what was advertised, lots of huge chunks of petrified wood and fallen petrified trees. This is also the site of the information centre and has a couple of easy and interesting short walks through the landscape.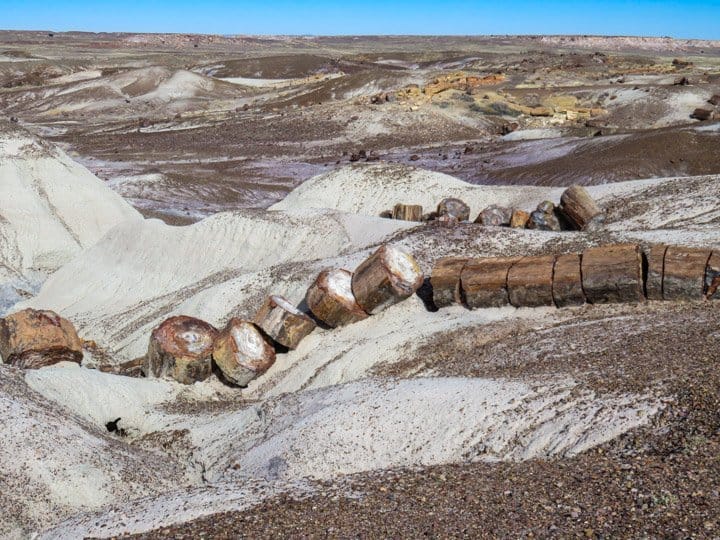 It is also quite strange how radically the landscape changes as you drive through the park. Even as you pass through the first lot of hills the colour of the rocks changes and the terrain is totally different. This happens about half a dozen times as you make your way through the length of the Park.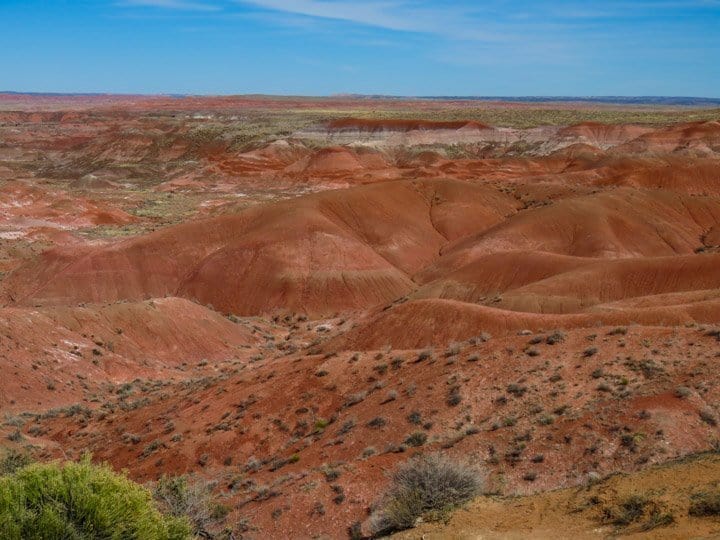 You will also find plenty of places to get out of the car to view some wonderful scenery or to take on easy and short hikes through this alien-looking place. You will probably wonder where the time went and how this place kept you amused for so long. It's just plain interesting and we were very glad to have listened to the guy at the hotel.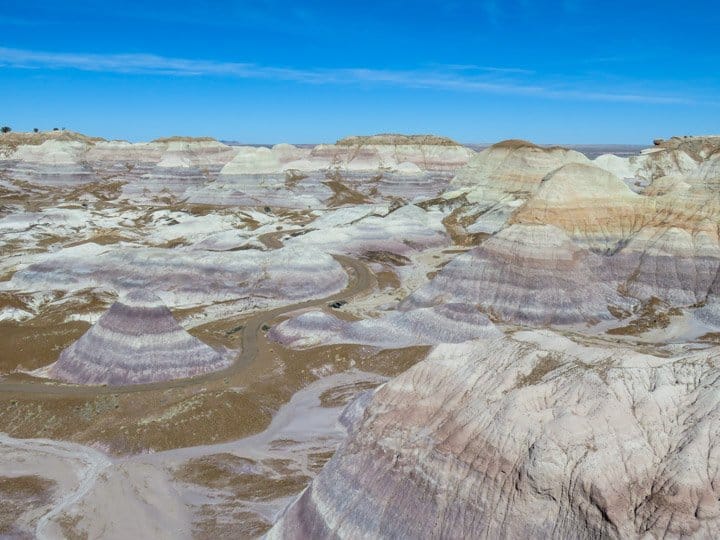 After exiting the Petrified Forest we continued heading east on the Interstate looking for another of the Route 66 towns mentioned in the famous song. We were looking to cross the border and head to Gallup, New Mexico.
Turn left at Gallup
We decided to stop in Gallup for some lunch and started seeing lots of billboards and signs on the way in mentioning a famous old hotel, the El Rancho. We had never heard of it but seemed like it might be worth a look if it was on our way.
To be honest it's pretty hard to miss and is worth stopping for a look, and a feed for that matter. The El Rancho Hotel has some serious claims to fame as a hangout for film-making celebrities of the time and has a beautiful interior that has been well maintained. Not to mention they make awesome taco salads for your hungry bellies.

We didn't really come across too much else of note after leaving Gallup and so it was north, across the border into Colorado, and roll into Cortez as a base to see another expected highlight, Mesa Verde National Park.
We noticed some sad-looking piles of snow beside the road as we drove toward our hotel and were a little disappointed to learn it had snowed the previous day but no more was expected until the following week. Typical of our luck and it seemed our curse was back. It was cold though, about 30 degrees in the old scale or -1 for you decimal peeps.
Cortez was our base for the next two nights and we stayed at the Super 8 by Wyndham which was well-located on the main road, clean, comfortable, and more importantly, warm. And the breakfast was one of the better hotel offerings on the entire trip.
We settled in for the night looking forward to seeing something truly remarkable the following day, the cave dwellings of Mesa Verde National Park. Time permitting we would also have a bit of a look at the Canyon of the Ancients Monument.
After a couple of fairly long driving days, I was looking forward to seeing a lot more stunning scenery and a lot less road. And as we found out, no matter how amazed we had been by the places already visited we really hadn't even gotten started.
Like this article? Pin it!
Check out some other parts of this epic Southwest road trip itinerary like "Starting in Southern Arizona" or "Driving North in Arizona"