If you are planning your ultimate southwest road trip and want to make sure it is packed with highlights then this is the list for you. We asked travellers and locals for advice and came up with these 52 awesome things to do on a Southwest road trip.
Obviously there is plenty more to see in such a vast area but unfortunately few of us will ever have the time to experience it all. So have a read through and you will definitely find plenty of experiences to add to your itinerary.
Which parts of the Southwest does this list cover?
We recently spent almost a month on the road driving around the Southwest so it makes sense to use our itinerary, plus a few nearby areas we may have missed, as a guide for these suggestions. It also gives you a chance to see how they fit together or could work with your own plan.
The list is sorted into regions starting with Southern Arizona and working around until we finish with the California Coast and Los Angeles.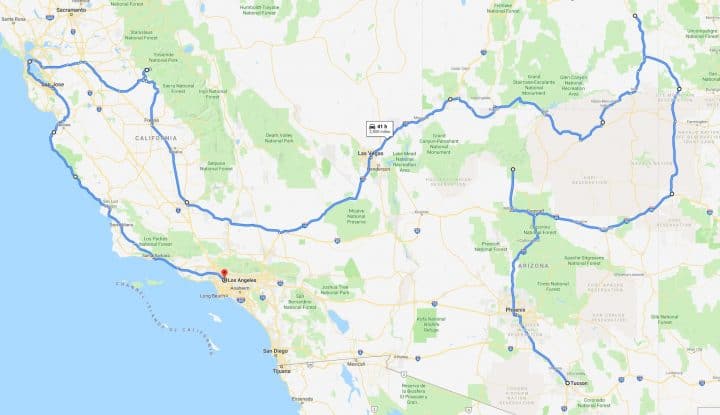 Best Southern Arizona Road Trip Stops
1 – Tombstone, Arizona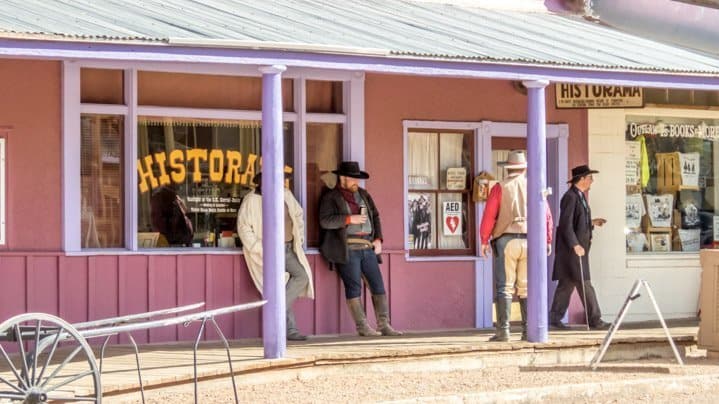 You can't visit the American Southwest without experiencing some Wild West history, and there are few places that epitomise that time like the infamous Tombstone. Part Theme Park, part living town, Tombstone gives you a good idea of how tough the early pioneers really were and is a fun day trip from Tucson.
2 – Old Tucson Studios in Tucson, Arizona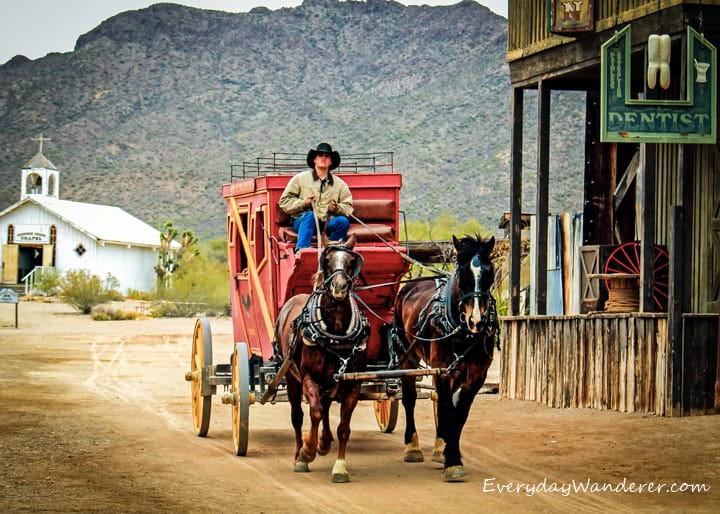 by Sage from Everyday Wanderer
On the edge of the Tucson Mountains, about 30 minutes directly west of downtown, sits Old Tucson Studios. This western movie set turned Wild West theme park was once the second-most visited destination in Arizona (after the Grand Canyon, of course). And, it's still worth a stop today.
Built in 1939 by Columbia Pictures for the movie Arizona (1940), Old Tucson is the filming location for more than 400 movies, television shows, commercials, and documentaries including films like Tombstone (1993) featuring Kurt Russell and Val Kilmer. When you visit Old Tucson, I recommend starting with one of the 30-minute guided walking tours offered a few times throughout the day.
Via a guide dressed the part, you'll learn a great deal about the history of Old Tucson and the movies and television shows filmed there. I also recommend the Hollywood stunt demonstration that shares secrets about gunfights and falling from high buildings, and the narrated train ride around Old Tucson.
Pro Tip: If one of your travel companions has four legs, you'll be glad to know that Old Tucson is pet-friendly. As long as your faithful, furry friend is friendly and kept on a leash, you are welcome to bring them along when you visit Old Tucson.
3 – Saguaro National Park in Tucson, Arizona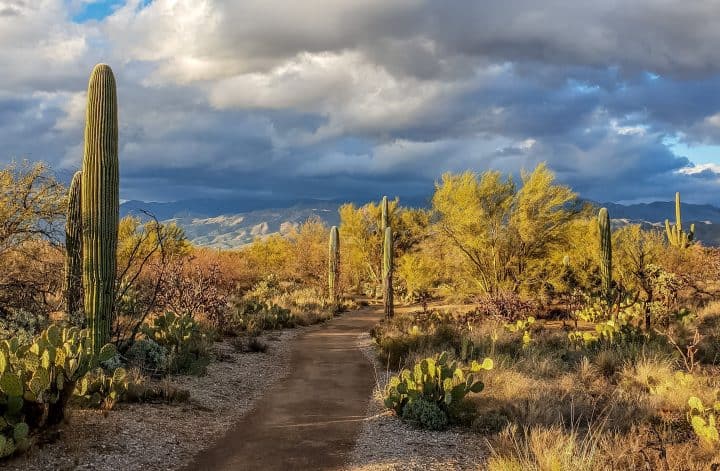 Unique to this part of the world, in such large quantities anyway, are the magnificent Saguaros. Walking or driving through these incredible giants is quite the experience. And to see them silhouetted against a vibrant sunset is spectacular.
The Saguaro National Park is divided into two sections on either side of Tucson, both should be visited as they are quite different from the other. East offers easy hiking but the West section has many more, and much larger, cacti.
4 – Little Anthony's Diner in Tucson, Arizona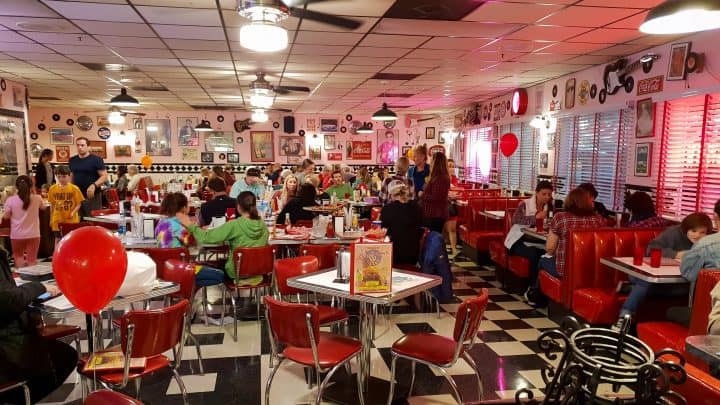 If you want to start your road trip with a big helping of Americana then a meal at Little Anthony's Diner is the place to get it. Walking through the neon-surrounded front door is like stepping back in time to when DJs didn't scratch records.
Speaking of DJs, this place has its own, which gives it a feeling of being part of a live radio broadcast in the 50s. The food is typical diner fare but the atmosphere is great.
5 – Mt Lemmon, Arizona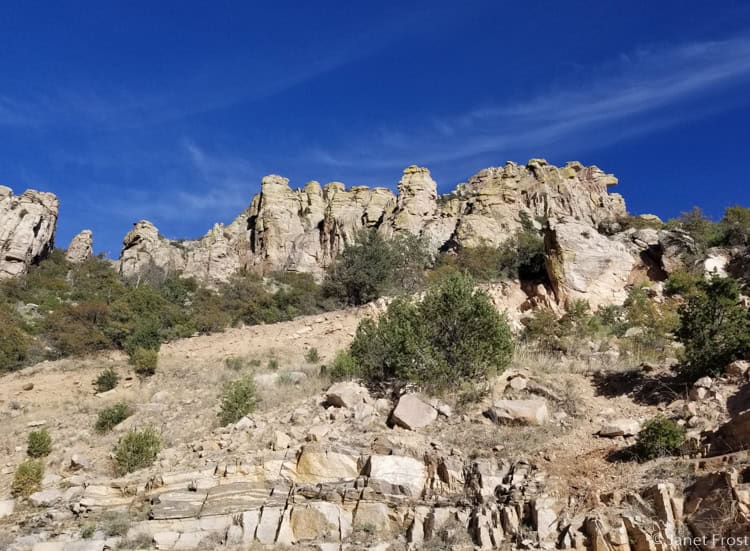 by Janet from Go Learn Things
The best way to enjoy Tucson, Arizona is outdoors. With over 300 days of sunshine and an average daily temperature of 72℉ why stay indoors? The vibrant desert and majestic mountains are the heart of Tucson. Tucson is surrounded by five mountain ranges.
The Santa Catalinas, Rincons, Santa Ritas, Tucsons and Tortolitas. These ranges are part of the Sky Islands. The term "sky islands" refers to isolated mountain ranges that raise up out of the desert floor with cool islands of green forests high in the sky.
The most dramatic range is the Santa Catalinas with Mt. Lemmon, capping out at 9,000 ft. Driving the Mt. Lemmon Highway/Sky Island Scenic Byway is my top recommendation for a Tucson visit. This winding scenic road carries you up switchbacks and past vistas to the little village of Summerhaven and the southernmost ski resort in the U.S.
The University of Arizona has created a marvelous audio tour phone app that narrates the trip. You will see and learn about the diverse climate zones, geology, and unique wildlife of this sky island. I recommend bringing a picnic to enjoy at the top and don't forget a sweater or jacket, the temperature will change over 20 degrees from desert to peak.

6 – Montezuma Castle, Arizona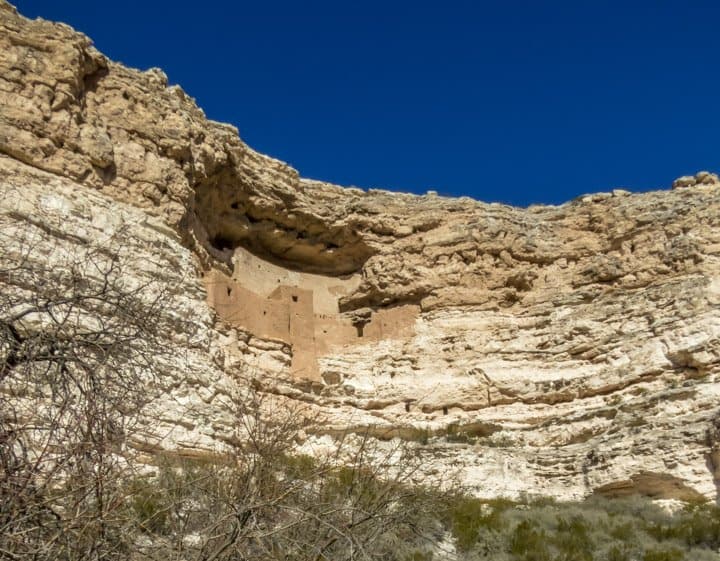 Between Phoenix and Sedona you will find one of the best examples of the building skills of the ancient people of the Southwest. Montezuma Castle is a cliff dwelling that dates back over 700 years and shows the engineering skills and imagination they possessed.
There is another, smaller example a few miles down the road called Montezuma Well where the dwelling is built into the side of a giant sinkhole which is equally as impressive in its own right.
7 – Verde Canyon Railroad, Arizona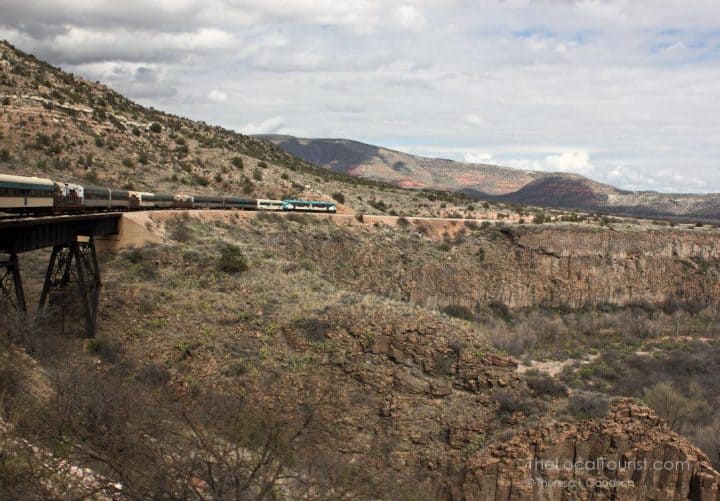 by Theresa from The Local Tourist
If you're looking for an enchanting afternoon break after being on the road, let someone else do the "driving." The Verde Canyon Railroad excursion train is a four-hour tour along a river, alongside red rocks, and between two National Forests.
You can watch the scenery from the comfort of your enclosed cabin, or venture out to the open car to get an unobstructed view. Hosts will bring you food and drink, including their own private-label wine.
They'll also point out cliff dwellings and rock formations that resemble animals. It's a relaxing and different way to experience the stunning beauty and complex history of Arizona.
8 – Hiking in Sedona, Arizona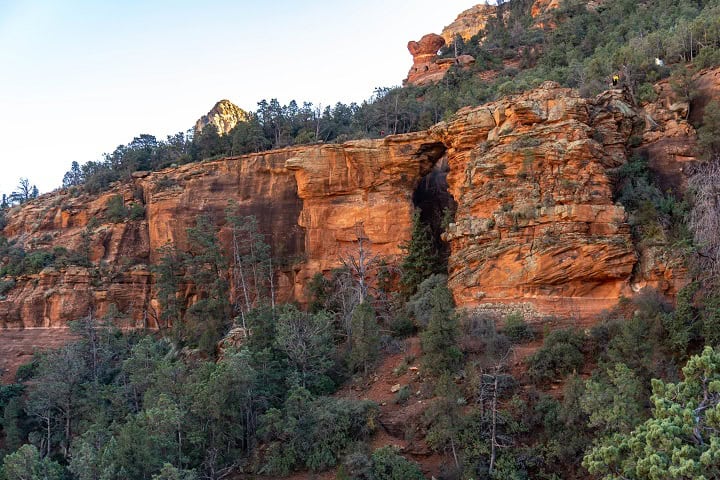 by Michael from The World Was Here First
One of the best things to do on a Southwestern road trip is to visit the picturesque town of Sedona, Arizona, and enjoy some amazing hiking. Conveniently located on the drive from Phoenix to the Grand Canyon, Sedona has numerous hiking trails available to suit all levels of fitness and expertise.
One of the most popular hikes is Devil Bridge's Trail which will give you a true appreciation of the unique red rock landscape. Alternatively, visitors can also hike to numerous vortexes such as Bell Rock or Cathedral Rock which are considered areas of special psychic energy. Even if you're not spiritual, a number of these areas are spectacular hiking spots and can be appreciated by anyone.
Sedona is undoubtedly one of the most unique landscapes and a must on any road trip throughout the Southwest!
8 – The Cowboy Club in Sedona, Arizona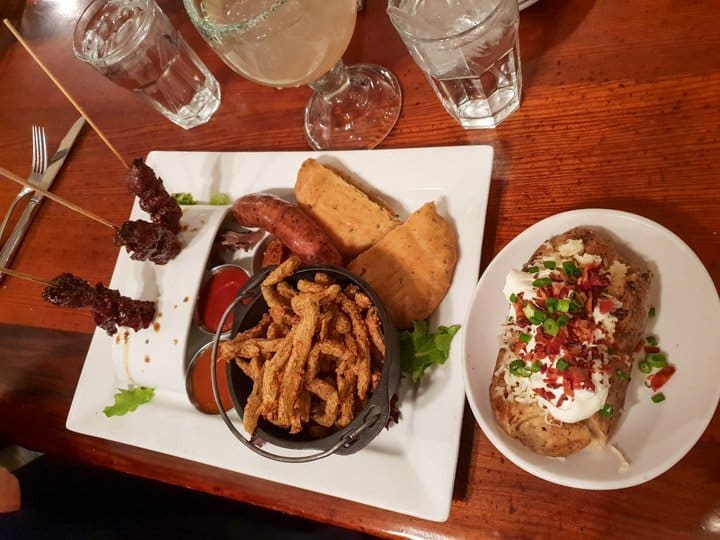 Where can you try Rattlesnake sausages, cactus fries, buffalo kebabs, and flatbread on the same plate? The Cowboy Club is the place and why would you? The atmosphere is pretty cool and the food is great, although the Rattlesnake was as tough as I expected it was good to say we tried it.
It's located in the centre of town so it's easy to find. The place can get very busy but we were able to walk in and get one of the last tables as a party of two. My bonus tip is to try the Prickly Pear Margarita, it's huge and delicious!
9 – Pink Jeep Tour in Sedona, Arizona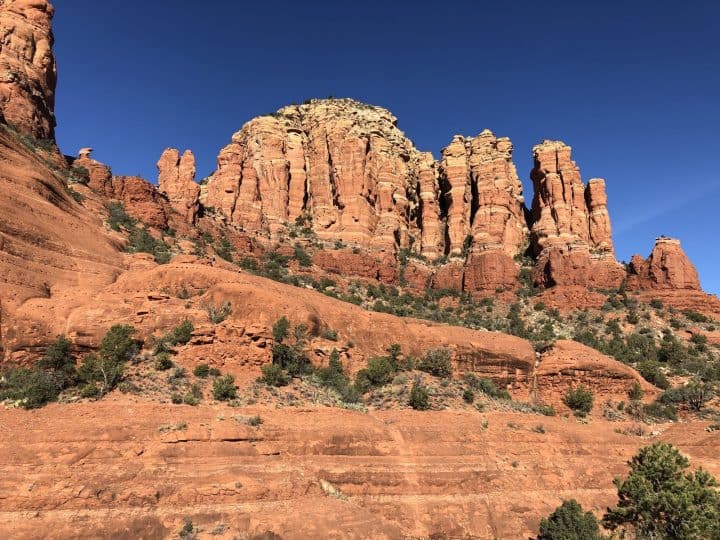 by Amanda from Patsey Family Travels
If you happen to be in Sedona, Arizona, what better way to explore off the beaten path than to take a ride on a jeep through the red rocks? And not only can you ride in any old Jeep, but a Pink Jeep.
The Pink Jeep Adventure Tour company offers a variety of different off-road tours. The most popular in Sedona, Arizona is the Broken Arrow trail tour. The tour lasts approximately 2 hours and brings you through and OVER the red rocks in Sedona. To book the tour is incredibly simple and can be done online. However, I would suggest booking early in order to secure a spot because it can sell out.
Once you are in Sedona, the tour departs right from the middle of town, which is really convenient if you are staying in Sedona. We were able to walk from our hotel! If you have kids in your group they have to be over 18 months old, and Pink Jeep Tours provides a car seat in the Jeep as well. The tour was so much fun and we were able to see Sedona from some pretty amazing viewpoints! I would highly suggest this tour on a visit to Sedona.
Best Central Arizona Road Trip Stops
10 – Grand Canyon, Arizona – South Rim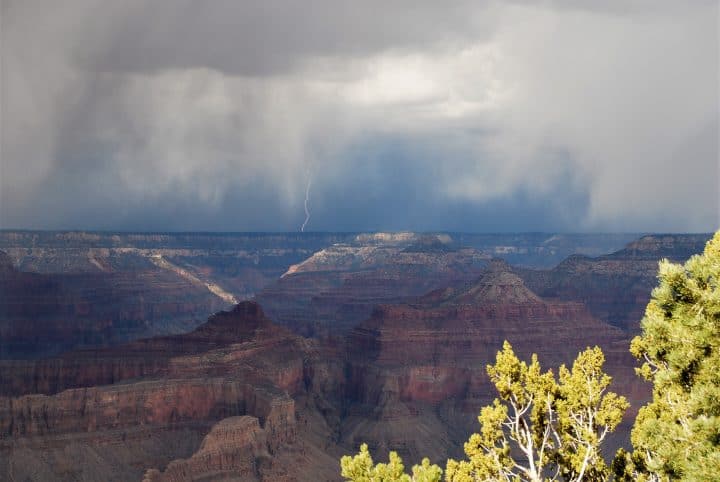 by Catherine from We Go With Kids
The visit to the Grand Canyon is a bucket list worthy stop on any Southwest road trip.  I've been lucky to visit on four separate trips, and the view has always been spectacular.  Pictures just don't do it justice, and the shadows and colors are constantly changing. We once even got to watch lightning over the North Rim.
The Grand Canyon's proximity to Las Vegas, Phoenix, and Sedona makes it easy to add to many itineraries.  For first-time visitors, we recommend the South Rim, which is open all year round and has more tourist amenities than the North Rim.
There are trails for hikers of all ages and abilities, many viewpoints for sunrise and sunset, Ranger programs, and the Junior Ranger Program for young visitors.
11 – Havasupai, Arizona – A Desert Oasis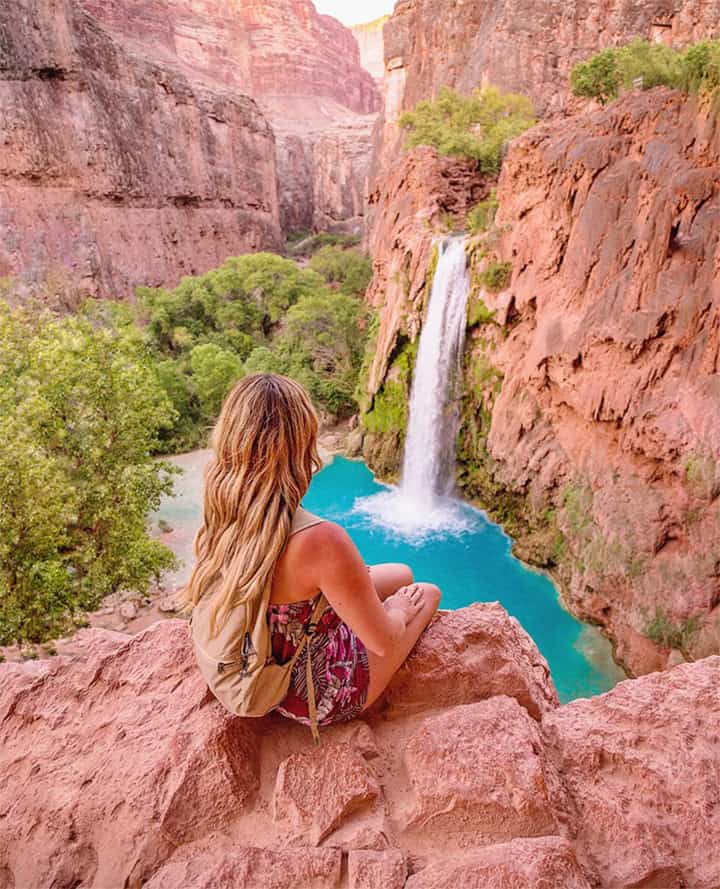 by Jennifer from Jenn Explores
Havasupai is a dream-like oasis in the middle of the desert; a bucket list must on a SouthWest road trip. Here you will find a paradise where massive waterfalls spill up to 200 feet over vibrant golden cliffs, plunging into turquoise swimming holes below. 
Located in the southwestern section of the Grand Canyon in Northern Arizona on Navajo tribe land, the only way into this oasis is via helicopter, or a 10-mile hike in the desert heat. Once you've made the pilgrimage, you will be greeted with a campground surrounded by waterfalls that you can play in, with day-hike options to even more waterfalls from your first-come first-serve campsite home base.
Note that you will need to plan ahead and score your permit, as day hikes are not permitted. Permits go on sale February 1st for the season, and they sell out within minutes. However, if you're able to score the "golden ticket", you will be visiting a place that you will never forget!
12 – Two Guns, Arizona – A Route 66 Ghost Town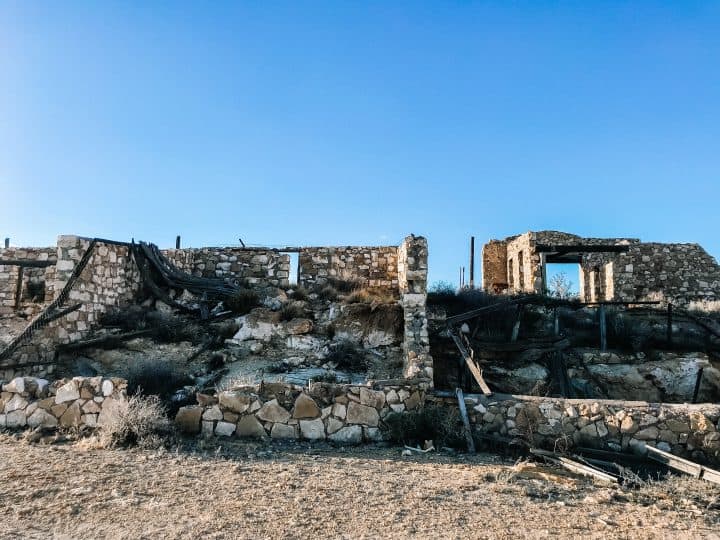 by Lauren from My Favorite Job Title Is Mom
This little-known attraction just outside of Flagstaff, AZ is exit 230 on I-40, and it's too cool to drive by, even with kids. When driving on I-40 you can see fragments of the old Route 66 and some billboards and buildings that have been abandoned with the old road.
However, Two Guns is unique in that it is a completely abandoned town. You can pull off the exit and initially will come to an old gas station and campground. The water towers and old pool house make for eclectic photos.
However, when you venture a little further, you find the remains of a zoo.  You can walk through the partial structures, see the remains of animal enclosures and walk across a bridge from the original Route 66.  It really is fascinating to take a walk in the past immediately off of a major interstate.
13 – Meteor Crater, Arizona

Just off the highway, a short distance further on from Two Guns is one of the World's most incredible examples of the power of objects hurtling through space and the damage they can do if they make contact with our planet.
The staff at the attached Visitor Centre are a wealth of knowledge and the exhibits on display make this a very interesting side trip that helps break up what can be a long day of driving this strip of road.
14 – Winslow, Arizona and "that" corner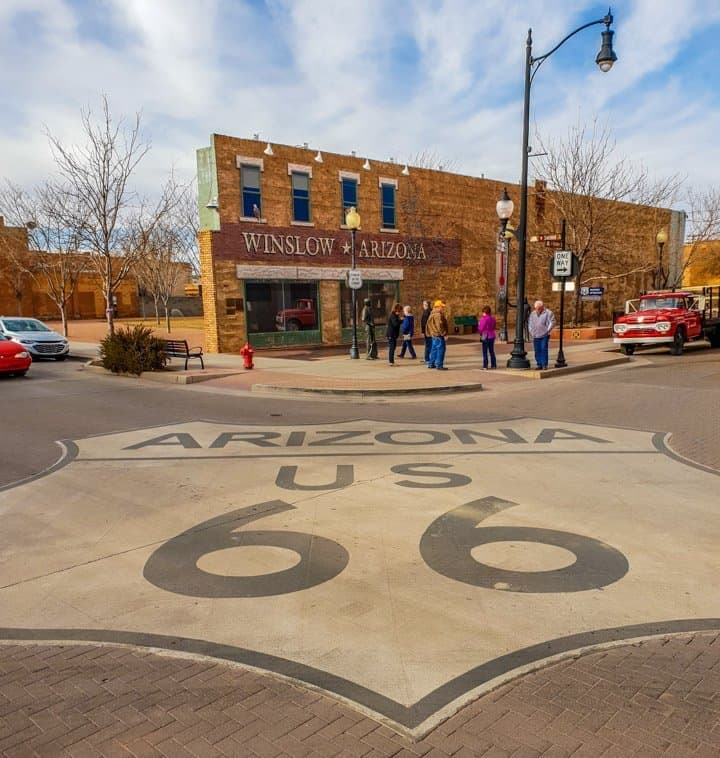 A town that offers very little to the average road tripper other than a chance to literally step into a piece of musical pop culture. It may have been decades ago that the Eagles were "Taking it easy" on a corner in Winslow, Arizona but people still travel to do the same thing today.
It's a great photo opportunity and one of those places you visit just to say that you've been, but it's not really the type of place that you will be planning a return trip anytime soon. The bottom line, you have to stand on that corner once in your life.
15 – Petrified Forest National Park at Holbrook, Arizona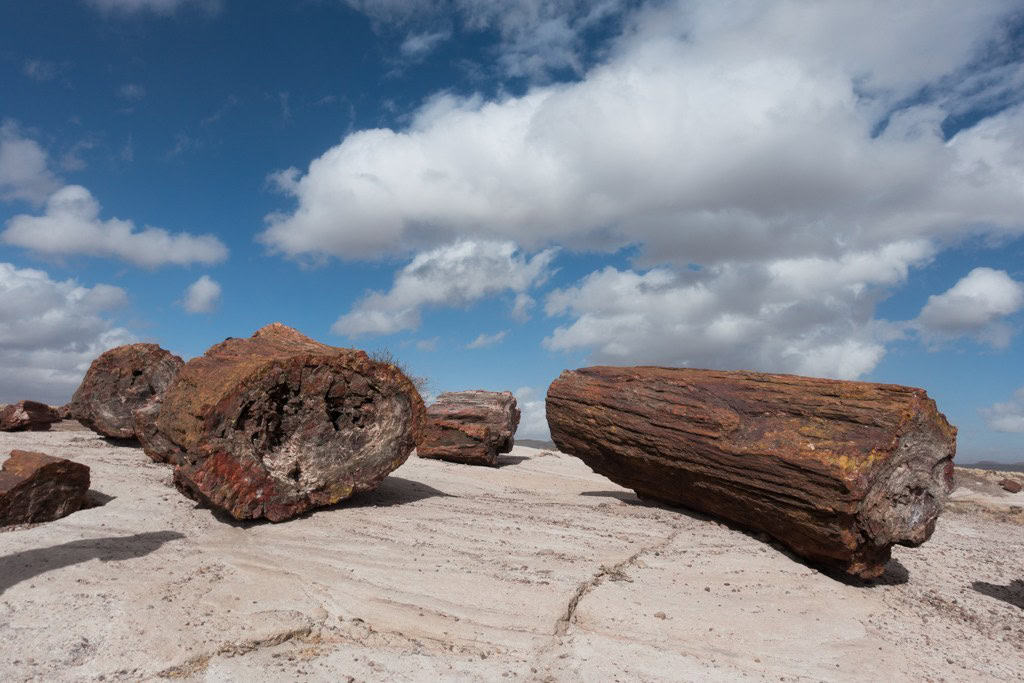 by Jamie from The Daily Adventures Of Me
Before I took my road trip to the Grand Canyon, I had never even heard of Arizona's Petrified Forest and the Painted Desert. A local suggested we check it out and it was one of the favorite parts of our road trip through Northern Arizona.
The Petrified Forest National Park has multicolored striated mountains, ancient Indian pueblos, rock carvings and, of course, forests of petrified wood. It is adjacent to the famous Route 66, which makes a visit convenient and you can see it in half a day, although you could also easily spend more time there.
Directly north of the park is the incredibly beautiful Painted Desert and the historic Painted Desert Inn. We have another article on Arizonas Painted Desert and Petrified Forest National Park for more information about visiting the park.
Best Four Corners Road Trip Stops
16 – Canyon de Chelly, Arizona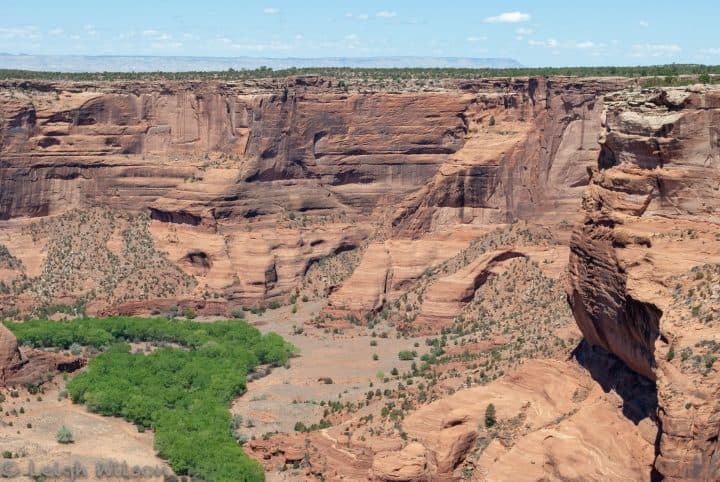 by Leigh from Campfires And Concierges
Canyon de Chelly National Monument in Northern Arizona is a must-see on any Southwest US road trip. You really have to make an effort to get there and you can only enter the canyon with a Navajo guide as it is still part of tribal lands. These two factors keep the crowds at a minimum, which is part of the reason I love it so much.
You can drive along the rim and take in the views from above, but the best way to experience Canyon de Chelly is to take a guided tour of the canyon. You'll learn the history of the canyon, from the Anasazi who left behind cliff dwellings to the current Navajo residents who still farm in the canyon.
An overnight stay at the nearby Thunderbird Lodge allows you to experience sunrise or sunset over the canyon, plus the magical night skies that Arizona is known for!
17 – Mesa Verde National Park at Cortez, Colorado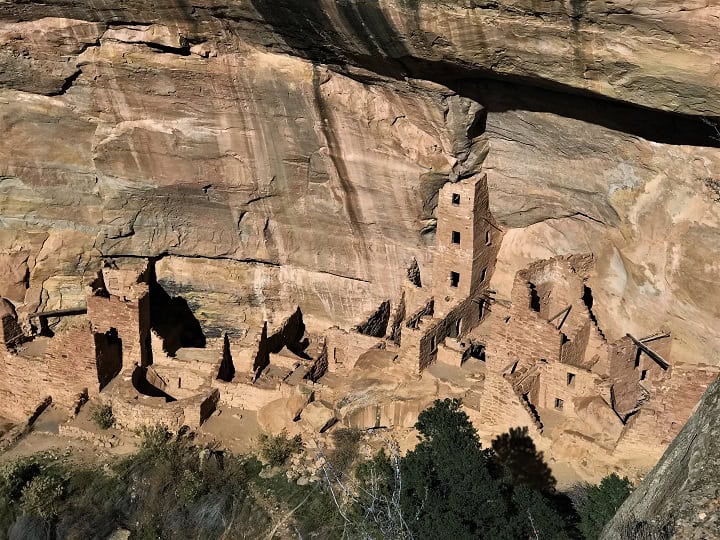 by Joel from World Heritage Journey
Tucked away in a tiny and quiet corner of southwest Colorado, not far from the Four Corners, is the incredible Mesa Verde National Park. Not famous for its landscapes (though they're certainly amazing), Mesa Verde is home to one of the most important Native American archaeological sites in the entire country.
The highlight here are the 600 or so "cliff dwellings" – massive sandstone and adobe buildings located underneath cliff overhangs and on shallow cave opens. Constructed from around 900 AD – 1350 AD, these are some of the largest and most important pre-Columbian ruins still standing.
The key spots to see are definitely the enormous Cliff Palace, but there's also Square Tower House, Long House, Oak Tree House, Balcony House, Spruce Tree House, the Sun Temple, and much more besides.
The park itself is open all year, and costs $15-$25 per vehicle, depending on the time of year (the NPS Annual Pass can be used). Visiting the cliff dwellings themselves is only possible on ranger-guided tours, $5 per person, and only during the warmer months (April-October). Tickets are limited so booking in advance is definitely advised! And even if you can't visit a cliff dwelling, the loop road inside the national park visits many spectacular overlooks so you'll have some fantastic views of the dwellings.
18 – Arches National Park at Moab, Utah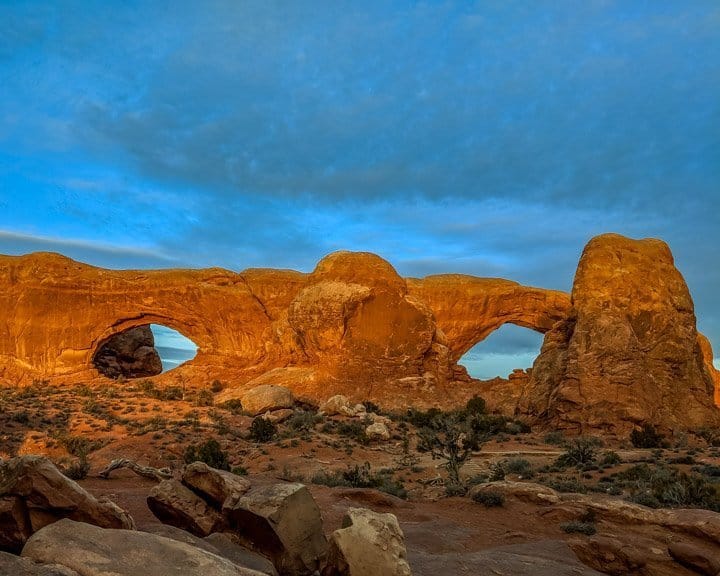 The more famous of the two National Parks near Moab, Arches National Park is a great place to spend a day of easy hiking and incredible rock formations. There is a loop road to follow which makes it very easy to not get lost.
If possible make sure to wait around not only for a unique perspective on a desert sunset but to see the rocks turn to gold and even appear to me on fire when the sun strikes at certain angles. There are not too many more amazing places in the USA to catch a sunset.
19 – Canyonlands National Park at Moab, Utah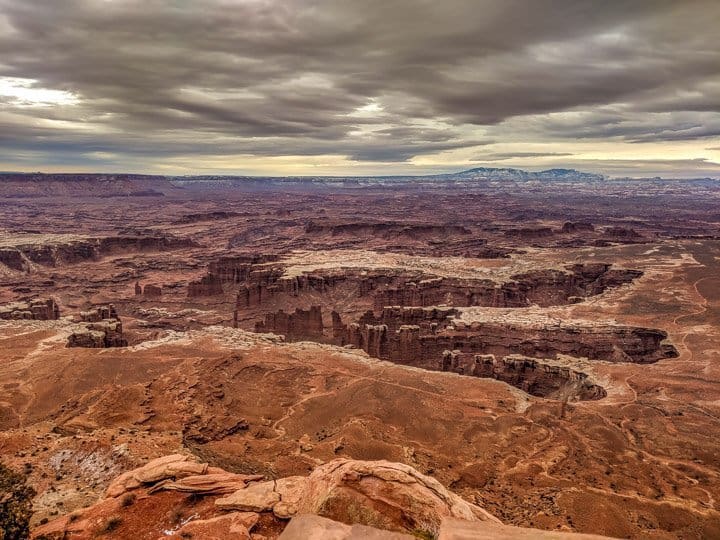 The less famous, but equally as impressive, National Park outside Moab is the enormous Canyonlands National Park. This place is like a "best of" collection of desert National Parks. It has massive Canyons, rock arches, buttes, and sweeping landscapes that really emphasise how small we all really are.
Once again it is easy to spend a whole day exploring the park as it seems every corner you turn or crest you go over opens another page with a picture of a totally different landscape. The only word I could find while I was standing and taking in the views was "BIG". Sure it's not very descriptive but I didn't think I could find any words that could do a better job.
20 – Hike to Butler Wash Ruins near Bluff, Utah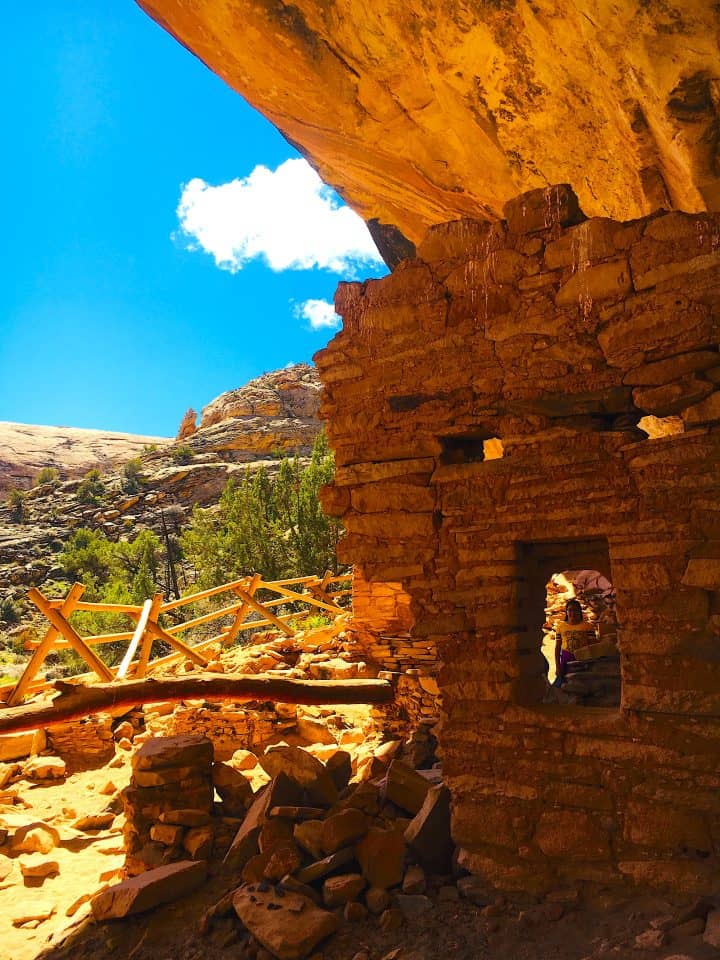 by Julie from Family Travel Lifestyle
Southern Utah is known for sights like Monument Valley and Valley of the Gods. However, there is a lesser-known area here called Butler Wash that is home to some spectacular hikes! It's a little bit off the beaten path, but worth it.
There are several trailheads along the road and each hike leads to a big reward. It's rustic hiking, so come prepared. The trails are only marked by cairns and there are no facilities, but in our opinion, this is a can't-miss spot.
The three best hikes are:
The Wolfman Petroglyph: This hike is short but includes a little scrambling. There are at least a dozen stunning petroglyphs along the canyon wall.
The Butler Wash Ruins: This hike is about a mile and ends at an amazing set of
800-year-old Anasazi ruins. Visitors can walk amongst them and they're in great condition. It's like stepping into the past.
The Procession Panel: This 3-mile hike is also moderate, but it includes at least a
500-foot elevation gain. It leads to a 15-foot petroglyph showing a sort of ceremonial procession with hundreds of characters.
Directions: Head west on Hwy 163 from Bluff, UT and turn north onto County Road 262.
This is Butler Wash Rd., and it takes you to the parking/turnouts for all the hikes.
21 – Goosenecks State Park, Utah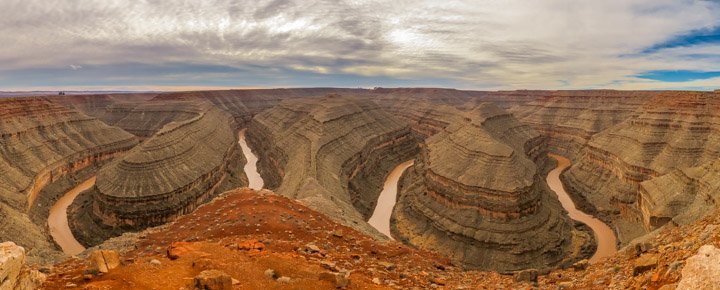 While Instagram has massively increased the fame of Horseshoe Bend near Page, Goosenecks State Park gives you a rare chance to see a double bend of a river at the bottom of a canyon.
You will find this incredible sight a short distance north of Monument Valley and let me tell you, the crowds will be much smaller than at Horseshoe Bend. This means plenty of time and space for you to get that awesome selfie without being photobombed.
22 – Monument Valley, Arizona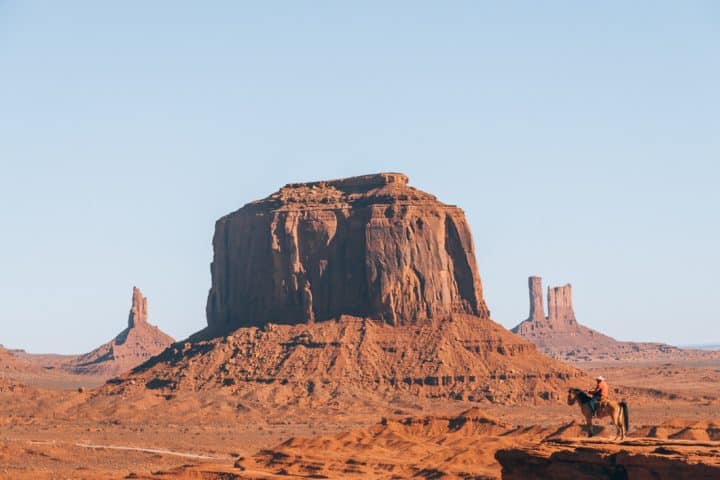 by Michelle from The Wandering Queen
One of the best places to stop during an ultimate U.S. road trip is Monument Valley. The valley is located on the eastern border of Utah and Arizona, about a 5 and a 1/2 hour drive from Phoenix.
Monument Valley is owned and managed by the Navajo Tribe. As you would expect, the tribe and the valley have much history. You can feel the Navajo Nation culture beaming from this valley.
For the absolute best experience, I recommend staying at The View Hotel. The hotel is the only lodging located inside Monument Valley Park, and a Navajo Nation Tribeswoman owns it. 
The best activity in Monument Valley is the self-drive tour where many of the world-famous buttes are on display. The drive is about 17 miles, with numerous stops to take in the dynamic geography.
This area has been photographed countless times and has been shown in many movies. The views are stunning, and it was one of my favorite spots during our Arizona road trip.
Best Arizona and Utah Border Road Trip Stops
23 – Antelope Canyon at Page, Arizona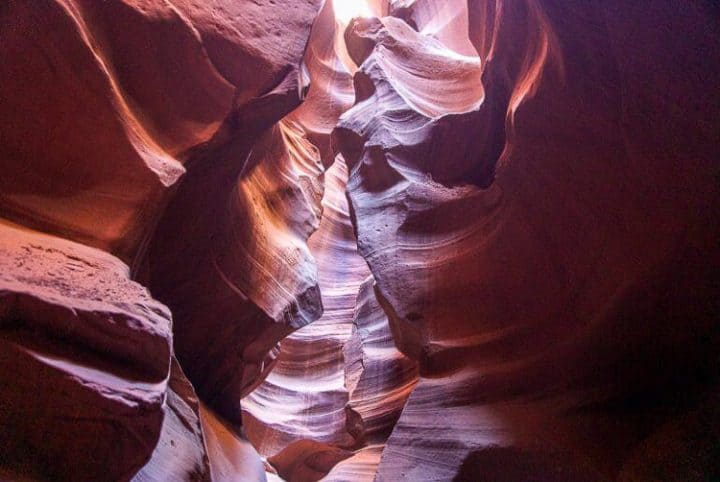 by Jessica from Unearth The Voyage
No Southwest road trip would be complete without a visit to Antelope Canyon. Antelope Canyon is a slot canyon located about 2 hours north of the Grand Canyon and it is just outside a town called Page.
Antelope Canyon is such a famous slot canyon because of the gorgeous beams of light that shine down into the canyon making for perfect photo opportunities. The slot canyon walls weave around creating the look of sandstone waves throughout the canyon. There are two canyons to choose from, Upper Antelope Canyon and Lower Antelope Canyon.
Choosing between visiting Upper Antelope Canyon or Lower Antelope Canyon can be quite confusing, but just know both are amazing and you will enjoy either! To visit either, you must go on a guided tour. During the tour, you will learn about the history of the canyon as well as about the Navajo culture, as the canyons are protected by the Navajo and are on Navajo land.
25 – Birdhouse Fried Chicken in Page, Arizona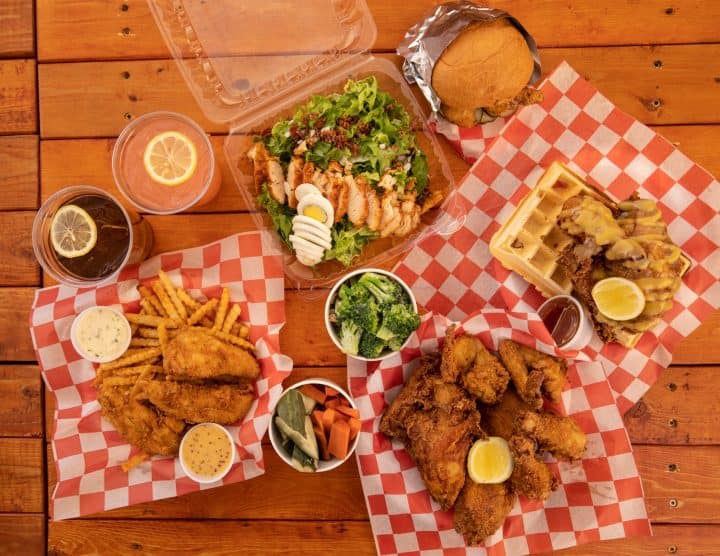 Every second place that sells fried chicken claims to be the best but this little joint on the main street might have a legitimate argument. The menu is small but the flavours and quality are huge.
The servings are very generous making great value for money and the sides are all delicious. We were in Page for three nights and, even though there were a few restaurants we planned on trying, we had to go back here a second time. Now I want more Birdhouse chicken!
26 – Glen Canyon Float Trip Experience at Page, Arizona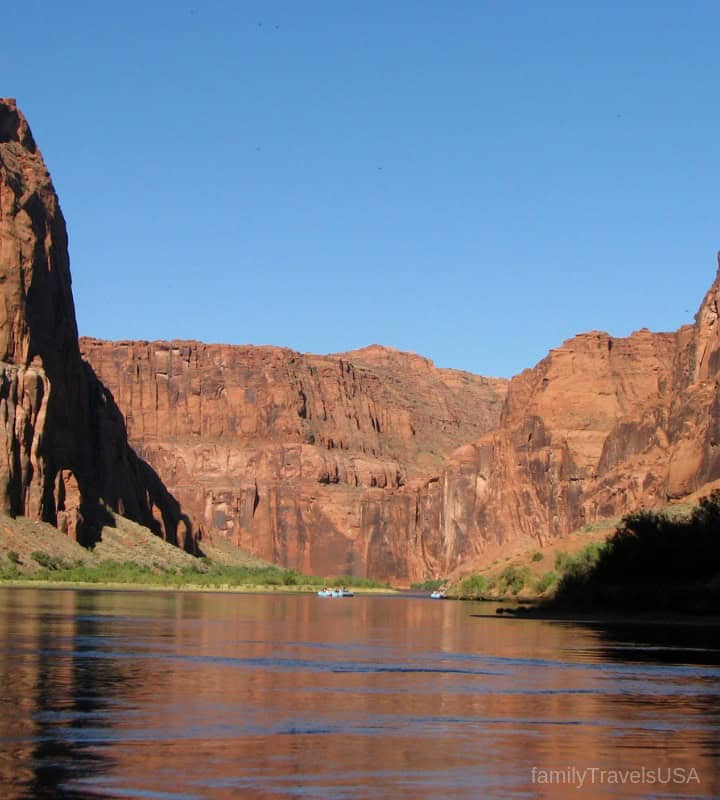 by Kath from Family Travels USA
Page, Arizona has a lot to offer visitors, but one thing not to miss is the chance for a scenic float trip on the Colorado River. The journey starts at the base of Glen Canyon Dam, where you hop on a family-friendly motorized pontoon boat. During the summer season, book the first adventure of the day to enjoy the spectacular morning sunlight on the Colorado River.
The half-day trip is a perfect way to experience this popular river, with a stop along the way at Petroglyph Beach. Float through picturesque Horseshoe Bend before you arrive at historic Lees Ferry. Several vendors offer trips, including Wilderness River Adventures.
27 – Horseshoe Bend at Page, Arizona

There's little doubt that Horseshoe Bend is an impressive sight and everyone should make the effort to see it when in the area, but don't believe it when you read that the best time to get amazing views is sunrise and sunset.
The reason is that when the sun is low almost the entire depth of the canyon is in shadow so you do not get the full effect of the beautiful contrast between the green water and the golden rocks. Plus the crowds are smaller, but not by much, unfortunately.
28 – Toadstool Hoodoos near Big Water, Utah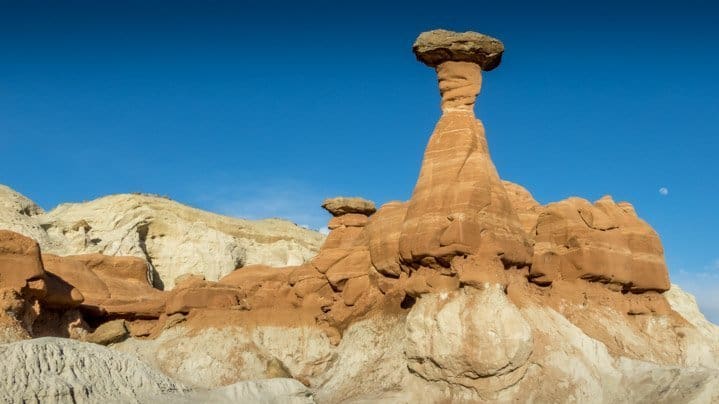 With the trailhead located just beside the main road and only a short and quite easy hike to follow, the Toadstool Hoodoos are some of the strangest rock formations to be found. Once you see them it will be obvious how they got their name.
There are quite a few mushroom-like rocks of various sizes and colours and they are well worth the effort to experience. There will be other people there but not the massive crowds some of the areas other natural attractions pull in.
29 – Zebra Slot Canyon at Escalante, Utah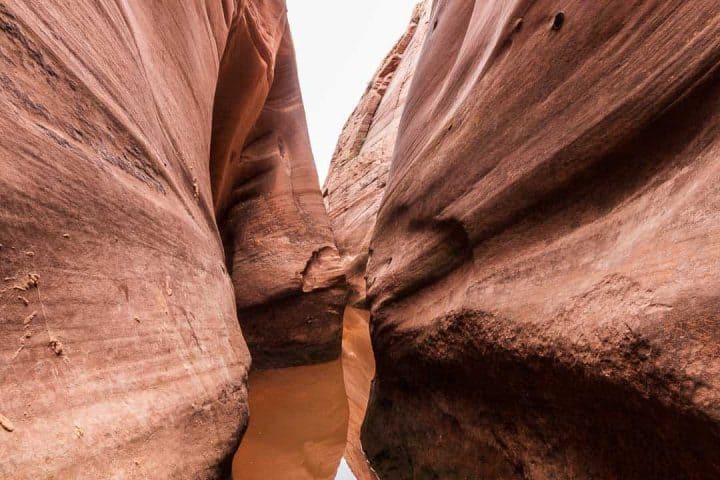 by Chris from Called To Wander
Zebra Slot Canyon is one of the less-trafficked slot canyons in the Southwest US making it ripe for exploration! At times no wider than your outstretched arms, the canyon is a playground for anyone looking for adventure and beauty.
The hike to Zebra Slot Canyon is a moderate 5.3 miles round-trip hike through the rocky landscape just outside of Escalante. But the hike is just the beginning of the journey. You will find the mouth of the canyon located indiscriminately among the sandstone hills, river washes, and shrubs. Just a few feet in you may find water up to your waist or chest, forcing you to climb or wade across.
In other places the canyon will become so narrow you may have to shimmy up its colorful walls. But the gem of Zebra Slot Canyon is at the end, where the sun breaks through to illuminate a cavern displaying the zebra-patterned rocks that give the canyon its name. You do not need technical canyoneering experience to safely explore the canyon. Just be ready to be amazed every step of the way!
30 – Grand Staircase Drive at Escalante, Utah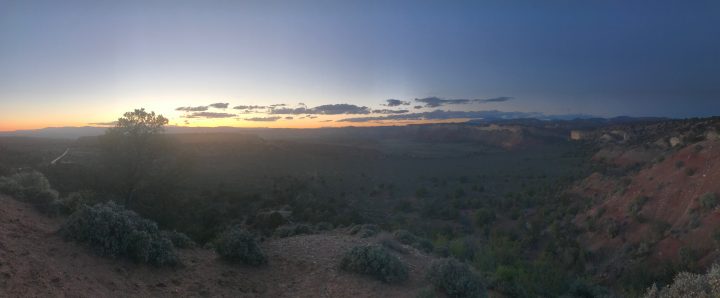 by Rand from Well Traveled Mile
At Well Traveled Mile we feel Cottonwood Canyon Road is a great way to experience a road less traveled and see more remote parts of the Grand Staircase-Escalante National Monument. The road is a 46-mile, unpaved road that connects Highway 89 just East of Big Water to the small town of Cannonville.
If you are driving between Bryce Canyon and Page, Arizona it makes for a scenic journey (and a shortcut by distance) between the two destinations. Just be forewarned that the road is unpaved and during wet weather, the road can be impassable, even in 4×4. It's doable in a 2WD car, but you'll be better off in a 4-wheel drive vehicle with some clearance.
There are a variety of trailheads with options for hiking. The only catch is since it's managed by BLM there are no official trail signs, just trailheads. This can make navigating (or even finding the trails) difficult without a proper map.
The drive takes roughly 2.5 hours without stopping and don't expect to see too many other cars on the road. On the journey you'll get to view a variety of scenery, starting with the rolling hills of the Paria River Valley, towering sandstone cliffs, the canyon narrows, and colorful landscapes akin to Kodachrome Basin State Park
31 – Bryce Canyon, Utah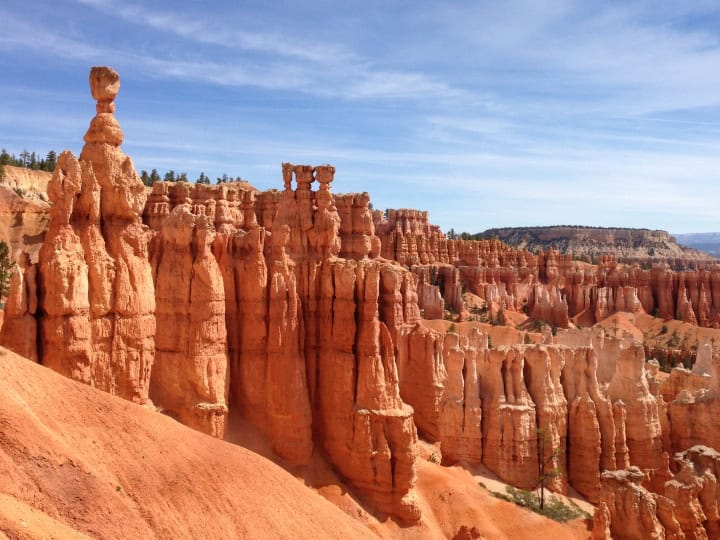 by James from Travel Collecting
Bryce Canyon National Park is in southwestern Utah, 4-5 hours from Las Vegas and 1.5 hours from Zion National Park. It is a small, self-contained park with one main road (18 miles in and out) along the upper rim of a canyon filled with hoodoos.
The hoodoos, pinnacles of orange and beige rock, crowd the amphitheater-shaped canyon and are spectacular seen from above. An easy walk or drive along part or all of the rim is highly recommended. However, it is also possible to hike down into Bryce Canyon and walk among the oddly-shaped rock pillars. The scale is awe-inspiring.
The Queens Garden/ Navajo Loop combination is the most popular trail. It passes Thor's Hammer on the way to a hoodoo shaped like Queen Victoria. The scenery here is not only spectacular, but it is also unique. Steep switchbacks head back up to the rim. There is a lodge and campsites inside the national park and other accommodation options just outside the park.
32 – Kanarraville Falls Hike, Utah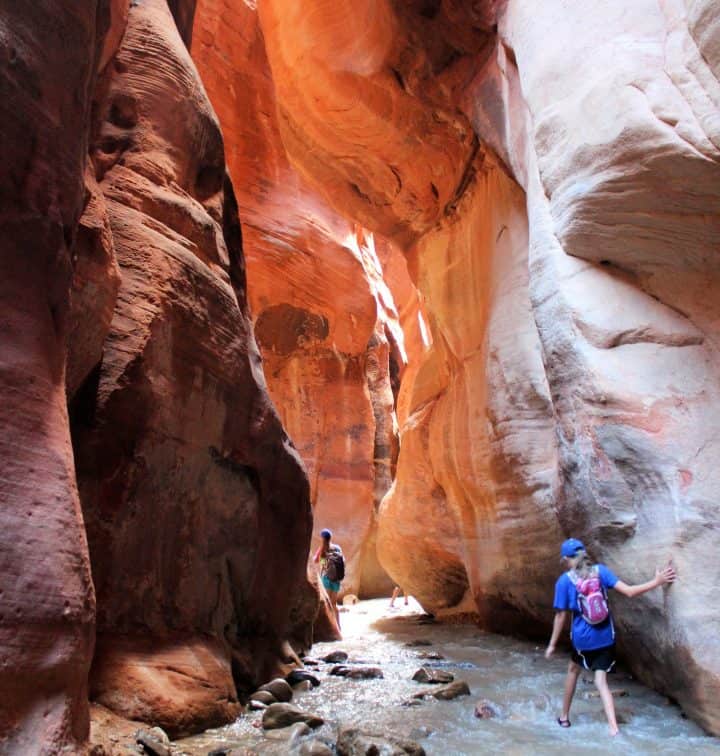 by Tanya from Rad Family Travel
The sweet half-day hike to Kanarraville Falls along Kanarra Creek includes hiking up a canyon, squeezing through slot canyons, thoughtfully climbing up wet ladders and playful waterfalls, and rock sliding.
Our family of six made a last-minute pit stop for this moderate five-mile round-trip hike and it ended up being one of the top favorites of our road trip through southwest Utah.
The trailhead for the Kanarraville Falls hike is in the small town of Kanarraville, Utah via Old U.S. Highway 91, just off Interstate 15 between Cedar City and St. George, Utah.
33 – Cedar Breaks National Monument, Utah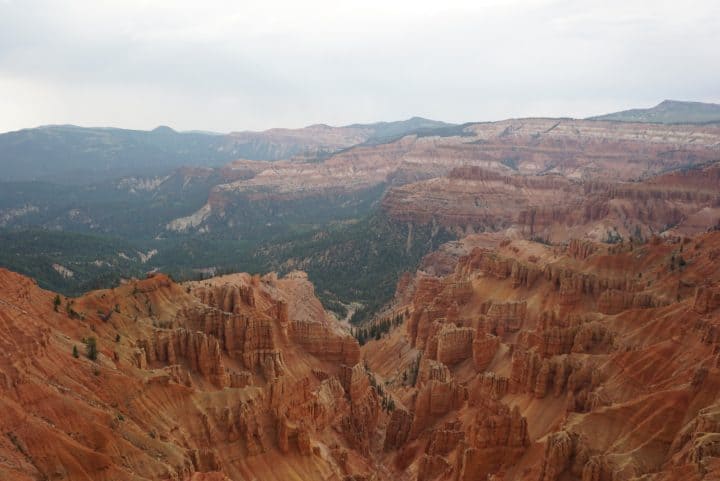 by Megan from Mountains with Megan
Cedar Breaks National Monument is a canyon filled with spires, cliffs, and red rock. The gorge is a half mile deep and is like a smaller version of Bryce Canyon National Park. Cedar Breaks is close to the town of Cedar City, Utah.
The entrance fee is $4 and typically is collected on the honor system.
If you just want to stop by for a quick visit, the canyon can be viewed after a short walk from the parking lot. There are several trails in the park for those who want to have a longer visit.
At Mountains with Megan, I recommend following the trail on the left along the canyon's edge. After two miles of walking, you can reach a double arch rock formation. Most visitors don't put in the effort to walk that far, so you will likely have the spot all to yourself.
34 – Coral Pink Sand Dunes at Kanab, Utah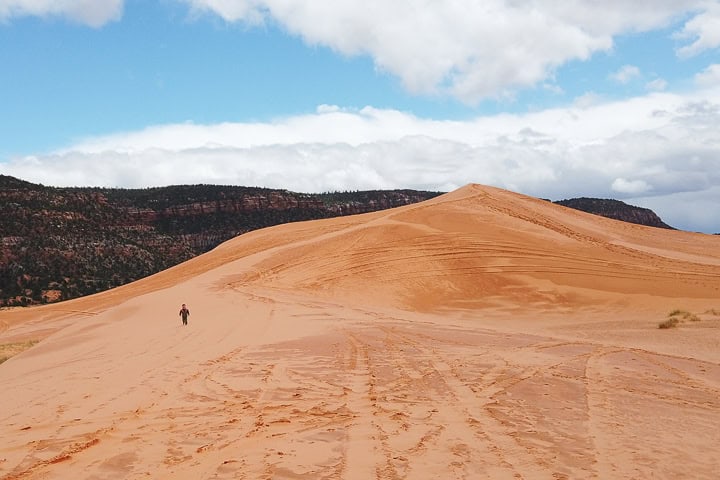 by Kristin from That Traveling Family
Spending an afternoon at Coral Pink Sand Dunes is one of the most fun things to do in Kanab, Utah. The unique landscape with dunes stretching out for miles is perfect for outdoor adventure lovers, but also great for just taking some beautiful photos and enjoying a picnic at the overlook.
With dune buggy, ATV, sandboard, and sled rentals available, there are activities for all ages to enjoy.  It's well worth the $10(per vehicle) entrance fee just to climb the giant dunes and take in the incredible scenery. Located about a half-hour drive from both Kanab, Utah, and Zion National Park, it's the perfect place to stop off on any southwest road trip.
35 – Zion National Park, Utah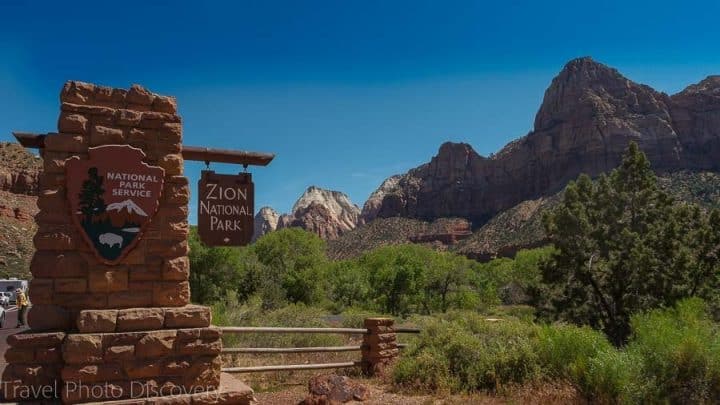 by Noel from Travel Photo Discovery
A visit to Zion National Park is a highlight of visiting this stunning region of the Southwest. You can easily do some lovely drives around the park, but the best way to enjoy the amazing landscape is to go out and hike any of the well-maintained trails. The trails cover all different ranges from easy and short to more adventurous and scenic, but they are all beautiful to experience solo or with friends.
Zion is inspiring when you actually walk through the terrain and see the lovely vistas from different angles and levels. Check out my favorite hikes of Zion National Park here for more images and inspiration to visiting this spectacular national park.
Best Nevada and California Border Road Trip Stops
36 – Valley of Fire State Park, Nevada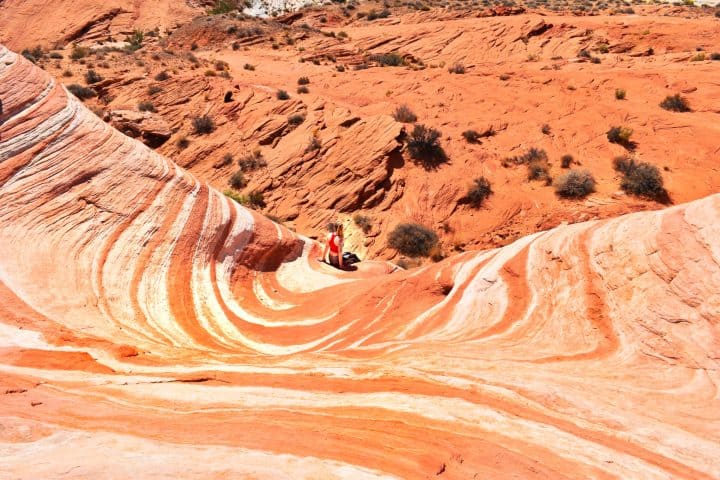 by Jessica from Uprooted Traveler
Located about an hour outside of Las Vegas in Clark County Nevada, Valley of Fire State Park is a not-to-miss hiking destination, with almost a dozen trails carved into the fiery red sandstone and chalky white limestone, which allow you to explore the mind-blowingly gorgeous landscape and stumble across petrified trees and ancient petroglyphs dating back some 2,000 years.
If you only have time to do one hike, the Fire Wave trail is outstanding- after an easy 0.75 miles, you'll come across the trail's namesake, the Fire Wave, a slickrock bowl, with striations of pink, white, and red-orange so vibrant, you'll swear it was painted on.
Once you reach the Wave, sit on the lip of the rock and take a few moments to just drink in your gorgeous, fiery surroundings as I did as the Uprooted Traveler.
37 – Red Rock Canyon, Nevada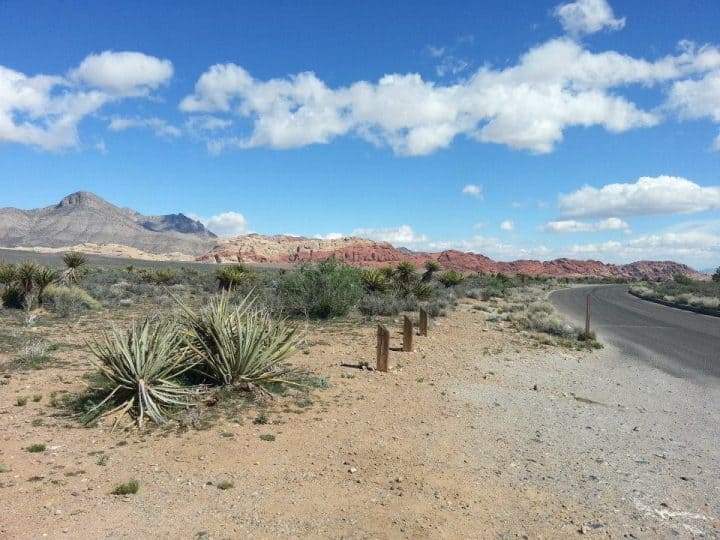 by Jo from Tea And Cake For The Soul
Red Rock Canyon is one of my must-see places when visiting Las Vegas or in the area on a USA road trip. Just a short drive from the city that never sleeps and you are out on the open road driving towards the gorgeous red rocks.
The actual park is a 17-mile loop drive. Entrance is less than $10 per car and you can drive around the one-way road as many times as you like. It's essential to do it at least twice. There are several stop-off points to park up and go off hiking if desired but these spots do get taken up quickly, so best to arrive early or just drive around again.
A stop-off at the visitor center is a must, and not just to use the restrooms or get a drink. There are plenty of exhibits indoors and out, and knowledgeable rangers to answer any questions that you might have. This should be on everyone's to-see list. Leave the craziness of Vegas behind for a couple of hours and explore the tranquillity and the everchanging colours in Red Rock Canyon.
38 – Death Valley, California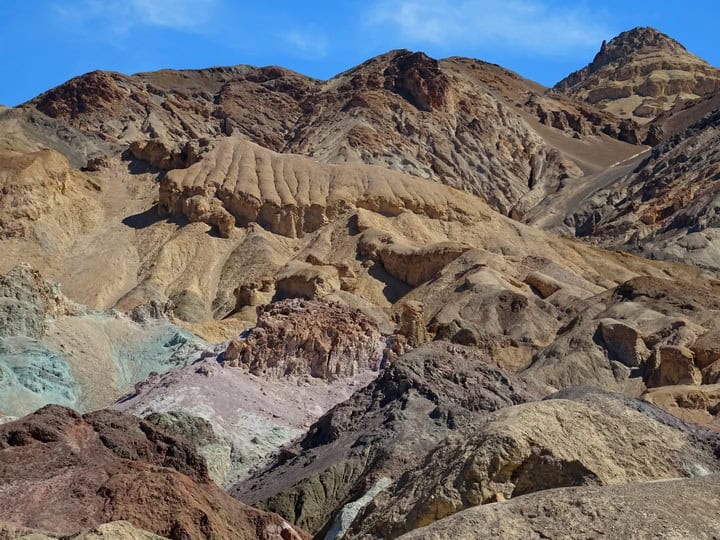 by Ali from Travel Made Simple
Death Valley National Park is a large area in southern California. It is 2.5 hours from Las Vegas by car, making it an easy addition to your southwest road trip. The main part of the park is a flat rocky valley between some mountainous areas.
There are many specific sites within the park, but several of the more well-known lie along the main highway through the park. Badwater Basin is salt flat and the lowest point on the continent at 282 feet below sea level. Furnace Creek holds the world's record for the hottest temperature. Artists Palette, Dante's View, and the Mesquite Dunes are some of the other natural sights in the park, unusual and worthy in their own right, but also used as filming locations for the original Star Wars movie.
The park is barren and unbearably hot, but it's also gorgeous and totally worth a visit on a road trip. Just make sure you bring lots of water and try to do as much sightseeing as you can in the early morning hours.
39 – Buck Owens' Crystal Palace at Bakersfield, California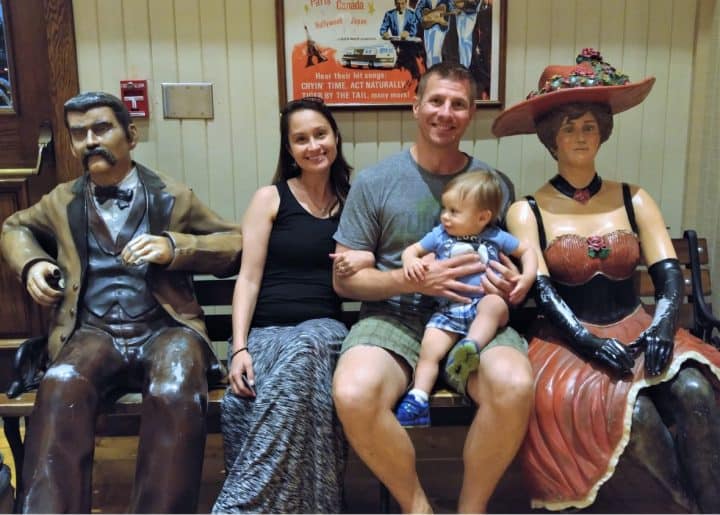 by Mary Beth from A Reluctant Mom
If you ever visit Bakersfield, Buck Owens' Crystal Palace will probably be recommended by several locals as a unique place for dinner, and also highly recommended by us. But it's not just dinner… it's an event! The Crystal Palace is a restaurant, a country music museum, and a music venue all in one.
Upon entering, expect to be met with the music of a live band playing on the stage in the middle of the restaurant. The menu, not surprisingly, is very meat-and-potatoes heavy. But, vegetarians, don't fear! There are a few salads and sides to choose from, too (the kale salad is legit!).
After ordering, take a walk and explore the country music memorabilia displayed throughout the venue. Buck's guitars, concert wear, awards, and more take up two floors. Then, sit back and enjoy your dinner while you're serenaded by the night's entertainment.
40 – Sequoia National Park, California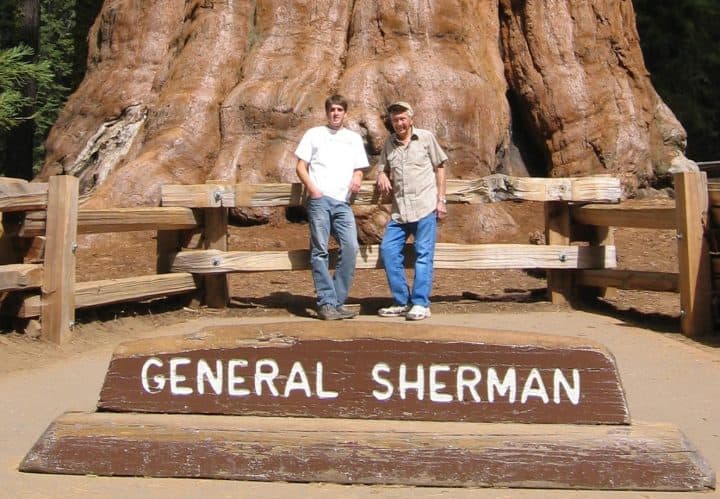 by Jeremy from C Boarding Group
Massive trees are what it's all about at Sequoia National Park including the largest tree on earth: General Sherman. Anyone looking for things to do on a Southwest road trip will find ample ways to be entertained and awestruck during a visit to Sequoia.
Located in California's rugged Sierra Nevada mountain range, Sequoia is home to a forest of the largest trees on earth. These massive beauties are literally something that must be seen to be believed. In addition to trees, the region is full of wildlife including bobcats, foxes mule deer, and of course, great fishing. The park also features an amazing cavern known as Crystal Cave.
Most visitors access the park through the town of Visalia, CA, and are immediately blown away by the impressive height and girth of this incredible forest. The park is easily accessible to adventurers of any age or size with most areas being within light to moderate walking distance. Any visit to the Southwest should include a day trip to Sequoia.
41 – Moro Rock Hike at Sequoia National Park, California
by Nicola from Nicola Dunkinson
If you are looking for a short hike with incredible views then Moro Rock in Sequoia National Park is a must. Although short, the hike up is a good one for thrill seekers. Four hundred steps carved out from the rock face to reach the summit make for a hike like no other.
Sensible footwear is definitely needed and don't attempt the climb during thunderstorms as lightning strikes are a well-known hazard on the rock. The journey up is an amazing one, with endless views of the national park. The pathway twists and turns and leads through a narrow passageway of rock. It is certainly an adventure.
During my travels, I found that once at the peak the panoramic views of the High Sierra and Mount Whitney are breathtaking. You can even see Highway 198 zigzagging all the way through the mountainside along with the Great Western Divide. At 6725 ft up you will feel on top of the world.
42 – Mammoth Lakes Hot Springs, California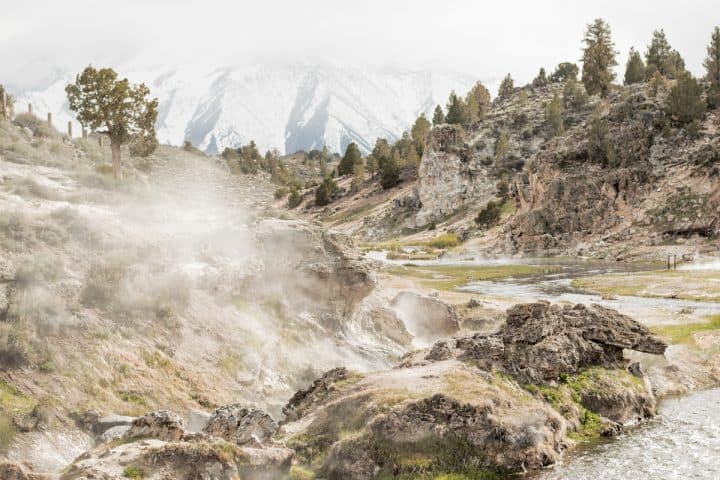 by Hannah from That Adventurer
Mammoth Lakes may be best known for its skiing but did you know it's also full of geothermic activity? There are dozens of hot springs near the town of Mammoth Lakes most of which are undeveloped and free and involve travelling down dirt roads to find them.
From these pools, you often get incredible views of the Sierra Mountains while you soak. 
When you're done soaking don't miss out on visiting Hot Creek Geological Site. This area has dozens of natural hot springs that you can hear bubbling and boiling in bright turquoise pools. There are only a few places like this in the whole world!
You can't swim in these pools as they're too hot and changes in temperature of over 200 degrees Fahrenheit have been recorded. Make sure you stick to the trails too as the earth is known to fall into the water.
43 – Yosemite National Park, California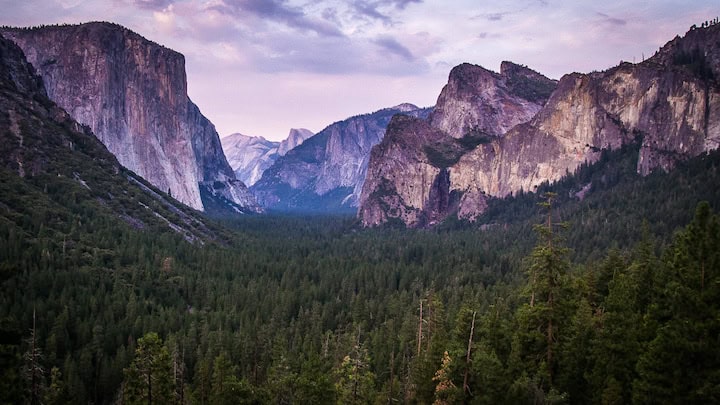 by Erin from Neverending Voyage
Yosemite is one of the most stunning National Parks in the US and a classic stop on a Southwest road trip. It's a five-hour drive from San Francisco in northern California.
The scenery here is unrivaled and adventures are available to suit all comfort levels.
Whether you'd prefer to stay in a luxury hotel and take easy strolls through alpine meadows and giant sequoia groves or camp out and enjoy challenging climbs up spectacular granite peaks, Yosemite has something for everyone.
Our favourite hike was the 7-mile Mist Trail past gorgeous Vernal and Nevada Falls. The most magnificent views were from Glacier Point Road where we enjoyed short hikes to Sentinel Dome and Taft Point before driving up to the stunning Glacier Point. Here you get a real sense of the scale and beauty of the park from the high country peaks to the meadows and forests of the valley.
You might worry that this popular park is too crowded, but even in July we managed to avoid the crowds by hiking early in the morning and choosing less well-known areas (like Gaylor Lakes) on the weekends. See our three-day Yosemite itinerary for tips on making the most of a short stay in the park.
Best California Coast Road Trip Stops
44 – Sonoma Wine Region, California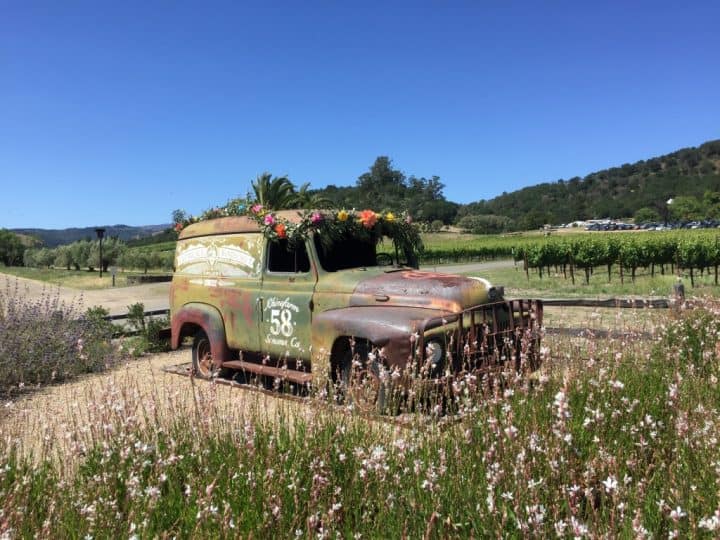 by Olga from Particularly Nice
Celebrate your awesome trip by raising a glass of bubbly in the heart of the wine country. Order a glass of Californian sparkling at Gloria Ferrer (Brut Rosé is particularly delightful) and enjoy the views of Sonoma's rolling hills from the expansive patio. If it rains, you may be seated in the cellar among barrels of Pinot Noir and Chardonnay – hardly a bad place to spend a morning.
Then stroll around the cute Sonoma Plaza, a short drive from Gloria Ferrer. Unless you visit a myriad of its stores, galleries, and tasting rooms, it should only take 10 minutes. You may want to pause in front of the 200-year-old Mission building. This was the last Mexican mission in California and the only one built when California was part of Mexico.
For lunch, head to Vineburg Deli for a yummy BBQ tri-tip sandwich (you may smell it from a distance). From there, it's only 4 minutes to the groovy tasting room of Gundlach Bundschu. It'll be particularly nice if, by the end of the day, you'll be able to say Gundlach Bundschu Gewürztraminer in one go.
45 – San Francisco's Scenic 49-mile drive, California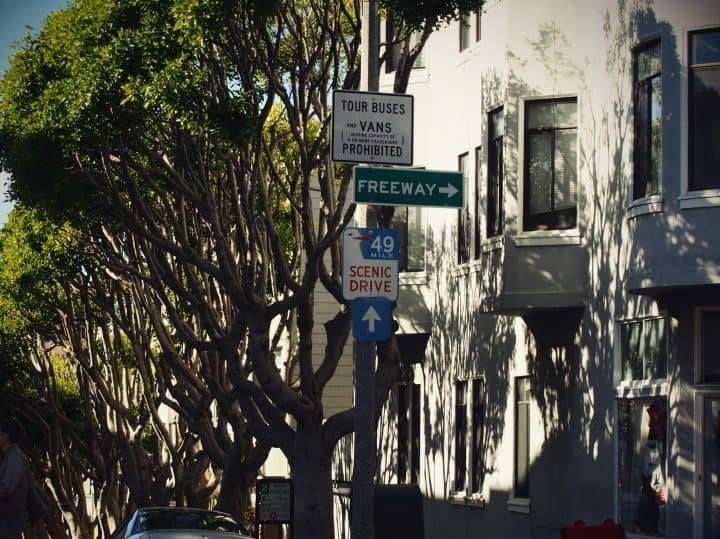 by Kenny from KNYCX Journeying
Scenic 49 Mile Drive was originally created in 1938, by the San Francisco Down Town Association to showcase the city's major attractions for the Golden Gate International Exposition. Through the years, the scenic drive was expanded and it's the best way to have a taste of all the historic sites and landmarks in San Francisco.
Officially, there are 37 spots on the route including the Golden Gate Bridge, Alcatraz, Powell Cable Car Station, Painted Ladies, Coit Tower, and Lombard Crooked Street; visitors are free to complete or selectively visit these spots by car, bike, or public transportation.
The route is marked by blue and white signs with a seagull featured on them; the sign was chosen from a design competition held by the Association in 1955. These signs are often stolen by collectors and they may not be replaced for a long time. So, don't forget to take a picture of it when you see them on the road.
46 – Carmel by the Sea, California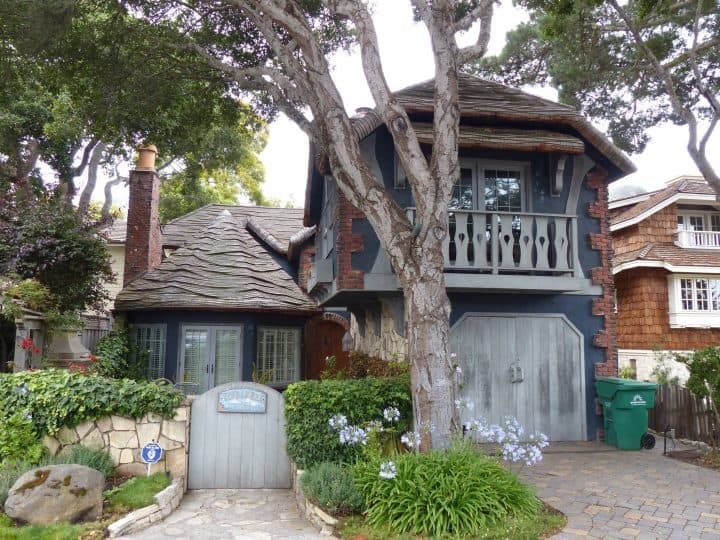 by Tatiana from Family Road Trip Guru
When people think about Carmel-by-the Sea, California they immediately envision a charming small coastal town famous for its fairytale cottages and secret alleys. The whole place as if stepped out from the pages of a storybook, all thanks to a guy named Hugh Comstock who built the first two houses (named Hansel and Gretel) in this architectural style about 100 years ago.
They were meant to be storage places for his wife's dolls (she was a doll maker). Residents of Carmel loved what they saw and asked him to build more for them. The rest is history. You can take a walking tour of Carmel and enjoy its whimsical architecture. On the way you can stop at numerous cute shops and galleries – the town became an artists' colony of sorts.
Carmel-by-the-Sea is also lucky to have one of the prettiest beaches on the Northern California coast with white powdery sand. It is a favorite of locals and tourists alike. No visit to Carmel-by-the-Sea is complete without the scenic 17-mile drive. It is a drive between Carmel and Monterey featuring beautiful coastal vistas.
Finally, if you are a history buff or just an admirer of beautiful architecture and gardens, you need to stop by Carmel Mission. The Spanish Mission built in 1770 is considered one of the most charming in all of California.
47 – Driving through Big Sur, California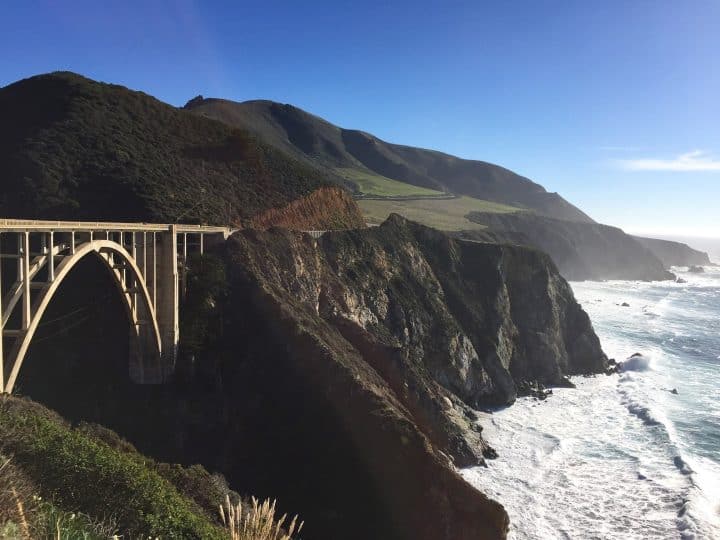 by Charles from McCool Travel
One of USA's classic "must do" at least once in your lifetime drives is a Big Sur road trip—Highway 1 (Pacific Coast Highway aka PCH) from Carmel Highlands in the north down to Morro Bay. Big Sur has been the scenic backdrop for countless movies, television shows, and artistic inspiration of all types.
I love road signs and one of my favorite in the world is the "curvy road next 74 Miles" sign in Carmel. When I see that sign, I know that I am heading for another memorable and amazing adventure.
Bixby Bridge and McWay Falls are two of the most popular stops but there are so many others. Nepenthe and Rocky Point are two of the greatest overlooks in the world—make time for a snack, meal, or time for reflection. Spend time at Hearst Castle in San Simeon, one of history's most lavish private estate residences.
My not-so-secret Big Sur suggestion is Pfeiffer Beach with its majestic stone arch, gnarled cypress trees, and purplish beach sands. The Pfeiffer Beach parking lot (it will be full on weekends by 9am) is at the end of the windy, narrow Sycamore Canyon Road (no RVs or large vehicles allowed).
For an advanced drive, explore the unpaved Coast Road (at times rugged 4WD) between Andrew Molera State Park to Bixby Bridge (Coast Road rejoins Highway 1 about 2/3 miles south of Bisby Bridge). NOTE: before embarking on your Big Sur road trip, please check road conditions in case there is a mudslide.
48 – Carpinteria Harbor Seal Preserve, California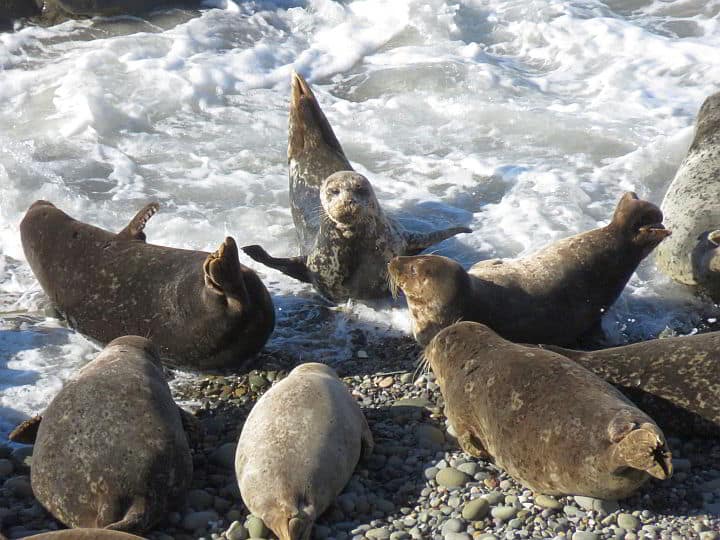 by Susan from Solo Trips And Tips
One of my favorite places during my Southwest USA road trip was Carpinteria California, just a few miles south of beautiful Santa Barbara along the famous Pacific Coast Highway. Carpinteria is a small town with several beautiful beaches for sunning, surfing, and seashell searching. One of the best things to do in Carpinteria is to visit the Harbor Seal Preserve and Rookery at Carpinteria Bluffs.
Afterward, enjoy a stroll along the beach then enjoy a delicious meal at Zookers Restaurant in downtown Carpinteria. I recommend the Cioppino, a hearty seafood stew. Zookers menu features a variety of California cuisine from tofu to sustainably raised meats and plenty of seafood options. Leave room for dessert! In the evening take a walk along the beach to watch the gorgeous sunset over the Pacific Ocean.
49 – Malibu Farms on the Pier, California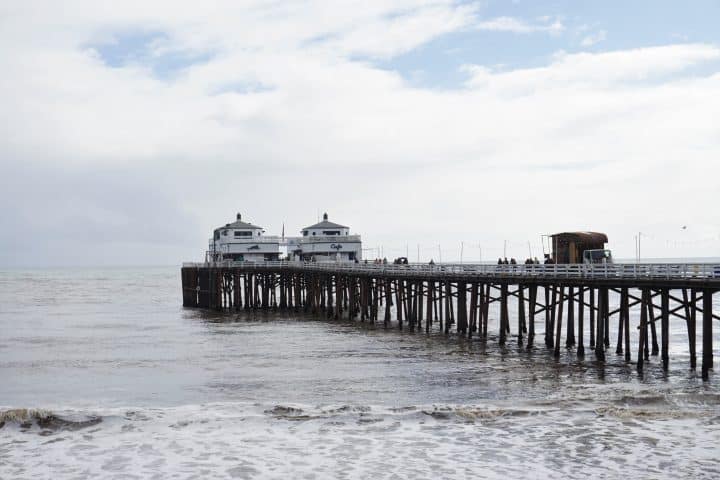 by Wendy from Empty Nesters Hit The Road
Driving through Los Angeles may bring to mind movies, television stars, and iconic beaches like Malibu. So why not take this opportunity to stop and enjoy a delicious meal, an awesome ocean view, and maybe a celebrity sighting?
Malibu Farms, located on Malibu Pier, has become the quintessential brunch spot for young, famous, and wannabe famous Angelenos. Its beachy decor includes rustic wooden tables and faux fur throws. Odds are you've seen famous Instagrammers posing in this attractive dining spot.
But it's really the food that steals the show. Malibu Farms prides itself on farm-to-table cuisine that is heavy on vegetables. When the founder, Helene Henderson, started the restaurant, the produce, and eggs came from her own backyard. And don't skip out on dessert here because they offer some delicious options.
If you're coming on a weekend, be prepared for a wait, but that's okay because you can stroll down the pier and enjoy the view. A paid parking lot is available next to the pier.
50 – Griffith Park in Los Angeles, California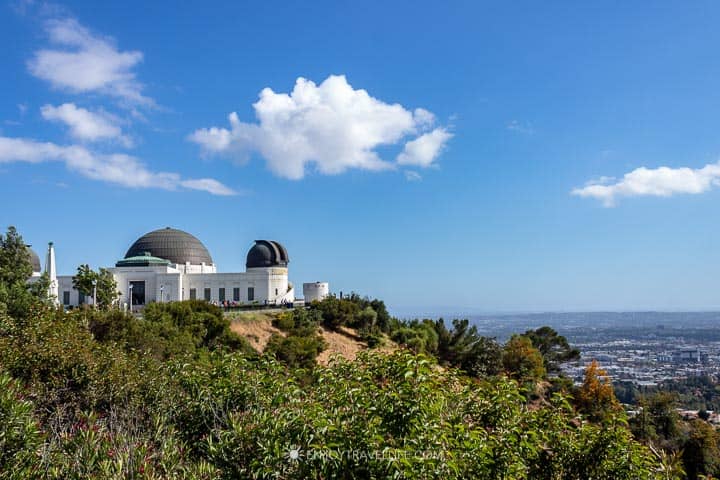 by Jackie from Enjoy Travel Life
Griffith Park is a rugged oasis of outdoor recreation, scenic beauty, and cultural attractions. Located in the Los Feliz region of Los Angeles, it's one of the largest urban parks in North America.
The park's expansive (4,310) acreage offers miles of hiking, and equestrian trails, and is an ideal setting for outdoor activities like picnicking, golf, tennis, and pony rides. A Greek Theatre hosts music and theatre events in an amphitheatre modeled after a Greek Temple. Movie buffs will be interested to know that multiple Hollywood movies were filmed at Griffith Park, from the James Dean classic, Rebel without a Cause (1955) to La La Land (2016).
Perched on the southern slope of Mount Hollywood is The Griffith Observatory. This impressive example of Greek Revival architecture provides sweeping views of the L.A. Skyline, Los Angeles Basin, Bronson Canyon, and the iconic "Hollywood" sign. Inside, visitors discover interactive science exhibits about time, space, and telescopes. (Tip: Don't miss the Planetarium Show.)
Griffith Park is a multi-faceted gem with something for everyone to enjoy. Plus, park admission (including the Observatory) is free! We made it a stop on our travels so what are you waiting for?
51 – Crystal Cove State Park at Orange County, California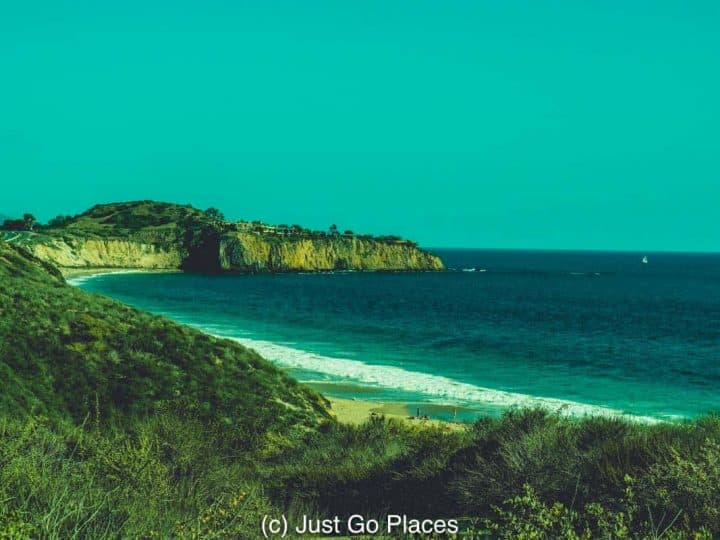 by Shobha from Just Go Places
Orange County in California has near-perfect weather and an enviable beach lifestyle. Crystal Cove State Park is one of the best places in the area to enjoy this lifestyle and is located off the famous Pacific Coast Highway between Newport Beach and Laguna Beach. You can find parking lots at Reef Point or Newport Coast.
With 3.5 kilometres of beachfront, Crystal Cove State Park is divided into four beach areas and we loved Crystal Cove State Park. For example, the Moro Park area is a favourite of kayakers and SUP boarders whereas the Reef Point area is for surfers. The tide pools are fascinating for their myriad animals, especially for children.
Behind the beach there are hundreds of acres of backcountry wilderness with 18 miles of hiking trails. For food, the Crystal Cove Shake Shack is a popular restaurant that serves burgers and milkshakes.
52 – Watts Towers in South Los Angeles, California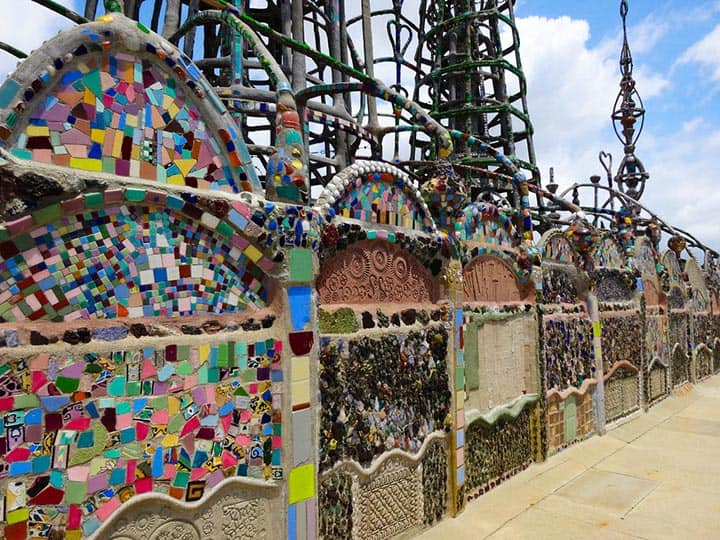 by Trina from Team Hazard Rides Again
Watts Towers in South Los Angeles is one of the coolest, and most underrated, sights we have experienced in LA.
Simon Rodia was an Italian immigrant who bought a modest house in 1921 and began creating his artistic vision. The elements he used for his mosaic forms ranged from broken cups and dishes to seashells and old bottles.
Rodia was obsessive about his artistry, working on the towers almost every day for 34 years. He would build sections and then tear them down when they didn't match the images in his mind. Early in his endeavor, his wife became fed up with his obsession and left him. He was not deterred.
The three main towers rise dramatically into the sky while other forms create complex, textured walls, part of a ship, and a gazebo. Mini towers and surreal shapes fill the grounds so dynamically you might think of Rodia as a backyard Gaudi. Though officially, the Watts Towers would be considered folk art, or outsider art.
The Watts Towers are open for tours (highly recommended) from Thursday – Sunday. You can view them from the street at any time, but there's a fence that prevents you from seeing some of the really cool stuff.
Have we missed anything?
We would love to add to this list, so if you have anything you feel needs to be seen along this road trip route then please let us, and everyone else, know. Otherwise, we hope you have found at least a couple of interesting places to add to your next Southwest road trip itinerary.