When somebody says they are going on a trip to Europe nobody would question you if the thoughts running around your head were of the romantic tourist hotspots like Paris, Rome, and Prague.
But the true beauty of Europe is often found beyond the boundaries of these huge cities, in the small country towns or the hidden gems of lesser travelled countries. And many of these places are perfectly suited to a short getaway of a couple of days.
We have been fortunate to experience some amazing places on our European road trips but we wanted to discover new places as well. So once again we reached out to our travel blogging friends and asked them to tell us about their best place in Europe for a short getaway.
Brugge, Belgium
with Sam from Travelling Sam.
Brugge sits within the Flemish Region of Belgium and has been made famous by its winding streets and romantic canals. Even Hollywood has based films in this iconic Unesco World Heritage site (the medieval market square).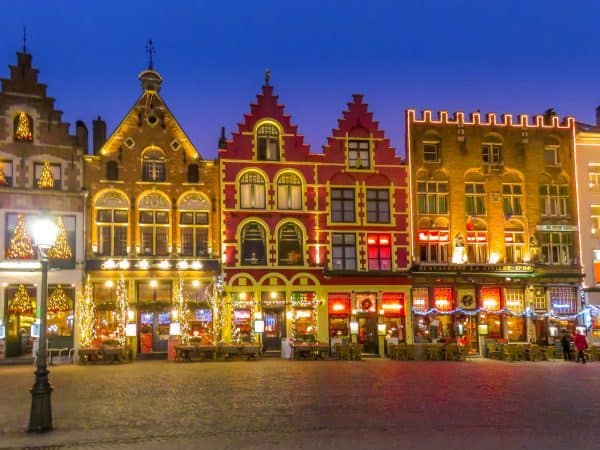 The town is a great setting for a long weekend away. Catering to families, as much as it does to romantic couples, with various museums and incredible architecture. The cobbled streets and old buildings are interlaced with characterful canals providing a unique charm, especially when the sun goes down and the lights come on.
It may be a cliché, but as you are in Belgium, no trip here is complete without visiting the multitude of chocolate and waffle shops lining the cobbled streets. Belgian chocolate is a perfect holiday gift for any loved ones back home, that's if you don't eat it all first!
The crowning glory is a 13th Century Bell Tower, which provides fantastic views over the whole of the town and is a must for any trip to Brugge. As with most places in Europe, it is easily accessible by public transport with a main train station just outside of the Old Town; an easy walking distance away from multiple accommodation options.
Dubrovnik, Croatia
with Anne from Travel the Globe 4 Less.
Dubrovnik is a medieval mystery. Founded 1300 years ago by Greek refugees, its labyrinthine passageways reveal boutique stores, chic drinking holes, upmarket restaurants, and tempting gelaterias, all remarkably well preserved despite the test of time, earthquakes, and shelling by the Serbian army in the 1990s.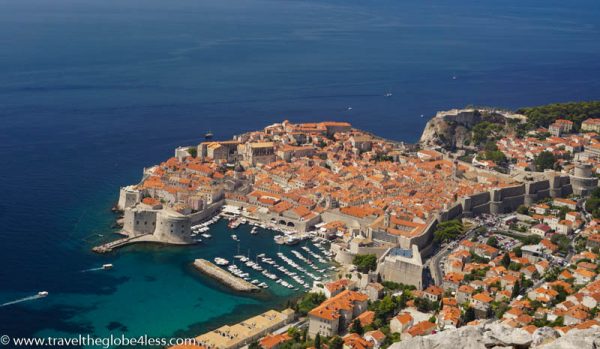 It is easy to lose yourself among creeping wisteria, twisted vines stretched between doorways, and dangling laundry. The walled city is the largest in the world and its terracotta-tiled apartments, villas, and communal buildings are a photographer's dream. The views from the city walls are like a scene from a fairytale and of course, diehard fans of Game of Thrones may find the city vaguely familiar.
It is just three hours from the UK and during summer, many regional budget airlines fly direct to the city's airport just 13 km south of the town. This makes it an easy destination to visit for a weekend away. Two full days will allow you plenty of time to roam the medieval centre, and take a flying visit to the summit of Srd Mountain for panoramic views. The journey by cable car takes just 4 minutes and the views are sublime.
Two days may be enough to see the sights but prepare to find yourself under Dubrovnik's spell before you leave. I came away charmed and enchanted and planning to return. The only downside is that the secret is well and truly out of the bag and prices are high, but these tips may help you save money in Dubrovnik.
San Sebastian, Spain
with Paul from A Luxury Travel Blog.
The best place we had a short break recently was in San Sebastian on the Bay of Biscay. Not only were we staying in one of the best suites in one of the city's top luxury hotels (the Bette Davis Suite at the Hotel Maria Cristina) but the city has such a relaxed vibe about it that it's hard not to love the place.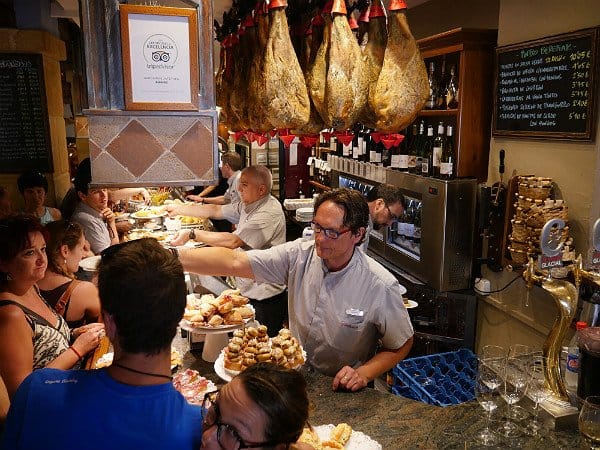 Beaches are within walking distance and there are many places of cultural interest. It's a great city if you love good food too – we did a pintxos tour which is something I would highly recommend. You'll also find some of the most world-renowned restaurants in San Sebastian, many with Michelin stars.
Lisbon, Portugal
with James from Portugalist.
In 2012, I spent a long weekend in Lisbon. It's one of the best short breaks that I've ever taken, so much so that it convinced me to move there!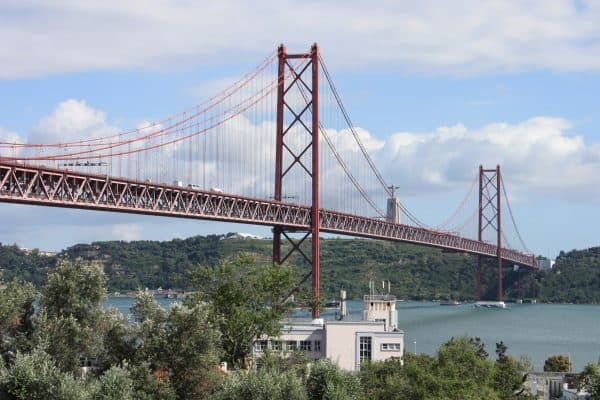 There are many reasons to love Lisbon. Firstly, the weather: with over 300 days of sunshine, you can visit almost any time of the year and expect good weather. This is essential when you're on a short break, as poor weather can affect your ability to see a city properly.
Secondly, it's incredibly affordable – the cheapest capital city in Western Europe. Your money will go considerably further here than it will in other European capitals like Dublin, London, Rome, and Paris. Drinks cost a couple of Euros, and dinner can be bought for less than €10 per person.
Third, it's a fairly compact city and walkable city. This means you won't spend the majority of your break on public transport, trying to get from tourist attraction to tourist attraction. Most are either in the centre of the city or in the nearby neighbourhood of Belem (a short tram ride away). Come visit Lisbon, and see what makes this city such a great destination for a short break!
Helsinki, Finland
with Evan from Pretty Wild World.
Dubbed the "Daughter of the Baltics," Helsinki has often been overlooked by travelers scared that the city will drain their funds because of its reputation for being expensive. I beg to differ, but I don't deny that it is costly to live and travel to and around Finland.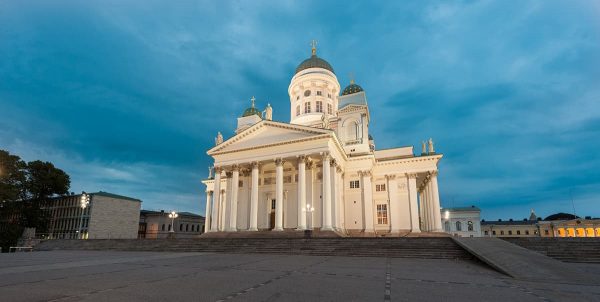 However, this shouldn't scare anyone off as there's always a way to explore Helsinki for a long weekend or a short break. Despite being costly, there are tons to see in Helsinki from urban city life to exploring its vast nature.
Since this infamous capital is relatively small in comparison to other European capitals, there is still a lot to see and do in Helsinki such as visiting its beautiful museums, walking its beautiful neighborhoods, taking short day trips outside the city, and exploring another town just an hour commute from the city center.
My best advice is to tackle all the usual touristic things in one day as Helsinki is easily accessible by foot and the public transport of up to par. On the second day, take a day pack and explore Nuuksio National Park while reserving the third day to explore Porvoo, a neighboring town just 45 minutes by bus.
Lake Garda, Italy
with Margherita from The Crowded Planet.
I live in Milan, in northern Italy, and one of my favourite destinations for a short break is Lake Garda. Italy's largest lake is only about 2 hours drive from my house, and it makes for a wonderful short break destination.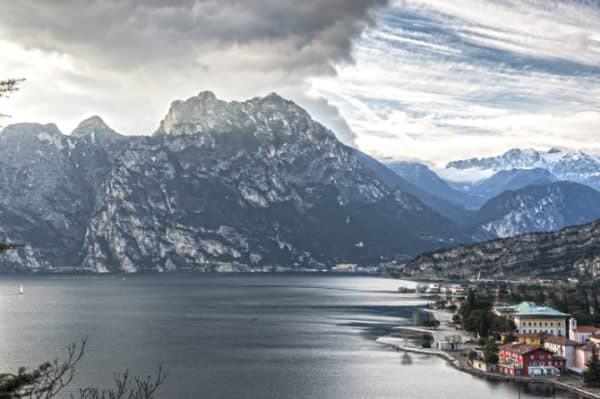 One of the things I like best about the area is that it's truly a year-round destination – there are so many things to do in Lake Garda, especially for adventure lovers, that you can visit over and over again and never do the same thing twice.
For example, summer is a great time to hike, sail or go windsurfing, whereas spring and autumn are the best periods for rock climbing, via Ferrata and mountain biking. It rarely snows as the climate in Lake Garda is quite mild, but those who visit in winter can enjoy wonderful Christmas markets!
Marseille, France
with Kemkem from Next Bite of Life.
Marseille, the beautiful port city located in the South of France is second only to Paris in size. It is an amazing destination for a city break, Beautiful sights coupled with great Mediterranean weather and cuisine, it's easy to find something to like.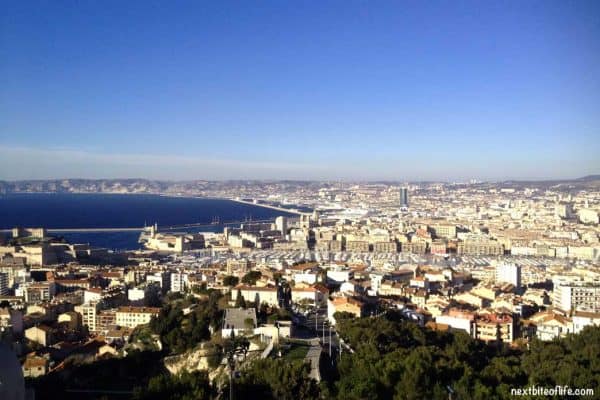 Must-see places in Marseille include:
Chateau D'If – Set on an island about a 20-minute boat ride from the Old Port, this former prison was made famous by Alexander Dumas in the "Count of Monte Cristo". It is a fascinating look into the past at what was a last stop for French Aristocrats.
Notre Dame Basilica – Beautiful church constructed with Golfalina stone with a Romanesque crypt. I suggest taking the tour with the petit train which leaves from the Vieux Port. The view from the top is simply stunning.
Longchamp Palace – Home to the Museum of Art, it is a beautiful palace with amazing stained glass windows and a huge park popular with the locals. It is a gorgeous place from which to glimpse everyday French life.
Vieux Port (Old Port) – Once a gritty and dangerous area, it has been transformed to one of the most picturesque spots in the city. Cafes, hotels, and restaurants are in abundance. Try some delicious fresh caught seafood prepared at the moment right at the port.
Piran, Slovenia
with Kate from Our Escape Clause.
It's hard to imagine a better place for a weekend getaway than Piran, Slovenia: this tiny coastal town is entirely walkable and oozes charm from every corner. In just a few days, it's easy to explore the bulk of Piran and walk away feeling refreshed.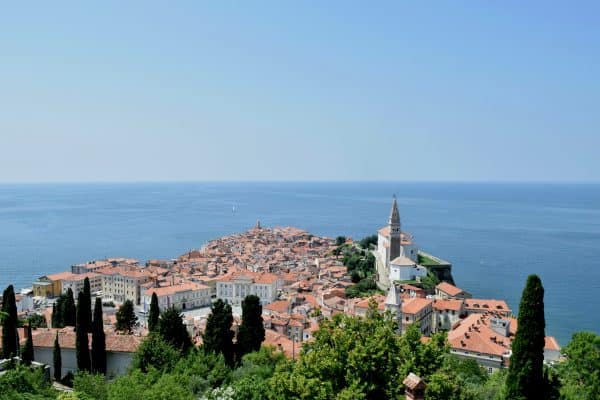 There are only a few things that you "have" to do while in Piran: make time to climb the town walls above the city to get an amazing view of the peninsula below, go for a swim in the clear waters behind the town on the side of the city opposite the marina (and revel in the fact that a few simple phrases are all the directions required in a place so small!), and eat plenty of delicious meals while facing the water.
We loved Piran's adorable streets, picturesque town square, churches, and marina, and most of all, we loved the laid-back nature of the little town. Our days in Piran passed lazily and peacefully: a swim, an afternoon gelato, and a dinner with a view of the water were an easy and happy pattern to fall into, and we left feeling completely relaxed at the end of our short stay.
Cappadocia, Turkey
with Al from Sojournalpix.
In the middle of the Anatolian Plane, 750 kilometers from Istanbul lies this seemingly magical land called Cappadocia that has unique geological features formed by ancient volcanoes 10 million years ago which gave rise to strange rock formations sculpted by wind and water.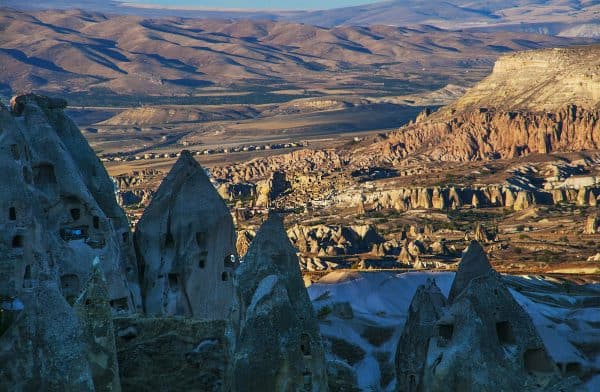 Early settlers used this soft volcanic soil to carve out houses, churches, and even underground cities that extended hundreds of meters beneath the surface. We based our stay in Goreme with its famous cave hotels – your room is literally cut out of the soft rock conical protrusions that dot the whole town.
It is a compact place that you can easily navigate to see the nearby sights like the Open-Air Museum which has well-preserved Byzantine churches and frescoes inside man-made caves dating back to the 10th century.
Then there's Pigeon Valley and Pasabag with their panoramic views of "fairy chimney" rock formations that fill the whole landscape as far as the eye can see. Tours to the underground city of Derinkuyu where locals hid for months during numerous foreign invasions in the past and the stunning Ihlara Valley that looks like the Grand Canyon depart from here as well.
It is also a perfect location for hot-air balloon flights because the view from the air of its otherworldly landscape is simply amazing! Many walking trails to explore the valley would satisfy your wanderlust to no end.
The short three days we stayed there were well worth it and would definitely be nice to come back once again.
Capri, Italy
with Ana from Jaunting Trips.
The beautiful island of Capri is located in the Tyrrhenian Sea, just off the Sorrentine Peninsula, in the southern part of the Gulf of Napoli. Ideal to visit in May, June, and September, Capri is set up to be the perfect weekend getaway.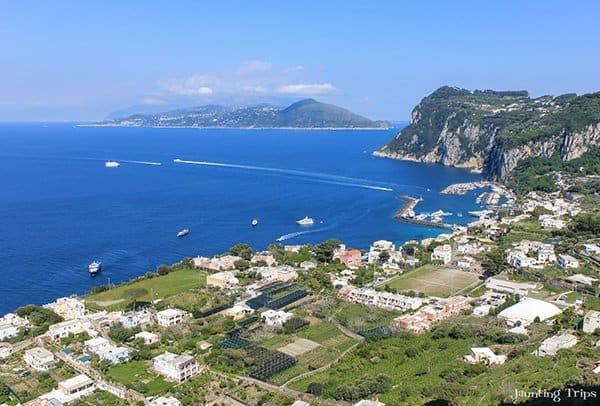 The easiest way to reach the island is via ferryboat from either Sorrento or Napoli. The starting point of your Capri experience is Marina Grande, from where you can either catch a boat tour around the island or you can start exploring on land.
Among the beauties you will experience on the boat tour are the colorful grottos: Coral Grotto, Grotta Bianca, Green Grotto with the most stunning emerald shades, and of course gorgeous Grotta Azzura; the Faraglioni – the three rocky giants that give Capri its unique look and Marina Piccola, ideal for enjoying a day in the sun.
Returning from the boat tour, you can explore the two towns on the island, Capri and Anacapri (that literary means "above Capri"). They are absolutely charming, with lots of small boutique shops, restaurants, and art galleries. You can reach Anacapri by bus, but if you are feeling up to the challenge, you can take the Phoenician steps. It might be a 45 minutes climb, but the views are totally worth the hike.
Moscow, Russia
with Liza from Tripsget.
Moscow is a great place for a short break. I've visited the capital of Russia quite a few times, maybe 6 or 7, and most of these times just for a weekend or so.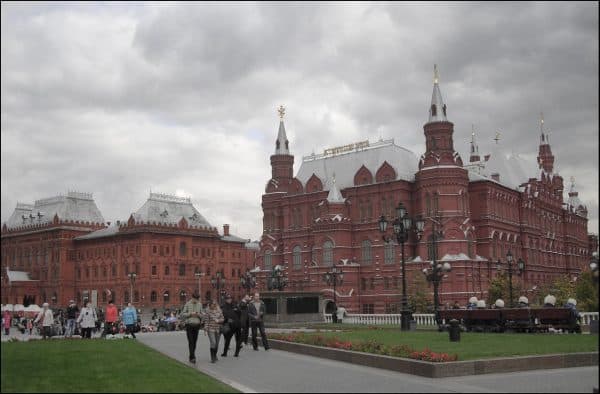 Moscow is neither the most interesting city in Russia nor the most beautiful one (St. Petersburg wins the crown), however, it has Kremlin and it is gorgeous and unique. And that's already a good reason to visit Moscow. You can spend the whole day at Red Square for sure, especially if you manage to get into the majority of museums.
The museums are really worth it – in Mausoleum you can see the mummified body of Russian revolutionary leader Lenin, in St. Basil's Cathedral – amazing Christian Orthodox art and many more things inside the Kremlin and its Cathedrals.
Moscow is also a great place for foodies, especially if you like lavish and expensive places. Some of the restaurants in Moscow have gotten into the list of the best restaurants in the world, but in order to get a table there, you will probably have to call in advance (or book online). Moreover, Moscow has plenty of parks and recreation zones that are worth visiting and it's one of the most beautifully decorated cities for Christmas.
Rothenburg ob der Tauber, Germany
with Reasons to Visit.
After completing a six-week road trip through Germany and some of its neighbouring countries there was one German town that stood out as the perfect place to spend a few days. And that town is the delightful Rothenburg ob der Tauber.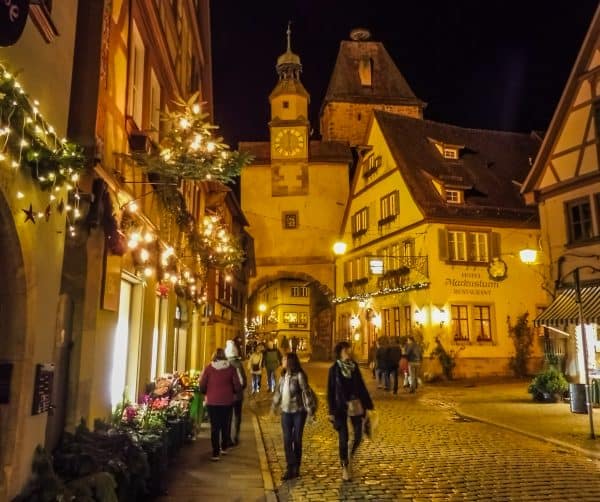 It is often said that the village in the original Pinocchio story was based on this fairytale town and once you start exploring the cobblestone streets and admiring the colourful half-timbered houses you will feel like you are walking through the pages of a children's book.
This is a wonderfully preserved Medieval walled town with loads of character and it is also home to one of the most famous German pastry treats, the Scneeballen or Snowball. Especially popular at Christmas this tasty morsel looks like one of those balls made from thousands of rubber bands, but with strips of pastry, coated in numerous sweet options and it originated here.
Rothenburg is an absolute must-visit on any trip around Germany, especially during December when the Christmas market is in full swing and the decorations make it even more magical.
Porto, Portugal
with Jane from Scarlet Jones Travels.
Porto is the perfect European city for a short break with easy access from the airport and plenty of accommodation to suit all budgets.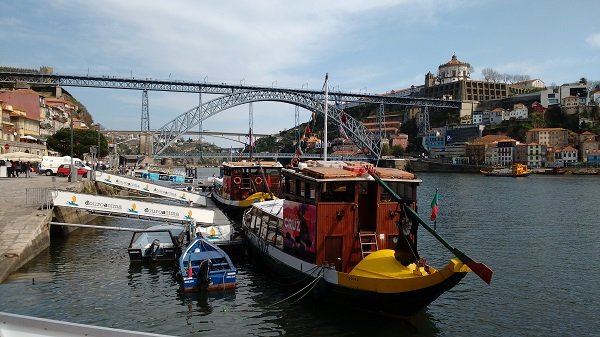 The city is compact so little time is wasted on transport and there's a wealth of interesting things to see and to do. Porto ticks all the boxes regarding food and drink, there's a great beach close by and good nightlife too.
Take a while to stroll around the UNESCO-listed old town with its twisty cobbled streets and pretty houses and then tackle a francesinha if you dare. This is a daunting local dish that will certainly fill you up, and you can wash it all down with some of the local port wine at a bar or on a cellar tour.
Like its big brother Lisboa, Porto has trams and steep hills but it's less frantic and people here are generally more relaxed. You can stroll across the famous bridge and at dusk join the crowds at the viewpoint above the town for some fabulous sunsets. And then if the steep streets haven't exhausted you, do climb to the top of the Clerigos Tower for views of the city or wander around one of the many parks.
A local bus can take you to the nearby beach and another to the gardens and museum of the Contemporary Art Museum. I loved the relaxed atmosphere of Porto and its friendly people. You won't be bored on a short break here.
Tatra Mountains, Poland
with Dorota from Born Globals.
Tatra Mountains are a mountain range on the border of Poland and Slovakia. There are over 300 kilometers of trails on the Polish side. You can either plan a day hike or stay up in the mountains for a couple of days and walk from peak to peak. No matter which option you choose the views will surely take your breath away.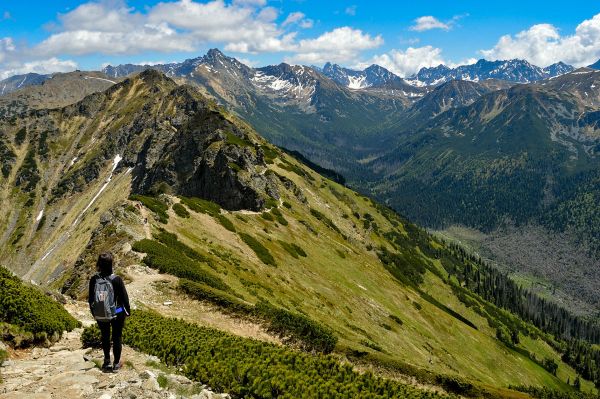 What I love about Tatras is their beauty and variety. You can do a leisurely stroll along the valleys or hike for the whole day on a very demanding trail. If you're lucky you can see a fox, a marmot, or a Tatra chamois and a great variety of flowers and plants. A bear if you're less lucky!
The Tatras are perfect for a short break from the city. You can charge your batteries there admiring the outstanding nature and breathing the fresh and sharp mountain air. Some trails around Morskie Oko and Giewont can be crowded but if you choose less popular parts of the mountains you can spend the whole day with your thoughts and nature only.
Kotor, Montenegro
with Mike from Travel and Destinations.
Kotor makes for a fantastic place to visit for a short break. This small town is nestled in the Bay of Kotor off the Dalmatian Coast and has huge towering mountains, and stunning beaches and provides that perfect getaway feeling.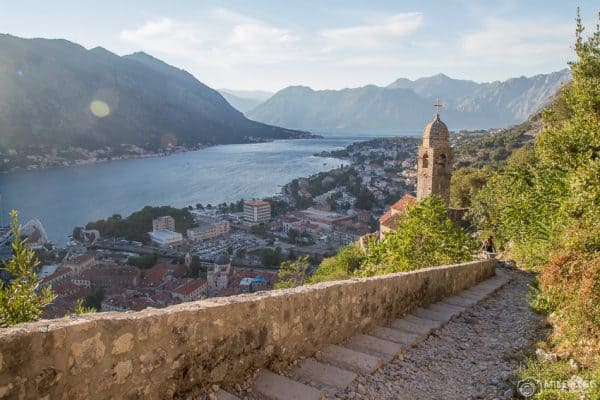 The Old Town is one of the highlights of this place, being super cute with old ancient architecture, cobbled streets, and an amazing selection of restaurants with most offering outdoor dining. And as you dine eating delicious local food, you may also experience locals playing music which adds magic to the atmosphere.
If you fancied a challenge, then one of the best things to do during your visit would be to head up the Fortress of Kotor, where you'll be presented with breathtaking views of the surrounding mountains, the Bay, and Old Town. It takes a fair amount of effort to get to the top, and a good time to go is around sunset, or in the early morning before the sun becomes too hot.
Kotor is especially good to visit in the summer, with nice temperatures perfect for sunbathing, relaxing, and swimming on the beach. A good way to visit is to come from Dubrovnik as the bus only takes around two hours, which means you could see two fantastic places within one trip.
Cies Islands, Spain
with Inma from A World to Travel.
Along with Ons Islands and a few other little ones such as the tiny Salvora and Cortegada, Cies Islands look like they just came out of a luxury travel brochure. They were first declared a Nature Reserve in 1980 and later included in the Atlantic Islands of Galicia National Park created in 2002.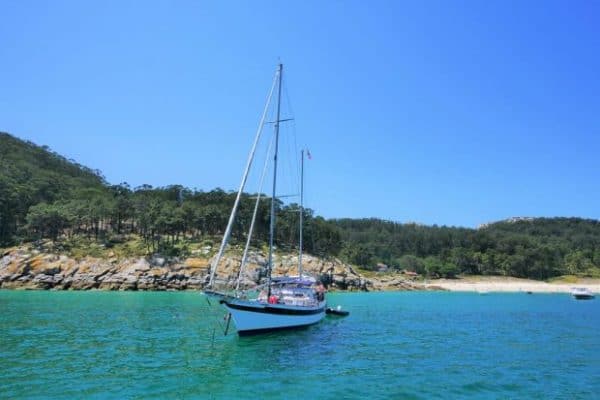 And we as Galicians could not be more proud of them. Many times highlighted as some of the best islands in the world by authority newspapers and big travel magazines, Vigo's estuary has three of them guarding its entrance: Monteagudo (Sharp Mount or North Island), do Faro (Lighthouse Island, or Middle Island) and San Martiño aka the South Island.
The first two ones are the most touristy – and where Rodas Beach is – but the South Island, only accessible by private yacht is also a great option to spend an epic day. Have a look, you are missing out!
Sarlat, France
with Cindy from Travel Bliss Now.
Just a two-hour drive from Bordeaux, France, this pretty medieval town is perfect for a short getaway that will make you feel a million miles away.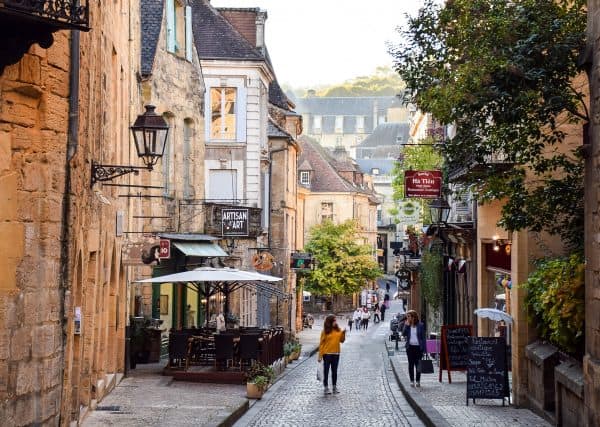 Dating back to the 9th century, I loved getting lost in the narrow alleyways that wind between the honey-coloured limestone buildings. While there are plenty of adorable villages and historic sites to explore nearby, Sarlat is an idyllic place to experience a taste of small-town life in the Dordogne region of France.
Sarlat is a gourmet paradise, particularly known for foie gras, truffles, fresh produce, cheese, and wine. On market days, (Saturday and Wednesday), the main square fills with local vendors with delicious offerings. Lined with outdoor cafes, the square is also a splendid place to enjoy some local wine.
You'll also discover the cutest and tiniest cafes tucked into nooks and hugging the stone buildings. Best of all, when the sun goes down in Sarlat, the town lights up by gas lamps casting a romantic glow.
Tip for visiting Sarlat: Consider going in the shoulder seasons of spring or fall, when it's less busy and the weather is still pleasant.
Istanbul, Turkey
with Marta from Where Life is Great.
Istanbul is one of those places which when you visit for the first time it will surprise you and leave you speechless. It is a city that mixes the cultures of the West with the Middle East, a place with architecture so magical that resembles a fairy tale, and where two different continents are tight together.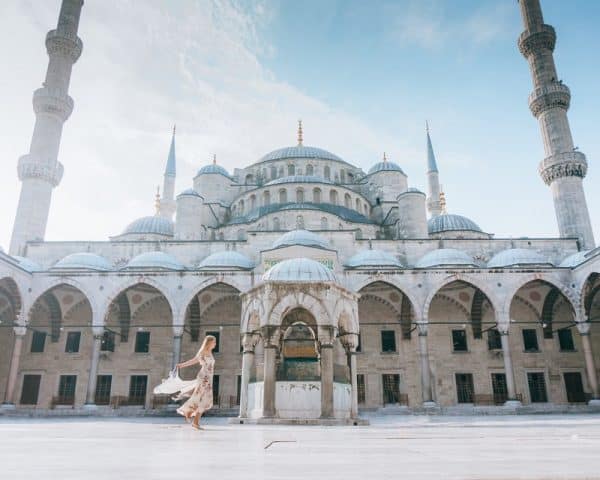 If you fancy a short break, head to Istanbul and indulge yourself in the culture, pamper yourself with a Turkish bath and spoil yourself with delicious Turkish sweets. You won't regret it!
First, let's talk about history. Istanbul has been the capital of 3 empires and has incredible architectural gems, such as Haga Sophia, Blue Mosque and Topkapi Palace. For me, the main attraction was visiting Harem – home to Sultan's family and lovers.
Istanbul is also heaven for shoppers. Grand Bazaar is one of the oldest and the biggest covered market in the World! It consists of 61 streets and 4000 shops so anybody will find little something for themselves. To be honest, you can easily spend 3 days shopping if that is your thing!
My personal favorite though was Turkish baths – the best place to relax after a long day of sightseeing. Feel like royalty while having a body scrub, body wash, and a soap message. I can assure you, you have never felt so clean.
Istanbul is really a place for everybody: spa lovers, history geeks, foodies, and party animals.
Edinburgh, Scotland
with Suzanne from Phila Travel Girl.
A short trip is just enough time to scratch the surface of Scotland via Edinburgh. The compact city offers a bit of everything – history at Edinburgh Castle, a taste of royalty at Holyrood Palace, green space in Princes Street Gardens, exciting food options, and of course, Scottish whiskey and shortbread biscuits!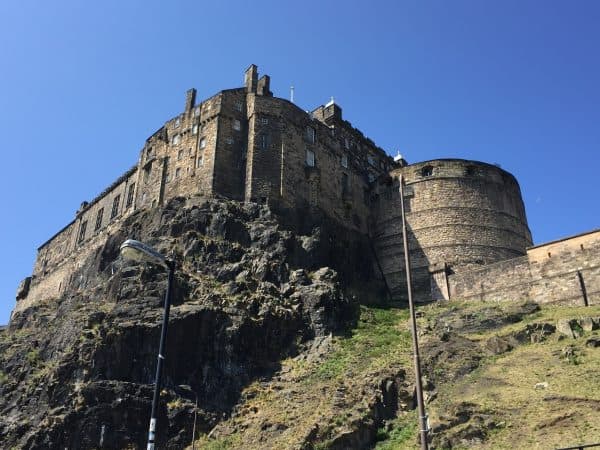 You can explore the Old Town and do a bit of shopping on Princes Street in one day. On the second day, get out of town to the Highlands to see the other side of Scotland and be wowed by nature. To finish the short break in Edinburgh, go to St. Andrews to see the history of golf come alive at the Old Course. Learn about Tom and Tommy Morris and their enormous contributions to modern golf as we know it.
Back in Edinburgh, don't forget to support a street performer playing the bagpipes and make that Instagram photo/video, social media gold! People think kilts, bagpipes, and whiskey are all Scotland has to offer but with a short city break with a taste of the countryside, you'll see that Scotland is much more as you plot out your return to explore more of the country.
Check out the movie, The Angels Share for a bit of whiskey fun in Scotland and of course, the animated movie, Brave.
Hamburg, Germany
with Sonal from Drifter Planet.
If you are visiting Europe, then Hamburg in Germany is one of the best places for a short break. With canals, pretty houses, historical architecture, a red light district, interesting street art, and an amazing party scene – Hamburg offers something for every kind of traveler.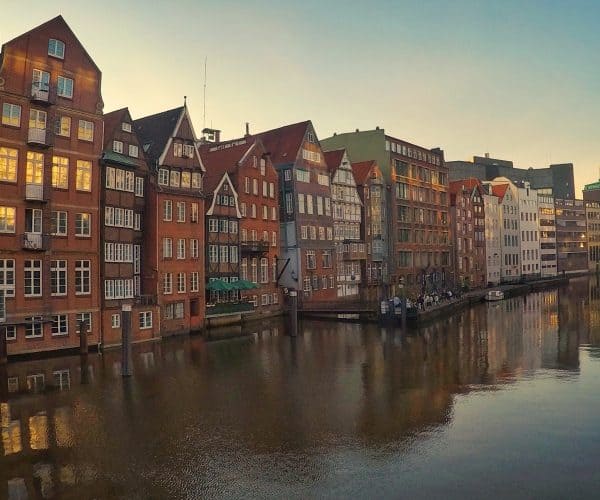 Believe it or not – this city has more bridges than Amsterdam and Venice combined. Hamburg also has Europe's biggest red light district – Reeperbahn. Reeperbahn is in St. Pauli and it is the same place where the Beatles played in their early music career before they became famous all over the world.
Hamburg also has the longest underwater river tunnel that goes under the River Elb. The best part – Hamburg's buses have bookshelves and you can borrow the books for free!
Corfu, Greece
with Suzy from Wunderlander.
Greece's island of Corfu is the greenest and most diverse in comparison to the other Greek islands and is only a short flight away from many major European cities. Perfect for a little getaway!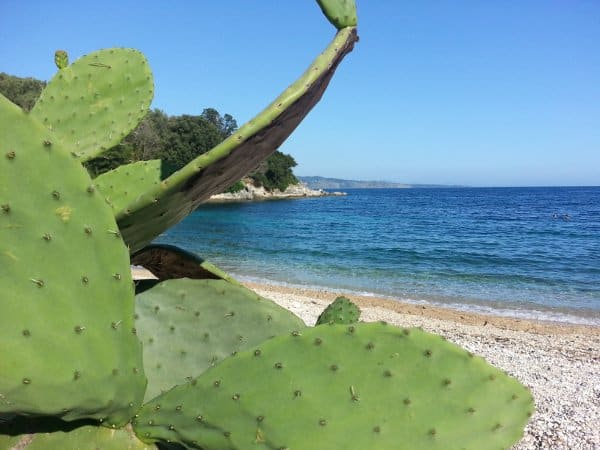 Here my boyfriend and I spend extended weekends all through the year and recharge our batteries in the mild climate and great food. Here we discovered a small, hidden bay in the northeast of the island. Looking for a place to sleep, we simply followed a narrow path with a tent in our luggage. This led us through magical, dense olive groves and stony coastal areas. We were rewarded by a beautiful, small, and lonely bay.
A wall of wild cacti shielded the bay from the shore side so that we could enjoy the beach and the water undisturbed. We swam, had a little picnic with fresh tomatoes, bread, and goat cheese, and then spent the night in this wonderful, hidden place. It was a wonderful experience.
Den Haag, Netherlands
with Bilyana from Owl over the World.
Den Haag should definitely be a stop on your Netherlands trip that's for sure. Also, the city is one of the best places for a short break that I've been to, not just in the Netherlands but anywhere.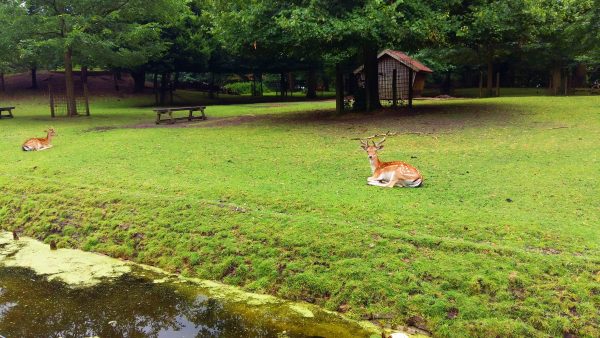 There are many things to do in Den Haag for free, the city is very pretty and relaxed. One of the things that I liked the most about Den Haag is Scheveningen, aka Den Haag Beach. How cool is it to have a beach just 15 minutes tram ride away from the city center? There are bars and cafes where you can sit and relax and there are even a couple of attractions, like the Ferris Wheel and a bungee jump platform.
Den Haag has a very nice atmosphere and a couple of days there would be enough to explore the city and chill. There are many green areas and opportunities to have fun. From Den Haag, you can also visit Delft on a day trip. Lovely and authentic small Dutch town, which is also a great idea for a short break.
Bologna, Italy
with Faye and David from Delve into Europe.
I had somehow passed close to or through Bologna several times but was always on my way somewhere else until my wife took me there for a recent birthday. It turned out I had been missing out on one of my favourite cities, and I won't make that mistake again.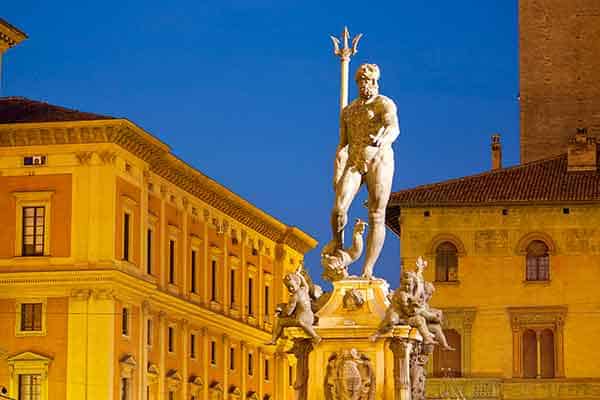 Bologna is the capital of the central Italian region of Emilia-Romagna, and its historic centre is stunning, with distinctive beautifully preserved red brick churches, palazzi, and towers clustered around the central squares, Piazza Maggiore and Piazza Nettuno. It is known as the 'pianeta porticata' because so many of its streets are lined by porticoed buildings.
The two twelfth-century towers, the taller Asinelli and shorter Garisenda dominate the skyline of the centre, and you can climb 498 steps to the top of the former for breathtaking views over the city.
Bologna's other attraction for us is its food. We found our way to a tiny backstreet trattoria and ordered tagliatelle al ragu, the dish on which 'spaghetti bolognese' is based. It's become a staple around the world, albeit far removed from the original. This was utterly sublime, one of the tastiest dishes I had ever eaten. After this, we took every opportunity we could to sit down and sample as much as possible, slowing down on the sightseeing somewhat to accommodate all those extra calories. It was my birthday, after all.
Carcassonne, France
with Reasons to Visit.
It is always special when you get to witness a Medieval walled city anywhere in the world but one of the most scenic would have to be the UNESCO-listed Carcassonne in the Southwest of France.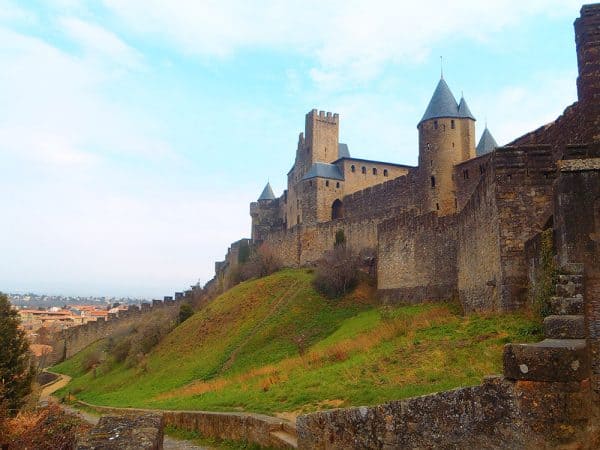 Perched high on a hill overlooking the "new" town the fortress makes an imposing sight from miles around. A rich history and an excellent state of repair, teamed up with some wonderful local food served in small restaurants along the cobbled lanes, make this a very magical place.
Accommodation options are varied but whether you decide to stay inside the walls or out, try to get a view of this amazing place.
Aran Islands, Ireland
with Natalie from Cosmos Mariners.
On your next trip to Ireland, you need to include a day or two on the stunningly beautiful Aran Islands. Inishmore is the largest, so I'd recommend using it for a base: to get to the other two, smaller islands, you can catch a ferry if the water isn't too rough. All three of the islands are perfect for biking, so rent a bicycle near the ferry terminal, grab a picnic from a local shop, and meander for the day.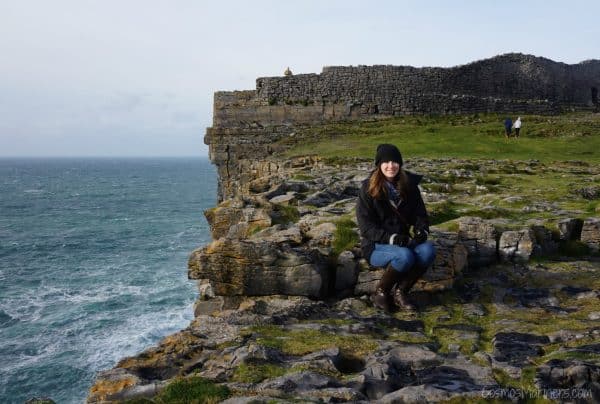 You can see cliffs that rival the more famous Cliffs of Moher without all of the crowds, learn a little Gaelic (the primary language of the islands' inhabitants), and relax with a Guinness at a pub while you listen to traditional music. Each of the islands also has unique offerings: there's the shipwreck of the MS Plassy on Inishsheer, a massive Iron Age fort on Inishmore, and the cottage of Irish writer John Millington Synge on Inishmaan.
Most of the people who visit only stay for the day, so an overnight stay allows you to meet more of the locals and learn more about the culture that exists on these isolated islands.
Lauterbrunnen, Switzerland
with Dana from Wandering Donut.
Switzerland is undoubtedly one of the most beautiful countries in the world and Lauterbrunnen has a lot to do with that. Snuggled into a gorgeous valley surrounded by waterfalls and pure magic this place is sure to take your breath away, especially in winter!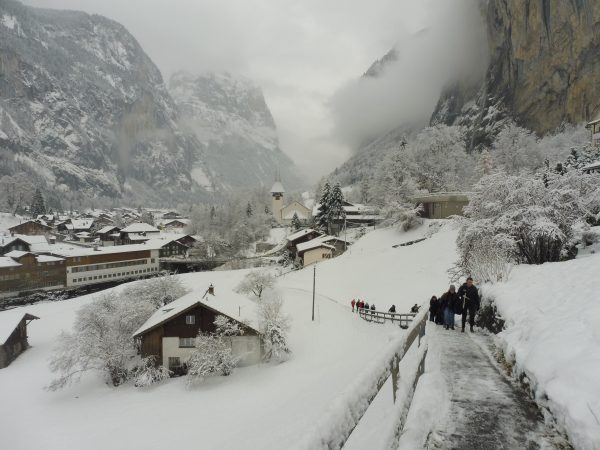 While it may not be full of shopping malls and endless tourist attractions this majestic town still has a lot to offer and will have you falling in love quicker than you can say free mulled wine. Similar to most European cities around that merry time of the year Lauterbrunnen lines its snow-dusted streets with Christmas markets to warm your soul and fill your heart with love and happiness.
However, if the magic of the valley isn't quite enough for you, Lauterbrunnen also has a station for you to jump aboard the Jungfrau Railway to take you on one of the most overwhelmingly stunning rides of your life to the Top of Europe where you can continue to frolic in the snow and take in even more overwhelmingly stunning views from the highest point in the continent.
While Switzerland may be one of the most expensive countries in the world and the Jungfrau might seem a little steep both literally and in price, it is so worth it.
Georgia
with Yukti from Travel With Me 24/7.
5 Reason you must visit Georgia once in a lifetime.
1. Indulge in the wonderful mountainous virgin nature.
2. Receive the tremendous Love and Hospitality from Georgian people
3. Food and wine lovers should definitely come here.
4. Less expensive and very much affordable.
5. If you want to fall in Love again then come here… Believe me any depressed or sad person will revive his life again and again start to believe positively. In short a HEALING COUNTRY.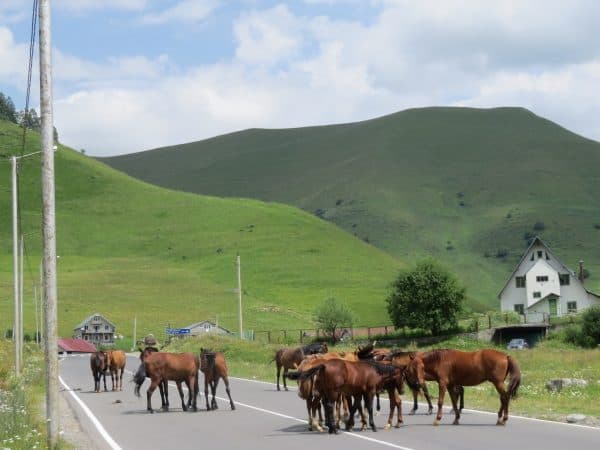 There is so much to see, feel and love with Georgia that after coming back you feel something is missing – Let's go again… Georgia will make you fall in love. The specialty of Georgia is its culture, loving and friendly people, virgin and untouched nature, animals, healing properties of climate, food, budget-friendly, and most simple not too complicated in any form(real freedom as if no one is watching you for your actions or formalities).
When you are leaving Georgia I bet all have moist eyes as if something is left behind or someone is waiting for you. I don't know what it is, but there is some attraction in this that pulls you … maybe Georgia touches our soul.
Umbria, Italy
with Vick from Guiri Insider.
Everybody talks about Tuscany, but I feel that its "little brother" Umbria, a less touristic but equally beautiful region, doesn't get the recognition it should, and I really don`t get why.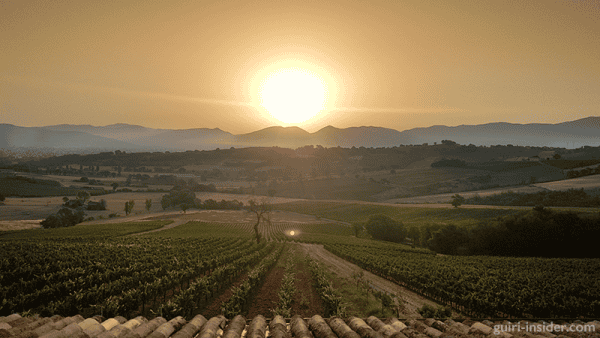 I admit I was delaying my visit there because I always thought this should be a trip to take with a loved one. Movies always sell it as such a romantic place… And yes, it can be very romantic. But it can also be perfect for someone who wants a calm, relaxing getaway, a break from the popular cities overcrowded with tourists, an inspiring place to get back in touch with nature and yourself, a perfect place to perfect the art of Slow Travel.
Umbria is a wine region, so do expect to be surrounded by the most photogenic fields of vineyards and be offered to taste the most delicious local Italian wines. The food there is also great. If not lazily sunbathing by a pool (in the summer), reading by the fire (in the winter), or walking around grapevines (all year long), there are plenty of charming little villages to be explored: Bevagna with its medieval fair; Montefalco for a great meal; and Assisi because of the impressive, stunning Basilica of San Francis of Assisi, that should belong on everyone`s bucket list.
Umbria is easily accessed by train from Rome or Florence, and the villages can be seen during one afternoon/day trip, so even though I did explore a little, I was able to keep my relaxed pace while in Umbria, wine glass in hand, just living the dolce vita…
Budapest, Hungary
with Hannah and Adam of Getting Stamped.
One of my favorite cities in Europe is Budapest and on my last two visits, I added 3 nights to my trip and headed to Budapest. Not only are there a ton of Budapest attractions to keep you busy exploring the city for a few days but it's one of the prettiest cities in Europe.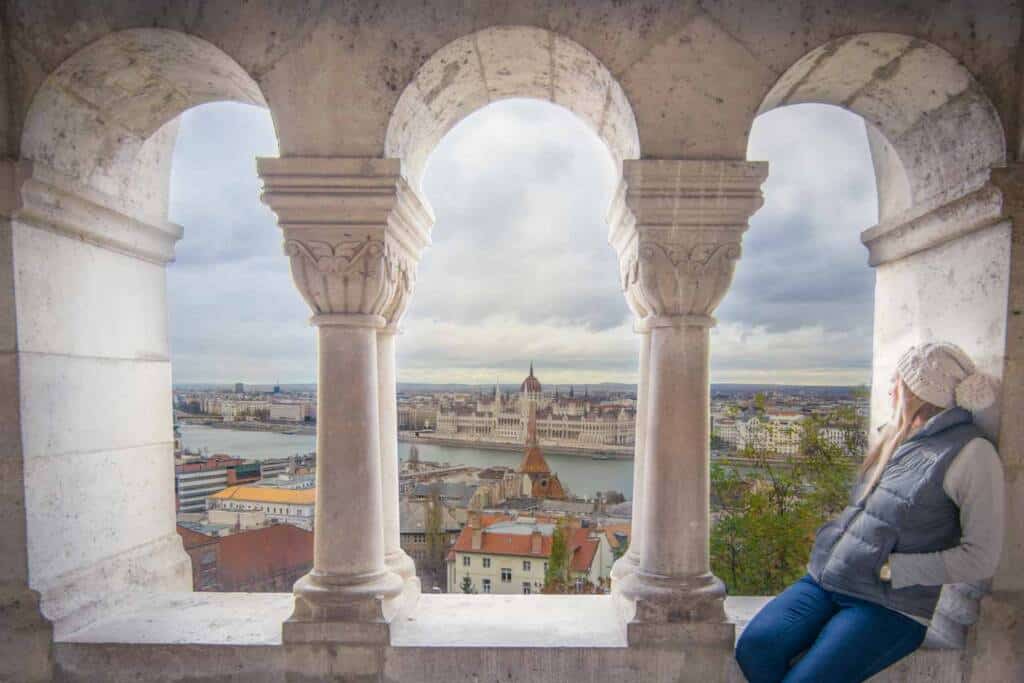 We love getting lost just wandering down the streets, finding little random shops, and taking in all the gorgeous old buildings. As an added bonus it's super affordable, it definitely is a weekend getaway where your dollar goes a long way.
A night out won't set you back more than $50 even if you go to the famous Budapest ruin bars. Some of our favorite places serve up $1 pints of cherry beer. Hotels are also super affordable and there is an abundance of Airbnb options.
If you're visiting during the holidays several of the squares have Christmas markets set up with unique Christmas gifts, tasty food, and of course mulled wine to warm you up. Oh and back to it being cheap, not only were the Christmas markets the best in Budapest but the cheapest too. Budapest is our go-to getaway for a few days in Europe, we'll be back next month actually!
Interlaken, Switzerland
with Arzo of Arzo Travels.
Switzerland is probably one the most beautiful countries in the world with sceneries that are just breathtaking. It is hard to name one place only which makes a perfect weekend getaway but if you only had a weekend to spend in Switzerland you should visit the region of Interlaken.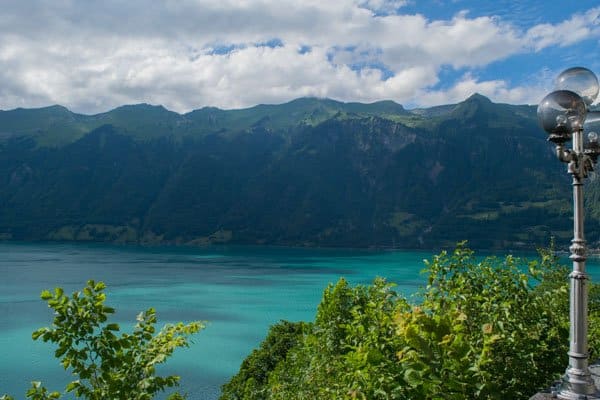 Interlaken itself is just a small town, so if I talk about Interlaken I mean the region which is one of the most diverse and stunning places in all of Switzerland.
Interlaken is THE place for outdoor lovers: Extreme sports is extremely popular or just hiking the gorgeous mountains, outdoor fans will enjoy their time.
The best: You do not have to hike up, Switzerland´s mountains are so easily accessible that you can take a funicular, etc. to enjoy mountain views without much physical exercise (my favorite mountain view is from Brienzer Rothorn).
If you ask me about my favorite lake I would say Lake Brienz is the most stunning one of all. So definitely take walks around Interlaken´s lakes and hop on some boats to enjoy some tours.
If you are tired of the amazing nature (could this ever happen?) then visit one of the very, very cute villages and towns in that region like Thun or Spiez and experience another kind of Switzerland. However you spend your weekend in Interlaken, it will be anything but boring.
Tarragona, Spain
with Emma from Money Can Buy Me Happiness.
Just one hour by train south of Barcelona lies the port city of Tarragona. Firmly wedged in Catalonia, Tarragona has all the nuance and beauty of Barcelona, on a much smaller scale. We travelled there for a few days with kids and it was by far the best short break we've taken.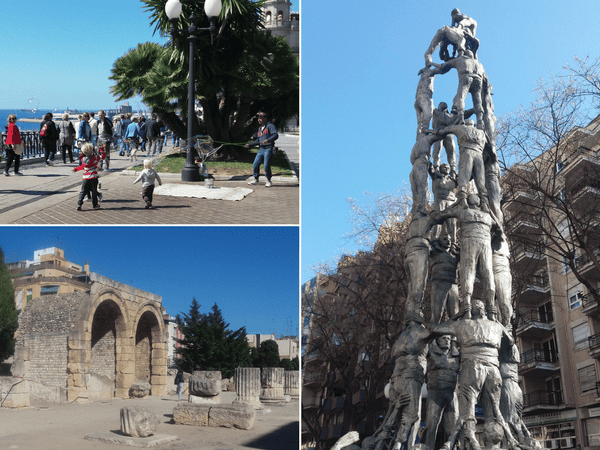 From our hotel (Hotel SB Ciutat Tarragona) we strolled up the beautiful Rambla Nova(think Barcelona's La Rambla, sans throngs of tourists), stopping for cafe con leche and fartons in one of the stunning cafes that dot the periphery, all the way to the Balco de Mediterrani. Views from the Balco made it obvious how this city became one of the first colonies in the Roman Empire. Known as Tarraco by the Romans, this beautiful city still boasts Roman ruins in the thousands.
The ruins include a stunning 2nd-century amphitheatre, a necropolis, partial ruins of a Roman forum, and tombs. The ruins are cheap to visit, situated within easy walking distance from the city centre and no queuing was necessary. Tarragona is serviced by Reus airport (a Ryanair port) making it the perfect destination for a budget-friendly, short break on the Med.
Cologne, Germany
with Shannon of In Search of Mexican.
If you're looking for somewhere to spend a couple of days in Europe then you can't beat Cologne. The city dates back to Roman times and is also home to the most visited landmark in Germany, Cologne Cathedral.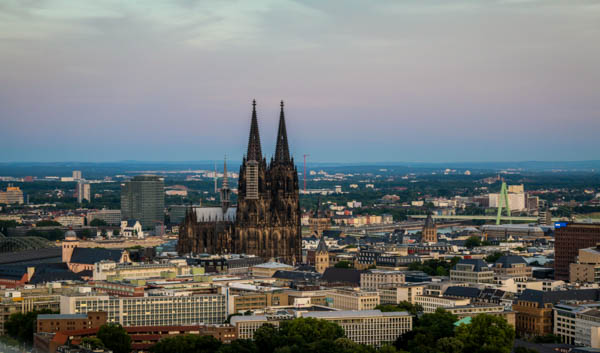 Next to the cathedral is the small, but beloved historic district which stays active until 3 in the morning during the summer. While you're there you have to try Kölsch, the local beer made in Cologne.
Cologne is a wonderful place to go for Christmas Markets as it is home to seven of them, including one right next to the gorgeous cathedral. So no matter what you're in the market for you'll be able to find it.
Girona, Spain
with Claire from Tales of a Backpacker.
Girona is a fabulous place to spend a weekend away. Around an hour from the centre of Barcelona, there are excellent train links between the two cities. It also has an international airport, with regular flights from the UK & Europe in the summer.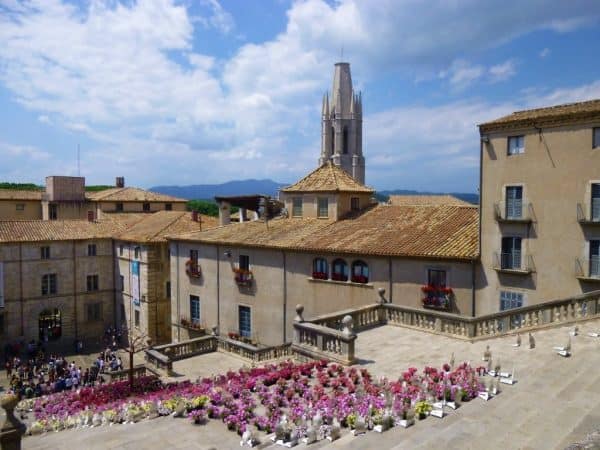 Game of Thrones fans can visit filming locations from the series, including areas used for scenes from Kings Landing, Braavos, and Oldtown, and even if you've never seen the show, the city is stunning. A bridge designed by Gustave Eiffel before he designed his famous tower, a beautiful baroque church, a Benedictine monastery, and an impressive cathedral all mean Girona has its fair share of architectural gems.
In May, Girona hosts a flower festival, when fragrant, colourful displays adorn the city. This brings crowds of people too, but if you time your visit during the week there will be fewer people around. For beach lovers, a 35-40 minute drive will take you to beautiful beaches and secluded coves on the Costa Brava. Foodies will not be disappointed in Girona either, with fine restaurants offering the best of Catalan and international cuisine.
Catalan culture is alive and well in Girona, and if you're lucky you might also catch a performance from the Castellers, who stand on each other's shoulders to build gravity-defying human towers.
Cesky Krumlov, Czech Republic
with Reasons to Visit.
Prague is widely considered one of Europe's cultural hotspots and most beautiful cities, and rightly so. But if you want to get all of this but without the big city crowds then the fairytale village of Cesky Krumlov may hold the answer.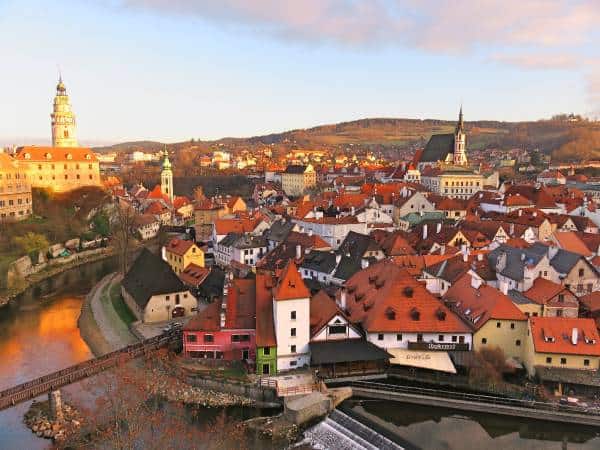 Located just a few hours from Prague this delightful little town derives its name from a word meaning "the crook of a river" which perfectly describes its location. A town that has changed very little in hundreds of years nestled in the small valley of a winding river, and it really is as perfect as it sounds.
Explore the winding cobblestone streets, climb the hill to the Castle, or just chill in the pubs and cafes and take in the history and romance of this place. While not for the adrenaline junkies Cesky Krumlov is a place that should be on everyone else's radar for sure.
Want more great options for a short break? Why not check on these great options in Asia, the Americas, or Australia and New Zealand?