Our epic Southwest USA road trip begins in southern Arizona. 28 days on the road with hopes of witnessing some of the world's most spectacular scenery, experiencing some quirky Americana, and eating crazy food in giant portions. What a trip… we hope!
If you haven't read our overview of this amazing adventure then you may want to read it first.
Day 1 – Tucson to Tombstone and back
Driving distance approximately 180 miles (290 km)
We had arrived the previous night but after 30 hours of flights, transfers, and waiting in airports it's probably no surprise that we decided to just grab some food and head to bed. So to write about that as Day 1 would probably mean nobody was still reading the good bits.
In Tucson, we settled on the Quality Inn Flamingo and found it very clean, comfortable, and perfectly located for our visits to Saguaro National Park. We would be happy to stay there again if we go back.
We woke to the newly defined Day 1 and with body clocks way out of sync we were able to get a nice early start with a plan to drive down to the infamous town of Tombstone before heading back to hopefully witness a sunset at Saguaro National Park.
The first thing we noticed stepping out of our hotel room was that it was raining. Not heavy so we were hopeful it would clear up. The second thing we noticed was that we would probably have to take an extra jacket with us.
It was near freezing outside which was a shock to the system for a couple of Aussies that had just sweated through the hottest January on record back home. Actually, looking at what the locals were wearing we weren't the only ones feeling the cold.
Breakfast was also a bit disappointing but we never have real high hopes for included hotel brekkie offerings, if they are ever any good we count it as an unexpected bonus. At least we had something in our bellies and could finally get the show on the road.
Heading to Tombstone
The plan was to head south on the I-10 which offered nothing in particular of note until we spotted some interesting murals as we drove through Benson. It wasn't that the drive was unpleasant or the scenery terrible, just that with the grey skies nothing really stood out except a smattering of Saguaros.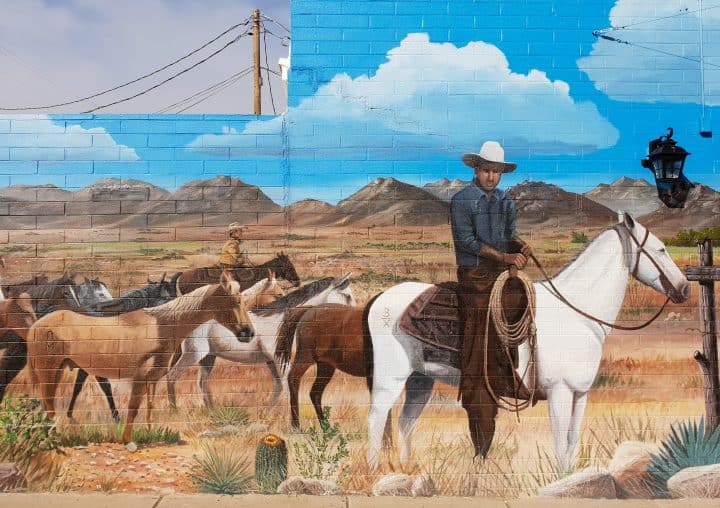 Anyway, there are some pretty impressive murals at Benson and we spent about half an hour wandering around. Pretty much nothing was open as it was still quite early so once the wind picked up and the temperature dropped even further we decided to get back in the car.
Pulling back onto the Interstate it started to lightly rain, which then became sleet and then snow. Not the sort of snow that makes you whip out the skis, just the sort that is one step better than sleet. We didn't care; it was snow and that made us super excited. We had no idea what was to come over the next couple of weeks or this would not have even raised an eyebrow.
The weather was still cold and miserable as we rolled into Tombstone, but at least it was dry again. From the main road, this place was nothing like we expected, it just looked like a typical country town. Sure they had some of the famous names on signage but not the wild west, almost theme park look we imagined.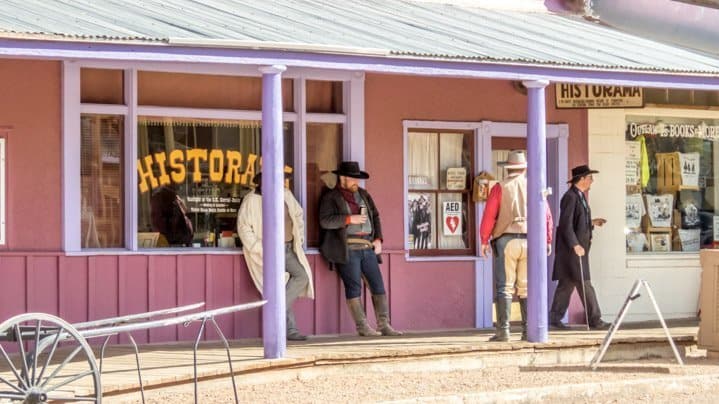 We parked in a side street and followed the signs to the original old town section, rounded a corner and…. that's more like it. The old main street looks like you have just slipped back 150 years. It did look a lot like a movie set even down to the locals/staff walking around in period dress but it was different, this is more than a replica town built just for tourism, it is living history lovingly maintained.
We visited the saloons and theatres where legends like Wyatt Earp and Doc Holliday had also spent time, and saw the site of the original OK Corral (and the new tourist location more conveniently located in the centre of town).
Take some time to explore the town, read the signs detailing the historical significance of each building, listen to the stories being told by those living and working here, and even do some of the touristy things like watch a gunfight at the OK Corral, which is still fun.
It was interesting to learn of the silver mining boom that started the town and that a few of the original mines are still operating today. If you are interested in learning more about the real history, rather than just the Hollywood version, then we can recommend the Trolley which runs about every hour or so.
The driver was knowledgeable and entertaining, pointing out both the famous and just plain interesting locations in and around town. For around $10 each we found it well worth doing.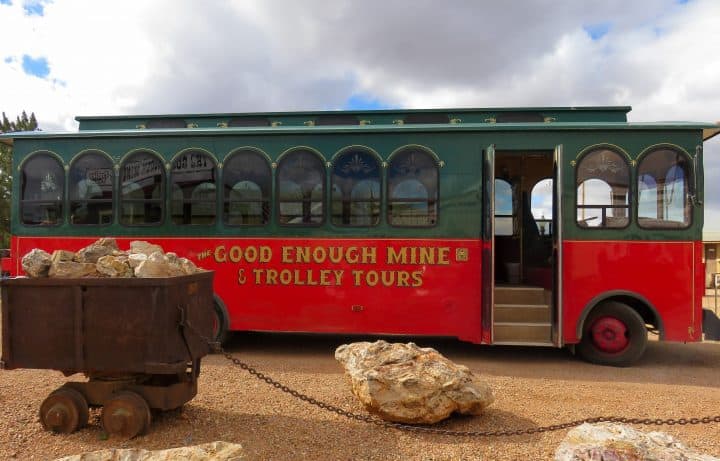 OK, so Tombstone is a little bit theatre and touristy but the history is real and it is an experience that adds a decent dose of Americana to a Southwest USA Road Trip, which is one of the reasons to take one.
Tombstone may have been out of the way from the rest of our journey but it was something we are very happy to have done. What's an extra hundred miles on a 3500-mile road trip between friends? Just a drop in the ocean!
Bypassing the southern Arizona Interstate
We decided to find a different route back to Tucson so we headed west on State Route 82 instead of going back on Highway 80. It also meant we avoided some of the Interstate, which we like to do as often as possible.
Take a look at a map and you will notice this region of southern Arizona is very close to the Mexican Border. We see on TV stories about illegal border crossings and the people who are tasked with stopping them. We went through two checkpoints and saw another two close to us. No problem getting through if you are not doing anything illegal.

Turn north at Sonoita on State Route 83 and you eventually get back on the Interstate for the last stage of returning to Tucson. It wasn't much further until we noticed something very strange above the trees that lined the road. It looked like tail fins from a lot of planes, maybe 20 or 30 even.
A minute or two later and that number doubled, then the trees cleared and it was aircraft as far as you can see. Now I'm ex Australian Air Force and I can tell you they have more planes in this one spot than we do in our entire military, and it's the middle of the desert!
Unfortunately, we had no idea at the time what this place was so we didn't stop. Later we discovered it is the Pima Air and Space Museum so it would have been quite interesting to have a look around. Maybe next time.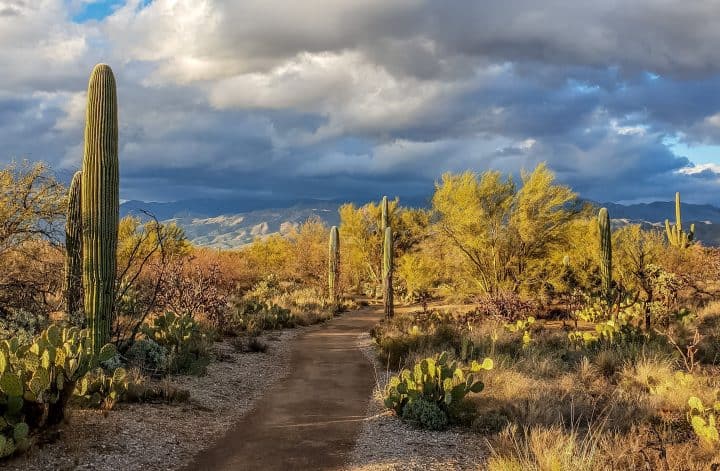 Show me the Cacti
By this time it was mid to late afternoon and I was keen to find some Saguaros to photograph at sunset. I was planning to have made it to the western side of Saguaro National Park but due to the time, we turned off as soon as we saw the sign leading to the closer eastern Park.
For those who don't know Saguaro National Park is divided into two sections which are located on either side of the city of Tucson. The western side is more rugged with substantially more of the giant spiky cacti while in the east there is a casual nine-mile loop road through a fairly flat area.
Click here to read our report of Saguaro National Park.
Although I was a little disappointed that my plan to make it to the western area for sunset had not panned out, I was thrilled by the show that was put on by nature where we were. The flatter landscape gave a much better chance of capturing some great cactus silhouettes against what was a brilliant sunset punching through the clouds.
I have been infatuated with Saguaro Cacti for many years and this experience lived up to and maybe even exceeded my expectations. It is an incredible place to visit and quite surreal when you stand beside a cactus that is the height of a four or five-story building.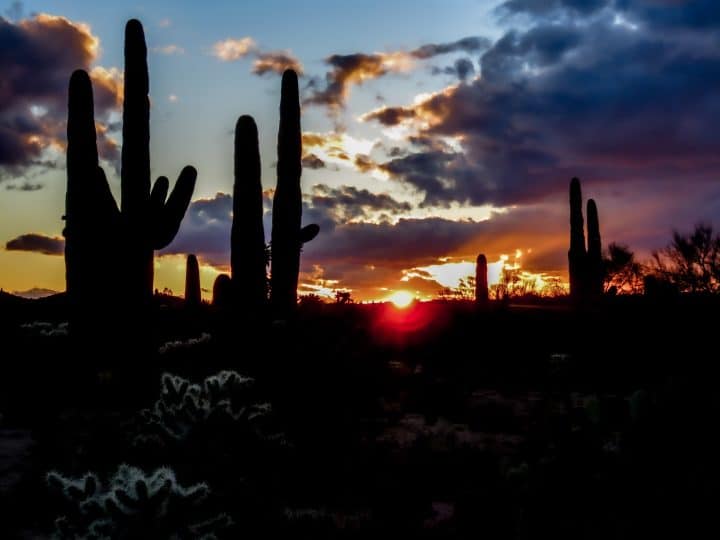 What a day and what a start to our Southwest USA road trip, southern Arizona had delivered big time. If things stayed as good as this for the rest of the trip then it could be our best ever. All that was left was to add to the Americana theme of the day and find a diner.
Good reviews lead us to Little Anthony's Diner, a 50s retro place that had all the bells and whistles. From cool old cars out the front to a resident DJ spinning the golden oldies this place ticked the boxes. Sure the food was only OK but it was a diner and not a Michelin-starred restaurant. Oh, and the special milkshakes were beyond crazy.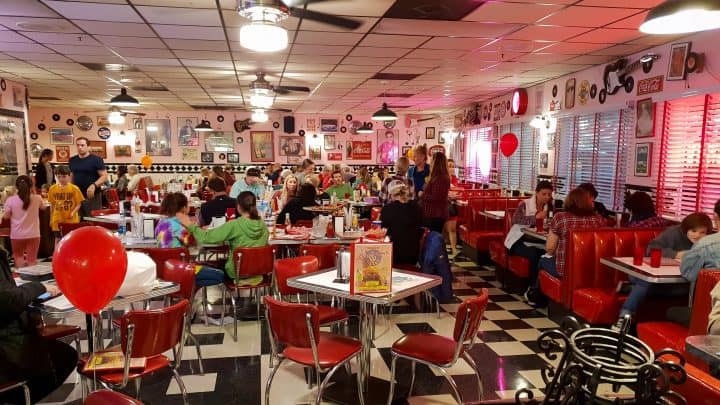 Day 1 was now behind us and what a way to start. We didn't know if things could continue to be as amazing as this but as long as we ended up with a handful of highlights it would be worth it.
Liking this article? Pin it!
Day 2 – Tucson to Phoenix
Driving distance approximately 130 miles (210 km)
This morning we bypassed the hotel breakfast and continued one of our family traditions. Every time we visit the USA we have one breakfast at IHOP. Now if you have never been to an IHOP (International House of Pancakes) then you are missing out on a reasonably priced, ridiculously large morning meal.
We wouldn't repeat the mistake we had made in the past and so ordered a single meal, an unnecessarily large place of bacon, sausage, eggs, hash browns, and if that wasn't enough, a triple stack of plate-sized pancakes as an included side dish. Take our advice… share a meal.
Breakfast was over and, even though it was two against one, the food won. Even between us, we could not clean the plates off. Now it was time to leave Tucson and head to tonight's destination, Phoenix. The drive would take us through the Saguaro National Park West and we were excited to see more of these massive succulents.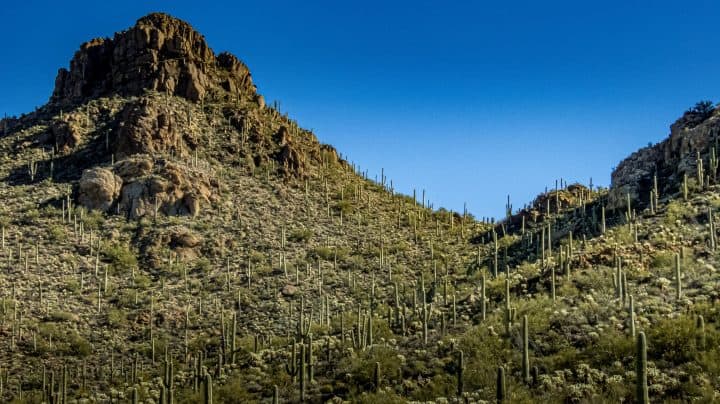 Parking in a Park before the Saguaro National Park
Before you get to the National Park, approaching from the south, you will drive through Tucson Mountain Parks. I don't know why the two Parks are not the one entity but the number and size of Saguaros increase rapidly as you drive further from the Tucson suburbs, as did my excitement level.
We were in awe of the scenery the previous day in the eastern Park but this took things to a whole new level, this truly was a forest of Saguaros. Luckily we didn't have plans for many other stops on today's drive because every few hundred yards we were stopping the car to grab more photos.
Not far into the Park, you will come across the first major car park with a few hiking trails heading off in various directions. We chose to walk the David Yetman Trail which heads uphill to a pass close to the top of the mountain.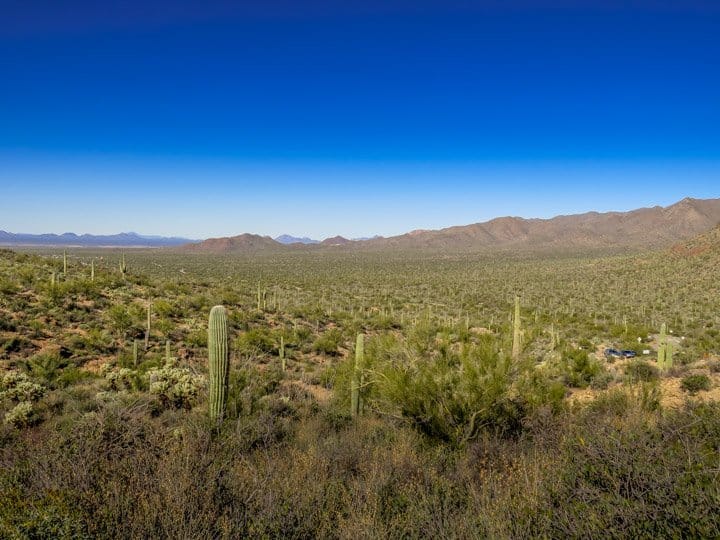 There are no stairs or maintained paths here, the trails are loosely signposted and reasonably easy to follow but there are loose rocks and some steep sections so it will not be suitable for everyone.
The view from the top is impressive, to the east you look over the city of Tucson while to the west the forest of cacti seem to go all the way to the horizon. It really is a spectacular sight and worth the effort it takes to get up there.
After taking in as much of the view as time would reasonably allow it was back in the car and time to continue on into the Saguaro National Park proper. Driving along a narrow, cactus-lined road is a wonderful and unique experience so drive slowly if possible to take it all in.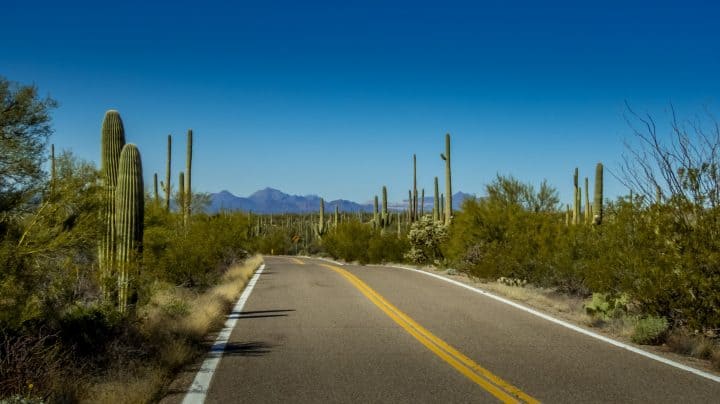 Also make sure to take the time and visit the Red Hills Visitor Center for some good information from the Rangers, refill your water bottles, make use of a real restroom, and maybe get a souvenir or two. There are some easier hikes to be done from this point as well.
We spent a good few hours hiking and just gazing at the amazing landscapes in this area so it was lucky that we didn't have any real plans for the rest of the day. To be honest the drive further north to Phoenix is not the most exciting so it wasn't a problem to get back on the Interstate and just drive.
Phoenix Rising
I will warn you that there is an Outlet Mall south of Phoenix so expect to stop if any of your party are bargain shoppers. Pauline is always keen to save money and since this was our first chance to get some shoes since we arrived in the USA we did stop to have a browse.
It wasn't until I was trying some shoes on that I realised the timing was perfect. I had been wearing mesh-sided running shoes while hiking and had felt a sharp rock press against the side of my foot at one stage. Turns out it had cut a two-inch gash in my shoe so time for something more suitable with all the places we were heading.
I was a big fan of Skechers shoes and was very happy to find the outlet store had water-resistant hiking shoes and some great walking shoes on sale. I got both since the prices are about half what we would pay back in Australia for the same thing. I spent more at this stop than Pauline but this would be the last time it would happen on this trip.
It was almost dark as we arrived at our hotel in Scottsdale so no time to explore the old town which we had enjoyed so much on a previous visit. There were two things worth mentioning about our very short stopover here:
for some reason, we didn't follow the rules we have made for filtering hotels and ended up picking Motel 6 just based on a cheap price. Huge mistake!
This place had Police showing up at all hours, staff arguing with guests, evictions, and I'm pretty sure the room above ours was conducting drug deals all night with the number of people coming and going. Not an experience we care to repeat.
We also returned to a restaurant we had been to previously called Bobby Q. Once again they fed us arguably the best barbecue we have ever eaten. They now have a few locations so if you are visiting Phoenix we highly recommend this place.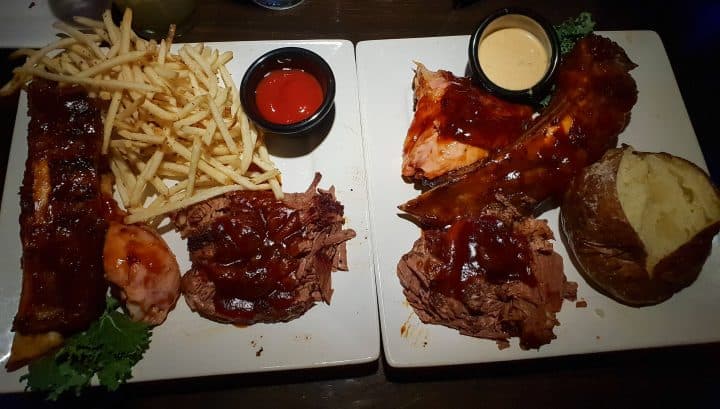 The first chapter of this epic Southwest USA Road Trip had now closed and the good had well and truly crushed any small negatives so far. Time to leave southern Arizona but we were excited to move on the next morning for something very different… we were heading back to Sedona.
Like this article? Pin it!