We came for the food, which was everything and more than we expected, but ended up loving every minute in Portland.
They may push the city as "weird" but it's so much more. Markets, mountains, waterfalls and incredible views everywhere.
So if you are looking for a fun part of the USA outside the standard tourist cities then Portland is definitely worth considering.
Where is it?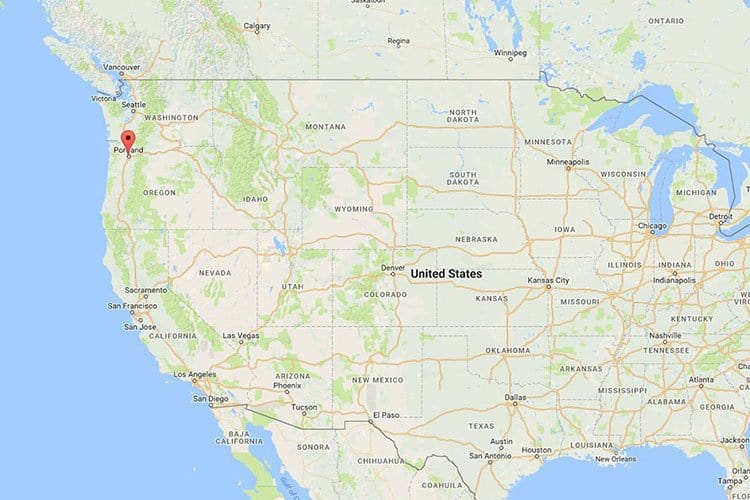 Why would you go?
If you are anything like me then the promise of eating in the Food truck capital of the world would be more than enough reason. But as we discovered there is so much more to this quirky little city.
Whether you love shopping, jaw-dropping scenery, funky weekend markets, or a desire to visit the world's most famous donut shop, it's all here in the Pacific Northwest.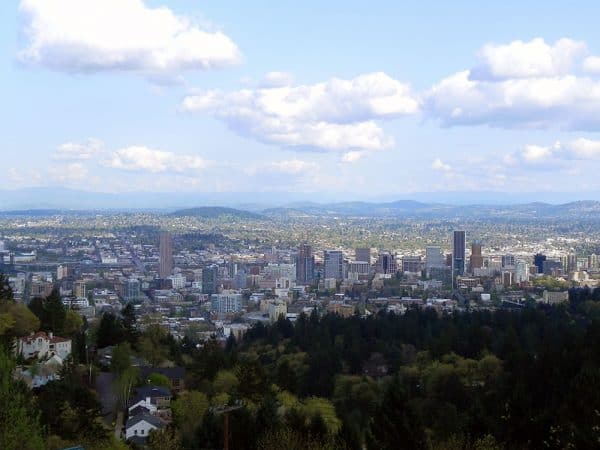 How much time do you need there?
We had six days here so Dana could visit a friend, which I thought might be a bit long and we would get bored. I was so wrong!
Since one of our favourite things to do is get out of town by car in the hope of finding some stunning scenery or a hidden gem, we found Portland to be too full of surprises to jam it all inside a week.
With one of the things I have to do in a new place being to try local food,  I could have spent another few weeks here and still not sampled the delights of the Food Trucks, cafes, and restaurants in and around the city.
In all honesty, anything less than a week here will do nothing but leave you wanting more.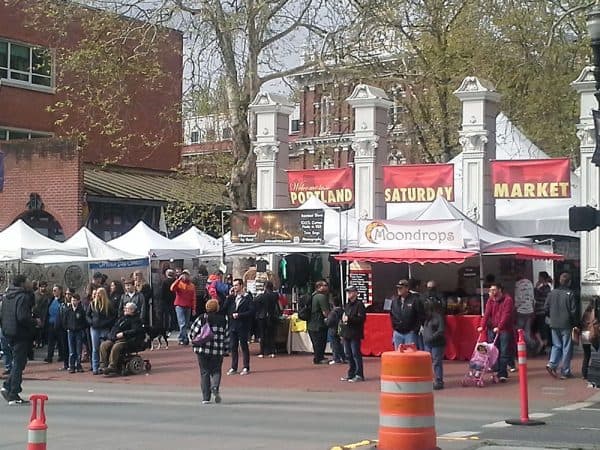 How do you get there?
There is an easily accessible International Airport, an Amtrak train station, and a bus station that caters to a couple of the major bus companies.
It's easy to get to and easy to get around once you arrive. We flew in from LA and picked up a car at the airport. If you want to experience the beautiful scenery outside the city then a car is essential.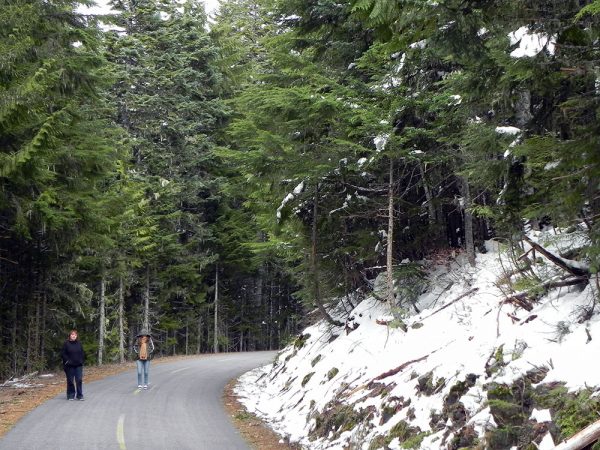 What are the "highlights"?
I have touched on a few of the things that got me excited about Portland and now I will go into a bit more detail.
Some of the best things we had time to do or see are:
The Food Trucks – hundreds of these bad boys are spread across the city and suburbs, mostly in small groups called pods.
No matter what your taste buds crave there is almost certainly a truck offering it at a high quality and a low price.

Multnomah Falls – Due to rain and low cloud, a common occurrence around Portland, we were unable to make the most of some of the jaw-dropping views I had been reading about before our trip. We tend to get lucky (touch wood) when we travel and this was no exception.
On arrival at Multnomah Falls, a sensational two-tiered waterfall with a viewing bridge that is definitely worth the walk, we decided to check the gift shop and grab a hot choccy to warm up before facing the elements. Would you believe it, the rain stopped as we stepped back outside and didn't start again until we were 10 feet from our car at the end of our visit.

Vista Point – The final thing I had my heart set on witnessing was the view across Vista Point and down the Gorge. The weather was making this seem unlikely but luck was with us again on our final day. This turned out to be everything I had expected and more.

Mt Hood – The most photographed landmark around Portland has to be Mount Hood, a traditional, pointy style mountain that can be seen from almost anywhere in the region. Unless it is cloudy and then you are unlikely to see much at all. And just a quick side note… Portland is often cloudy!
We were unable to make it all the way to Mount Hood at our first attempt as the roads were closed due to snow. We were led to believe it had been a dry winter without much snow but when we arrived in late March we were treated to a snow show.
At the Government Camp, a few miles short of the Hood, we were like kids at Christmas when heavy snow started falling on us. Don't laugh, we are Aussies, we wear shorts at Christmas and sweat in 100-degree heat, snow is a novelty for us.
Two days later the weather was great so we set off for another attempt to reach Mount Hood. This time we were successful. I had been most keen to make it to the mountain to see Timberline Lodge, a ski Resort high on the slopes which is most famous for its role in the classic Jack Nicholson movie, The Shining. I finally made it and all was right with the world.
It is quite picturesque looking from the mountain but I have to admit to be more impressed with the views toward the mountain as we approached and then departed in another direction. But I'm being a bit picky as the whole area is a wilderness postcard.

Pittock Mansion – Just a few miles west of the city this beautiful estate not only offers a great view of the city from above but also immaculately maintained grounds and an historic mansion, as the name suggests.
The mansion has something of a chequered past since its building just over a century ago and was recently saved from demolition. Much money is still needed to return the mansion to its former glory but I hope they can because it would be a shame to lose such an iconic building.

Random things outside of town – About a 45-minute drive south of the city is Woodburn. The year-round claim to fame here is an outlet Mall but during our visit the whole place comes to life, well it wakes up anyway, for the Wooden Shoe Tulip Festival.
Now I have to admit that the flowers create a stunning landscape but I wasn't going to shell out money for the three of us just to wander through a flower bed. I would be happy to send them a dollar or two for the photos I took sneakily from down the road a little.To get to Mount Hood we passed the sleepy little town of Boring, Oregon. Now Boring claims to be anything but and now with its sister city in Scotland, hold an annual festival. A Scottish Festival.
You may be wondering what town would want to be associated with Boring. Wonder no more… the winner is Dull, Scotland and together they host the Dull and Boring festival. You've gotta love towns with a sense of humour.

Voodoo Doughnuts – Featured on almost every food television show, scene of weddings, and lines to get in 24 hours a day. Voodoo is arguably the most famous donut shop on the planet.
And the range and taste of the donuts make it worth the effort even though the locals only consider it the second-best in town. It is number one for overall experience in our books.

What can you eat?
You can find anything from any part of the world!
That may sound like an outrageous statement but once you find out how many Food Trucks this place has and start to browse through the menus on offer you will see the truth in what I say.
We have a post on some of the best food we experienced here which will give you the tiniest taste of what you might expect. I couldn't confirm if they definitely originated here but you have to try an Original Elephant Ear.
It's like a stretched-out donut dough with no hole, crispy fried and covered in cinnamon sugar. Our favourite was from the Saturday market at a stall next to the river.
Where should you stay?
We had the car and so chose to stay in a very cheap Ramada in the eastern suburbs. We did use the light rail to get into the city centre a couple of times so it would be quite possible to stay out this way even without a car.
Next time we visit we would consider the Pearl district if we want to be closer to the centre of town. But we would seriously consider the foodie areas of Division and Belmont.
We walked through these areas and both had plenty going for them.
How is the walkability?
We walked a lot, like usual, in Portland but we walked in many different places. I still recommend renting a car to go beyond the city limits.
There is plenty to do around the centre of town to keep you wandering and entertained for a full day, especially if the weekend markets are on. It's quite flat and typically well-signposted as you would expect in a city. Maybe try a walking tour testing out some of the local boutique breweries.
As mentioned above you can easily use public transport to get to the other foodie areas but it's a bit more difficult to get to places like Pittock Mansion.
All of the areas are worth spending a few hours walking through the suburbs and experiencing the Food Truck Pods. And Pittock is perfect for watching from above the city as the sun sets. Plus it has some lovely garden walking paths.
There are ample places to partake in some hiking, whether easy grade or more serious, along the Hood River, on Mt Hood, or around Vista Point and the Gorge.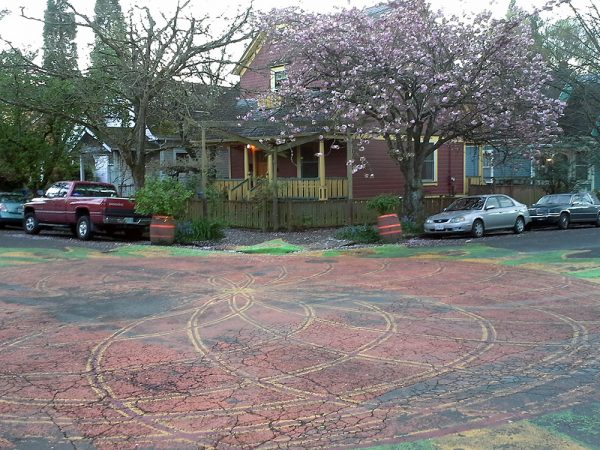 It's just our opinion.
Portland went way beyond our expectations and has jumped among our favourite cities in the States. It has so much to offer and is surrounded by some of the most spectacular scenery the country has to offer.
While the city is great you really need to get out of town to get the whole package of what is on offer. Much to Pauline's disappointment we never even made it to the coast (and she keeps pointing that out every time we see another stunning photo), so there's another reason to return.
Go for the food, go for the craft beers, go for the scenery, just go. Thanks to Dana having a friend there she wanted to visit we found a fantastic place that is sure to get us back one day.
What did you love if you've been to Portland? If not, are you interested now?