A clever take on humble grilled cheese sandwiches, jalapeno poppers with a delicious twist, barbecue sliders, a one-bowl wonder, elephant ears, and the world's best donuts are 6 food experiences that will bring us back to Portland, Oregon.
When the decision was made to include Portland in our trip to the USA and Mexico I was most excited about the chance to experience the city's world-famous food cart culture. I had seen these mobile foodie delight wagons featured on many TV programs and even had a cookbook based on the specialties of a number of carts in Portland, so my main goal was to eat my way around this amazing city.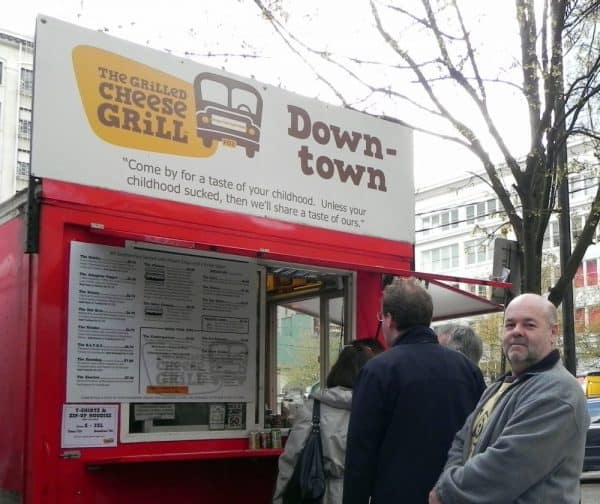 The Grilled Cheese Grill
it wasn't difficult to guess what this incredibly popular cart was offering, and their slogan gives the impression that not only do they have fun doing it, but they want you to have fun enjoying it as well. The sign reads "Come by for a taste of your childhood. Unless your childhood sucked, then we'll share a taste of ours." My childhood didn't suck but I was still more than happy to taste a little of theirs anyway. They feature about a dozen varieties of this childhood staple, plus a "build your own" option. Who knew a grilled cheese could be so exciting?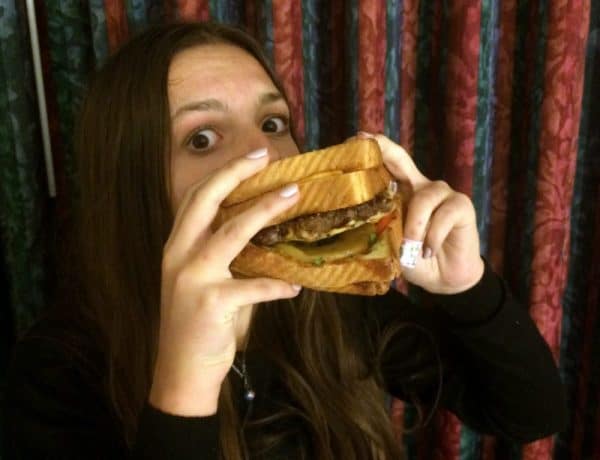 Bardo's Grill
at Cartlandia – Bardo's was the only cart we visited twice during our week in Portland. Everything was excellent including the ridiculous Grilled Cheese Burger. A jaw-breaking burger that replaced the standard bun with a grilled cheese sandwich top and bottom. Don't judge me before you try this, all I can ask is why all burgers are not now made this way! The main reason I came back for a second visit was to get another serving of the most amazing jalapeno poppers ever to grace my taste buds. I can't believe it had taken me so many years to find out that wrapping these zingy little morsels in bacon would catapult them to the highest level of fast food glory.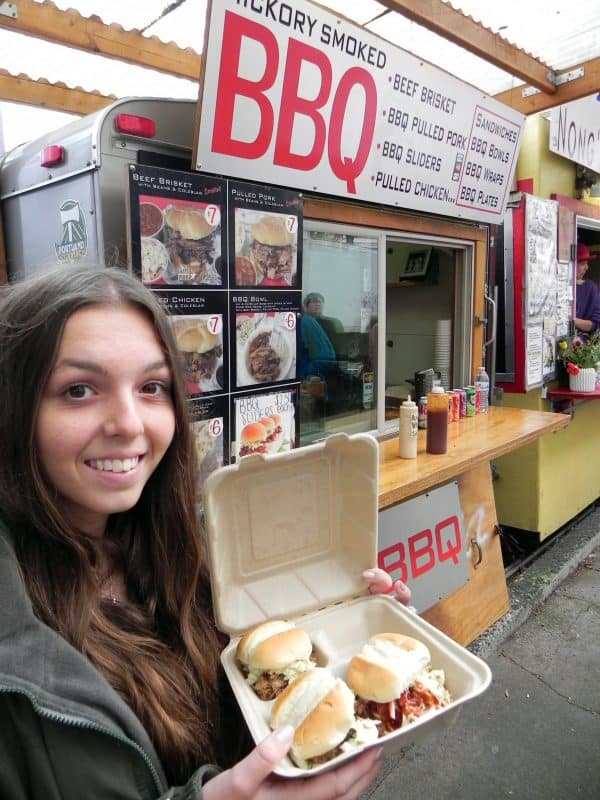 The BBQ Cart
while living in Australia means plenty of opportunity to fire up the barbie, we still don't do it in that low and slow, fall apart, American-style BBQ, so every time we make our way back to the USA it is always high on the "must do" list to find somewhere to indulge our needs. There was a cart simply named "BBQ", which is located in the Alder St Pod, offering sliders, sandwiches, wraps, and bowls featuring pulled pork, slow-cooked brisket and pulled chicken. We took on the sliders pack, a group of 3 mini bread rolls featuring each of the previously mentioned meats. Each was as mouthwatering as the last and our BBQ intake was satisfied for the day. If not for the lure of so many other tantalising aromas many more slow-cooked delights would have been consumed this day.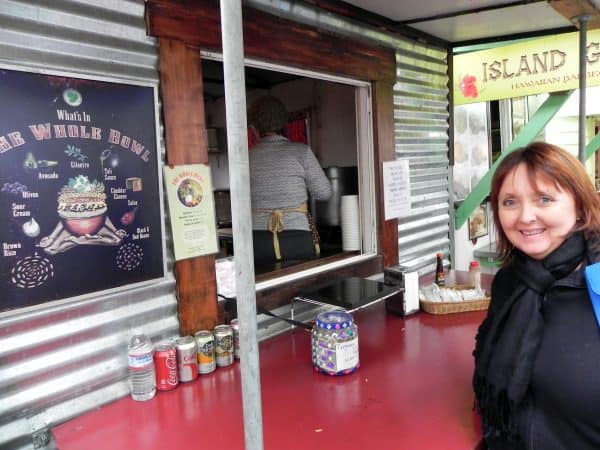 The Whole Bowl
Another simple idea executed perfectly, this downtown food cart offers a limited menu, to be precise it offers one choice only. The most surprising thing about The Whole Bowl is that the lines are always long so you know the single menu option must be good. They offer a bowl filled with the perfect mix of black and red beans, salsa, cheddar cheese, tali sauce, brown rice, sour cream, olives, avocado, and cilantro. It may sound like a crazy jumble of ingredients but the combination works a treat. I can only imagine how busy they would get if they doubled the menu!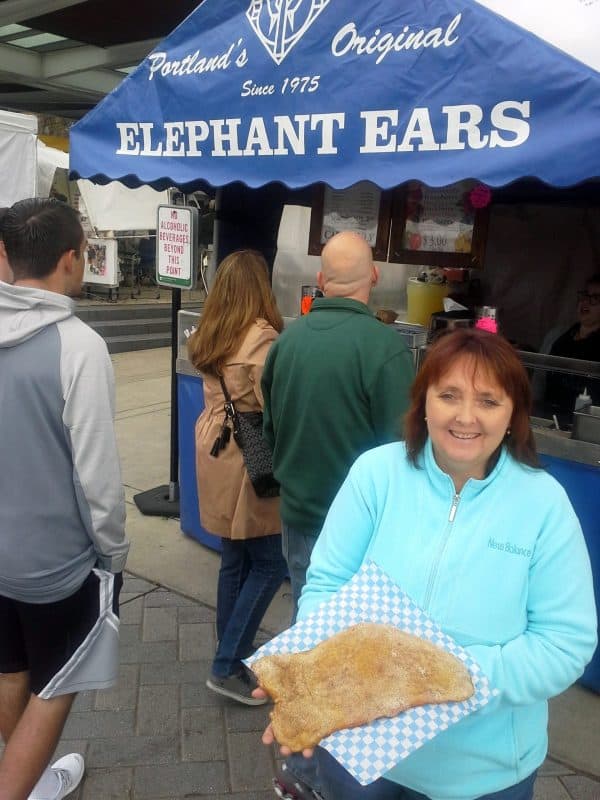 Portland Original Elephant Ears
WTF? My first thought as well, but hey, why not give it a try? And we were so glad that we did. These incredibly delicious pastry items get their name from the size and shape of the finished product. What would you eat that was the size and shape of an elephant's ear? Good question.
Imagine taking your donut batter and instead of punching out the traditional round shape with the hole in the middle, you decided the stretch it long and flat and then deep fry it until golden brown. Next, because it is still a donut after all, you coat it in cinnamon sugar, and the result is an enormous, crispy, sugar-coated donut without wasting the bit they usually cut from the centre.
Why eat a little donut or a churro when you can have the whole elephant ear?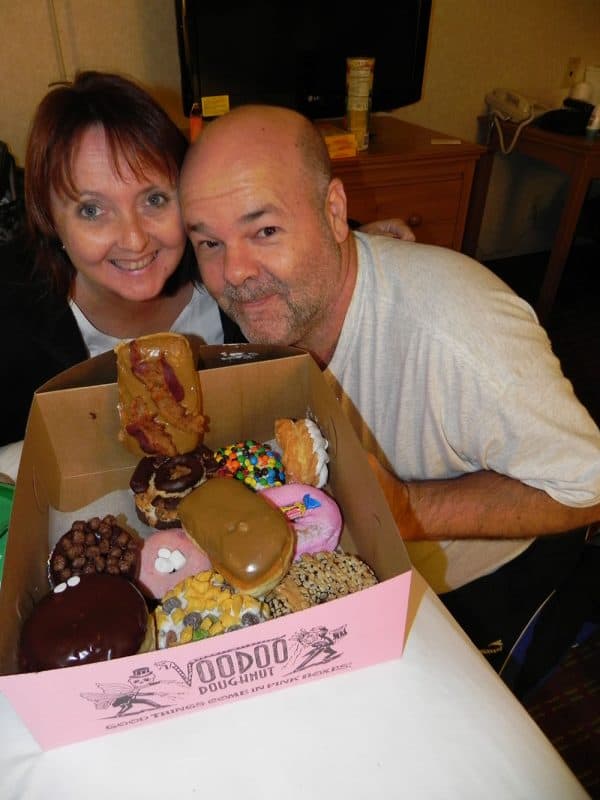 Voodoo Doughnuts
I just asked why would you want a donut if you could have the whole elephant ear… well, maybe because it comes with a bit of magic. Voodoo magic!
Arguably the most famous Donut Shop on the planet, Voodoo Doughnut has been featured on almost every food TV show there is and is even used for weddings by donut-obsessed couples.
It is also the place that started Dana on the road to becoming the Wandering Donut after she experienced the Maple Bacon Doughnut Bar and a few others on a school exchange to Portland.
With dozens of options that go way beyond just changing the topping, Voodoo is a Portland institution and lines form 24 hours a day. If you miss out on a visit next time you get to the Pacific Northwest then you are doing yourself no favours. Get there… it's a weird experience, just like Portland.
No matter which cuisine your mouth or stomach desires, the Portland food carts and stores have the answer. Great quality food at a fraction of restaurant prices. All we can say is… Portland, we will be back for more.