Bali is a place that polarises opinion, especially among Australians. Even in our own home there is debate when we discuss possible reasons to visit Bali.
Pauline had recently made her third trip to the most popular of the Indonesian islands when she went over to spend a week with our daughter, Dana, who was attending a blogger and influencer retreat for a month in the hills around Ubud.
When they returned home all conversation seemed to be about Bali, and Ubud in particular. They spoke glowingly of the wonderful local people, the cheap but tasty food made from local organic ingredients at a price that seems impossibly low to many visitors.
Stories of stunning scenery, fun activities, and great accommodation for a fraction of the price you would pay in most of the other popular tourist destinations. They made me question my preconceptions. Had I been unfairly judging this place and the type of tourists it attracts?
Who did I think was the average Bali tourist?
In America they are known as rednecks, hillbillies or trailer park trash but in Australia we have a similar group affectionately called Bogans. They wear singlet tops and thongs (flip flops if you prefer, not the skimpy underwear… although don't rule out the possibility of both!), they live for backyard barbecues and beer, and their preferred overseas holiday destination is Bali.
Why Bali? Well, it is one of Australia's closest neighbours so a relatively short flight, the flights are often cheaper than many of our own domestic destinations, with accommodation and food at a fraction of the cost at home.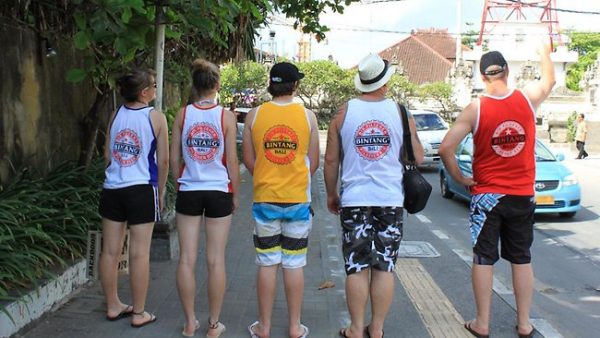 For the boganettes it is a land of dreams with cheap hair braiding, sarongs, mani-pedis, and foot massages.
But the clincher is the availability of bargain basement Bintang branded singlets and beer cheaper than you can buy bottled water at home. The proverbial Bogan land of milk and honey!
What type of people visit Bali?
Well, to be honest, Bogans do. But they are not the only ones that will find exactly what they are looking for on this diverse island.
Surfers.
Bali has some great surf around the island and at some of the smaller islands nearby which attract surfers from around the world. Great waves and cheap living expenses make it ideal.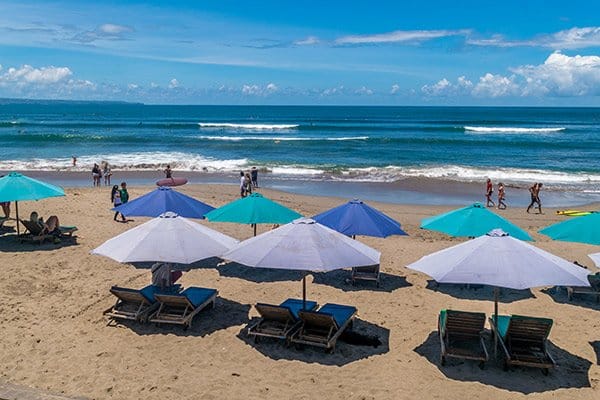 Among the most popular places to take your board and catch some waves are :
Uluwatu – the southwest corner of Bali has a number of secluded beaches made for surfers. Some are quite difficult to access but the good news is you will not have to share the water with many swimmers. Look for Padang Padang, Impossibles, Suluban, and Bingin Beaches among others.
Canggu – north of the airport, above the tourist-choked Kuta and Legian, is Canggu, home of the famous Echo Beach. A veritable Mecca for surfers in Bali. The beach is pretty average looking but the surf more than makes up for it. Plenty of bloggers hang out here as well which means the internet is good and living is cheap.
Keramas – over on the east coast they have some pretty decent spots as well, but for something a little different this beach offers night surfing. So if you can't get enough of this world-class break while the sun is up then just keep going!
Nusa Lembongan – this small island off the southeast of Bali has more than its fair share of great surf spots. Easily accessible by fast ferry several times per day it is a place that deserves a short break, or maybe longer. Try the "Shipwrecks" break, it attracts surfers of all levels but only the better surfers will be able to get the best barrels.
Hippies, Vegans, and Yoga lovers.
Don't expect to find too many of these travellers in and around Kuta, although a number of vegan food places and yoga studios are popping up. If this type of lifestyle is your jam then you will find plenty of kindred spirits around the town up in the hills, Ubud.
In this part of Bali you can't swing a yoga mat without hitting a wellness retreat or organic plant matter eating establishment. Don't get me wrong, Ubud is an amazing place to spend some time and it is also possible to fulfill your carnivorous desires.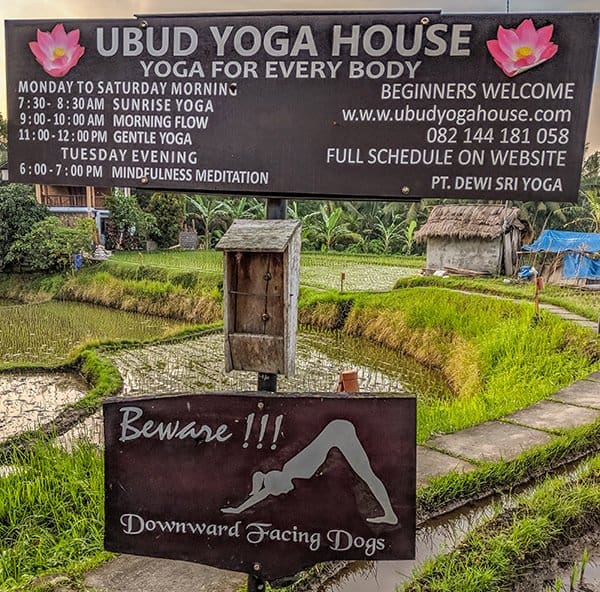 I do have to admit that there are some delicious vegetarian or even vegan meals to be had in Ubud. While I feel Tofu is one of the world's truly disgusting substances I did discover its sibling, Tempeh, which I prepared and devoured in a curry during a cooking class. And some of the meatless rice and noodle dishes are bursting with flavour.
If you get your kicks contorting your body while balancing on a rubber mat, prefer to chow down on a diet of plant matter, or have a goal of achieving spiritual enlightenment then Ubud is where you should be heading.
It is also considered another of the hotspots for visiting bloggers looking for someplace relatively exotic at a bargain basement price.
The Flop and Drop crowd.
You know the type, hey you may even be part of this group. The tourists that go to fancy Resorts or private Villas and spend their entire vacation huddled in the rarefied atmosphere, loving the familiar Western "civilised" feel but allowing them to tell their friends back home that they experienced the exotic culture of a mysterious land.
In reality the closest many of them get to experience the local culture is getting frustrated that the local staff don't understand English well enough or eating a fancy bowl of Nasi Goreng in the attached 5-star restaurant. Of course the flavours will have been adjusted for the delicate palates of the guests, sometimes so much that the only similarity is the name of the dish and the fact it contains rice.
While Bali is considered a budget-friendly destination by most people you would be very much mistaken if you thought that meant no upmarket lodgings. There are some magnificent upscale lodgings in many parts of the island with some of the most notable being…
Seminyak – just north of Kuta and Legian, featuring a number of high-end Resorts and Beach Clubs. Close, but not too close, to the action and nightlife.
Nusa Dua – considered the fancy Resort capital of the south coast of Bali. More local culture and much nicer beaches than Seminyak.
Sanur – the southeast gateway to the beautiful islands of Nusa Lembongan and Nusa Penida. Also well known for shopping, snorkeling, and luxury accommodation.
Ubud – surrounded by magnificent jungle and rice paddies with a strong art and culture vibe. The best place to find that perfect private pool Villa with a view.
Creepy weird guys.
While Thailand has the unfortunate title as top spot for sex vacations Bali has its share of these tourists as well. I experienced how Bali has opened up to this market firsthand while wandering alone in Kuta in the days before Pauline arrived to meet up with me. Perhaps that last sentence could have been worded differently.
Walking around I must have given off some of that lonely, creepy, middle-aged white guy vibe because at least once on every block I was offered Viagra and even more often was presented with the chance of "sexy" massages, some with added "boom boom" and even one where the young lady would bring her friend for no extra charge.
The sheer number of these offers indicates how large this market must be and it amazes me that so many men must travel purely for cheap sex (and maybe cheap Bintang singlets and beer as a bonus).
Hipsters.
This group is everywhere now, spreading to the four corners of the globe at pandemic speed. In Bali they appear to be taking over Canggu, which was previously surfer territory.
If I had known this before my quick stop in Canggu I may have worn my glasses and trimmed my beard a little more carefully in the hope of blending in. Unfortunately I am neither a surfer (although I grew up right on a great surf beach in Australia) nor a Hipster (although I possess both beard and glasses), so didn't feel any real connection with this part of Bali.
If however you are looking for the right place to get your Hipster on then this is it. Trendy cafes, clubs, and restaurants are popping up at an alarming rate and the trend shows no sign of slowing.
Instagram Princesses.
Bali is an island packed with plenty of exotic culture and Instagram-worthy scenery at a relatively cheap price which, unfortunately, makes it very appealing to those "doing it for the 'Gram".
Now we have a decent Instagram presence and, as a keen travel photographer, I am always looking to capture nature at its best. Not to mention the beautiful and quirky places made by the hands of man. What I do not do is impose myself on others looking to admire the same scene.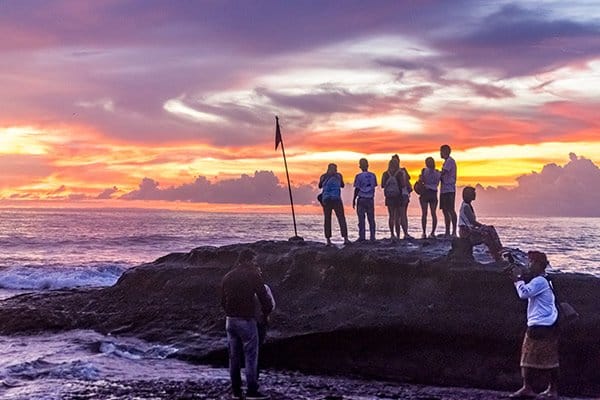 But there are those who are less considerate and believe their (perceived) online fame gives them the right to be culturally insensitive, rude to other travellers, and exempt from any local rules. And Bali has them everywhere.
On this Bali trip I experienced their attitude and bad behaviour on too many occasions but three examples stand out…
while waiting to capture the sunset at the stunning location of Tanah Lot Temple two young ladies decided that rules did not apply when you were chasing that great Instagram moment. They climbed over a gate outside one of the temples, a gate which was clearly marked with a sign requesting people stay out as it was closed for renovation. Obviously it was not closed for them.
before watching the sun set behind the local Kacek dancers at Uluwatu Temple we were exploring the cliff tops and taking in some amazing coastal views. Now this is a very sacred site, so much so that all guests are asked to cover up, even providing sarongs to both men and women for the purpose. However two Eastern European girls decided the scenery was too nice and their Instagram followers needed to see them stripped down to bikinis beside the temple. No respect for local culture.
during our bike tour in Ubud we took a drink stop overlooking the world heritage-listed rice terraces. The cafe had built a small swing that made for a pretty impressive photo. Two girls and a guy arrives minutes before our group and decided they need at least 30 photos of each other on the swing. We all just wanted a quick snapshot. A lineup of people waiting had no impact on them and even when the girls finally moved away the guy stayed right in the middle of everything and started operating his drone. I eventually suggested that his drone could just as easily be piloted from elsewhere and he finally moved moments before I was to throw his controller over the edge and into the rice paddies. No respect for others.
I wonder how large the following is for these Instagram wannabees and would love to find out that ours is bigger and tell them that gives me priority over them. After all, size matters!
Budget-conscious Backpackers.
As mentioned a number of times already Bali is a place where you can find good views, good food, and good accommodation at great prices. And the locals are amazing people as a bonus. This makes it an ideal destination for the "how to survive on $5 a day" types.
There are bargains to be found in most parts of the island and you never have to go far to find a filling rice or noodle meal for just a dollar or two. But it is also a place where just another couple of dollars can be the difference between sleeping rough and sleeping quite comfortably. After all, travel is about the best experiences and not a competition to see who can find the cheapest of everything.
People just like us.
We travel to different places for new experiences. Sample the local cuisine, witness local customs and ceremonies, and take in amazing new scenery. In a nutshell, we travel to make life interesting.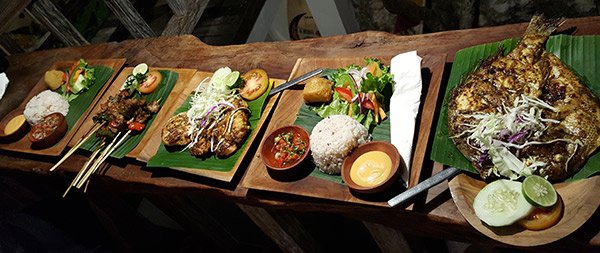 Bali is of interest to people like us because it offers everything that we search for. The food appears simple and cheap but the underlying flavours are complex and include plenty of preparation and tradition. From the basic Nasi or Mie Goreng to the famous Bebek Batutu (Balinese roast duck) or the island's signature dish of Babi Guling, a succulent full-roasted pig, Balinese food has something for everyone.
There are a number of traditional ceremonies across Bali throughout the year and we happened to be in Ubud during a rare but momentous occasion. Burial and cremation ceremonies are a big part of life, and death, in Bali, and during our stay one such ceremony took place. The cremation of the Balinese King's mother was a huge event that stopped the town for a day and featured all the spectacle one would expect from a royal event.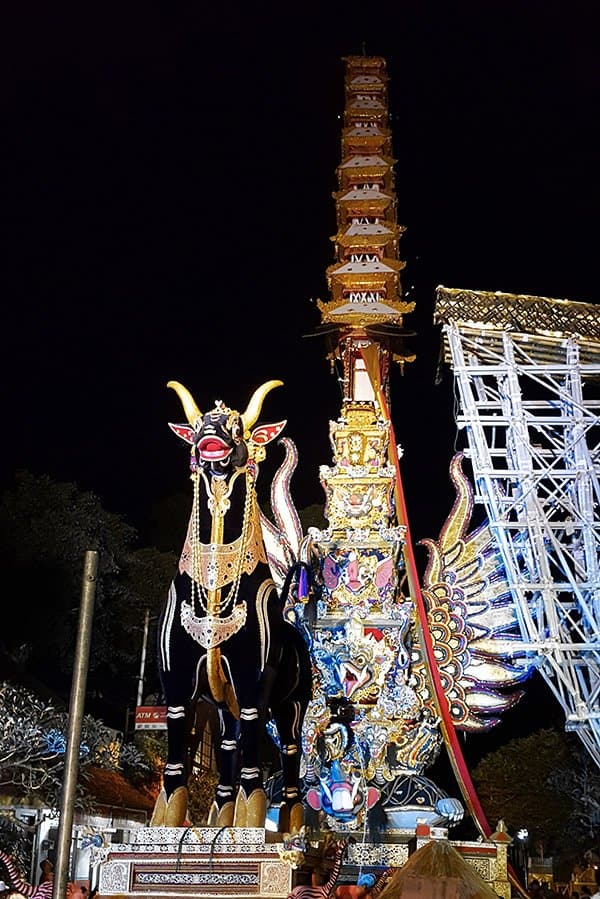 There are also plenty of cultural activities designed with tourism in mind but still firmly representing the traditions of the local people. For example, the Kacek fire dances that are performed around the island.
And the scenery… wow! Bali is blessed when it comes to natural and man-made beauty. You can find everything from the stunning secluded beaches of Uluwatu to the world-famous rice terraces around Ubud, from the perfect Pagoda Temples to the incredible array of places to catch the sunset.
Don't be put off Bali because of the types of people mentioned above, embrace it as an option because of what it offers you.
What did we do in Bali?
This was my first trip to Bali and Pauline's fourth and it began with me having my first overseas solo travel experience ever. Pauline would join me after four days due to work commitments so I had decided the best place to start would be right in the centre of the action.
Kuta – I came, I saw, I probably will not return.
Kuta is an easy place to walk around. My fitness tracker told me that I did over 40,000 steps in my first two days so it's fair to say that I did some exploring. Unfortunately I found very little that could ever convince me that Kuta, or Legian, would ever see me again.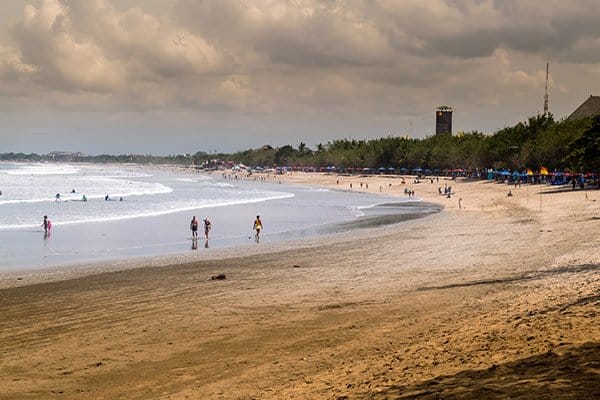 It may have had something to do with the fact that I was travelling alone (I am very much an introvert and rely on Pauline's outgoing nature to help me connect with others) or it may have been how so many of the locals perceive middle aged, single, white guys that influenced this opinion.
My hotel room was small, clean, centrally located and the cheapest place I have ever stayed at about $17 Aussie per night. My complaints about the place aren't worth mentioning as the Taxa Uma was clearly great value for money overall.
Food choices were also no issue with a vast array of options all within a few minutes walk. My first issue was with a place also within a short stroll of the hotel, Kuta Beach. There are plenty of blogs and info sites that talk up this place, raving about the golden sand of Kuta Beach and even displaying photographic evidence to support their description.
Good photo editing can easily turn brown to gold, but in real life the beach all the way from Kuta to Seminyak is a rather unappealing brown, making it look permanently dirty and very unappealing. Now I live in the home of truly golden sand beaches so I can spot the difference.
Unfortunately the colour of the sand makes the water looks dirty and the only real attraction of the beach is the chance to sit on a sun lounger under an umbrella and drink cheap beer, get your hair braided, and have a massage. I don't drink beer, have no hair, and don't like massages so it was three strikes and I was out.
The market stalls reminded me a lot of those in Patong Beach, Phuket. Aggressive stall owners trying to drag you in to buy, fake Aussie accents shouting a "G'day mate" to which I usually reply in Spanish that I don't understand them. It is sad that the Bogans have pushed these usually wonderful locals to this level of artificial behaviour.
It also gets tiring very quickly to be offered a taxi ride, a scooter rental or a cold drink at every stall. Seriously people, you just heard me say no thanks to your two neighbours so do you really think my thirst has grown so much in that extra 5 steps that I now do need refreshment?
As I mentioned previously it was also sad and annoying to fit the profile that encouraged the constant offers of "sexy" massages and Viagra. I was supposed to be here for four nights but after three I was defeated, it was time to move on. Actually, it was probably at least a day overdue.
In the interest of fairness I asked some friends of ours, Lyn and Steve of A Hole in my Shoe, who travel to Bali often to give their view of Kuta. They have written a great post on Kuta which you should read before writing this part of Bali off completely.
"I'M SICK OF PEOPLE BAGGING KUTA (OR ANY PLACE). IT IS WHAT IT IS, BUT IF YOU GO THERE AND SEARCH FOR ALL THE NEGATIVE AND FOCUS ON IT, YOUR TRIP WILL BE IMPACTED. IF YOU GO THERE WITH A POSITIVE ATTITUDE, MIX WITH THE LOCALS, TAKE THE TIME TO BE POLITE, AND STRIKE UP A CONVERSATION, YOU WILL LIKELY SEE SIMILARITIES WITH WHAT LIES IN THE OTHER AREAS OF BALI TOO."
Tanah Lot – a Temple and a sunset.
After everything that is ugly about Bali bombarding me for three days, I needed somewhere with a slower pace and some true beauty. After a few hours of research I decided on Tanah Lot. It is famous for its Temple and the incredible sunsets. So I packed my bag, called a taxi, checked out early, and took off.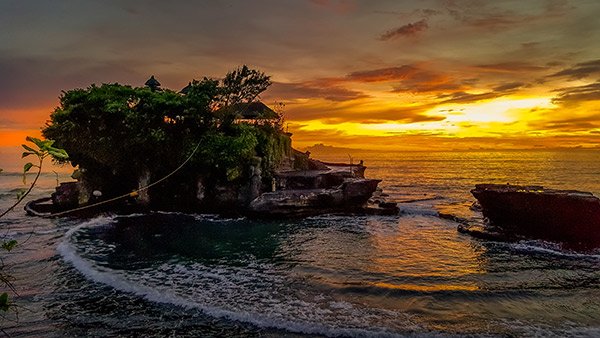 I decided to go a bit more upmarket with the accommodation for my one-night stay here and chose the wonderful Natya Hotel which was a steal at under AUD $55 per night including breakfast and afternoon tea beside the pool. But the best feature was its location inside the Temple grounds and only a 200 metre walk to the highlight spots.
It was early afternoon when I arrived and decided to wander down to see what the Temple was all about and to scout out the best sunset photo spots. The place is quite beautiful and such a glaring contrast to Kuta. Then back for a refreshing swim, with fresh juice and local crepe, before returning to witness the end of the day.
There was quite a bit of cloud on the horizon but it did nothing to detract from what was a stunningly beautiful sunset. In fact, I find that clouds actually enhance the colours and give more depth to these photos. I loved it here and within a couple of hours Bali was winning me back.
Ubud – this is why we travel.
After spending a couple of hours in Canggu, just long enough to see that while the waves would appeal to surfers the sand on the beach was what is called black sand which means it amplifies the heat of the sun. After taking about 50 or so steps along the beach I decided my feet were now "well done" and any longer would cause the skin to either start to melt or spontaneously combust. How do those people think it's a good spot to sunbathe?
One delicious burrito later (if you are in Canggu and feel like some Mexican food head to Lacalita Cantina) and it was time to pick up Pauline from the airport and head to Ubud.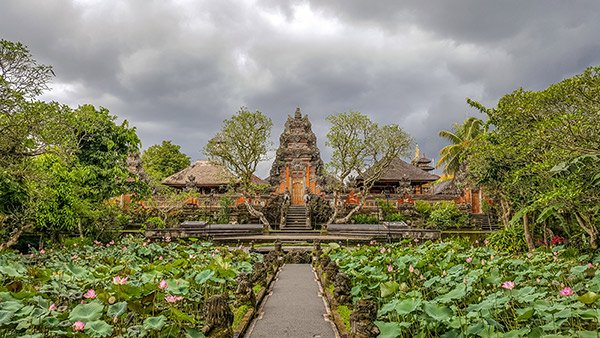 Three of my favourite towns in the world are Chiang Mai, a slow-paced place in the hills of Thailand packed with scenery and culture, and Oaxaca, a slow-paced place in the hills of Mexico packed with scenery and culture, and Florence, a slow-paced place in the hills of Italy packed with scenery and culture. So it should come as no surprise when I say that I really enjoyed my time in Ubud since it is a slow-paced place in the hills of Bali packed with scenery and culture. Are you seeing the theme developing?
Our first night was a chance for Pauline to show me around and help me get my bearings. She had been here for a week a few months earlier to visit our Wandering Donut. An excellent cheap feed and a few cocktails later and it was to our accommodation, the charming Honeymoon Guesthouse.
The Guesthouse is owned by Aussie expat Janet DeNeefe who also operates a bakery and two highly-rated restaurants in town. On top of that, she has published cookbooks and runs one of the top cooking classes in Ubud. And this is where we started the next day.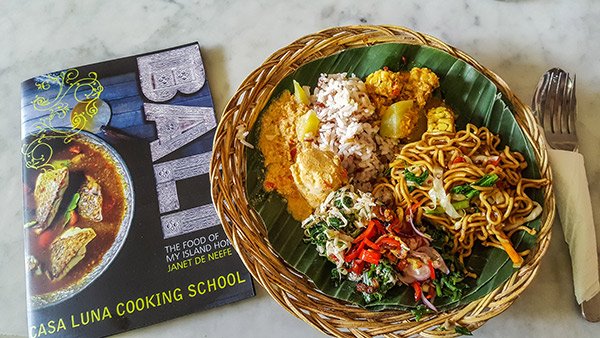 After a visit to the local farmer's market, we were back to the classroom for a rundown on the dishes we would be cooking and eating before getting into the meal prep. The class is great value for money and the food is varied and superb. We highly recommend this to anyone who visits Ubud.
The following day it was time to exercise after a day of eating. Not really since we spent the entire previous afternoon exploring the town on foot. But today we would be taking an 18 kilometre bike ride through the rice paddies and streets on the outskirts of town.
We chose to tour with eBikes Bali for 2 reasons. The reviews were really good and the "e" in e-bikes meant that they had electric motors that assisted on the hill climbs, or all the time for those too lazy to pedal at all. After signing the relevant waivers we were off, a group of nine from Asia, Australia, and Europe.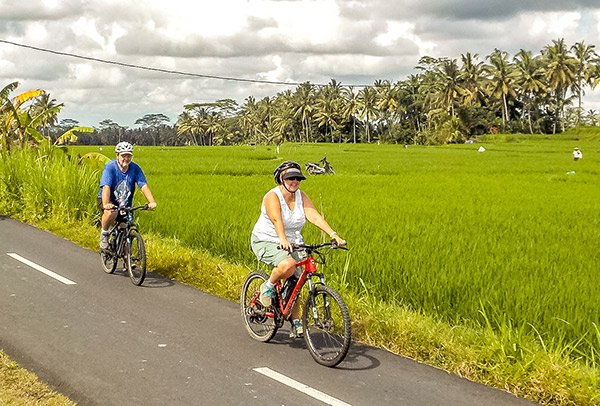 I would like to note that e-bikes are awesome. My fitness levels are not what they used to be but with great effort, I probably could have completed the ride under my own power, but who wants to be so exhausted on a tour that you don't enjoy the scenery? This means that people of all stages of physical fitness can participate.
Another piece of good news is they bring a support vehicle for those who just can't go on. Simply jump on the giant golf cart with your bike and enjoy a more comfortable seat. It is also for anyone who suffers injury during the tour and, full disclosure, two of our group ended up in that category. Three actually, including me, but I soldiered on.
The first injury was when the Malaysian lady in our group, who was immediately behind me, got a bit too close, hit the throttle instead of the brake, and ran into my leg before getting her front wheel locked with my back wheel. I came away with some tyre burns and scrapes on my leg but she ended up on the road with cuts, bruises, and a painful shoulder.
The second injury occurred as we left the road and entered the sometimes tricky paths through the rice terraces. We were immediately faced with a rather steep downward slope which was wet toward the bottom. For one young lady a combination of too much speed, aggressive braking, and an inexperienced cyclist was only ever going to end one way, in tears with more scrapes and bruises.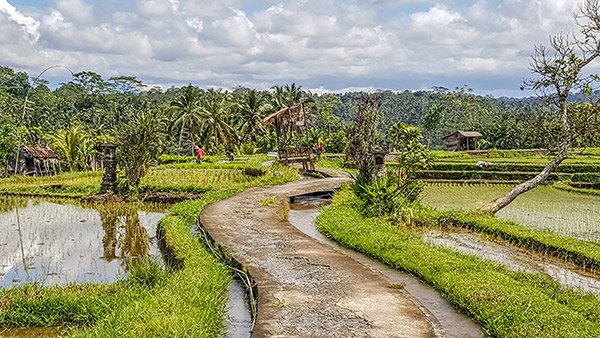 The e-bikes tour was so much fun, the scenery spectacular and our guides funny and informative. Once again we highly recommend these guys if you are in Ubud.
For our final full day in Ubud, we got out of the city but not before a sunrise walk through the rice paddies. It is quiet and beautiful at this time of morning with scarcely another soul to be seen except for the occasional local tending their fields.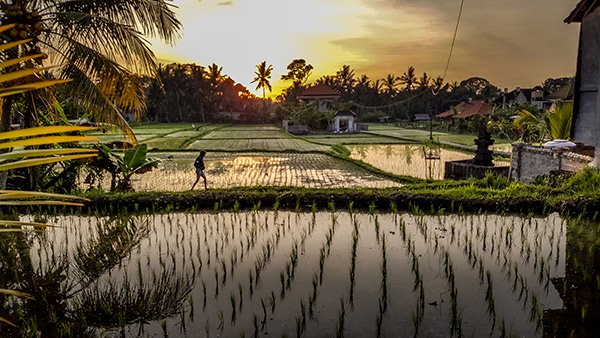 Pauline had worked with a private driver during her previous stay so we decided to hire him for a full day of exploring beyond the city limits. Wayan is a local with a keen business sense, a beautiful family, and a passion for showing off his home country.
The number one site on my hit list was the incredibly beautiful Ulun Danu Beratan Temple, high up in the mountains north of Ubud on a lake. Simply one of the most photogenic spots in Bali. And let me tell you, even though the weather was overcast it did not disappoint in the slightest.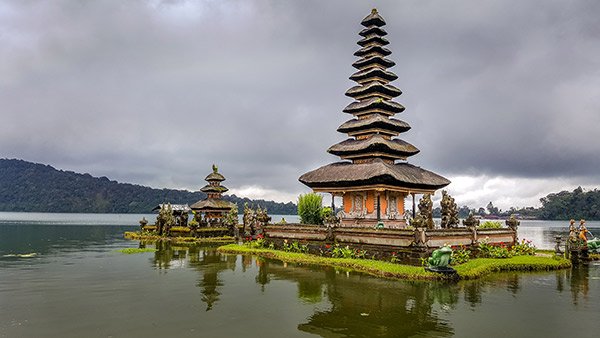 During the rest of the day we also visited an art workshop and gallery. These local artists have such enormous talent but earn so little for their skills and hours of painstaking labour. We appreciated their work but have no room left in our house for more artwork. After lunch at a restaurant surrounded by rice fields in the middle of nowhere, we made our way to the last stop at Tegenungan Waterfall.
We expected the water to be dirty looking from the mud washed down by recent rains and although the pool at the bottom was a little brown, the waterfall itself was stark white. We enjoyed the view from above but declined the chance to descend the hundreds of steps to the bottom. It was hot and the water was too dirty to swim anyway, besides, the view was perfect from above.

Wayan had a wonderful surprise for us before our tour ended, he took us to his home to meet his lovely family. He lives in the sleepy village of Petulu, 10 minutes from the town centre. The road outside his house is lined with trees which in turn are filled with Heron for much of the year.
During mating season up to 150,000 of these birds pack the branches of the trees in this small village. We visited a few months after the peak time but were still greeted with thousands of adults still with babies in the nest. It was a wonderful way to cap off a great day and a great stay in Ubud.
One final word on Ubud before we head to our next destination. There is a small restaurant, or Warung, called the Melting Wok. Dana ate there a few times during her stay and took Pauline with her once. Pauline then took me and I totally understand why. Supurb Indonesian food, great atmosphere, friendly staff, and cheap prices. Eat there!
Uluwatu – Not really what I expected.
I don't know exactly what I was thinking when we decided to spend our last couple of days at Uluwatu. Perhaps I imagined a sleepy little coastal village, the beachfront lined with cool shops and restaurants, full of local flavour and maybe even a bit bit of a surfer vibe. This is not the Uluwatu of reality.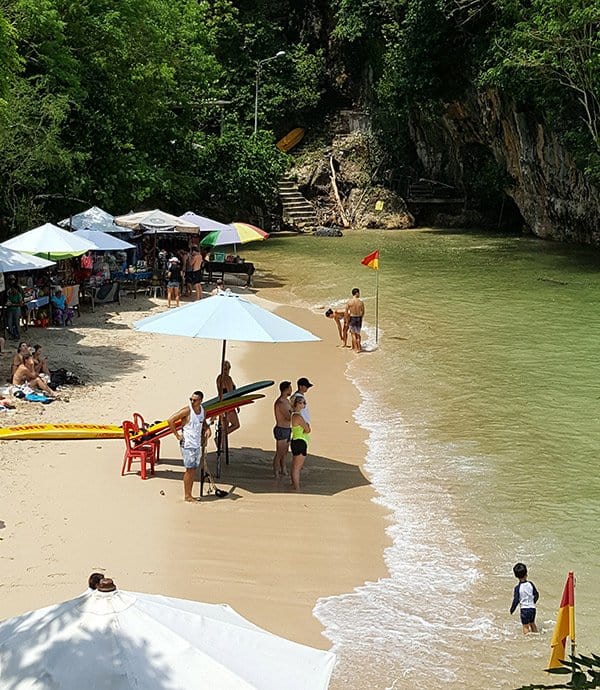 What you will find in and around Uluwatu are some pretty beaches, small and secluded. Sometimes hard to find and even harder to access. You will also find most tourists riding scooters. Why? Well, it's because there is no central area of this place, no cool main street and no beachfront row of shops, so it is the only sensible way to get around.
The best-known places around Uluwatu are the Temple, with its traditional Kacek dance show, and the Rock Bar which is one of the trendiest sunset bars in Asia. We missed out on the Rock Bar but did experience the Kacek show. The seating was cramped and somewhat uncomfortable but the show was fun and educational with truly skilled performers.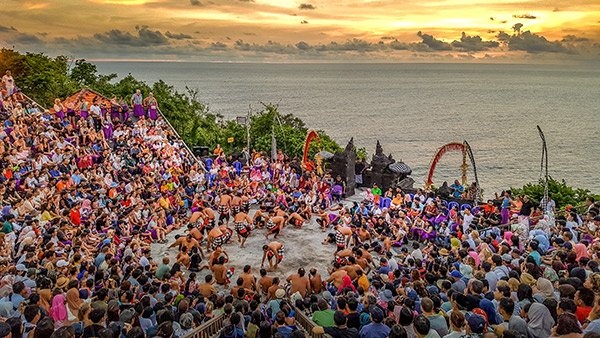 There are narrow and winding roads through the bushland with seemingly random restaurants and the occasional big Resort. It is a strange place in many ways. We stayed at a quite new place called Uluwatu Breeze Village which is a small collection of about a dozen little villas inside a walled compound and a central pool.
The staff were amazing and the rooms were more than adequate. And the breakfast was outstanding! The most popular beaches were a kilometre or two away which was within walking distance but difficult and even a little dangerous due to the blind corners on the roads and no sidewalks to be found. It is also hot and humid, ridiculously so.
We did enjoy our couple of nights here and made the 40-minute trip to Jimbaran on our last night for a memorable sunset dinner on the sand. The beach is pretty unappealing with its sticky brown sand but the atmosphere is great and it's an experience not to be missed.

The beach has a dozen or so seafood barbecue restaurants along the edge of the water with dining set up right on the sand. It is a matter of walking the beach and checking the menu of each place before deciding which has the best offerings for your tastes. Most of them also offer options other than seafood to cater to all diners.
How do we rate Bali?
It is a place that splits opinion in Australia and before the trip, my opinion was that it would be a waste of my time and travel funds. Due to time constraints and some other factors it became the best option for a last-minute trip and Pauline convinced me it was worth the effort to find out the truth for myself.
Well, the truth is that some of it was as bad as I expected but other parts were much better than I expected. Like most countries, it is impossible to solely love or hate. Bali is a diverse island that really does offer something to everyone. The challenge is to find the part that offers what you want. Don't get stuck in Kuta if you want culture, but don't go to Ubud if you want nightlife.
Now after my first trip to Bali I have to say that I am glad I made the effort to visit and form my own opinions. If I had known then what I know now then my itinerary would have been quite a bit different and my opinion almost certainly higher. Take out my dislike of Kuta and it really does provide a better experience than Thailand mainly due to the close proximity of everything on the island.
What would we have changed?
Better informed I would have bypassed Kuta and Legian altogether, it just has nothing that interests me. In hindsight, I think my solo time may have been better spent somewhere like Nusa Lembongan or Nusa Penida, a place I could spend my time searching for great photo ops rather than being bombarded with unwanted sales offers.
Tanah Lot and Ubud would still make the cut but we would probably change Uluwatu for somewhere a bit better organised, like Nusa Dua or Sanur. A beach break but in a place with better access and organisation. It's horses for courses but this horse needed a different course.
Would we go back to Bali?
Pauline would go back to Bali for her fifth visit at any chance and while there are definitely places that I would like to experience if the opportunity came up but it is not near the top 10 countries I want to visit.
To be brutally honest I think this trip confirmed to me that I've probably done enough of Asia. There are a lot of positives and it's close to Australia but for me, it doesn't have the amazing food of Latin America, the history of Europe, or the road trip potential of the USA. And that is where my travel priorities are.
It's easy to see the attraction for many Australians and, as I have demonstrated above, it is quite a diverse place. It's just not strong in the areas that I look to experience when I travel.
If you are travelling from Europe or North America it's a very long way to come, and if you are willing to fly that far I feel you have even more reason to do your research and pick the right part of Bali for your vacation goals.
So the chances are that I will not be back to Bali but it is also true that I am glad to have finally been there once to form my own opinion and not just work from hearsay. Although you should never say never.
Should you go to Bali?
Yes, you should, just be sure to pick the right part to give you the experience you are looking for. The Balinese people are humble, genuine, and friendly and rely heavily on tourism for income which means they have a very customer-focused mentality.
But don't go just to support the local economy, go because it has many beautiful places, interesting culture and is a cheap place to experience a high-quality trip.
We would love to hear your opinion of Bali, whether you agree with me or think my preconceptions clouded my view.