The opportunity to take a step back in time and visit Cesky Krumlov gave us an opportunity to experience the best of the Czech Republic. If it was possible to shrink the best aspects of Prague into a small town then this would be the result.
Where is it?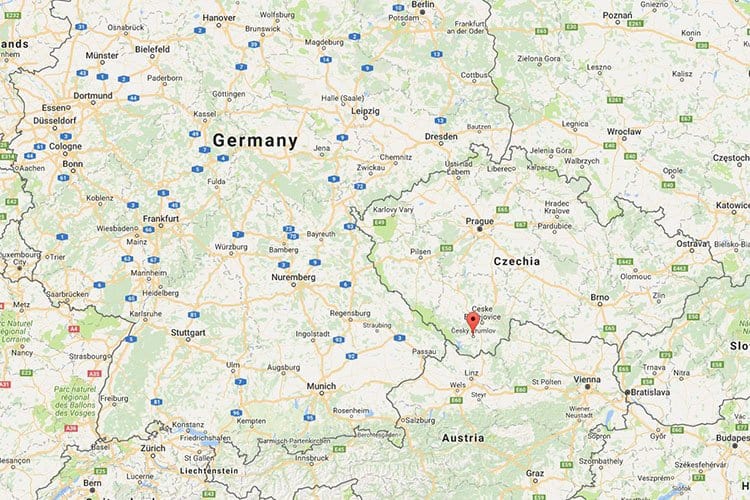 Why would you visit Cesky Krumlov?
Take your pick! You could go for the chance to stay in a fairytale town that has remained largely unchanged for hundreds of years, or for the beauty of a small town squashed into the crook of a winding river, or for the history. The reasons are many.
It is widely considered that if you were to compress Prague down to the size of a small town you would get Cesky Krumlov. A view I share.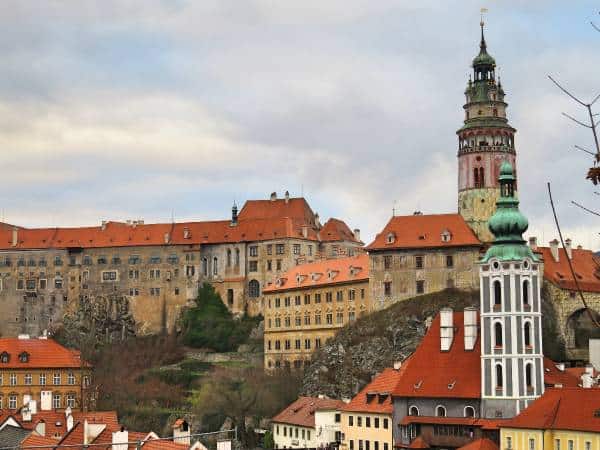 How much time do you need there?
A short break is exactly what Cesky Krumlov was made for. Well, not really, but a few nights will be enough to let you experience all that this wonderful town has to offer.
There are some shops but that is certainly not what this place is all about. You can spend a whole day walking the cobblestone streets and then the scenic loop around the bend in the river. An experience that affords you spectacular views every few minutes.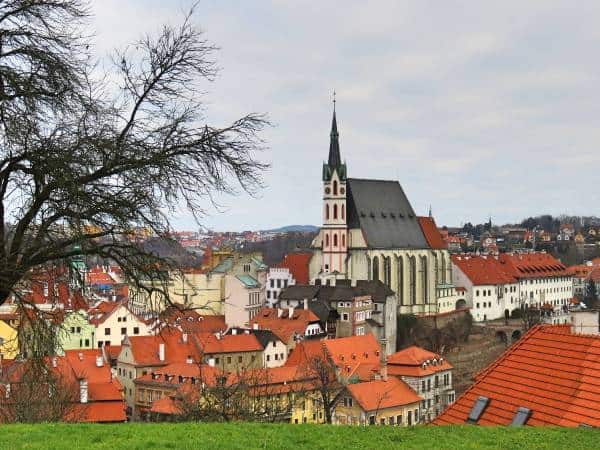 How do you get there?
The best way to get here is definitely by car. It is only a scenic few hours between Cesky Krumlov and some of Europe's great cities like Salzburg, Munich, Prague, and Vienna. So if you are on a European road trip in the area then it makes a perfect midpoint between many more popular cities.
There are also a number of coach and minibus companies that offer daily services to and from Prague.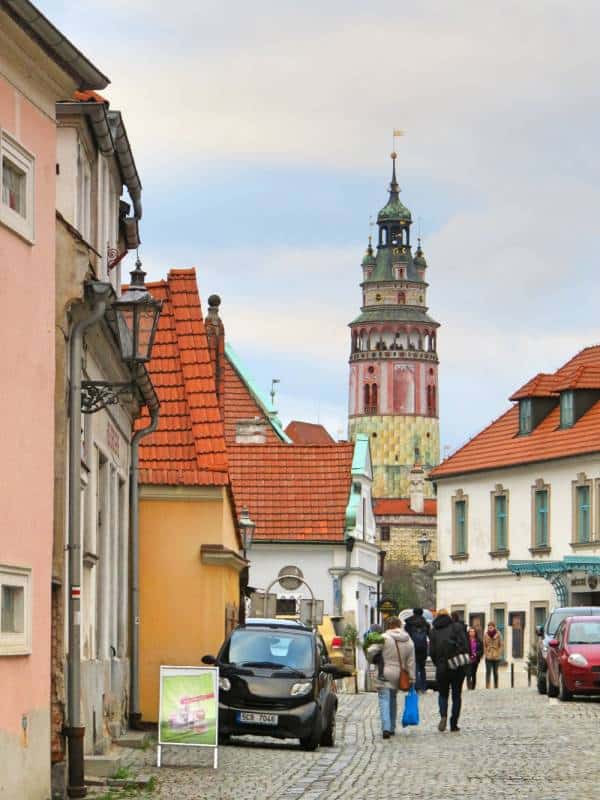 What are the "highlights"?
The whole town is one big highlight but that really defeats the purpose of this section of the guide.
There is so much to choose from when you are talking about a picture-perfect medieval town but let's get a few things listed that you simply must not miss.
Some things you simply have to do or see are:
Visit the castle – the original construction of the castle dates back to the first half of the 13th Century but there have been a number of additions and renovations since. It was the main feature when the town was added as a UNESCO World Heritage site in 1992.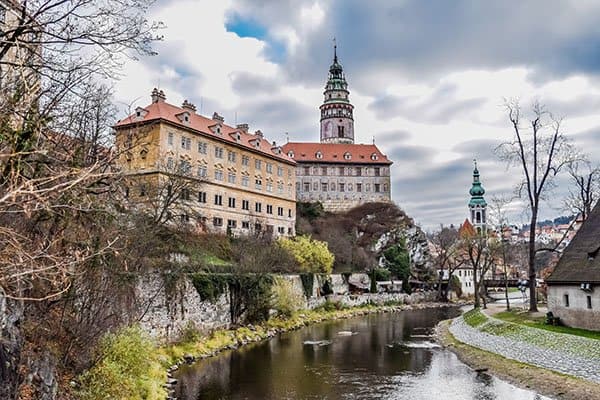 Take particular notice of the walls of the castle as they have a very unusual feature. They appear to be made of stone but in fact, it has been painted to create that effect. As have many of the buildings in the town.
Wander the laneways – the town features a maze of cobblestone streets that wind around over 300 well-preserved buildings all dating back as far as the early 1400s.
There are plenty of quaint bars, restaurants, and cafes to rest your feet, quench your thirst and take in the fact that you are in such an incredible town.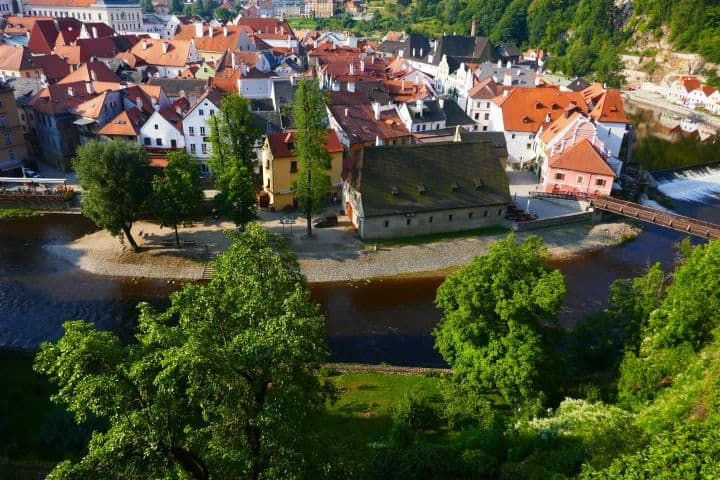 Walk the loop on the outside of the river – if you cross the bridge at the base of the castle and then enter through the large gate you will begin a walk that will offer some of the best views you can find of Cesky Krumlov.
The walk will take you around the bend in the river and can be done slowly within a couple of hours with many spots to stop, take in the beauty of the city, and do some amazing travel photography that will make your friends envious and your memories brighter.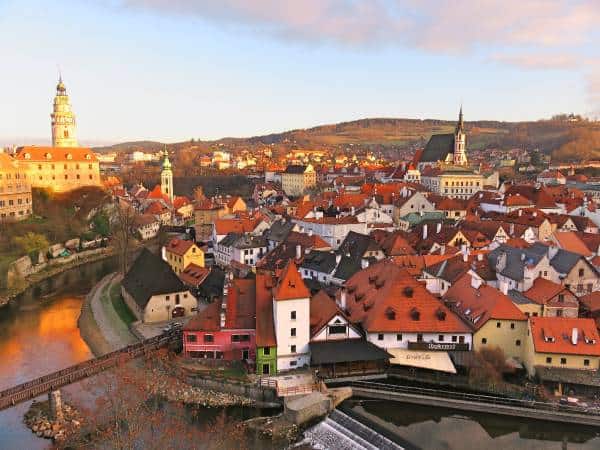 Hire a local guide for a walking tour – the visitor centre, located in the town square, can arrange a local to walk through the town with you, explain the history and point out significant locations. We were lucky enough to have a wonderful lady guide us and share her stories of growing up in the area under Communist rule.
She told us of the town and how they made the transition after the fall of the Iron Curtain. For a small amount of money, this will add wonderful depth to your experience.
What can you eat?
You will be spoiled for choice by the number of restaurants here, although maybe not in the range of dishes available.
While you can find the odd occasional place offering pizza or some German food, most places will be serving up traditional Czech dishes. We have no problem with this though as we don't go to a new country to eat the same food we would at home.
No matter which dish you try it will almost certainly come with dumplings. Maybe not to everyone's taste, and definitely not to mine, these sliced-up doughy blobs are the standard accompaniment to most dishes. We had goulash and a duck dish both with dumplings and sauerkraut.
My stand-out meal may not have been traditionally Czech but I have to admit to not having seen it anywhere else on my travels. It was a layered stack of chicken breast, potato, and baked apple slices in a cranberry sauce and I have to say it was so good I have added it to my own recipe list to try to recreate at home.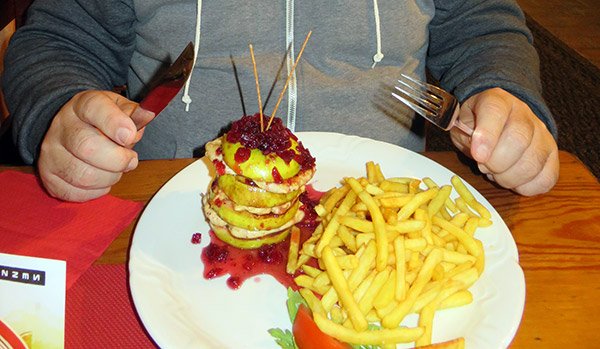 Where should you stay?
There are some beautiful historic hotels right in the centre of town but parking is a real issue if you are on a European road trip as we were.
We decided to stay at a Pension which is a cross between a B&B and a small local hotel. The Penzion Krumlov was perched on a hill overlooking the town and about an 800-metre walk to the town centre.
We selected it because of its great rating online, price, location, and facilities. It was spotlessly clean, had friendly staff, a good breakfast, and was perfectly located. We would definitely stay here again if the chance comes up.
How is the walkability?
This is a town that gives you no choice but to walk as it is almost exclusively car-free.
The cobblestone streets may test your ankle strength but you will feel no pain as you wander past stunning buildings. There is more chance of ending the day with an aching neck from trying to take everything in as you go.
It is hilly but everything is very close together and there are plenty of places to stop and rest if you feel you need to catch your breath. As mentioned above the best views are from high in the castle or from the hills surrounding the town on the opposite side of the river.
The loop around the town will take two to three very casual hours of walking, including plenty of time to catch the view and snap some jaw-dropping photos, and is not to be missed.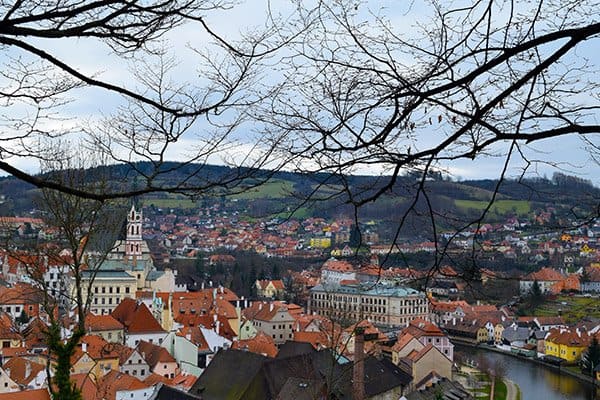 It's just our opinion.
If you want to visit a town that will live large in your memory forever, give you a supply of incredible travel photos and make every one of your friends jealous then this is a place for you.
If you love history and exploring quaint little towns then this place is for you. If you loved Prague but are not really a fan of big cities then this is the only place for you. Without a doubt one of the most beautiful places we have visited.
Have you been to Cesky Krumlov? Or is it somewhere you have just added to your list?