From Chile's Cape Froward in the south to Canada's Murchison Promontory in the north, the continental Americas must be the most culturally diverse continent on the planet.
From the scenic beauty of Canada through the diversity of the USA and the colours of Mexico, the natural wonders of Central America and the Caribbean to the celebration of life in South America, there is more to experience than you could expect to cover in many lifetimes.
We have experienced a handful of countries in this part of the world over the years and have been to some amazing places, but we reached out to our travel blogger friends to share their choice of the best places in the Americas for a short getaway.
Vancouver, Canada
with Kristen from Travels and Treats.
Located in British Columbia on Canada's west coast, the city of Vancouver is a bustling, diverse seaport city. Over 600,000 people call Vancouver home, making it the most populous city in British Columbia.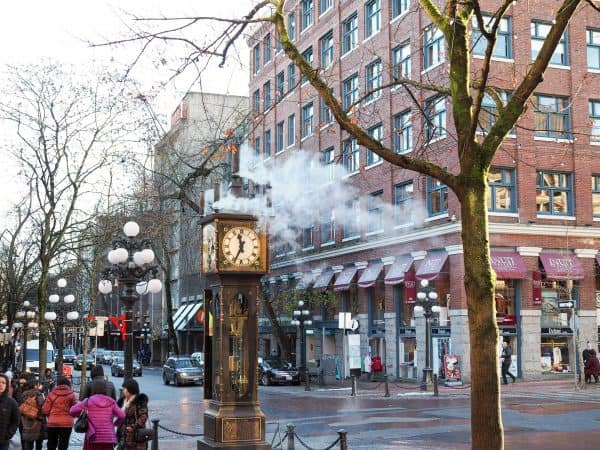 Vancouver is surrounded by natural beauty with access to the water, beautiful parks, dense forests, countless hiking trails, and within driving distance of world-class skiing. The city is also known for having an amazing selection of restaurants, bars, and shopping, so it's an ideal destination for city lovers and the outdoorsy type alike. History buffs will love exploring Gastown, which is Vancouver's oldest neighborhood.
If you're located in the western United States or Canada, you could reach Vancouver International Airport within a couple of hours by flight. While the city is fairly large, it's incredibly easy to access from the airport, and getting around the city itself is a breeze by utilizing the efficient public transportation system, making it a great destination for a quick, low-maintenance getaway.
Orlando, Florida
with Nicole from Family with Latitude.
We love Orlando for a weekend break. Whether you want to visit the theme parks or enjoy a relaxing weekend in the sun by a pool or a little or both, Orlando is a great choice. We like to get there late on a Friday afternoon.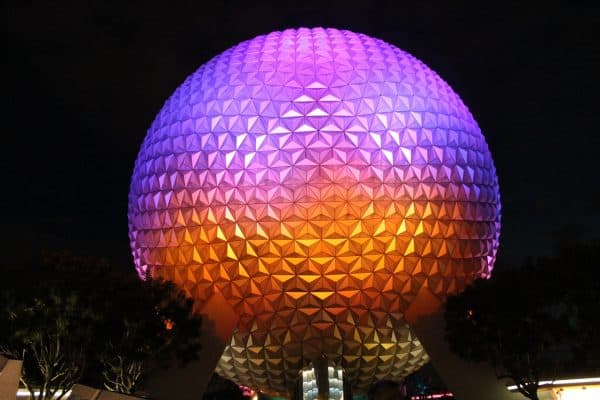 This gives us enough time to head to Epcot for an evening of riding a few rides, drinking around the world, and seeing EPCOT's Reflections of Earth. Saturday morning always requires an early wake-up to be at the Magic Kingdom for park opening. First thing in the morning is the best time to go on as many rides as you want. We recommend taking advantage of your hotel pool in the heat of the afternoon. After a drink or two by the pool and maybe even a nap, it is time to head back to the magic kingdom for some nighttime fun.
Fireworks, food, parades, and more rides are all good options for an evening in the Magic Kingdom. Sunday is your choice, Hollywood Studios, Animal Kingdom, Disney Springs, Universal Studios, or some more pool time. Action, adventure, and relaxation are all options even on a quick visit to Orlando.
La Pedrera, Uruguay
with Iris from Mind of a Hitchhiker.
When hitchhiking in Uruguay I fell in love with the coastal town of La Pedrera. The weeks before I'd been working hard on writing a travel guidebook to Montevideo. Now the time to relax had come.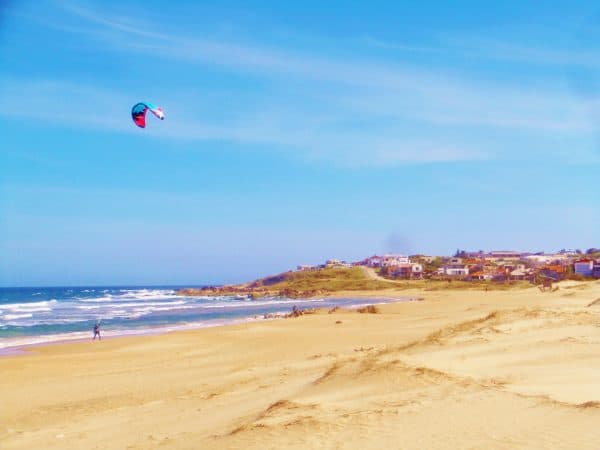 I hitchhiked to La Pedrera after first making a short stop in the infamous Punta del Este, which is a city devoid of life outside of the high season. In contrast, La Pedrera is a small, sleepy, innocuous town on Rocha's dreamy beaches. Perfect after spending so much time in the hustle and bustle of Montevideo.
In the village, there's only a handful of businesses open in the early spring. No big crowds, just the sound of the wind beating against the buildings and the occasional startled dog making its presence known. You can camp, stay in a super affordable hostel, or get a fancy cabin with an ocean view. Sure, there are a few inconveniences like having to hitchhike a short distance to find the nearest ATM and big supermarket, but all of them are surmountable issues.
Everyone knows everyone in town, and within no time everyone knew my face, too. Daily hikes on the beach kept my mind uncluttered. Sitting in the wind shadow of the little abandoned lifeguard huts on the beach, watching brave people go kitesurfing; to me, that's a great way to get a little rest before my 90 days are finished.
San Juan Islands, Washington
with Dan from Honeymoon Always.
If you are visiting or live in the Pacific Northwest of the United States take the short hour-and-a-half drive from Seattle to visit the San Juan Islands. Part of the fun is just getting there. From Anacortes, you board a ferry to take you over. You can either leave your car behind or reserve a spot on the ferry to take it with you.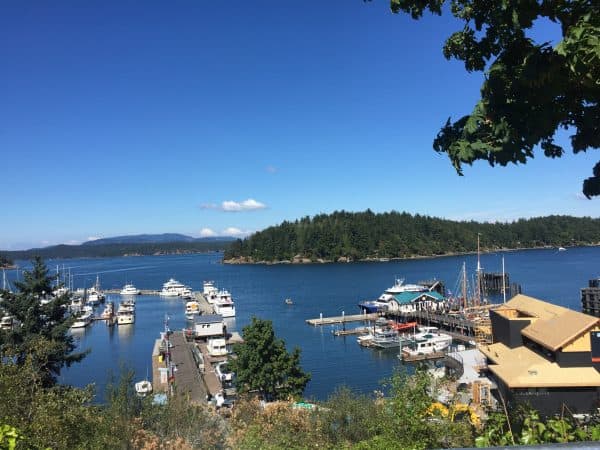 The essential thing you must do is go whale watching. We took the Zodiac tour with Western Explorer and had an amazing time. This isn't like the large whale-watching boats. Instead, you are suited up for the wind and speed out on the type of boat the coast guard uses.
This area is known for Orcas and from what we understood you have roughly a 50% chance of seeing them. Regardless, the chances of seeing some type of whale are very high. We saw two Humpback whales and one Baline whale on our trip.
Friday Harbor is where most people stay. You can stroll the charming streets enjoying the small shops, check out the whale museum, and stop to grab something to eat. For adventurous travelers like myself, take a kayak tour around the area for another chance at getting a close view of marine life. If you still have time, take the ferry to one of the other 4 islands to explore during your trip.
Flores, Guatemala
with Christine from The Travelling Pinoys.
Flores is an island town in Lake Peten. It is also the capital of El Peten, a department or province in Northern Guatemala. I had a 2-day trip to this little town as I had to do a quick visa run from Belize. So after 5 hours of a bus trip with 2 Americans, I found myself in this little quaint town.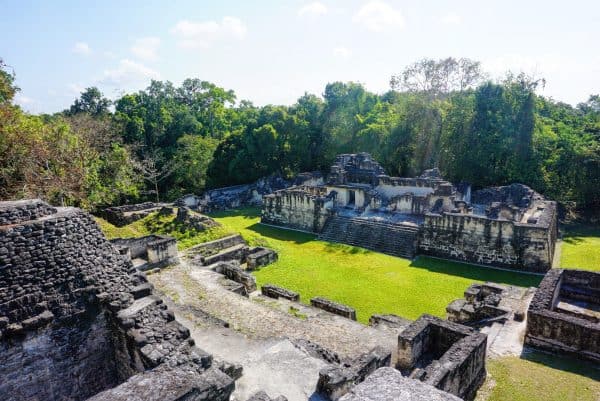 The island is quite small, and you can actually tour it on foot. And be treated to amazing and cheap street food, Latin music that keeps playing in rooftop bars around the island, quirky local shops, and the colorful houses with convoluted roofs that Flores is known for. If you need more adventurous things to do, you can take a boat or kayak, which you can get either for free from your hotel/guesthouse or for a few dollars, and paddle around the lake to discover more little islands in the area.
But those are not the only things you can do in Flores. This island is known as the gateway to the Mayan Ruins of Tikal. Which is the highlight of my trip to this part of Guatemala. Tikal is a ruin of an ancient city and one of the largest archaeological Mayan sites of the pre-Columbian era. So if you want to harness your hidden Indiana Jones, then this is the trip you have to take to explore this "Lost World".
Monterey, California
with Priya from Glorious Sunrise.
My best place for a short visit is Monterey, California. We went from San Jose to this lovely city last December on a whale-watching trip. After watching the majestic creatures at sea, we had a few hours left on our hands before we had to leave for home. So, we decided to explore Monterey for a bit and it was the best break we had in months.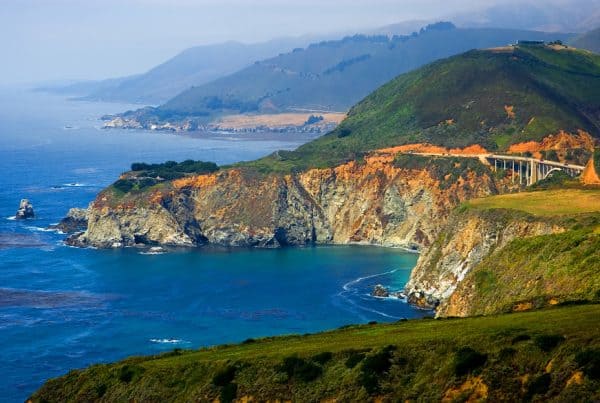 The afternoon was well-spent at Lovers Point Park and Beach. We enjoyed looking at the strange-shaped trees and even hiked up the huge rocks at the water's edge to have a great view of the sea.
My toddler especially loved trekking down to the beach and collecting pebbles. Mind you, it was very cold at the park. Thank goodness, we had our winter coats with us. On our way back, we stopped for coffee at Carmel-by-the-sea and it was delicious!
Monterey has so many awesome things to do that we decided to come back for a long trip soon. The aquarium here is especially famous. If you are anywhere in the Bay Area, Monterey is totally worth visiting even on a short break.
Isinlivi, Ecuador
with Michele from Intentional Travelers.
Unplug and recharge with fresh mountain air in the beautiful Andes. A few hours drive South of Ecuador's capital and you're surrounded by green peaks and valleys with nothing but remote, rural villages and hillside farms.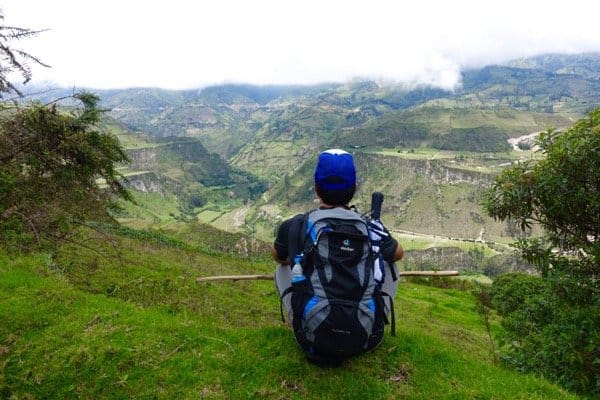 Most visitors to the tiny mountain village of Isinliví are hikers passing through on the Quilatoa Loop – a multi-day hiking route featuring Quilatoa crater lake. But you don't have to embark on an epic hike to enjoy this off-the-beaten-path destination. A stay at Llullu Llama hostel or eco-villas also makes for a fantastic weekend retreat. You can choose your level of comfort and privacy, with budget hostel beds or private rooms in the main house, as well as colorful private villas next door.
Enjoy a dip in the hot tub and dry sauna, explore endless trails by horse or on foot, get a private tour of the local cheese factory, or just curl up with a book and take in the captivating landscapes. At Lullu Llama, a hearty, family-style breakfast and dinner are included in the price. In addition to the beautiful views and hiking, the excellent food shared with fellow guests from around the world, is a highlight guests rave about.
Asheville, North Carolina
with Natasha and Cameron from The World Pursuit.
Asheville, North Carolina is the perfect place to take a short weekend break to. The small city in the Appalachian Mountains is where you can escape to get some fresh mountain air. I've been here a few separate times. All on a short weekend trip and was able to hike, drink and eat my way around the city.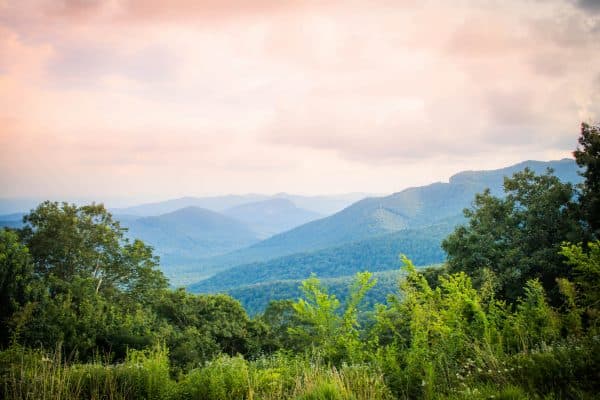 Asheville is the third largest microbrewery capital in the United States so there is no shortage of beer to drink. As far as food and shopping the lovely downtown area caters to every walk of life.
Then, of course, there are many forests and waterfalls to get active around. It's one of the hippest and most progressive cities in the US. So if you're looking for a fun weekend away in North Carolina then Asheville is perfect.
Paradise Island, Bahamas
with Sylvia from Outdoors Wonders.
Choosing to spend a solo Birthday getaway at Atlantis Bahamas, located on Paradise Island (no joke, I didn't make this name up), was the best idea I ever had in my Life!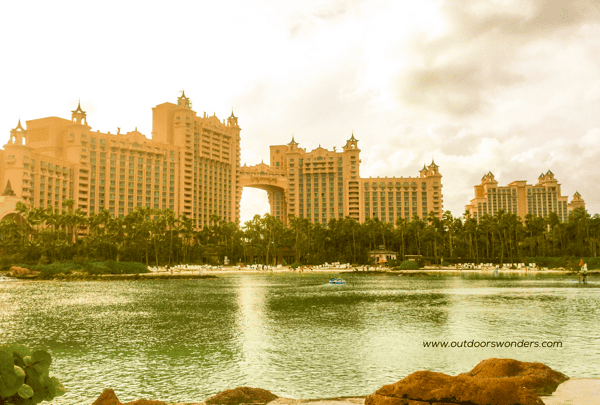 Anyone who loves beaches, pools (11), water parks (141 acres), marine habitat (14 lagoons, several aquariums), interactions with animals (dolphins, sea lions, etc.), great food (20 restaurants) & drinks (19 bars) would be enjoying their stay in that huge resort. Many more amenities (casino, golf, etc.) and entertainment options to choose from: Major international comedians & singers perform there too.
I spent my 1st day taking pictures and roaming through the resort, in awe. The cherry on top is the staff: so helpful and pleasant! I had a blast enjoying waterslides, including the dreaded 60-foot vertical waterslide called "Leap of Faith". I also went "Snorkeling in The Ruins" with stingrays, nurse sharks, manta rays, etc. Best snorkeling experience ever. Lucky me, I swam alongside a Hollywood actor (Adam Beach, from the 2016 Suicide Squad movie) during that activity. Nice guy!
This country has lots to offer! I took the fun outside Atlantis and took a class at a yoga studio next door. The Dolphin Interaction program I attended on Blue Lagoon Island was amazing. I ended my trip wandering in the capital, Nassau, a 15 minutes / US$5 taxi ride away. Lots of duty-free stores of all kinds and affordable sightseeing options to choose from. Perfect for a memorable getaway!! Many more Bahamian Islands left to explore!
Lake Tahoe, California
with Rand from Well Traveled Mile.
For anyone living or even traveling through the San Francisco Bay Area, Lake Tahoe can be the perfect alpine escape. Whether you are heading up for just a few days or a whole week, you'll find solitude in the stunning landscapes. From the emerald blue waters of the lake to dense Jeffrey Pine stands there is impressive nature everywhere.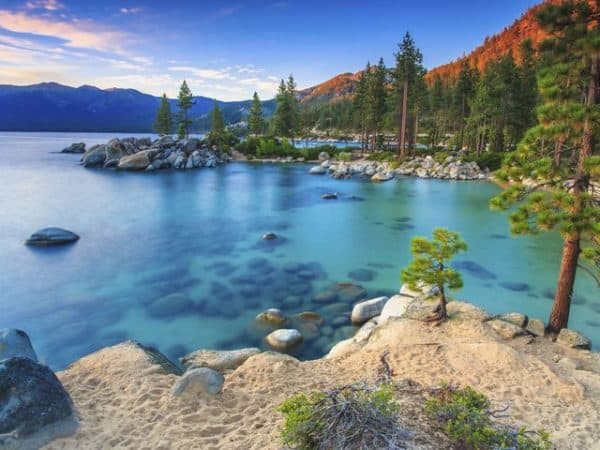 It's just a few hours drive West of San Francisco and a world apart from the hustle and bustle of city life. If you are an outdoor enthusiast you'll find countless peaks and untouched wilderness to explore.
Situated at 6,225 ft in the Sierra Nevada mountains, the area is a great way to escape the summer heat. There is spectacular hiking and biking all around the Tahoe Rim. And you don't need a boat to enjoy the water, simply find a quiet beach and take a dip or float down the Truckee River on a raft.
In the winter there are a dozen ski areas to choose from, plus other winter activities can be enjoyed just out your front door, such as snowshoeing, nordic skiing, and sledding. For a home base, I prefer the north side of the lake around Tahoe City, Dollar Point, or Incline Village. It's more relaxed and less crowded than South Lake.
Paracas and Nasca, Peru
with Vanessa from Adventurous Travel Guide.
Just 3 hours from busy Lima is the small and beautiful Paracas, a coastal town and port that belongs to the province of Pisco. A peaceful place of friendly people, most of them fishermen, that have found in tourism a great business opportunity. Take a boat to Paracas islands, to see sea lions, penguins, and seabirds.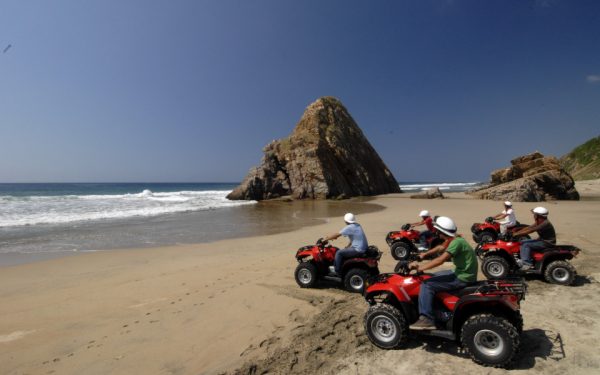 Enjoy lunch by the sea at a local restaurant, and in the afternoon head south to Ica, the capital of this region, to visit the Oasis of Huacachina. Get the adrenaline pumping as you ride buggies to the nearby dunes and maybe do some sandboarding.
Make the effort to take a day trip exploring the famous Nasca lines. Start the day with a visit to the Regional Museum of Ica, to learn about the ancient mummies of Paracas and Nasca cultures, and to see some of them exhibited with great skull deformations. Then it's off to the Airport for a flight over the Nasca Lines, this is the perfect site to let your mind fly away and imagine how life and religion used to be here 2000 years ago.
Head for Lunch at the restaurant Catador of Ica for some traditional and delicious Afro-Peruvian food, the heritage of our African ancestors, brought by Spaniards and Portuguese to Peru during the colonial era. Try our Pisco, brandy made from grapes, the main ingredient for our Pisco Sour, and learn how is made in the local winery. This is an area filled with tradition, history, and culture and should be a part of any Peru itinerary.
Oaxaca, Mexico
with Reasons to Visit.
If it was possible to take the best of Mexico and squeeze it into one small package then it would look something very much like Oaxaca. This gem of Mexico's southern highlands not only has a long and proud history but could well be described as the cultural centre of the country.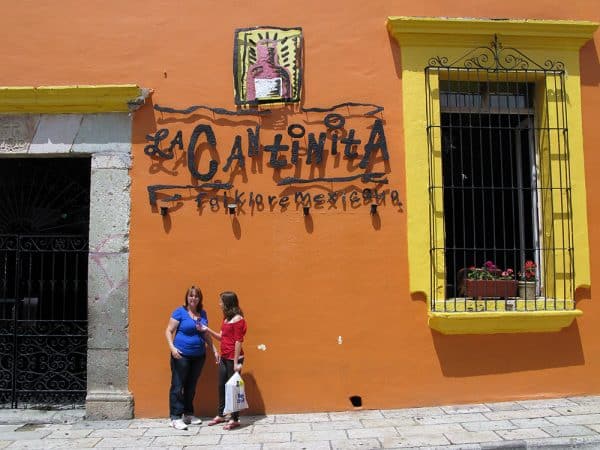 Oaxaca is food central in Mexico and the home of the famous 7 molés, rich and complicated sauces that define the flavours of Mexican cooking. But it is also the region that is responsible for creating the best of the colourful souvenirs sold around Mexico. Be sure to visit the villages in the surrounding area where each village supplies a single craft, be it pottery, weaving or brightly coloured wood carvings.
Oaxaca also has one of the most incredible archaeological sites with Monte Alban perched high in the surrounding mountains but remember that life moves at a slow pace here which makes it the perfect place to relax and soak in the amazing ambiance that only Mexico can provide.
Want more great ideas for short breaks around the world? Why not check on these great suggestions in Europe, Asia or Australia and New Zealand?