Putting together the ultimate European Christmas Market Road Trip itinerary gives us the chance to tick off two things that are probably on most traveller's wish lists; to experience the fun and colour of the best Christmas Markets, and to have a White Christmas.
You probably know by now, Pauline and I consider a road trip the best way to experience the world. And Germany should be near the top of the best road trips in the world any time of year, but especially around Christmas.
So we set out to create and experience the best Christmas Markets road trip itinerary. We had four weeks to drive it, covering around 2000 miles and it could be the road trip of a lifetime, especially for someone who has never had a White Christmas.
We also got some advice from other travel bloggers on what they recommend as not to be missed stops along the way. Their suggestions are scattered throughout the itinerary.
There are plenty of ways to get around Europe with regular and cheap bus services between cities, excellent train options, and cheap flights if that is your thing. But with some of the best roads in the world, no speed limits in most of Germany, and plenty of beautiful small towns to visit driving is the way to go.
Planning a European Christmas Market road trip itinerary
It's always exciting to sit down and start planning a long road trip. You have so many ideas, lots of interesting new places to see along the way, and so much new food to try. But then you realise you don't have time to do everything and some things have to miss the cut.
We started this plan by looking into where we wanted to spend Christmas Day, which would be somewhere with a high possibility of experiencing the iconic White Christmas. After hours of research it looked like Salzburg in Austria was the prime candidate.
From that starting point it was time to find where the trip would end, which had to be somewhere close to Salzburg with easy access by plane, train, or automobile. In the end it was a bit of a no-brainer and Munich would be where the journey concluded.
We also decided that a loop road trip from Munich would be the best route for this trip and so it was time to start looking at the interesting places we could see along the way. Knowing that we would find enough sights for three months and have to whittle it down to four weeks.
The trip would focus on Germany since it is the spiritual home of the European Christmas Market, but we would skip across borders to include a few well-chosen bonus towns and cities that would add to the trip.
We used the planning tips we wrote about in another post to help us put together what we believe is an amazing European Christmas Market Road Trip.
[put_wpgm id=6]
As mentioned above we would spend four weeks travelling almost 2000 miles (3200 km), visiting five countries, and getting in the Christmas spirit at about twenty Markets. If it ended up being half as good as our research suggested then it would be an awesome road trip.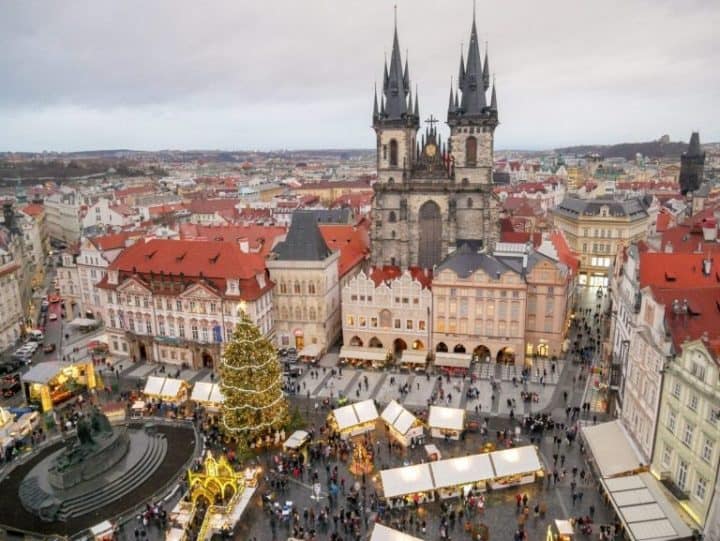 Top Tips for the Perfect European Christmas Road Trip
Get on the road early to allow time to explore the many amazing places along the way. The markets really come to life at night so arriving at your destination mid-afternoon is ideal.
-*-
You may think there are a couple of long driving days but with no speed limits on the Autobahns in Germany the distance can be covered quite quickly.
-*-
Just because there are no speed limits doesn't mean you should try to go beyond your limits, even if you are being overtaken by someone in tiny Smart Car doing over 100mph.
-*-
Some of the driving legs will be quite long but never drive for more than two hours without a break. Fatigue is a killer and sneaks up on you.
-*-
Save some money by booking hotels outside of town centres. You have a car so don't need to be right in the middle of the action.
Ultimate European Christmas Road Trip Itinerary
The general overview
I find the toughest part of planning a road trip is working out how to balance the desire to see as many places as possible without ending the trip feeling like you spent all of your time stuck in the car.
You want to find every place that has been recommended to you but you also want to have time to stop at any interesting places you find that your research didn't uncover. And you don't want to come home worrying more about what you missed out on than what you actually experienced.
Using our usual planning method we started by making a list of all the things that we wanted to see before sorting them into two categories we call non-negotiables and bonuses.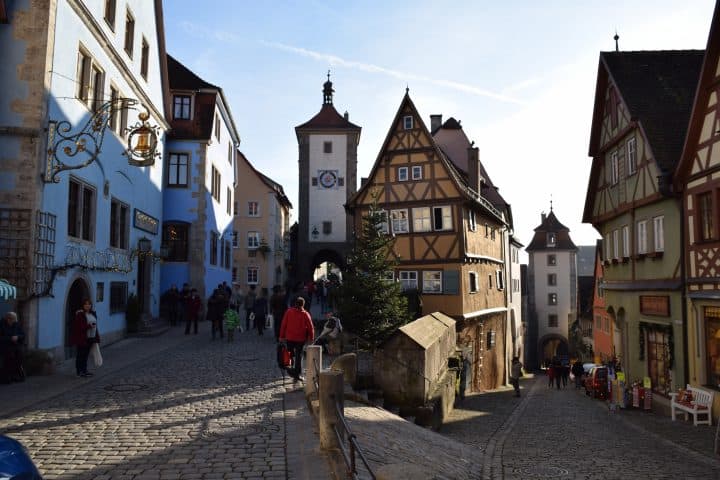 Our must-see places on this road trip, the non-negotiables
Our research uncovered some amazing places that looked too good to leave off the itinerary. They would be the points on the map that I would then connect in the most sensible way.
Rothenberg-ob-der-Tauber – this fairytale town should be at the top of everyone's Christmas Market list.
Heidelberg – because who doesn't love the idea of exploring a ruined castle overlooking a riverside town?
Cesky Krumlov – this little town seems to rate in every top ten list of beautiful towns in Europe.
Salzburg – because the hills are alive with the Sound of Music.
Bruges – another beautiful town but with the world's best chocolate to sweeten the deal.
Amsterdam – just because everyone goes there at least once if they go to Europe.
Prague – with its reputation of being one of the most beautiful capital cities anywhere.
Christmas Sleigh Ride – the ultimate White Christmas fantasy.
Berlin – for the history.
Christmas Markets – what this road trip is all about.
Things we hoped to include on this road trip, the bonuses
we wanted to see as many different Christmas Markets as possible.
eat as many different market treats as we could find and also some traditional meals.
find some of the beautiful, medieval fairytale towns.
experience a White Christmas for the first time.
experience the natural beauty of the Bavarian Alps.
allow enough time in the schedule to discover and explore hidden gems.
Beginning our Bavarian road trip from Munich
You may have already had a few days in Munich before this Christmas Market Road Trip Itinerary kicks off, or you might be leaving it until the end. Whatever the case, it's time to pack the car and hit the road.
Day 1 – Munich to Nuremberg
Driving distance 150 miles (240km)
We get this show on the road with a relatively short day of driving but filled with interesting places that are sure to get you in the mood for what is coming over the next four weeks. And our first point of interest is something you would never expect in Germany.
Not far from Regensburg, perched high on a hill overlooking the river, is a building that looks to be straight out of ancient Greece. Constructed almost 200 years ago it is used as a hall of fame honouring outstanding Germans throughout history.
After a bit of exploring and admiring the sweeping views, head into Regensburg for some lunch, your first taste of Christmas Market food awaits, and take some time to wander around this historic city.
From there it is off to our first overnight destination. Christina from Travel 2 Next believes this is a great place to get your first taste of what to expect on this road trip.
"When organising a European Christmas market road trip, Nuremberg has a fabulous Christmas market to explore. Nuremberg's famous Christmas market started in 1628 and is a popular destination to discover while on a European River cruise.
Soak up the Christmas atmosphere in Nuremberg's main square as you wander around from stall to stall, catching whiffs gingerbread and mulled wine floating through the air. Nuremberg's Christmas Market is a great place to go shopping for Christmas gifts and handmade ornaments for your Christmas tree.
You'll easily slip into the Christmas mood as you wander around the stalls with cheerful red and white striped awnings, listening to carolers. If you're looking for a lovely souvenir to take home, buy an angel decoration as this is the Christmas market where the first angel was sold"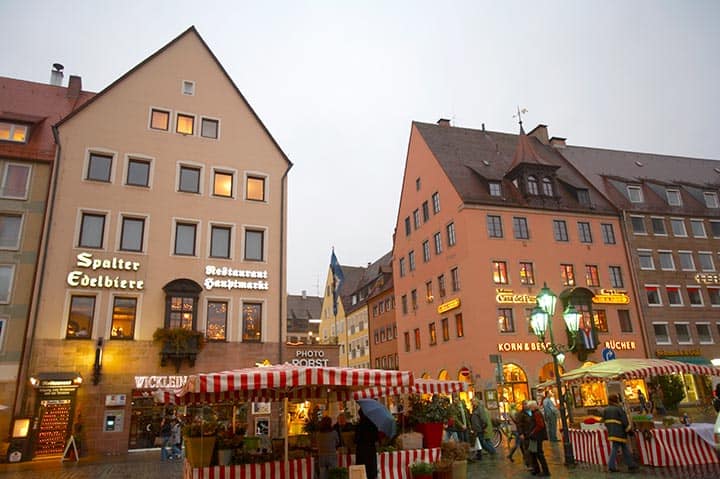 Today's Christmas Markets
Regensburg Christmas Market at Neupfarrplatz – This is Regensburg's traditional Christmas Market, which an independent jury has described as one of the loveliest in the German-speaking countries.
Regensburg Romantic Christmas Market in the courtyard of Thurn & Taxis Palace – In the courtyard of Thurn & Taxis Palace there is the Romantic Christmas Market, offering all the bustling atmosphere of a market, and a varied program of cultural events like daily entertainment programs with theme nights.
Regensburg Lucrezia-Market – Lucrezia-Market presents high quality, self-designed and self-made objects and cultural programs on two stages. Artists and craftsmen set up stalls laden with wonderful handmade wares.
Nuremberg Christkindlesmarkt Christmas Market – The tempting aromas of mulled wine, sweet roasted almonds, Nuremberg sausages, and gingerbread create an unforgettable atmosphere in the Old Town decorated in its Christmas regalia.
Nuremberg Children's Christmas – just around the corner from the Christkindlesmarkt is a child's fairytale dreamland with a magnificent two-tiered nostalgia carrousel based on old originals with reindeer and Father Christmas sleighs, plus a mini Ferris wheel, a steam railway, and a small merry-go-round.
Highlights
Take a short detour to see Walhalla overlooking the Danube. You can pay to enter the Hall of Fame or just admire the architecture and views from outside.
Stop in for lunch at World Heritage listed Regensburg and wander the medieval lanes of the old town. Be sure to get out to the river for more stunning sights and see if you can find the amazing mural on Goliathhaus.
Wander into Old Town Nuremberg to experience one of the original and best Christmas Markets in Europe. The Glühwein, a warm mulled wine drink, will be plentiful and perfect for taking away the Winter chill.
Where to stay and eat
The Best Western Hotel Nürnberg am Hauptbahnhof is an excellent choice of hotel with breakfast included and a very reasonable price for parking. It is comfortable, clean, and well-located just a short walk from the Old Town. Perfect for everything you want to do in Nuremberg.
It might seem like a pretty obvious choice but that doesn't make it wrong, dinner tonight may not be healthy but it will be your first chance to sample some Christmas Market favourites.
Day 2 – Nuremberg to Rothenburg ob der Tauber
Driving distance 65 miles (105km)
If you had too much Glühwein last night, or if the morning is a bit cold, treat yourself to a bit of a sleep-in if you wish. This morning take some time to look around the town during daylight hours.
A very short drive today of around one hour so definitely no rush to leave. When you are ready to leave you will be heading to one of the most beautiful, fairytale towns of Europe. And if you think I'm exaggerating then you might feel like you have stepped into the pages of Pinocchio, after all, this town was the inspiration for the village in the story.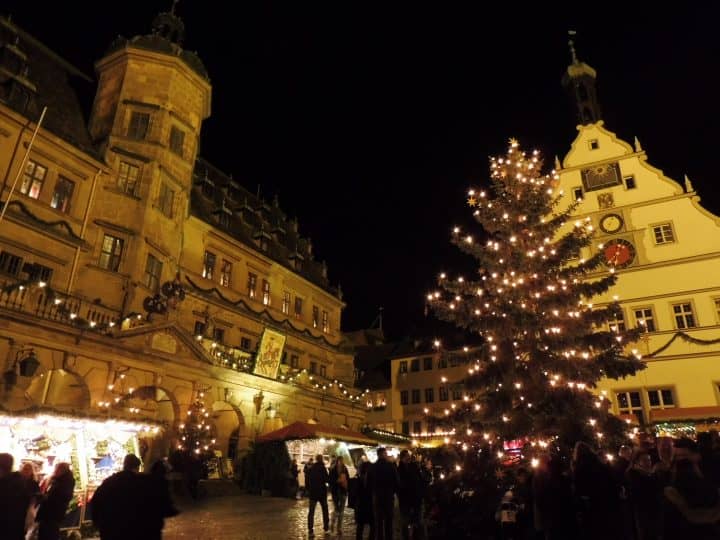 Today's Christmas Markets
Reiterlesmarkt of Rothenburg ob der Tauber – The Market has changed little in the past 500 years which suits this beautiful town perfectly. The cobbled streets and squares around the Town Hall are packed with stalls. The highlight is the arrival of the Rothenburg Riders, these horsemen may once have brought fear as they floated through the sky with the souls of the dead, but have now become much-loved symbols spreading messages of joy.
Highlights
Be patient and eventually get the perfect shot at one of the most photographed corners in Europe.
Take your time looking through the stalls of one of the most picturesque Christmas Markets in the World.
Where to stay and eat
We stayed at a Gasthaus five miles out of town and it was extremely disappointing. We would highly recommend staying very close to Old Town Rothenburg where you can simply leave the car and walk into town.
There would be plenty of German food over the coming month and much of it from the Markets, so we decided tonight to get something a little different and settled on pizza from the highly-rated Restaurant Michelangelo. It did not disappoint.
One thing that you will find in quite a few of the Markets is a Snowball, or Schneeballen. This is basically strips of dough laid around each other to form a ball, much like people do with rubber bands. It originated here and comes in many different flavours. Look for a bakery called Diller Schneeballen near the markets for the best selection.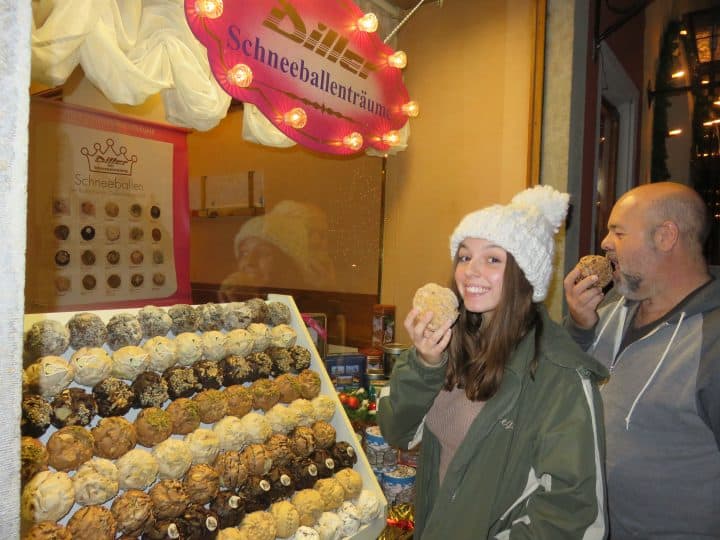 Day 3 – A day in Rothenburg ob der Tauber
Driving distance 0 miles (0km)
Give the car a day off today and get ready for some walking. Nothing too strenuous, and the unbelievable surroundings will make you overlook any possibility of aching feet. You have an entire day to walk around the picturesque town of Rothenburg ob der Tauber.
Wander down the small, cobbled laneways, make your way to the top of the city walls and enjoy the town from a different viewpoint, and don't be afraid to sneak into the occasional bakery for some sweet treats.
Head back to the hotel for an afternoon recovery session if you need it, and then head back out for another evening of Christmas joy as the sun falls and the city lights come to life.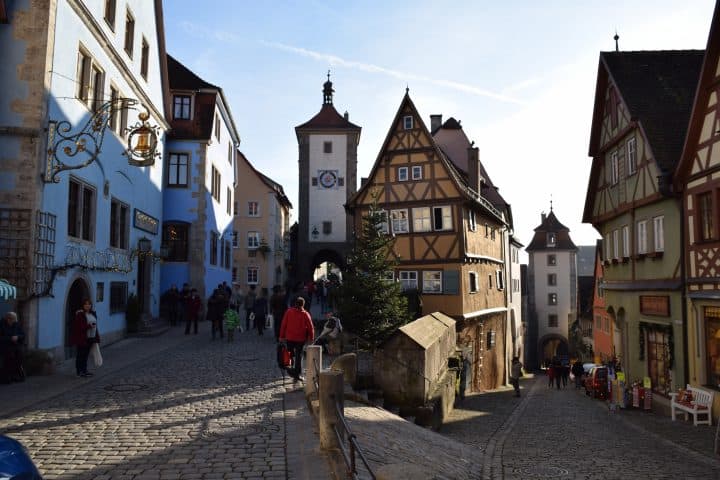 Highlights
Walk around the city atop the medieval wall and see the city from the same viewpoint others have for hundreds of years.
Try to get lost down the small laneways, and find some of the town's hidden gems.
Where to stay and eat
Another night in Rothenburg means no need to pack and unpack again, leave the car behind if you have chosen a hotel close to Old Town.
The Old Town is quite small and, while there are definitely a number of tourist trap restaurants, there are also a good number of well-priced, traditional eateries. While you are exploring the town in the morning be sure to check any displayed menus you find and mark anything interesting on your map or phone.
Around Southwest Germany
Day 4 – Rothenburg ob der Tauber to Stuttgart
Driving distance 95 miles (155km)
Another short drive today so no rush to get on the road too early. There are plenty of small towns along the route today to stop and explore. or you may choose to drive directly to Esslingen for more time to experience the unique markets there, before continuing on to Stuttgart.
You've probably never heard of the little German town of Esslingen, but Diana from The Elusive Family rates it as an essential addition to your Christmas Market road trip.
"Esslingen's Medieval Christmas Market is one of the most revered and popular Christmas markets in Baden Württemberg. It is one of the largest Christmas markets in the region and truly reflects the various aspects of medieval life by showcasing a wide variety of craftsmanship, demonstrations, food, products and clothing.
There are acts and shows including jugglers, basket and candle makers, musicians, archers and bakers showing off their fresh desserts in food booths around the market. The town itself is beautiful with half-timbered homes, and winding alleys where visitors can weave through to get to various parts of the market.
It is about 20 minutes from Stuttgart and truly one of the most beautiful Christmas markets in Germany."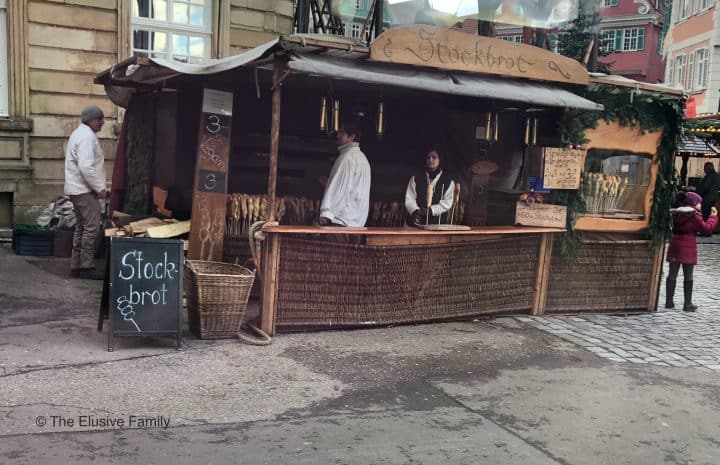 Today's Christmas Markets
Esslingen Medieval Christmas Market – Locals claim this market is "more full of adventure than any other in Germany", as merchants wearing historical garments sell traditional goods as has been done for hundreds of years. Watch blacksmiths, pewterers, felt makers and glassblowers demonstrate their skills while jugglers and wandering minstrels entertain the crowds. You may never feel closer to life in the Middle Ages.
Stuttgarter Weihnachtsmarkt in Stuttgart – widely regarded as not only one of the oldest but also one of the most beautiful Christmas Markets in Europe, you will find this conveniently located in the town centre stretching from the Nuen Schloss to the Marktplatz.
Highlights
Get up close and personal with life during the Middle Ages in Esslingen. Watch the skill of the craftsmen, have some fun with the street entertainers and feast on some traditional food.
Soak up the joyous atmosphere in one of the most beautiful Christmas Markets in Europe as you wander the half-timbered-house lined streets of Stuttgart.
Where to stay and eat
There is plenty of easy-to-use public transport to get you into the town centre of Stuttgart so no need to stay right in the action. You should find better prices and easier parking to stay outside of the main hub.
If you are hungry at lunchtime try some of the medieval food on offer at Esslingen Market.
For dinner, if you are still hungry, snack on more delicious Market offerings or maybe find a nice little place for a giant beer and a hearty meal.
Day 5 – Stuttgart to Heidelberg
Driving distance 125 miles (200km)
Take the scenic route today and have a short break from the Christmas overload with a bit of a detour through the spa town of Baden-Baden as recommended by Carol from Wandering Carol.
"If you're feeling frosty from all that winter road tripping, stop at a spa in Baden-Baden, Germany, to warm up. An elegant town bursting with hot steamy water from the natural thermal springs, Baden-Baden is a great place to soak, spa, and relax. The two famous bathhouses here are Caracalla Therme and Friedrichsbad – and both offer completely different experiences.
At Caracalla, you'll find airy white architecture reminiscent of ancient Rome, with a wide assortment of indoor and outdoor pools, as well as a large-scale sauna complex upstairs. At Friedrichsbad, a historic bathhouse set in a neoclassical building, the experience is more structured. Spa-goers engage in a ritual circuit of dry air bathing, steam, soaking and massage that can take three hours to complete.
While the spa is serious business at Friedrichsbad, it's also clothing free, as is the sauna complex at Caracalla – it's all part of diving into the local spa culture, which in Germany is a popular and long-lived tradition. To learn more about Baden-Baden's legacy of wellness, you can also visit the Kurhaus, the former spa centre where you'll find the tourist information centre and a stunning wall of frescoes."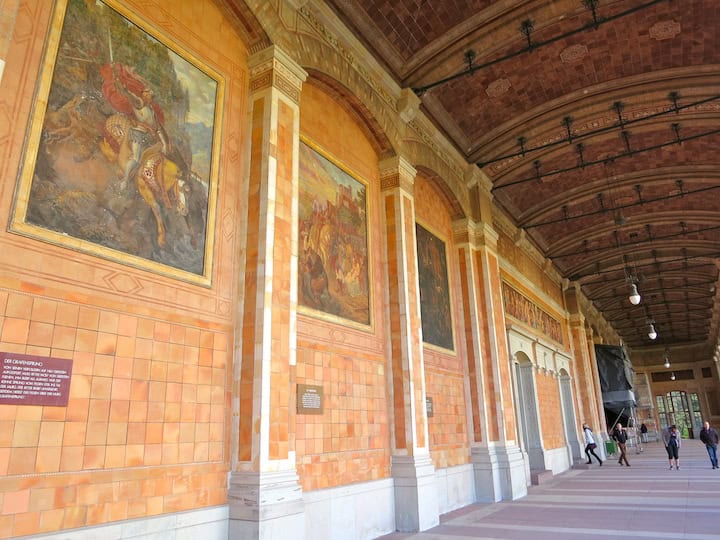 After a relaxing couple of hours in Baden-Baden it's time to start heading north to our next overnight stop, Heidelberg, with its amazing pedestrian shopping street dotted with Christmas Markets.
Today's Christmas Markets
Heidelberg Christmas Market at Bismarckplatz – A small group of stalls located at the main public transport interchange. It is also the start of the pedestrian street where we begin our Market crawl.
Heidelberg Christmas Markets at Universitätplatz, Marktplatz, and Kornmarkt – These are the three largest sections of Markets along the pedestrian area and all feature plenty of stalls to browse and shop.
Karlsplatz Ice skating and Christmas Market – The final stop on the walk is Karlsplatz, hire some skates or just watch others glide by with a stunning backdrop of the castle on the hill.
Highlights
Escape the cold of Winter and let your body recover from a few days that have probably been filled with walking and driving, with a soak in the soothing, warm spa waters of Esslingen.
Go on a "Christmas Market Crawl" as you wander along the pedestrian only street that leads from the main transport hub in Heidelberg to the hill at the base of the Castle.
Try your hand at ice skating at one of the most scenic rinks in the World.
Try one of the wonderfully crafted chocolate tools on sale around the Markets.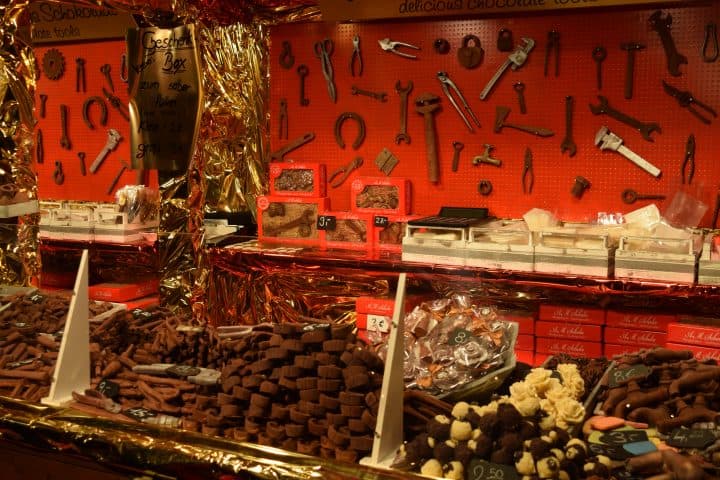 Where to stay and eat
We decided to stay a few miles from Heidelberg town centre due to a large section of the city being reserved for pedestrians only, so having a car can be a hassle. The public transport is great, and since the Markets start at the city's main transport hub, it is easy to get there.
There is a restaurant in Heidelberg that caught my attention during my research and it didn't disappoint when we finally ate there. The Schnitzelbank is located in one of the sidestreets of the pedestrian plaza in an old barrel maker's building, and unsurprisingly they do a lot of very good schnitzels.
Day 6 – Heidelberg to Bernkastel-Kues
Driving distance 110 miles (180km)
Spend the morning in Heidelberg today as there is not a lot of driving to be done. Head into town and climb the hill to the castle where you should join a guided to tour to learn the rich history of this imposing building.
Admire the views across the town and over the river before heading back to your car and continuing the adventure.
Time for another stay at one of the lesser-known, but by no means less amazing, towns in Germany. This time it is from a recommendation from Brenda from This Girl's Wanderlust.
"Bernkastel-Kues is a well-known wine making town along the Moselle River in Germany. The town itself is broken into two parts, Bernkastel and Kues, nestled along either side of the river.
Since 1978, the medieval town holds its annual Christmas markets from the end of November until Christmas which also has the largest Advent calendar in the region, which opens a door each evening with a live performance in the towns historic square.
Locals gather to drink mulled wine produced in the region, sample currywurst and sing along with the beautiful Christmas choir. Because Bernkastel-Kues is off the beaten track, it is not the most popular destination for foreign tourists to visit, therefore leaving it untainted. The market is more popular to German's from near-by towns and villages, the only way to describe the atmosphere is of old friends meeting up to celebrate with some Christmas cheer. These markets are as authentic as they come.
There are over 40 market stalls selling everything from sweets to soap, to wine to wooden gifts. Relax in the square with a cup of mulled wine and just soak the warm and enjoyment this town as to offer at Christmas time.
How best to describe the markets: as you move through the narrow cobblestone streets, framed by centuries-old half-timbered houses, pasting through the beautifully decorated square, stopping to take in the choir and looking with pure amazement at the festive shop windows, that's how the magic of the Christmas market flows through the old town of Bernkastel-Kues."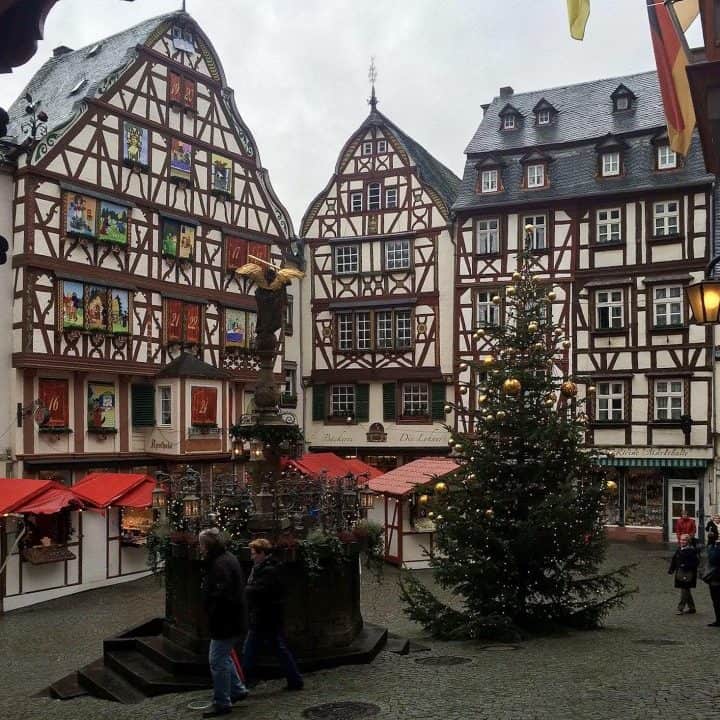 Today's Christmas Markets
Bernkastel-Kues Christmas Market – It may not be among the largest Markets being visited on this trip but it does have a charm all of its own.
Watch as every evening one door is opened on the larger-than-life Advent Calendar created at the Adler Pharmacy on the Town Square.
Take part in the annual Santa Claus hike around town while enjoying hot drinks such as tea and mulled wine, a hot meal, and a chocolate surprise.
Highlights
Climb the hill, or take the funicular to the ruins of Heidelberg Castle where you can join an interesting guided tour of the buildings.
Warm up with some mulled wine or hot chocolate while listening to the live Christmas music at Bernkastel-Kues Christmas Market.
Where to stay and eat
The countryside around Bernkastel-Kues is dotted with some beautiful Guesthouses and Boutique Hotels, so this is an ideal time to stay somewhere a bit special without breaking the bank.
One thing for sure about Bernkastel-Kues is that you will not be short on choices for sensational German food. So many great restaurants located in beautifully maintained old buildings.
Day 7 – Bernkastel-Kues to Cologne
Driving distance 110 miles (175km)
No need to rush this morning but we recommend leaving as early as you are comfortable doing so. Today we head to the historic town of Cologne with its perfumes, lock covered bridge and beautiful riverside Cathedral.
We were not the only ones who loved our time in Cologne, Lee from The Travel Scribes was also impressed by the history and beauty of the city.
"Visible as far away as neighbouring city, Bonn, the Cologne Cathedral (Kolner Dom in German) is a must-visit on the itinerary. An impressive gothic structure, the cathedral rivals many of it's European counterparts and is actually the most visited tourist attraction in all of Germany.
It also has a more dubious claim to fame: it was one of the only large structures left standing in Cologne after the World War II bombing, as it's said that Allied pilots used it as a landmark, rather than a target.
It was built in 1248 although work was put on hold in 1473, only to begin again in the 1840s where it took a further 40 years to complete. Walking around the cathedral is a treat – it has numerous works of art, fascinating stained glass windows and huge golden shrine, The Shrine of the Three Kings, to behold.
Entrance is entirely free (although a guide pamphlet costs 1 euro at time of writing, and the treasury and South Tower viewing area have additional costs), and you can spend about 30 minutes to an hour.
The Cathedral also becomes a magnet for tourists in December, as one of the most impressive Christmas markets opens around it. Think delicious local beer (kölsch), fragrant mulled wine, lebekuchen (German gingerbread treats) and gorgeous handicrafts – you could spend hours winding your way round it. The market usually opens in the first week of December."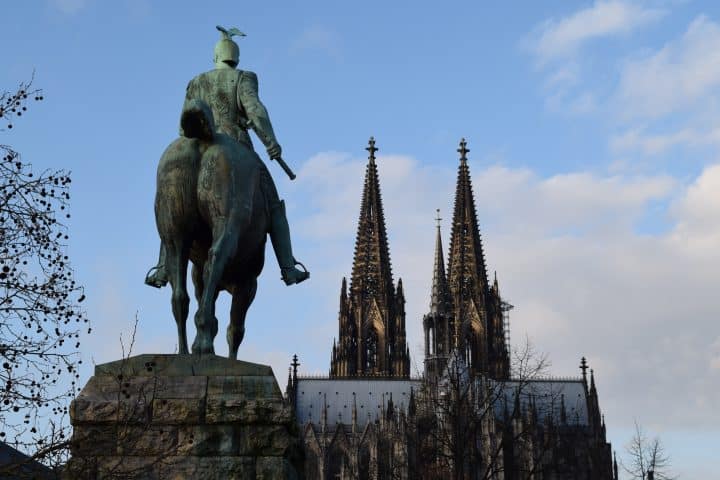 Today's Christmas Markets
Cologne Cathedral Christmas Market – situated right beside the imposing Cathedral, this market is also home to the largest Christmas Tree in Rhineland. You will find plenty of sweet treats available and get some of the original Christmas mulled wine served in special souvenir mugs.
Old Town Cologne Christmas Market – Children in particular will love this Market located outside of the Town Hall. Featuring a nostalgic Roundabout, Puppet Theatre, Santa's House, and plenty of toy stands, it is the most beautiful of the Cologne Markets.
Cologne Angel's Christmas Market – Popular with locals as an after work spot for getting some warming drinks, this market is also loved by families due to the wandering, glitter-covered Angels greeting patrons.
Cologne Harbour Christmas Market – what could be better than a Christmas Market located at a Chocolate Museum overlooking the beautiful Rhine River? Listen to the yarns of the "Rhine Pirates" and feast on a wide variety of fish specialties.
Highlights
Ride the Christmas Market Express, a road-bound "train" that takes visitors between the four Markets mentioned above. It does cost to ride but makes the ideal way to get from one market to the next.
Visit the famous Cologne Cathedral and maybe experience a mass while you are there.
Cologne is the home of, well… cologne, so it's the perfect place to shop for some perfume.
Cross the Rhine on the Hohenzollern Bridge and get a new view of the Cathedral. Check out the thousands of love locks as you cross the river.
Where to stay and eat
Since most of your time will be spent around the Cathedral in Cologne it is worth looking at accommodation around that area. It is a big city so there are plenty of options.
Have a seafood dinner at the Harbour Christmas Markets for a welcome change of diet.
Crossing Germany's Western border
It's time to leave Germany for a few days and experience Christmas in a couple of neighbouring countries, Belgium and the Netherlands.
Day 8 – Cologne to Brussels
Driving distance 150 miles (240km)
A busy but rewarding day today so get on the road at a reasonable hour in the morning so you don't miss out. Our first stop is highly recommended by Sophie from Solo Sophie who rates Aachen as a fantastic Christmas road trip addition.
"Of course, no visit to Western Germany would be complete without a trip to the city of Aachen. Known as Aix-la-Chapelle in French and Aken in Dutch, the settlement is most famous as being the place where Charlemagne chose to base his seat of power during the 9th-century.
Today, you can still follow in the footsteps of Charlemagne by strolling through his great mosaic-filled cathedral or visiting the Centre Charlemagne. Otherwise, you should know that the city has been famed for its spas (the springs here being the hottest natural springs in Northern Europe) since Antiquity, and even now there's still the chance to indulge in luxurious spa experiences.
Come Christmastime, Aachen hosts one of the best Christmas markets in Germany. While in the city, be sure to try the Aachen 'Printen' cookie, a kind of gingerbread that can only be found there!"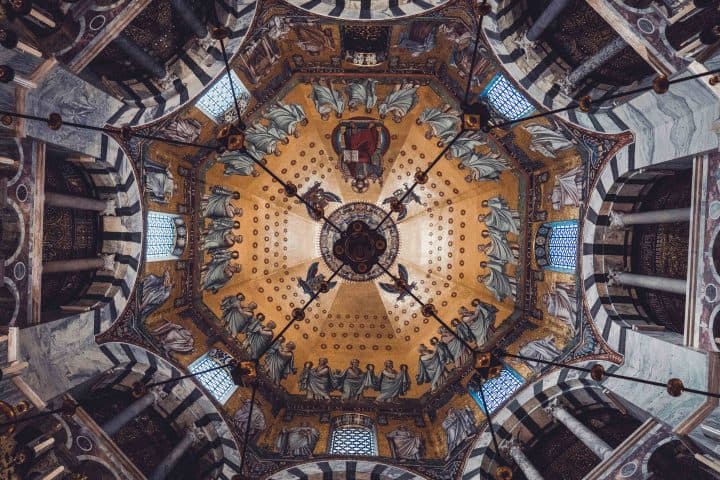 There is a second stop along the way today with a chance to check out the unique Christmas Markets at Valkenburg aan de Geul, Karen from Wanderlusting K explains why.
"Although the Christmas markets in the Netherlands aren't as famous as the Christmas markets in Germany, you cannot miss the Valkenburg Christmas market.
This Christmas market in the southern part of the Netherlands close to the Belgian and German border takes place within an old quarry that dates back to Roman times. (It's a bit of a misnomer to call it a cave as it was created by humans, but there are no actual caves in the Netherlands.)
Within the Gemeentegrot Christmas market, you'll be able to drink gluhwein, eat delicious Dutch treats, and browse for various goodies in a very unique environment. The best part? You barely need a jacket as the temperature inside the cave is constant year-round! The rest of the city is also quite festive for those looking for a unique stop-off in the Netherlands!"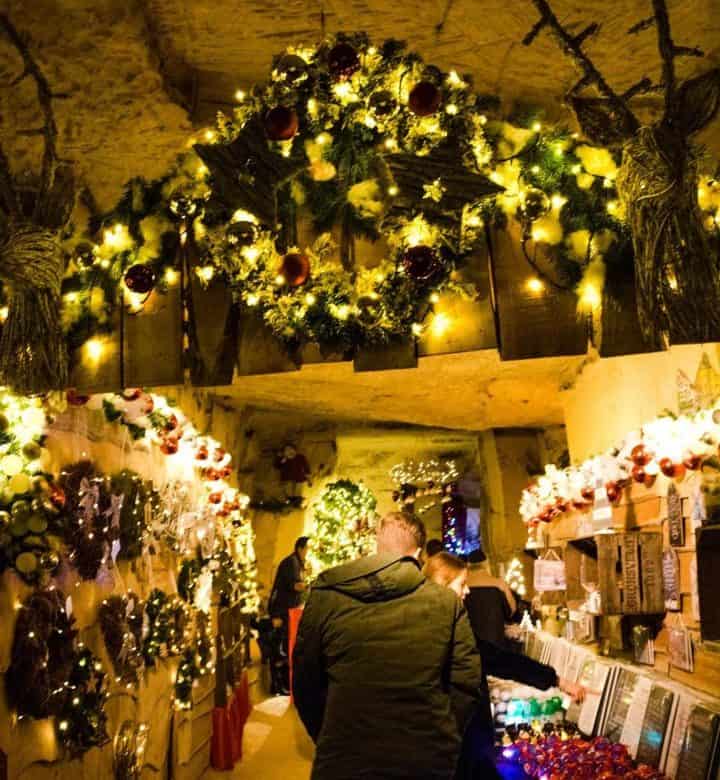 From Valkenburg it is on to tonight's destination and our first taste of Belgium, with a night in Brussels.
Today's Christmas Markets
Aachen Christmas Market – popular as a meeting place for locals whether it be for lunch or evening drinks, particularly popular for the range of special cookies and cakes from the region.
Valkenburg aan de Geul Christmas Market – There are not many places in the world where the Christmas Markets are held in a cave, so make sure to spend some time here.
Winter Wonders at Brussels – these Christmas Markets are filled with magical lights, local culture and fun activities. Experience the sound and light show at the Grand Palace, the giant Christmas tree, skating rink and even a life-sized manger.
Highlights
Visit the beautiful Cathedral of Charlemagne in Aachen, or maybe spend an hour or two at one of the famous spas in town.
Experience the unique Christmas Markets in caves at Valkenburg as we cross into the Netherlands.
Become part of the magnificent Winter Wonders Festival in Brussels as you see what Belgium has to offer.
Where to stay and eat
Spending a night in the Belgian capital means no shortage of accommodation options, but be sure to include the cost of car parking when you are choosing where to stay.
At Aachen pick your favourite from a large variety of Printen cookies and other Christmas cakes and biscuits, "Domino Stones", gingerbread, "Spekulatius" and marzipan bread.
Once you get to Belgium make sure to try the famous waffles and some of the best chocolate to be found anywhere in the world.
Day 9 – Brussels to Bruges
Driving distance 70 miles (110km)
Not much time is needed behind the wheel today so plenty of time to take in the beauty of Belgium and a couple of special cities. So after some more Belgian waffles for breakfast take the short drive to Ghent and take your time discovering what this lovely town has to offer.
Once you are ready to move on it's just another short drive to our next stop, Bruges, where we have two nights and a full day to relax and fall in love with this Belgian treasure.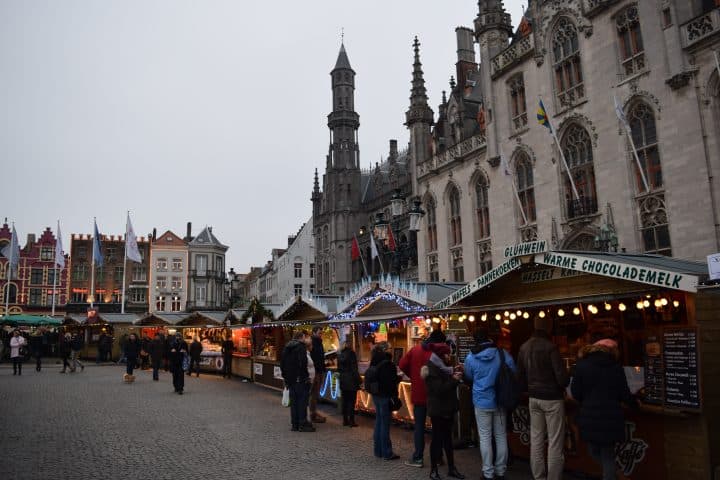 Today's Christmas Markets
Gentse Winterfeesten in Ghent – right in the heart of the city you will find a Christmas Market that will make you feel like you have flown off to Scandinavia with the smell of Pine forests, moose and homeliness.
Bruges Christmas Market Village – the entire Old Town Square dresses for this special occasion and is one of the prettiest Christmas locations in Europe. During the day the area can be packed with visiting day-trippers but at night it becomes cosier, and you can soak up the atmosphere without the crowds.
Highlights
experience Scandinavia without leaving Belgium at the Ghent Christmas Market.
try some ice-skating at one of the most beautiful rink locations in the world at Old Town Bruges.
You're in Belgium and it's cold outside, so try some warming hot chocolate. It may be the best you ever have!
Take your time exploring the Old Town Square of Bruges after the crowds leave.
Where to stay and eat
It is possible to stay close to Old Town and have parking available at a reasonable price. The Hotel Ibis Bruges Centrum is a great example with a good price, reasonable parking fees, and a perfect location.
The obvious thing to eat today will be chocolate, it's almost considered the national dish.
One side of the Old Town Square is lined with restaurants but, as you would expect, prices are high as they attract tourists not willing to look further afield. You only have to head a block or two away from the Square to find plenty of places offering excellent food for much less money.
Day 10 – Exploring Bruges
Driving distance 0 miles (0km)
A full day in Bruges today because it is a place that deserves to be explored, and you are due for a day with no driving. Not sure you agree with us and want a second opinion on Bruges? Gabor from Surfing the Planet is also a big fan of the city and believes you should check it out.
"Bruges is one of the most romantic medieval towns in Europe. Situated in the Flemish-speaking part of Belgium, the whole Old Town of Bruges was declared World Heritage by UNESCO.
It's not exaggerated to say that visiting Bruges is the closest experience you can get to time travel to the Middle Ages. The central point of Bruges is the Market Square with its beautiful palaces, colorful houses, and the Belfry, a charming bell tower that presides over the views.
The Market Square is where every winter the Christmas Market is waiting thousands of visitors. Apart from admiring the perfectly conserved Gothic-style buildings, the best thing to do in Bruges is stroll around its picture-perfect canals. The atmosphere is especially romantic at night when these canals and surrounding buildings are beautifully lit."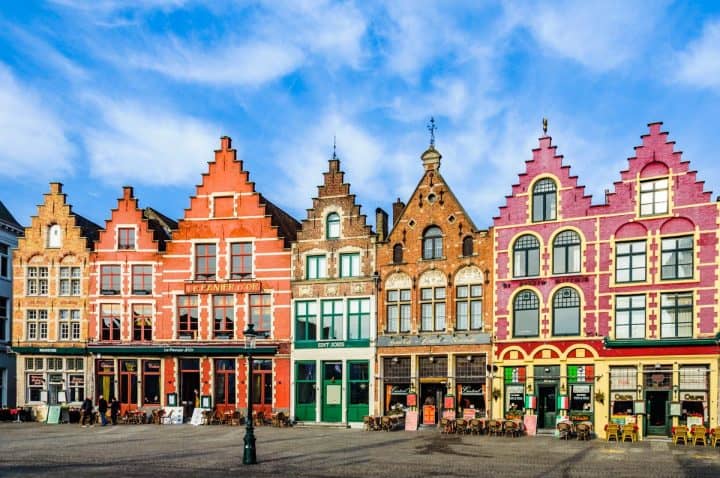 Today's Christmas Markets
Bruges Christmas Market Village – the entire Old Town Square dresses for this special occasion and is one of the prettiest Christmas locations in Europe. During the day the area can be packed with visiting day-trippers but at night it becomes cosier, and you can soak up the atmosphere without the crowds.
Highlights
Take the day to simply walk around the town, walk along the river and find the windmills, take a canal boat tour, climb the belfry for the best view in town, or just eat chocolate and sample some of the hundreds of craft beers brewed in the city.
Where to stay and eat
Be sure to check out some of the many fine chocolate shops around town. The variety of products is incredible, the tasted divine, and the prices much lower than you expect, especially when you shop around for the package deals many shops offer.
If you ever plan on having waffles then this is the place to do it. So many cafes and restaurants with plenty of topping choices.
Day 11 – Bruges to Amsterdam
Driving distance 175 miles (280km)
Back in the car today and another border crossing. Today we head north back into the Netherlands, with a stop to see plenty of the iconic Dutch windmills before arriving for two nights in Amsterdam.
The stop will be in the UNESCO World Heritage location of Kinderdijk which has 19 traditional windmills lined up along the river's edge. You can decide if you want to pay for a boat ride to see them at closer range or are satisfied with the wider view from the Information Centre.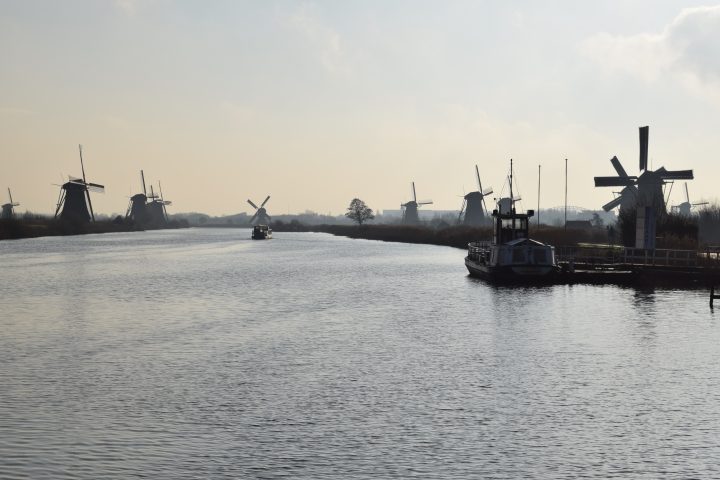 Today's Christmas Markets
Ice Village Amsterdam – Head to the Museumplein for a Christmas Market with plenty of stalls, an ice rink, live entertainment, and plenty of food and drink to keep you happy.
RAI Convention Centre Amsterdam Christmas Market – this area transforms into a Winter Wonderland with indoor and outdoor ice rinks, snow tubing, snowball fights, and a large Ferris Wheel for some great views across the festivities.
Highlights
Seeing genuine Dutch Windmills at the Kinderdijk UNESCO site.
Maybe wander through the infamous Red Light District of Amsterdam or visit one of the many "coffee shops" offering products unlike any served in your local cafes back home.
Wander along the canals and try not to be run over by a crazy cyclist. Bike riders have the right of way in Amsterdam and seem to have little care for pedestrians.
Where to stay and eat
We recommend you not stay right in the centre of Amsterdam as the streets are not great for cars. Hundreds of cyclists and swarms of pedestrians make staying a little further out and getting a train back in the best option.
A couple of miles from the town centre, with easy access, is the Sloterdijk Train Station, and next to this is the Holiday Inn Express, which is a great choice for your two nights in Amsterdam.
A great place to eat, especially if some of your crew are now looking for something a bit different from everything you have eaten in the past week or so, is the Foodhallen. A renovated Tram Workshop which now has 21 food stands from some of the best up-and-coming chefs in Amsterdam.
Day 12 – In and around Amsterdam
Driving distance 0 miles (0km)
With a full day to spend in Amsterdam, Jessica from Uprooted Traveler has some ideas on how to use the time. Otherwise you may wish to do one of the many short tours available like the suggestions above.
"With its cobblestone streets and fairytale bridges, Amsterdam is a wonderful place to stop any time of year, but at Christmas, the city truly springs to life. With its year-round mild weather (Amsterdam rarely sees freezing temperatures!), this city's most beloved experiences, like canal tours, bicycling, and perusing outdoor markets; can still be enjoyed in December.
But if you're looking for something a bit more Christmassy, don't worry- Amsterdam is home to a host of festive activities, from ice-skating alongside the Rijksmuseum to caroling in storied churches (Sint Nicolaaskerk, anyone?) to Christmas markets in the quaint neighborhood of Rembrandtplein.
So whether you're traveling alone, with your partner, or the whole family, everyone can find a bit of Christmas magic in Amsterdam."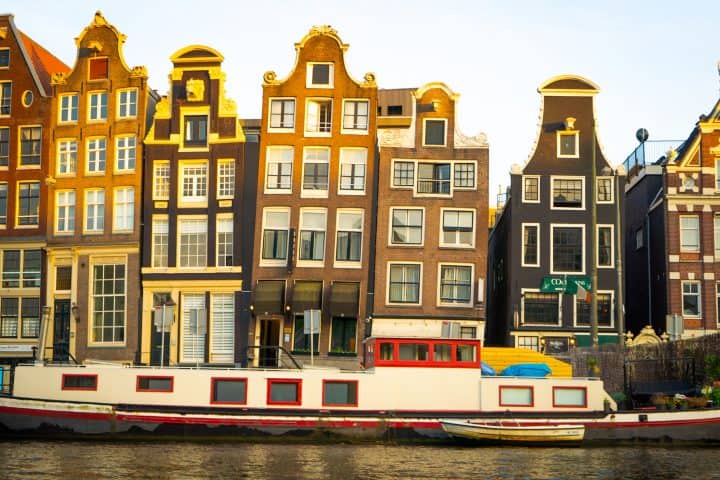 Highlights
Hire a bike for a few hours and explore the city the way locals prefer to travel or visit the floating flower markets.
Amsterdam is famous for its canals so it makes sense to spend plenty of time on or beside them to get a glimpse into the lives of the locals.
Where to stay and eat
Make sure to have at least one meal at a Pancake House, arguably the best example is the Pancake Factory which is tucked away in the basement of a 17th Century building and serves a huge variety of massive pancakes.
Heading into Northern Germany
Day 13 – Amsterdam to Hannover
Driving distance 240 miles (390km)
Time to head back into Germany and experience Christmas in some of the more Northern cities like Hannover and Berlin. It's one of the longer driving days today but there is a great spot to break up the trip.
Manon from Visiting the Dutch Countryside recommends a stop along the way today with a look at the town of Deventer.
"Deventer is a beautiful and magical city in the Eastern part of The Netherlands. It's one of the Hansa towns that can be found in this country and there are countless reasons why you must visit Deventer.
The first reason you have to add Deventer to your European Christmas market road trip is, obviously, for its Christmas market. Deventer has one of the most unique and special Christmas markets in The Netherlands as it turns Deventer into the 19th-century English city of Charles Dickens. You will see more than 950 characters from the books of the famous English writer turn into reality.
The second reason why Deventer is one of the must-sees of The Netherlands is that it is an underrated, but beautiful city. While the city gets its share of Dutch visitors during the Christmas market, when you visit the city a few days later, there is hardly any tourist in sight. It has beautiful alleys, cute and cosy cafes, interesting museums and its location alongside the river is perfect."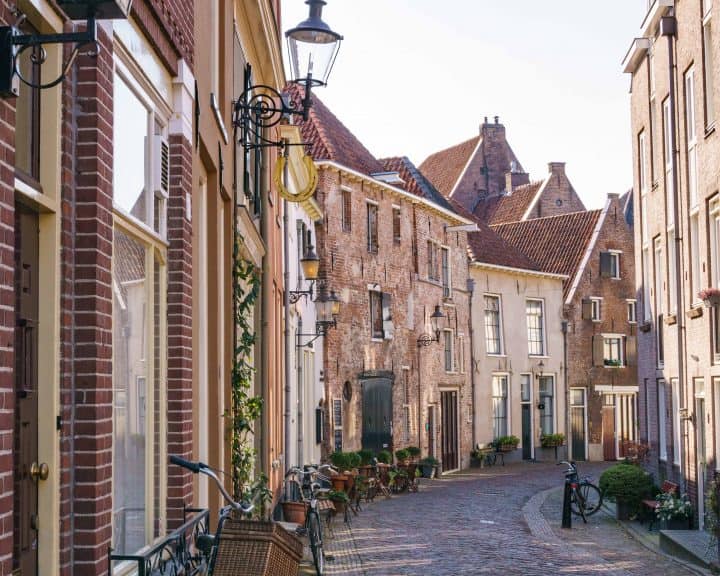 Ready to move on? Back in the car and continue east to Hannover where there are a few Markets all offering something a little different. And a beautiful location for each of them.
Today's Christmas Markets
Deventer Christmas – There are not many places you can step into the pages of a Charles Dickens book, but this is one of the best places to experience the wonder of Christmas during that period in history.
Old Town Hannover Christmas Market – craftsmen demonstrate and sell their products, and there are many festive refreshment stalls at this market near the Old Town Church.
Finnish Christmas Village – at the Ballhofplatz you will find this unusual Market selling grilled Salmon and other Scandinavian treats, along with displays from Nordic craftsmen.
Medieval Christmas Village – along the edge of the River Leine you will be transported back in history as you are surrounded by fire pits, street entertainers, blacksmiths, and food served the way it was in the Dark Ages.
Wishing Well Wood – it's like stepping into a fairytale as you find yourself surrounded by over 50 large Christmas trees around the Oskar Winter Fountain in Holzmarkt.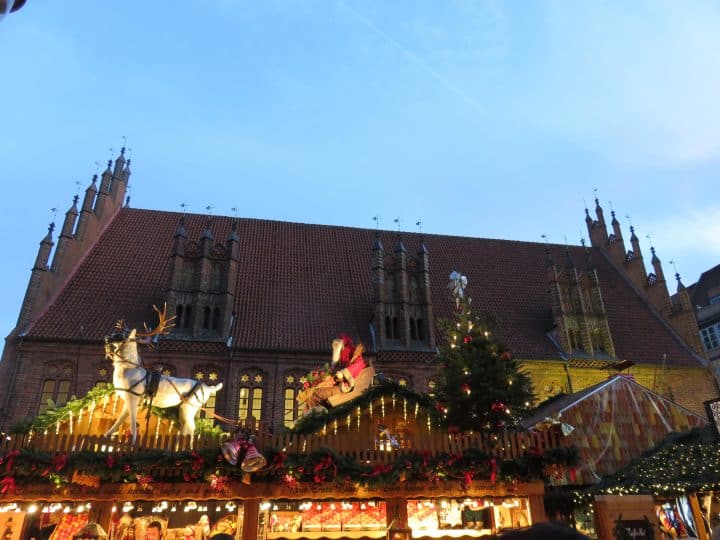 Highlights
Feel like a character from a Dickensian Novel as you wander the laneways of Deventer.
Work your way through the beautiful town of Hannover and experience the unique wonder of each of the four Christmas areas the town offers.
Where to stay and eat
There is plenty of great value accommodation in Hannover, the prices are good and parking is relatively easy, so we recommend staying somewhere close enough to the town centre that you can easily walk to all the Christmas attractions.
What a choice for tonight's dinner! Do you try some of the Nordic offerings, some rustic Medieval food, or some of the German Markets specialties available at the many food stalls?
Day 14 – Hannover to Quedlinberg
Driving distance 95 miles (155km)
After a big driving day yesterday the last thing you want it to do the same again, so much less time behind the wheel as we break up the trip to Berlin with an overnight stay in a town you have most likely never heard of, Quedlinberg.
We didn't know much about this fantastic town but it is a big favourite of Shandos from Travelnuity.
"The small German city of Quedlinburg is the perfect place to stop on a European Christmas road trip. Not only is the 1000-year old city on the edge of the Harz Mountains full of gorgeous half-timbered buildings (so many that it's been UNESCO World Heritage listed), but Christmas is a special time of year here.
Naturally, there is a Christmas market in the historic main square from late November. But additionally, on the second and third Advent weekends, there is "Advent in the Courtyards". A selection of historical houses allow you to enter their otherwise gated courtyards and search out precious objects and rarities.
Plus as a special treat for children, on every day from the 1st to 24th December, the door of one of the houses around the castle-hill is opened. Children and their parents join together to search for the house marked with the shining star, so that they can share in the sweet surprises and fairy tales inside."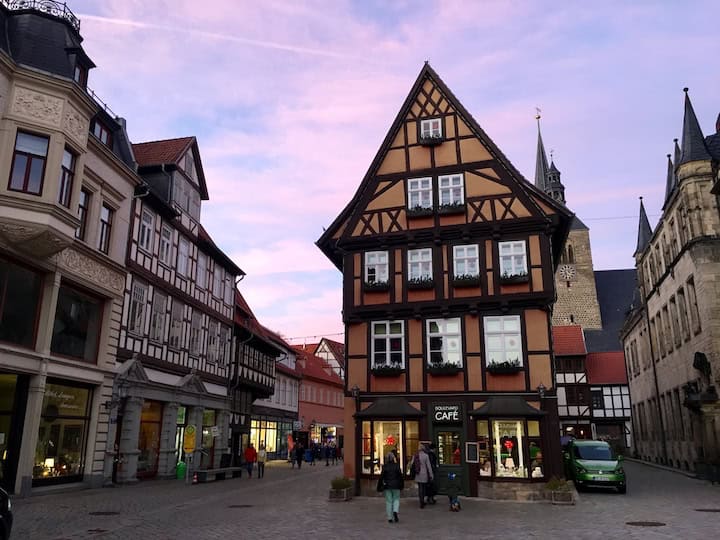 Today's Christmas Markets
Quedlinberg Christmas Market – wander the cobbled streets of this 1000-year-old World Heritage town, surrounded by colourful half-timbered houses, with Christmas music coming at you from all angles. This is a special place at Christmastime.
Highlights
Slow down today and just take in the peaceful surrounding of this pretty, medieval town. There are no real highlights you should be worried about missing out on, just a chance to relax and enjoy your surroundings.
Where to stay and eat
Consider staying out of town tonight as the inner city hotels are scarce and can be expensive. It's not like you are going to get stuck in traffic driving in and out of town.
There is no shortage of restaurants in town and plenty of variety in the food they offer. Find one of the little German places in a half-timbered house for a traditional dining experience.
Day 15 – Quedlinberg to Berlin
Driving distance 150 miles (240km)
Today it's time to head to the German capital and with no real stand-out stops along the way it may be worth just heading straight there and having a bit more time to explore Berlin. Lots of history and plenty of Christmas markets.
There are more than 70 Christmas Markets around Berlin so don't expect to see them all. Do a bit of research to find the ones that might offer something best suited to what you are looking for. We suggest visiting the Markets around Alexanderplatz tonight and moving around the city a bit more tomorrow.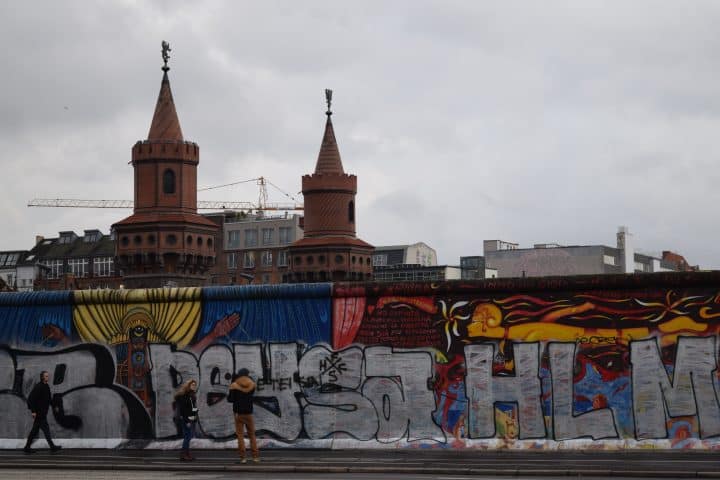 Today's Christmas Markets
Alexanderplatz Christmas Market – there is quite a large Market in this square with plenty of food options, as well as other general stands. The following two Markets are within easy walking distance so the three make a great combination.
Berliner Weihnachtszeit at Roten Rathaus – one of the oldest but also one of the best. Ride the giant Ferris wheel, skate on the large ice rink, or just enjoy the early 1900s feel of the area.
Wintertraum am Alexa – back across Alexanderplatz, you will find this modern take on a Christmas Market. Another Ferris Wheel but this time accompanied by a small rollercoaster and other fair-type attractions. This is the place to go if you are travelling with teens.
Highlights
Plan on driving straight to Berlin for an afternoon checking out some of the more famous parts of the city like the Brandenburg Gate and the Reichstag. And follow the path that used to be the Berlin Wall.
Do some shopping around Alexanderplatz or just wander around the Christmas Markets.
Where to stay and eat
Plenty of options for great accommodation in Berlin, from funky hostels to cold war era apartments in the old East Berlin, and good value hotels. The most popular areas are Mitte and around Alexanderplatz.
The Christmas Market area around Alexanderplatz is so big it makes sense to eat here as well. Try some of the famous Currywurst from one of the stalls, and don't forget the Glühwein or warm apple cider to take the chill of the cold night air away.
Day 16 – Sightseeing in Berlin
Driving distance 0 miles (0km)
A full day without driving today so you may want to explore on your own or take on one of the many Berlin day trips on offer. In a city so full of history, violence, and sadness you can learn more about WWII Berlin or the Cold War city that was divided by the infamous Wall.
For a bit more information Kenny from KNYCX Journeying has some thoughts on Berlin's Christmas Markets, he wanted to add.
"The truth is, Christmas markets originated in Germany. Every year, many cities are filled with Christmas cheer and spirit during the four weeks of Advent and celebrate the festival with local food, handicrafts, decorations, and more.
Now, Christmas markets have expanded to neighboring Central Europe countries like Austria, Czech, Hungary, Switzerland, and so on.
There are a few Christmas markets in Berlin and they are so diverse and exciting:
Gendarmenmarkt stands among two Berlin classic monuments – the Berlin concert hall, and French & German Churches. The market is elegant and classy with pointy white tents and live music performances. The Berliner Weihnachtszeit am Roten Rathaus takes place right under Red City Hall and Berliner Fernsehturm. Families gather here with good food, ice skating, and a Ferris wheel.
Many Christmas markets open up until New Year's eve but check out the opening hours before visiting, some of them may close early during Christmas time. Besides, stalls usually charge you a deposit for the mugs when you purchase beverages. They have a unique design and are nice collection items. You may return the mug and get your deposit back, or you could keep them as a souvenir."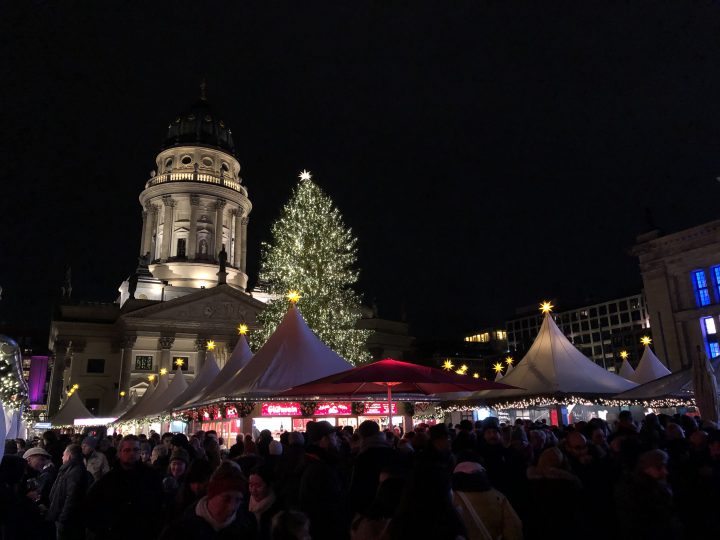 Today's Christmas Markets
The many Christmas Markets of Berlin – the choice is almost endless, and certainly too big for a two night visit to Berlin. So take a look at this extensive list from the Berlin Tourism website and see if there is something that piques your interest.
Highlights
See how many of the famous Berlin Bears you can find as you explore the Capital today.
Discover the WWII story or explore what life was like behind the Iron Curtain in old East Berlin.
Where to stay and eat
No need for new accommodation tonight so keep those bags in the room and head outside.
For dinner tonight try something with a bit of local flavour. If you are after a bit of history and culture with your meal try one of the traditional restaurants serving the same food eaten for decades by the people of East Berlin. Or maybe one of the trendy eateries that are popping up all over what is becoming one of Germany's trendiest cities.
Turn Right at Berlin and Head South
Day 17 – Berlin to Dresden
Driving distance 120 miles (195km)
Time to make our way south as we leave Berlin, spend a couple of hours behind the wheel, and make our way to the beautiful city of Dresden. The choice is yours as to whether you want another morning exploring Berlin or prefer more time in the less crowded, and prettier, Dresden.
The city was bombed almost to the ground during WWII but the locals painstakingly rebuilt the Old Town brick by brick, including the Cathedral which has photos outside showing the before and after scenes.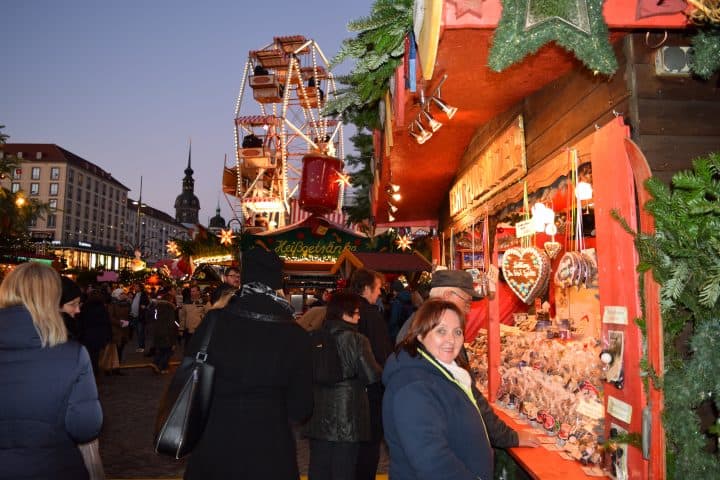 Today's Christmas Markets
Striezelmarkt – located centrally on the Altmarkt Square, this is the largest, and arguably most spectacular Market in Eastern Germany, and has been running since the 15th Century. Named from the traditional Christmas cake, Stollen, which reputedly originated in the region.
Christmas Market at the Frauenkirche – conveniently located on the doorstep of the famous Church.
Dresden Winter Lights Market – on Prager Strasse, which is one of the main shopping streets of the city. The highlight is the 15 metre Christmas Tree.
Highlights
Take a relaxing and scenic stroll along the river on Brühl's Terrace, called "the balcony of Europe" and dating back to the 18th Century.
Explore the famous Old Town which dates back to the mid 1700's but was completely rebuilt after being totally destroyed during WWII.
Where to stay and eat
You may choose to stay closer to the centre of Old Town but for a more unique experience we recommend moving a few miles away and having a night at the Hexenhaus which will have you staying in a beautiful half-timbered house and get you a great country breakfast tomorrow morning. There is easy access to public transport to get into the city centre.
Another chance to try the local additions to the menu at the Christmas Market stalls or maybe have a seat and eat at one of the many local restaurants.
Day 18 – Dresden to Prague
Driving distance 115 miles (190km)
You can stay on the Highways today and save about 30 minutes of driving, but since it's not a race why not take the scenic route and follow the river? Not only is the drive more pleasant but the is a great place to stop almost right on the German / Czech border worth the extra driving time alone.
The little village of Hřensko on the Czech side is not only visually stunning but has some really cheap clothing markets. So much so that many Germans cross the border just to shop here and save serious money.
Then it's on to Prague and three nights in one of Europe's most romantic and beautiful cities.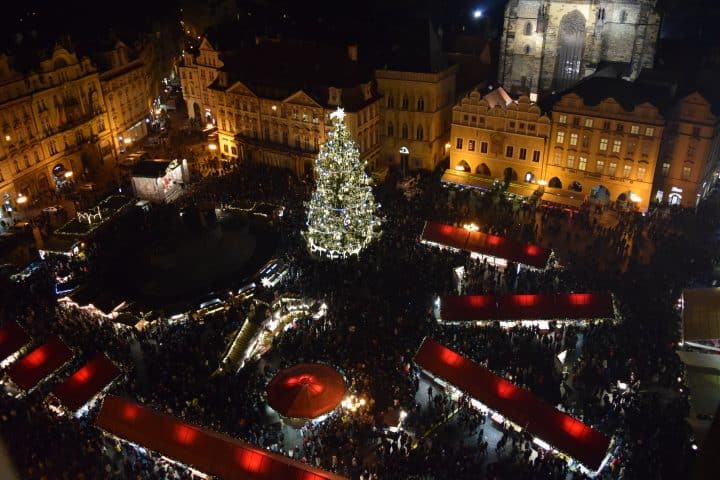 Today's Christmas Markets
Old Town Square (Staroměstské náměstí) – right in the centre of Old Town as the name obviously suggests, this Market is the busiest and prettiest of Prague's Christmas spots. It features plenty of diverse stalls and a huge Christmas Tree. The best view is from the top of the clocktower.
Wenceslas Square (Václavské náměstí) – a five minute walk from Old Town you will find another substantial Market. Not as visually appealing but well worth spending some time as you shouldn't feel as crowded here.
Prague Castle Christmas Market – right on the Square outside St George Basilica at the Castle you will find more Christmas festivities. It is a nice walk across the Charles Bridge to get here and you will find plenty of food options.
Highlights
Admire the scenery and maybe do some cheap shopping in the village of Hřensko. Don't feel the need to rush off to Prague as you have 3 nights there, so enjoy the experience at this unique place.
Take in a sunset while walking along the river's edge in Prague, then walk over the Charles Bridge at twilight for some amazing views back toward Old Town.
Climb the famous Clocktower for the best view of Old Town and the Christmas Markets, but be prepared to wait in a potentially long line. It's worth it though.
Where to stay and eat
Our first three night stay for the trip and thousands of accommodation options in Prague. We recommend staying within a couple of miles of the town centre so that you can walk pretty much anywhere. No need to be right in the centre as parking and driving can be an issue.
A new country and plenty of new food options at the Christmas Markets. Be on the lookout for local specialties like Pražská Šunka, large hams roasted on spits, or langoš, which is a delicious Hungarian flatbread with various toppings. But our favourite is the trdelník, a delicious sugar covered pastry baked over hot coals and served warm.
For the next two nights you will not have any problems finding plenty of places for well-priced eats of any cuisine you could imagine.
Day 19 and 20 – Exploring Prague
Driving distance 0 miles (0km)
Two full days without having to keep your hands on the steering wheel. Plenty of things to do and see around Prague and enough time to fit in everything you want to experience. Do what we did and search through the tour options at Get Your Guide to find the perfect tour or day trip, or just put on some comfy shoes and go wherever the urge takes you.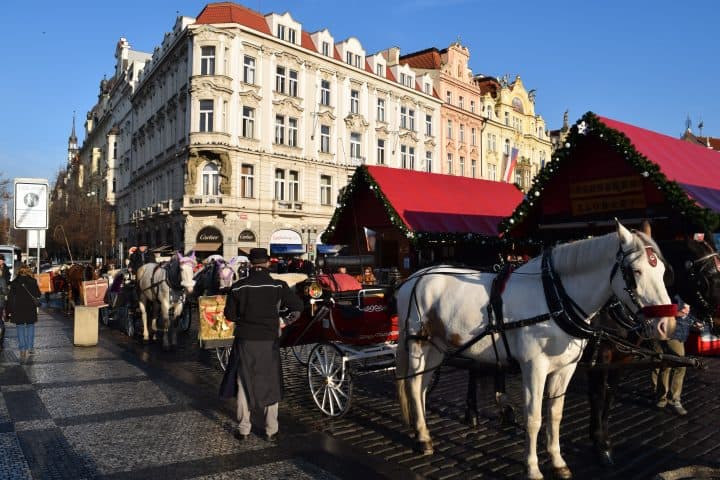 Looking for more about what to do during your time in Prague? Rosie from Flying Fluskey has some suggestions.
"Prague, the capital of the Czech Republic, is a stunning city. It is worth visiting at any time of year, but seems extra special when the Christmas season sprinkles the city with festive spirit.
Around the city, you will many Christmas markets. The biggest and best is in Old Town Square. However, they are all lovely and you will find them all peddling mulled wine, hot sugary trdelnik and gorgeous decorations.
The very best of these trinkets are the glittering glass baubles. Bohemia, as this area used to be known, is world-famous for its exceedingly skilled glass production, and these delicate decorations are a wonderful way to own a little piece of this history. We can't all cram a chandelier into our hand luggage! From golden figurines to extremely detailed baubles, there is one for everyone. Take your time browsing and pick one that takes your breath away. Then buy a mulled wine to warm up those hands!"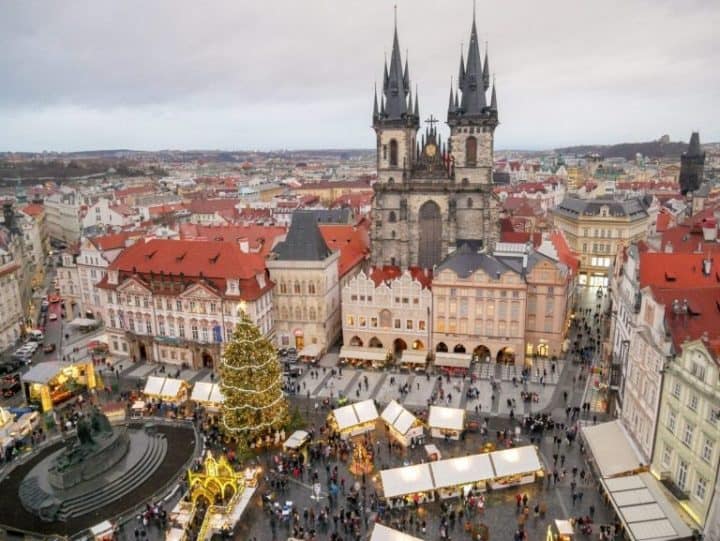 Day 21 – Prague to Cesky Krumlov
Driving distance 110 miles (175km)
It's time to get back in the driver's seat and leave Prague. It's a special city but tonight we will be staying at one of Europe's most beautiful small towns. A truly fairytale-like place in a tiny crook of a river.
To break up the drive today it is worth stopping at the famous brewing town of Budejovice and maybe try a stein or two. Make sure to visit the castle as recommended here by Martha from Quirky Globetrotter.
"We're all familiar with the fairytale of Rapunzel, yet it's relatively kept under wraps the castle that inspired this romantic tale. Hluboká nad Vltavou Castle, nestled in the rolling hills surrounding Cesky Budejovice, is rumored to be the inspiration and the home to Rapunzel.
The Hluboká nad Vltavou Castle is situated on top of a hill and overlooks the little town below. Around the castle are vast, manicured gardens that transport visitors back times where sonnets celebrated the beauty and elevated status of kings and queens.
Built in the late 13th century, the castle exudes grandeur. Designed and decorated in the popular Baroque architectural style, Hluboká nad Vltavou is considered one of the most beautiful castles in Czechia. Inside visitors can tour the private chambers of former princesses and royalty who resided there. Other noteworthy rooms in the castle are the magnificent hunting halls and elaborate dining rooms."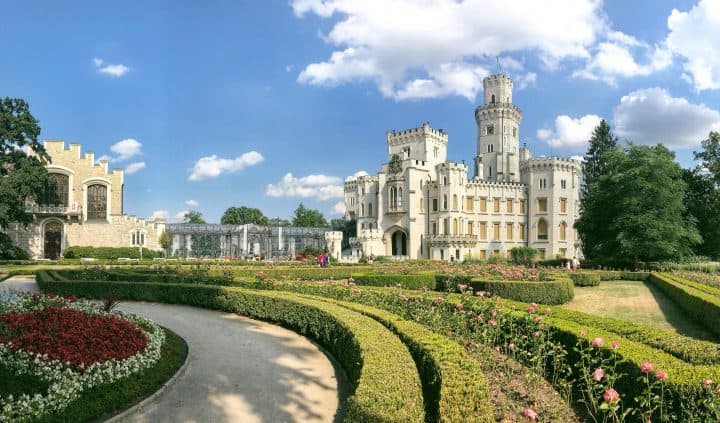 Today's Christmas Markets
Old Town Square – There are a couple of reasons Cesky Krumlov is on this itinerary, but, unlike most of the places, Christmas Markets are not really one of them. There is a single, small market on the Town Square worth a look, but it can shut early so don't wait until after dinner to visit.
Highlights
Visit the famous brewing town of Cesky Budejovice, wander the grounds of the impressive castle and maybe even take a tour inside.
Stroll the cobbled laneways of Cesky Krumlov immerse yourself in the fantasy of this medieval town.
Where to stay and eat
The centre of town is almost car free so don't expect to find any parking if you choose to stay in the centre.
We stayed in Penzion Krumlov about 800 metres up the hill overlooking the town and found the area to be an easy walk, great prices, and there are plenty of great and similar options.
After a day of driving, and maybe a few beers at some stage, you probably want something easy or fast for dinner. In the lanes leading from the Main Square you can find some cosy and cheap restaurants with some very tasty dinner options.
Day 22 – A day in Cesky Krumlov
Driving distance 0 miles – time to explore on foot
Old Town Cesky Krumlov can be comfortably explored in a day, which is the exact amount of time you to explore it! Start by heading to the Visitor Centre on the main Square and arranging a guided walking tour.
We did this and our guide was amazing. She was a lifelong local and was able to describe life here under Communist rule and then about the changes as the Iron Curtain was dismantled.
Then cross the river and start looking around the Castle. It is possible to walk the loop of the river and there are some fantastic spots for photography or to just get some stunning views.
Wendy from The Nomadic Vegan is also a fan of this beautiful little town and wanted to contribute her opinion of what to do here.
"Český Krumlov is one of the most popular tourism destinations in the Czech Republic, and with good reason. It's a gorgeous little town that's straight out of a children's fairytale.
Even though it's very compact and can be visited in just a couple of hours, I recommend staying overnight so that you can explore the town in the very early morning or late evening and avoid all the day-tripping tourists.
While Český Krumlov doesn't have as many must-see sights as Brno or Prague, you should definitely walk up to the castle to get a birds-eye view out over the town. Apart from that, the main attraction is just wandering the cobblestone streets (bring sturdy walking shoes).
If you get hungry, Laibon is a lovely little vegetarian place right on the water with a friendly owner and an extensive and tasty menu."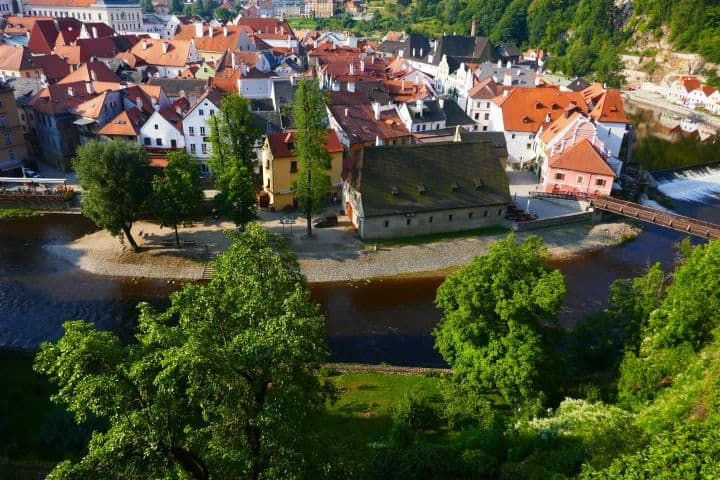 Highlights
Cross to the far side of the river in magical Cesky Krumlov for some of the prettiest views in Europe as you see the entire Old Town laid out below you.
Tour the Castle or climb the towers for some spectacular views of the town and surrounding region.
Hire a local guide for an hour or two for an insight into living under Communist rule.
Where to stay and eat
Try one of the top-rated restaurants on the Square and order some of the traditional local dishes. As you can imagine, food was not always easy to come by behind the Iron Curtain so don't expect anything fancy looking. But they do manage to get maximum flavour from less than exciting looking meals.
Don't forget to buy another Trdelnik in the small Christmas Market found in the Square.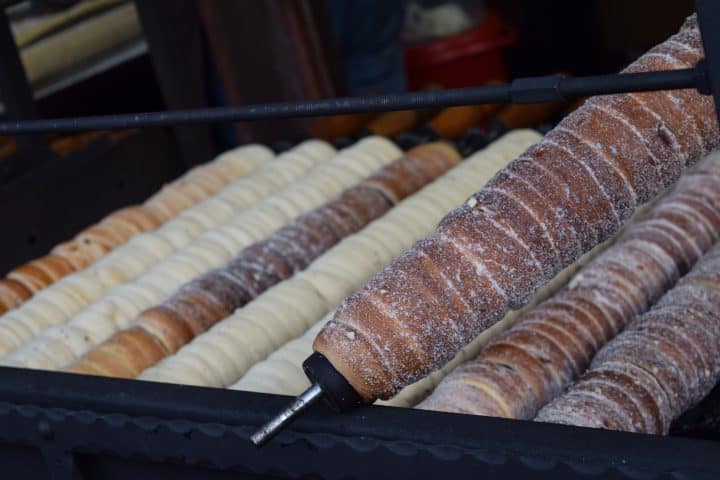 The Last Leg
Day 23 – Cesky Krumlov to Salzburg
Driving distance 135 miles (220km)
Another driving day and another border crossing as we leave the Czech Republic and make our way to Salzburg, Austria. This is the place we decided was perfect for the few days of Christmas.
Why? It's a beautiful city in the Austrian Alps, there is a good chance of experiencing a White Christmas, and it's close to the final destination of this epic European Christmas Market road trip.
No need to speed straight to Salzburg though, there is some amazing scenery along the way and we have the next couple of days to see the sights around town. So remember to take the time to stop whenever you spot something worth stopping for.
Today's Christmas Markets
Salzburger Christkindlmarkt – The most popular Market in Salzburg can be found in the heart of Old Town outside the Cathedral and Residence. This Market dates back to the 15th Century.
Schloss Mirabell Market – located on Mirabell Square on the opposite side of the river to the Christkindlmarkt. This is the favourite market for those looking for some Christmas food specialties and warming beverages.
Advent Market at Schloss Hellbrunn – outside of the city but definitely worth a visit if you get the chance. You will find it at the beautiful Hellbrunn Castle and shuttles run on weekends.
Highlights
Get your "Sound of Music" on in the place where the hills are alive. Salzburg is a stunning city and very easy to get around on foot. Once you have dropped the car at your accommodation, leave it there for the next few days.
Where to stay and eat
There are accommodations of all types to be found but don't expect any bargains around Christmas. Consider staying a little outside the Town Centre and making use of public transport
There are plenty of restaurant options tucked into the streets leading away from the main Square. Check out some of the menus and maybe find somewhere offering the classic Weiner Schnitzel.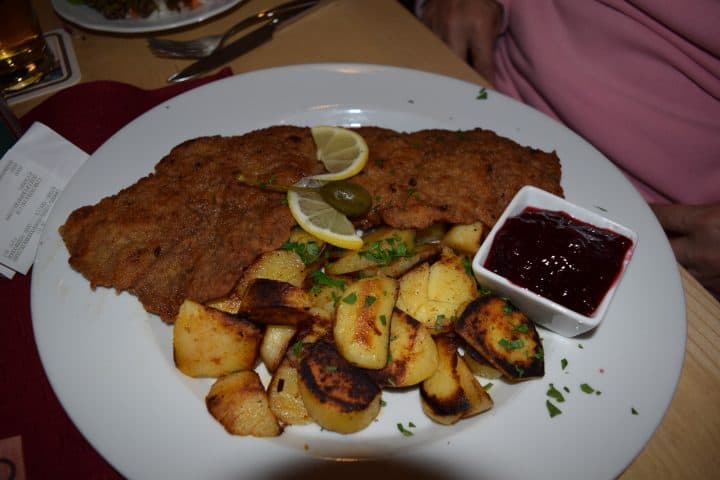 Day 24 – Exploring Salzburg
Driving distance 0 miles (0km)
You have a full day to get lost in Salzburg today and maybe uncover a few hidden gems on your way. Be sure to visit both sides of the river and don't be in too much of a hurry.
We loved our few days here but if you are looking for a second opinion on whether Salzburg is the right place to spend Christmas? Priya from Outside Suburbia is also a big fan.
"Whether you are traveling in summer or during winter there is plenty to do in Salzburg. The city has many Baroque churches, a stunning Hohensalzburg Castle and the beautiful Mirabell Palace, and Gardens.
Many scenes from the famous movie "The Sound of Music" were filmed here. Salzburg is also the perfect base for some amazing road trips in Austria. There are at least two dozen excellent day trips from Salzburg – a boat ride on King's Lakes, a visit to an old salt mine and a thrilling drive up High Alpine Road to the highest mountain to mention a few.
If you are visiting during the Christmas season, the Christmas Market in Salzburg can't be missed. Held in Cathedral Square is truly a romantic market with a long history. With traditional huts and decorated with festive lights, the market stands have Christmas decorations, all kinds of treats, Austrian specialties and of course mulled wine.
The Salzburg Christkindlmarkt is known around the world and second only to the ones in Nuremberg, Vienna and Paris."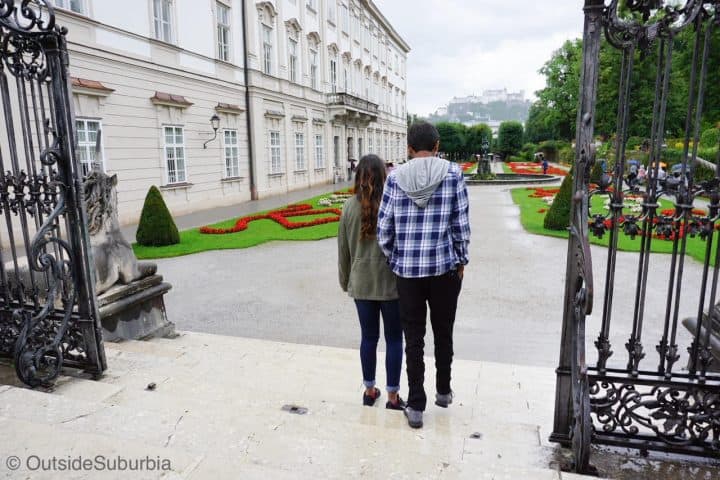 Highlights
Beyond the obvious visits to the Castle and Palace, which you still definitely need to do, take time to look through the shops in the small alleys. You might find that perfect souvenir.
People watch down by the river. If there is no snow and the sun comes out, you might even find a few brave souls working on their tans near the riverbank.
Try to catch the cannon battle between the castle and other surrounding hilltops fortifications. Noisy but not something you experience every day.
Where to stay and eat
You have to get to the Sacher Cafe for a slice of Austria's most famous sweet treat, the Sacher Torte. Add a hot chocolate to this rich and delicious cake for the perfect afternoon snack.
If today is Christmas Eve then hopefully you have booked into a restaurant for one of the many special Christmas Dinners on offer around town. Many places create a great family feel to the event to make you feel part of a much larger family.
There are stalls in the Christmas Markets that sell a wide variety of pretzels. Choose your favourite and don't be afraid to experiment. We had a broken sweet pretzel covered in warm applesauce, which still reigns as the best pretzel I have ever eaten.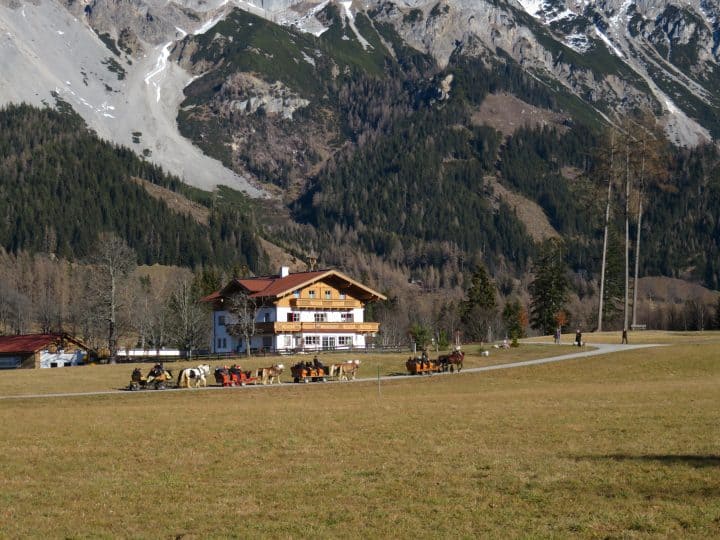 Day 25 – Salzburg and the Austrian Alps
Driving distance 0 miles (0km)
On our version of this road trip, today was Christmas Day, and we were looking for something that was the very definition of White Christmas… a horse-drawn sleigh ride through the Alps.
You can find plenty of stunning photos showing smiling people being dragged through the snow (in the nicest possible way) but unfortunately for us it was the warmest Winter in over 100 years and almost no snow could be seen anywhere. It is still an incredible experience that should not be missed.
Day 26 – Salzburg to Innsbruck
Driving distance 120 miles (190km)
Once again it's a good time to take the scenic route as this will we prepare for the last couple of driving days. Plan to leave straight after breakfast as we have plenty to do and see on our route today.
Our first stop is Berchtesgaden, infamous as Hitler's favourite vacation spot, but once you get there you will understand why. The views from the town are some of the most beautiful of this trip.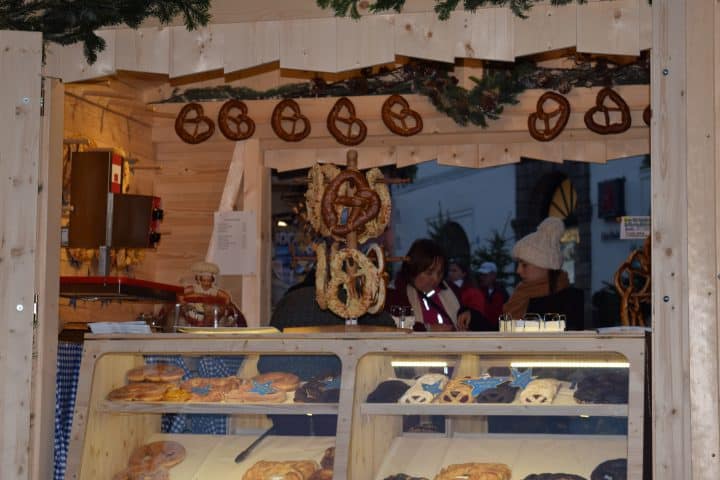 There is a second stop before we finish driving today and a chance to visit one of the best examples of a Medieval Christmas Market, and Helene from Masala Herb advises that it is a place not to be missed. (Please note the activities are limited to certain days so they may not fit all itineraries)
"The medieval Christmas market of Rattenberg is something you will want to have experienced during the advent time. Rattenberg is the smallest city in Austria with its 400 inhabitants and is situated next to the Inn river in the beautiful Alpbachtal in the alps.
The Christmas market is one of a kind because of the fortress city setting. There are no Christmas lights in the town. Instead, candles, torches and open fires enlighten the city and lend a warm relaxing atmosphere to the Christmas market.
Glassmaking has a long tradition in Rattenberg and you can watch the glassblowers create art pieces in the fire. Chorals and reenactments will be part of the Christmas market, so grab a Glühwein and enjoy a unique and romantic Advent time experience in the Austrian Alps."
Today's Christmas Markets
Rattenberg Medieval Christmas Market – A tiny village with a walled fortress, the ultimate spot to experience Christmas from the Middle Ages.
Innsbruck Old Town Christmas Market – located in front of the famous Golden Roof and surrounded by beautifully preserved medieval facades. This is the favourite market for those looking for some Christmas food specialties and warming beverages.
Innsbruck Christkindlmarkt – this is the family Market, carousel and petting zoo for the young ones and plenty of food and trinket stalls for the adults.
Highlights
Watch the sunset along the edge of the river, and stay as things get even better as the lights come on in the houses on the far side.
Take the Nordkette Cable Car high up into the mountains for some breathtaking views of the Alps and the city below.
Where to stay and eat
It makes sense to stay outside of the city as Innsbruck is quite expensive for accommodation. A few miles out and you not only save dollars but can get some incredible views of the countryside.
There are so many little pubs and restaurants here dedicated to producing some of the best schnitzel and strudel you will ever eat. Look around, find one that looks interesting, and enjoy every minute of the eating experience.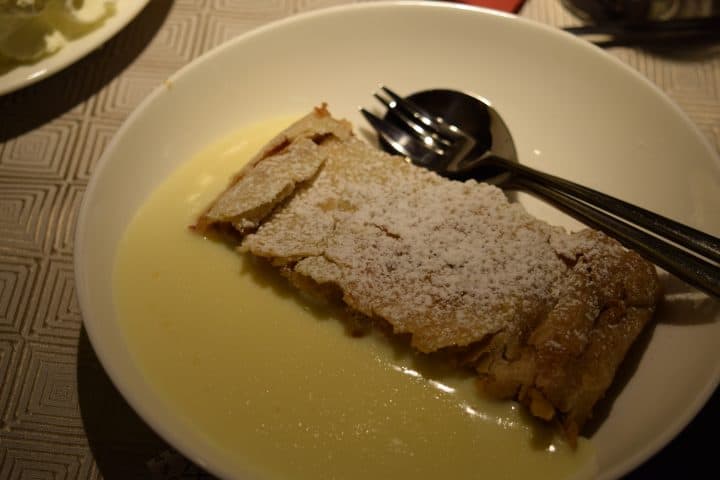 Day 27 – Innsbruck to Munich
Driving distance 145 miles (230km)
Our last day of driving on this itinerary and we have saved some of the best scenery until last. A day travelling through the beautiful forests and mountains of Bavaria with a stop to see the world's most magical castle, Neuschwanstein.
After that, it is time to head to our final destination as we drop our car back in Munich. A couple of thousand miles and some remarkable adventures have come full circle.
We got some insider tips from Valerie at Valerie's Adventure Time on which Christmas Markets you should be visiting.
"Munich is beautiful in the time before Christmas and there are several different Christmas Markets you can visit. For a more unique Christmas Market experience, you should make sure to check out the Tollwood Winter Festival.
It takes place every year from the end of November through to the end of December and is located at the Theresienwiese close to Munich's central station. Tollwood Winter Festival is an alternative Christmas Market that consists of over 200 stalls where you can buy all sorts of beautiful international handcraft and enjoy delicious organic food from all around the globe.
It is also known for its many shows and concerts from which most of them are free of charge. The festival concentrates on raising awareness for the environment and social equality and has a different theme each year. So get yourself there and enjoy a nice hot cup of mulled wine while listening to some free live music."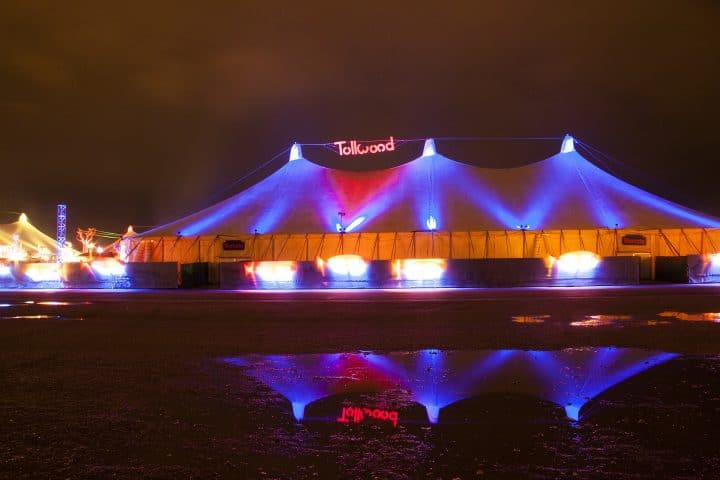 Today's Christmas Markets
Christkindlmarkt Marienplatz – the most popular and crowded Market, located in the main Square, or Marienplatz. Plenty of traditional craft stalls and more than enough food options.
Winter Magic at Viktualienmarkt – the local outdoor food hub gets a makeover at Christmas and becomes the place for foodies to well and truly get into the Christmas Spirit.
Highlights
Get your own photo of the iconic Neuschwanstein Castle. A building so incredible that Walt Disney used it as the basis when designing his famous Castle.
Where to stay and eat
You will be returning the car today so there is no concerns over the cost of parking. The choice is yours whether to stay closer to the action in the city centre or find a place that saves a few dollars and has good public transport options in the suburbs. There is no shortage of options and the price of Munich accommodation is very reasonable compared with many of the places this trip has taken you.
Munich is the capital city of Bavaria, so it makes it the perfect place to drink beer and eat some of the heavy but delicious food popular in the region. You will have no problem finding plenty of pretzels, schnitzels and pork knuckles so hunger will not be an issue.
Day 28 – Munich
This epic European Christmas Market road trip itinerary ends today, but that doesn't mean you should jump on a plane and head home, unless you really have to. Munich is worth a couple more days at least and there is so much more to be seen in Bavaria, Germany, and the rest of Europe.
The wrap-up
And so ends this amazing adventure. It's a month of stunning scenery, Christmas Market food and a smattering of history, and we believe it is an incredible part of the World for a road trip and a great time of year to drive it. So what did you think?
Have you driven all or part of this epic European road trip itinerary?
Do you have any suggestions on how to make this trip even better?
Do you think there is an even better part of the world for an epic road trip?
Let us know in the comments!