Mexico offers so many things to travellers that there truly is something for everyone. But what you may not know is that you can visit a Caribbean island and still be in Mexico. Read on to discover the reasons to visit Cozumel.
As one of the main ports for Cruise Ship itineraries around the Caribbean, there are times when the island feels like it could sink from the sheer weight of numbers of cruise passengers through the day, with up to 15,000 arriving for a few hours on some days.
But don't let the cruise ship crowds put you off just yet. We have some suggestions to help you discover the best times to go and what to do when you get there. And our opinion on whether you should go to Cozumel or not.
Where is it?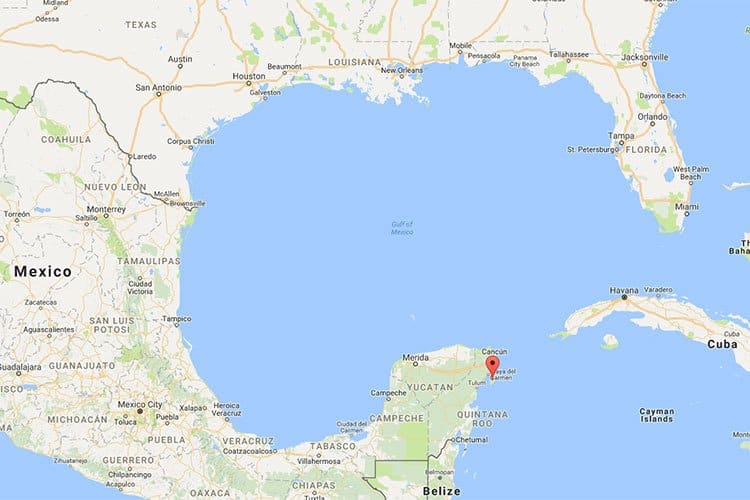 Why would you go?
The fact that it is arguably the most easily (and cheaply) accessed Caribbean Island should be enough reason alone but maybe you feel a bit old for the party scene in Cancun or looking for a beach with fewer people, maybe you have visited already during a cruise and want to experience it again without the crowds.
There are so many reasons to visit this friendly little island but there are also a few secrets to learn so that you can get the most from your time here.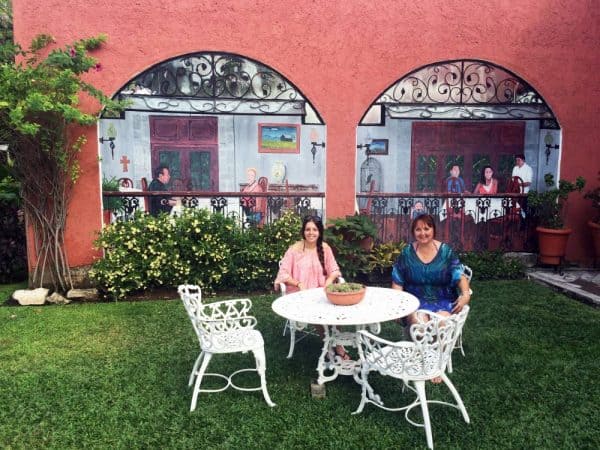 How much time do you need there?
There is really only a couple of days worth of fun and adventure to be had here, but those couple of days will be sure to give you plenty of Mexican memories. If you are just looking for somewhere to kick back and relax in the sun for a longer period then you may find Cozumel more appealing than Playa del Carmen or Cancun.
We only stayed overnight but regretted not booking for at least an extra day. 24 hours in Cozumel does give you enough time to drive around the island and explore the town at night but not really enough time to get the best from your visit.
During the hours of roughly 9 am to 3 pm, thousands of typical cruise ship tourists flood the main area of town so those hours are the perfect time for you to slip away unnoticed and explore the rest of the island. Come back in the evening and you almost feel like you have the whole place to yourself again.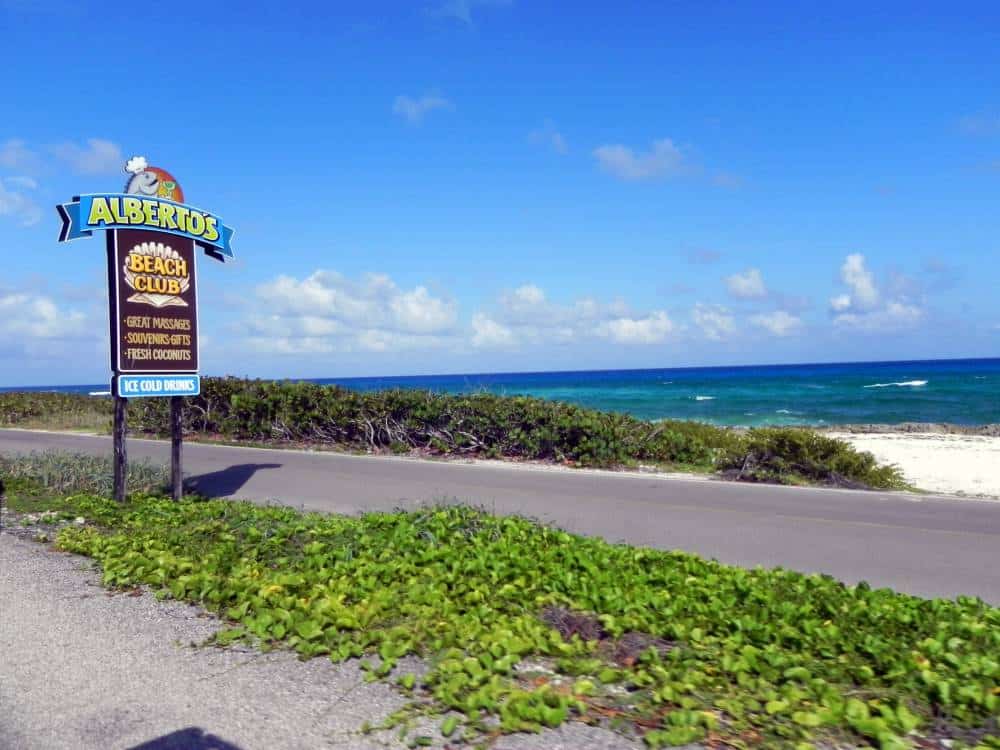 How do you get there?
You could be like the mobs and just have a few hours ashore as part of a cruise but then you will just get to see what everyone else does that day and have to pay the cruise passenger prices at the bars, restaurants, and markets. Plus you will barely have time to even scratch the surface of what Cozumel offers.
There is also an airport but flight options are limited.
The best option, and the way we did it, is to take a ferry from Playa del Carmen. The ride is short and adds to the experience, it also has dozens of crossings each day so perfect for those who don't like to stick to a rigid plan.
What are the "highlights"?
As you would expect from a Mexican Island food, shopping, beaches, snorkeling and a laid-back atmosphere are high on the list.
Some of the best things we had time to do or see are:
Uncrowded beaches




If you have been staying in Cancun before you arrive here then you will be used to beautiful beaches, and also the struggle to find a spot to drop your towel or even get to the ocean through the beach lounge obstacle course.
No such problem here. Hire a cheap topless Jeep (the Jeep goes topless, not you necessarily) and drive the road that loops the island. Some beaches are private but there are plenty that are not. And it's easy to find somewhere private to spread your towel.


Hire a cool car




I mentioned the topless Jeep we hired, which was great fun, but we really wanted one of the cool beach buggies. You have to book them a day ahead or get in early because everyone wants one! Next time we are getting one for sure.
There is only one road of note around the coast of the Island and only takes a few hours to do a full loop. It will take longer purely because you will be drawn to stop at the fresh drink bars and secluded beaches along the route.
There are a number of Beach Clubs with a varying array of facilities but many of these are also full of cruisers on a shore excursion. We preferred finding our own piece of sandy solitude for a refreshing dip in the ocean.


Take a snorkeling tour




there is some fantastic snorkeling to be had around the island if, and this is a really big if, you get the right company to take you.
Be careful to avoid getting ripped off by the "snorkel trip" operators lined along the ferry wharf. DO NOT sign up for a snorkeling excursion with these guys without doing your research.
We were promised four "amazing" stops with many colourful fish. What we got was three stops, all close to the docked Super-liners, with a few gray fish that only really appeared when the group leader started throwing food in the water. They claimed one of the stops was a "long drift" which counted as two!
The real snorkeling and diving spots are further out from the shore and most of these conmen go nowhere near the best places.


Bars and Restaurants




We were advised to stay away from the centre of town until after 3 pm by Jorge, the owner and fantastic host of B&B Caribe, where we spent the night on Cozumel. The reason… that's when the cruise passengers get herded back aboard the ships. It's also when the prices drop quite substantially at shops, bars, and restaurants.
The food choices are wide and the quality is great. There are also plenty of quirky bars to help you get your cocktail groove on.


Relax and socialise

The people that stay overnight on this island tend to be more those wanted to escape the mayhem of Cancun. Which means they are here to chill, and to do it with like minded people.
Everyone we met, from gap year backpackers to adventurous boomers, was open to a chat and a drink. And what an ideal setting to do it in.

The foreshore




Particularly stunning at night with statues, fountains, and colourful lighting creating a picturesque and peaceful place for a walk in the mild evening air.


The Mayan ruins

ruins on the island
What can you eat?
Mexican food! No great mystery here. Sure there are other options but the local food here is cheap and of a very high standard. From seriously good restaurants with huge numbers of staff ready to do everything they can to give you a perfect evening meal, to one of the best burritos we have ever had, and we've had a few!
It would be remiss of me not to give a special shout-out to one of my Mexican food highlights ever. A little place in a side street a few blocks back from the water named Burritos Gorditos, that serve up cheap (for a tourist town) burritos of immense quality, and the size is pretty decent as well.
My only regret is not having the time, or stomach capacity, to try the appealing Apple Cinnamon Burrito. But that gives me extra incentive to head back one day.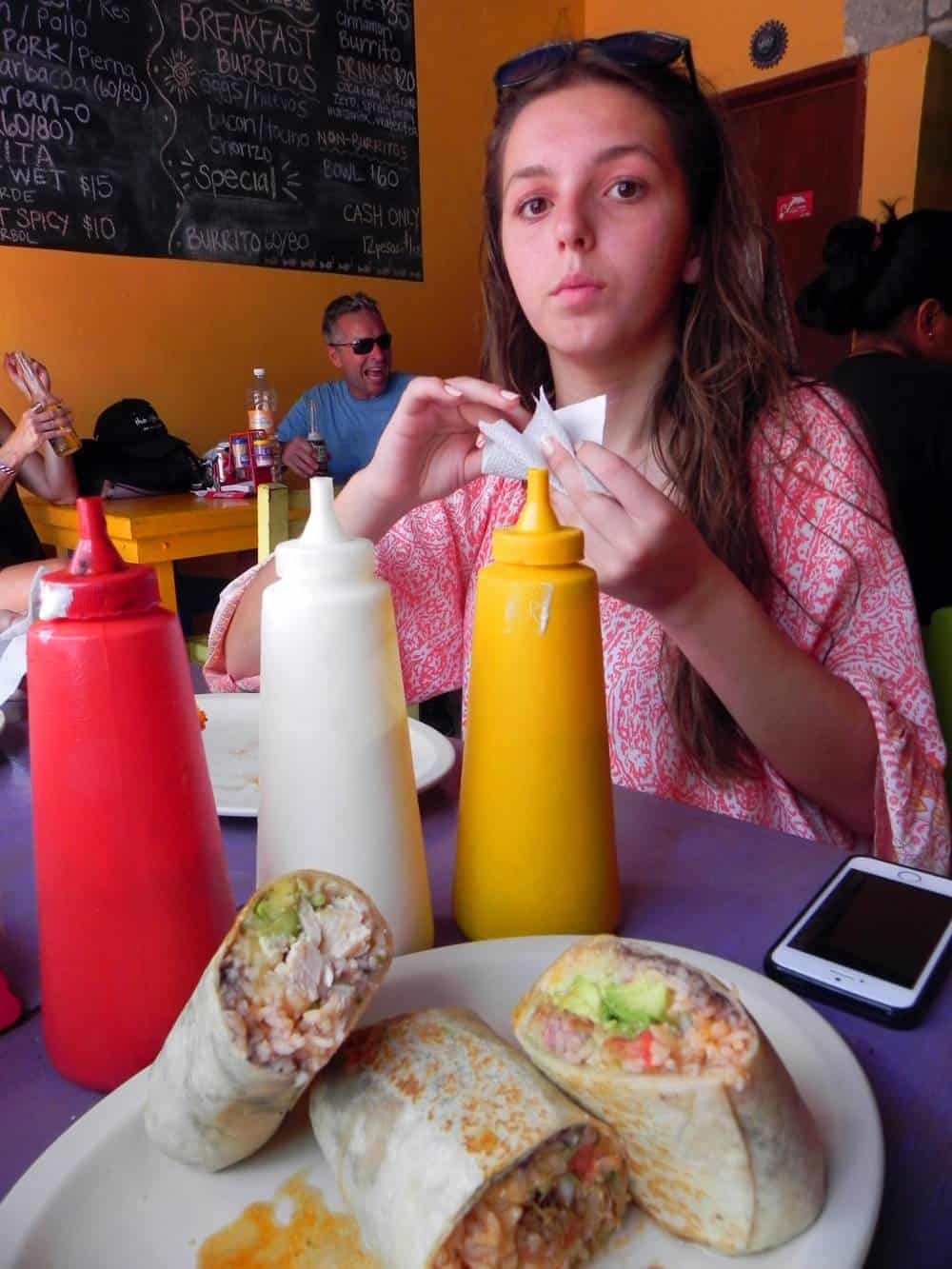 Also, be sure to try the freshly squeezed juice concoctions at the roadside stands and the Paletas, which are basically frozen fruit on a stick.
Perfect in the heat of the day.
We also had the pleasure of breakfast at an amazing Hacienda and Tequila factory a few blocks away from the waterfront, a great experience in itself with delicious breakfasts which was part of the deal at B&B Caribe.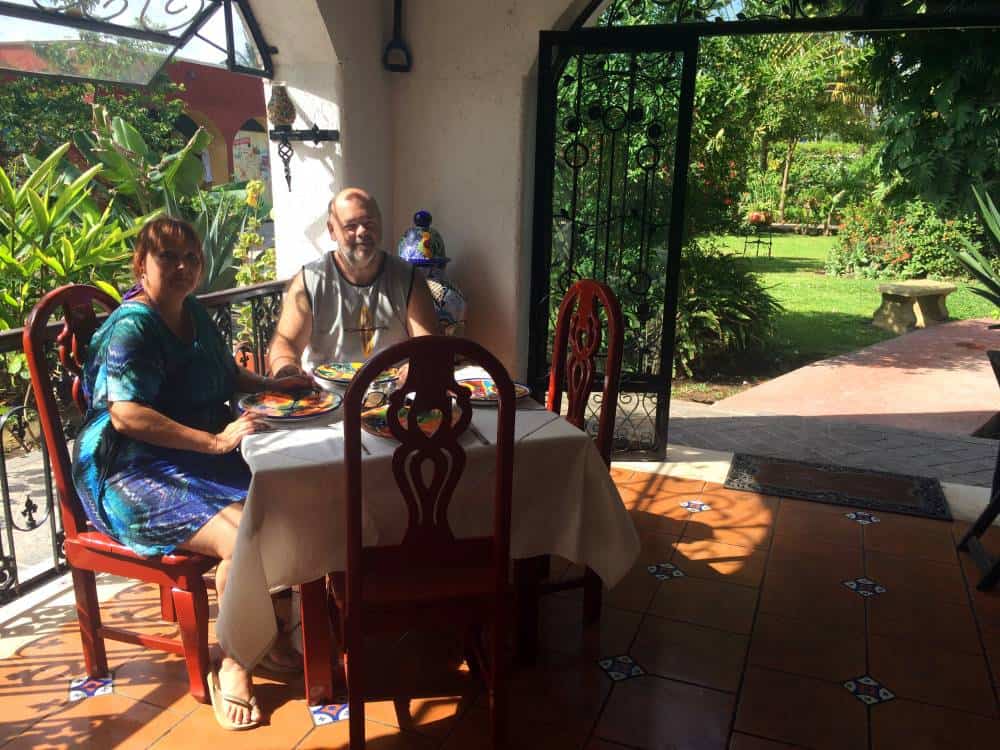 Where should you stay?
We stayed the highly regarded, but much cheaper than it should be, B&B Caribe. A few short blocks back from the water but a world away from the cruise passengers.
Our host, Jorge, had given us maps that not only showed the location of key points of interest around town but also had additional notes letting us in on his own favourite places to eat, drink and be merry.
You have everything from great Hostels to 5-star All Inclusive Resorts on the island but this is the sort of place where you will love the social atmosphere created in a good B&B / Hostel like the Caribe.
How is the walkability?
The entire island is flat and there is quite a bit to see with a wander around town. However, the big attraction of this place is under the water or on the beaches.
You wouldn't try to walk the island instead of driving but there are plenty of places to stop the car and do a bit of exploring on foot.
Evenings are a perfect time to put on walking shoes and take to the streets. The foreshore area is beautiful and safety was not even a slight concern to us.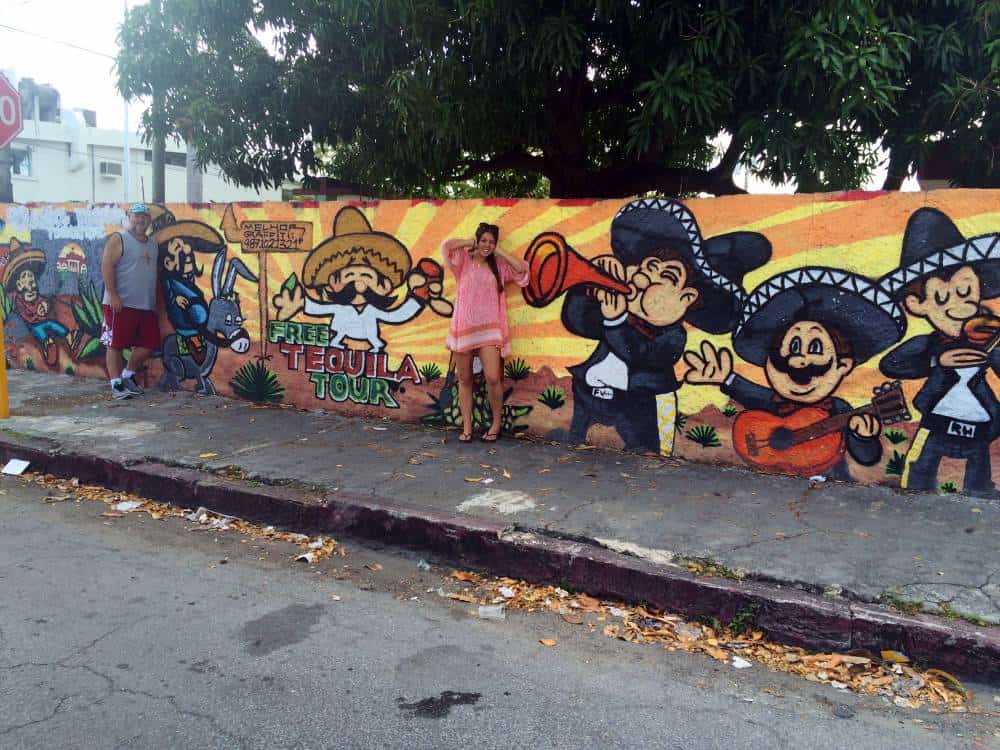 It's just our opinion.
I understand that everyone wants to experience places like Cozumel but I really feel that flooding small towns and islands with thousands of day-trippers every day can ruin these places. The locals have to act out of character, the prices are inflated, but worst of all, much of the beauty is destroyed by the sheer weight of visitors trampling everything in their path.
One point to note on car hire here, check the vehicle before you sign the agreement as we discovered our Jeep was barely roadworthy, with no padding left on the driver's seat, simply cloth over metal bars… my back didn't enjoy the ride.
Have you been to Cozumel? Were you one of the shipped-in masses or did you take the time to stop and smell the Margaritas?