Fallen Angel Restaurant is the best food experience, and in the top three meals, that we have ever eaten.
When travelling foodies throw around a statement like this then you can be sure they are talking about something very special.
And we found something very special in the amazing city of Cusco.
When you make it to 25 years of marriage you want to celebrate it with something pretty special. We had planned to be visiting Machu Picchu on the big day but, in hindsight, we're both glad it didn't quite work out that way.
Our number one on the bucket list had been checked off a day before and we had left the arrangement of a special dinner in Cusco to our incredible Peregrine Tour Guide, Vanessa. No pressure on her, eh?
You can read our in-depth tour review here.
Something amazing for our 25th?
The reservation she made for us was a place called Fallen Angel, a quirky restaurant and guest house with a reputation for being a bit of a sanctuary for the poorly treated gay community of Cusco.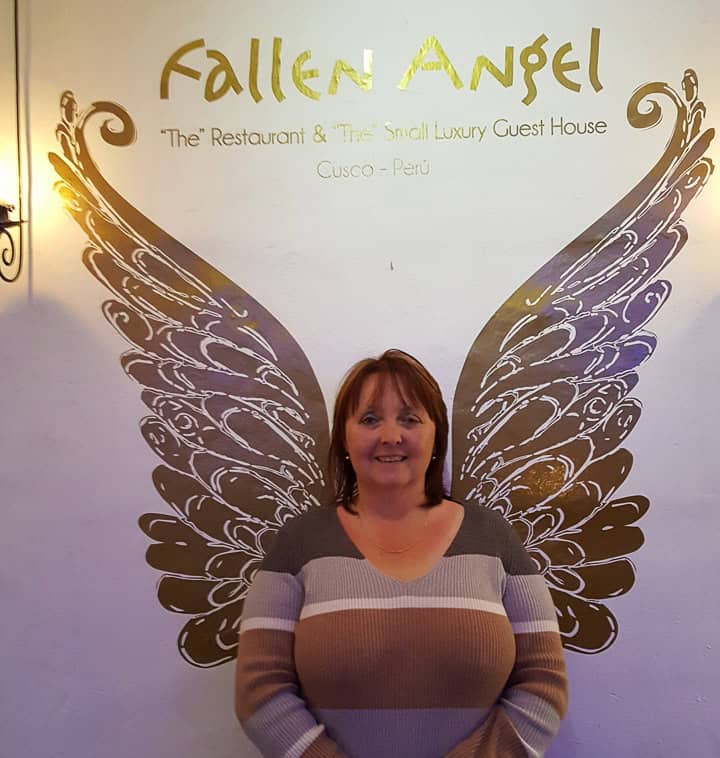 And what a choice she had made! The owner is a well-regarded artist and, while the discrete and tasteful exterior suggests a very upmarket and stuffy experience, the interior was like walking into the mind of the owner.
Colour, whimsical artwork and an eclectic mix of lighting and style explode in front of us. This was a place that was ticking boxes from the moment we stepped inside.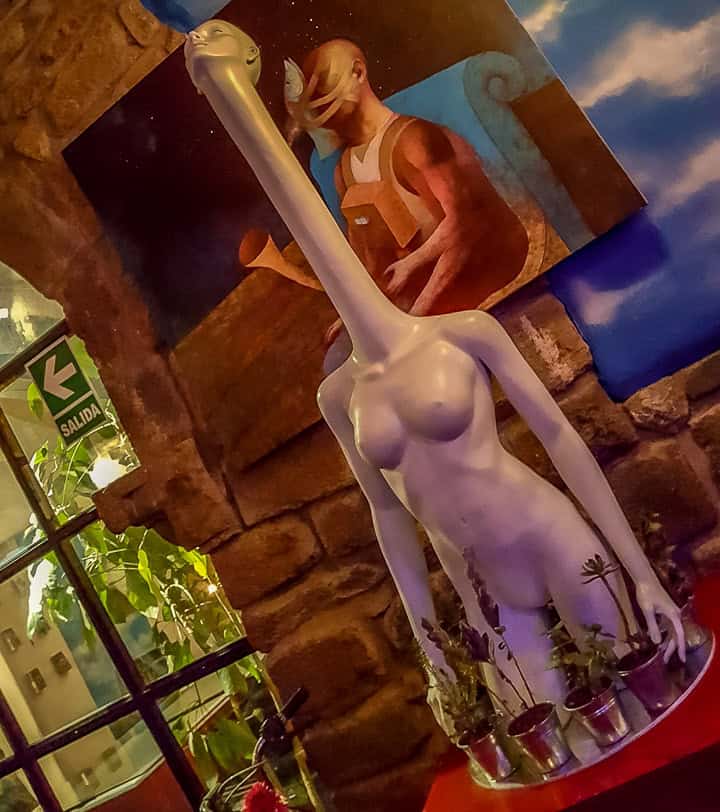 We were shown to a special "celebration" table. The seat was a four-poster day bed covered with black and red, heart-shaped cushions while the table was an old claw foot bathtub filled with goldfish and covered with glass.
How is the Fallen Angel menu?
The menu read like something you would expect in New York, Paris or Melbourne but the prices, while at the higher end for Peru, were very cheap compared to the previously mentioned cities.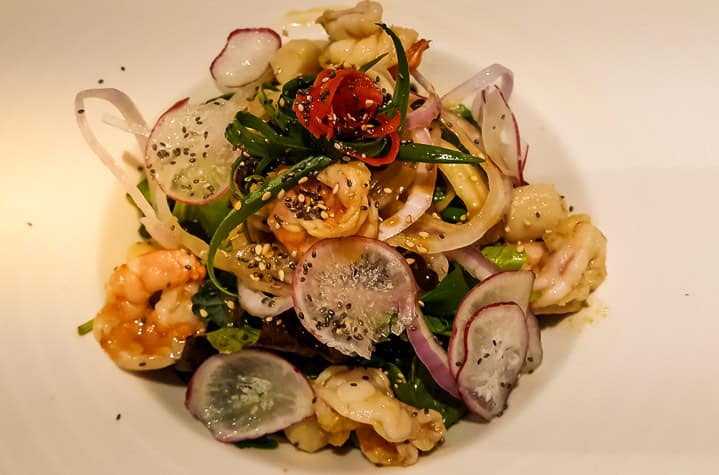 With starters like Quinoa Croquettes, Stuffed Avocado and classic Trout Cebiche the taste buds were in overdrive.
We settled on sharing the Nikkei Tiradito, a ridiculously good plate of sliced scallops and shrimp, peppered in the traditional Tiradito style. Accompanied by fresh garden greens, edible borage flowers, red onions, red radishes, limo peppers and sesame seeds. Served on a nikkei leche de tigre with lake algae.
Edible flowers and lake algae! You don't get that at McDonalds.
To say this starter was mouthwatering does not go close to doing it justice. And our traditional dinner cocktails were a lovely compliment to the food.
Fallen Angel – so far so good.
After just the right amount of time between courses, we were introduced to our main meals. Another near impossible choice with options like Crystal Mahi Mahi with Andean passionfruit, Alpaca steak with a chicha morada reduction and quinoa risotto in beet puree, oyster mushrooms and blue cheese.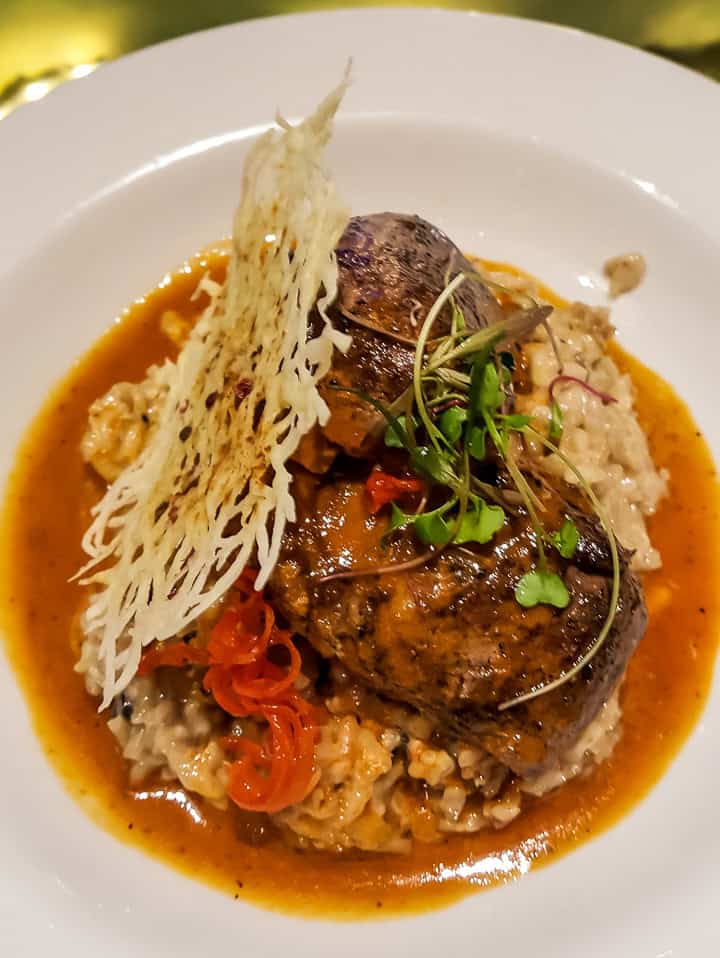 I went with a Hottie Steak. A delicious chunk of prime beef in a spicy chilli pepper sauce with mushroom risotto and parmesan cheese. As good as any of the steaks I had during our time in the beef capital of the world, Argentina.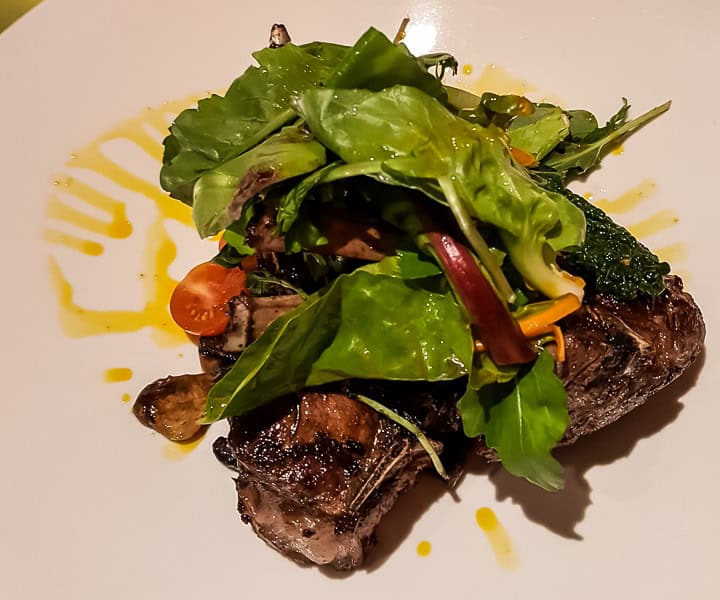 Pauline decided on the rack of lamb with rustic broad bean puree, a variety of stir-fried mushrooms, and caramelised shallots with garden greens and fresh, edible flowers.
The meals were large by fine dining standards and the perfect balance of flavours left you feeling very satisfied.
The night was capped off when the owner delivered us a special cocktail, compliments of the house, for our anniversary. A tangy and refreshing mix of Champagne and passionfruit sorbet. A perfect way to cleanse the palate and end a remarkable experience, after a little nap.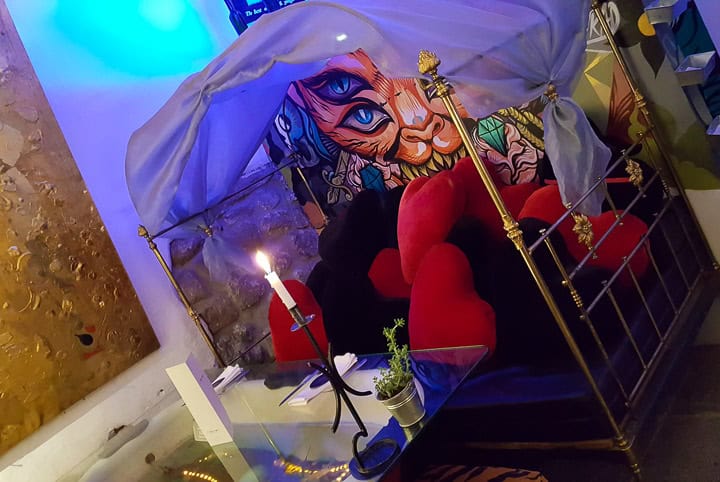 Fallen Angel is like a trendy art gallery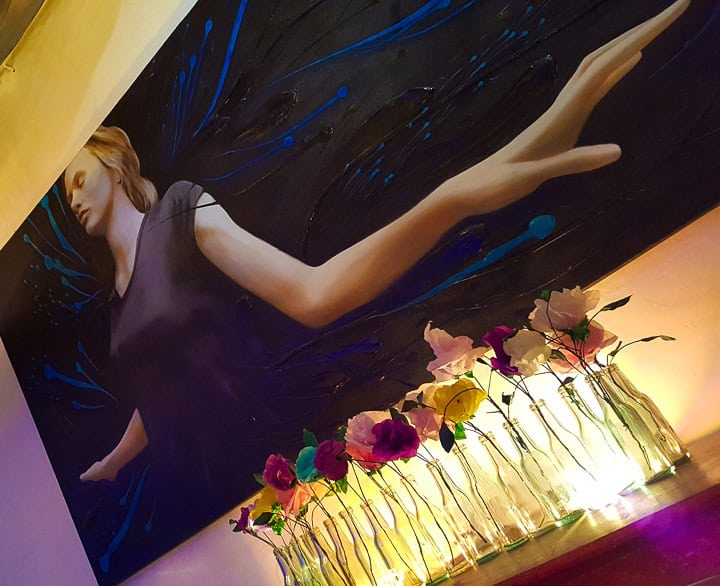 I took the opportunity of wandering around the maze of rooms which make up the dining area. Soaking in the impressive vibe they have created and admiring some stunning pieces of art.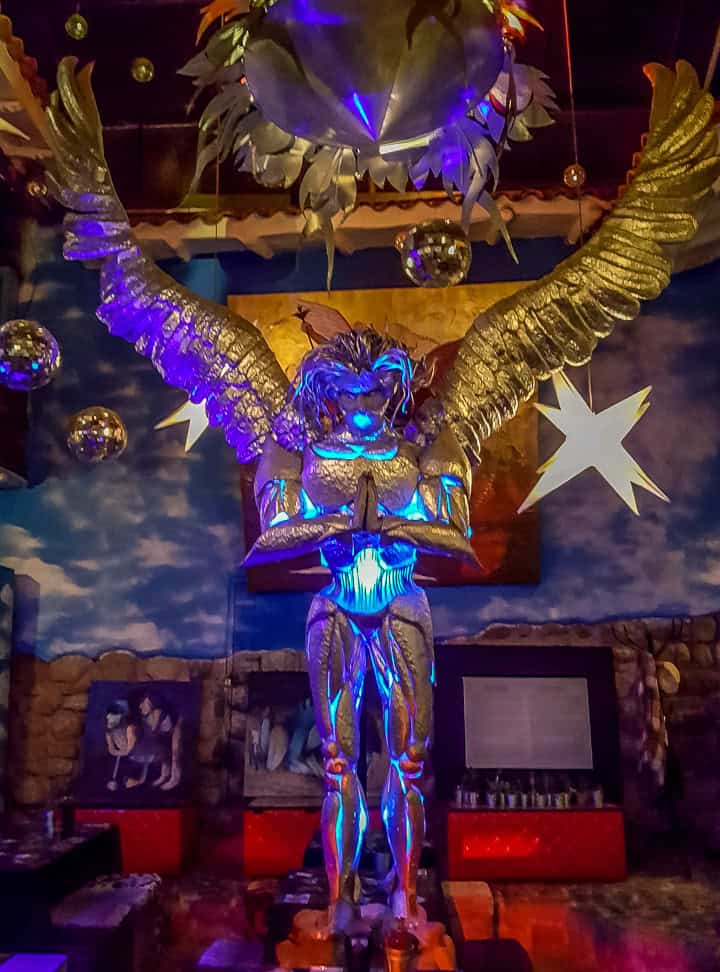 The verdict on Fallen Angel is in…
As I mentioned at the start, this was the best overall dining experience we have ever had and ranks in the top three meals. I will endeavour to return one day, but if I can't, I have memories that will live forever since they impacted every one of my senses.
A return to Cusco would also see us trying to book a stay at the adjoining Fallen Angel Guesthouse. I can only imagine that would be something quite special as well.