We didn't expect to see anything too interesting on our day travelling from St George to Las Vegas but the Valley of Fire State Park ended up being one of the highlights of our entire 3000+ mile USA road trip.
It wasn't until the night in St George while laying in bed that I decided to research whether there would be anything to break up the day of driving or if we should be looking at how to spend the whole afternoon in Las Vegas itself.
Where is Valley of Fire State Park?
The Valley of Fire Scenic Drive is approximately 40 miles northeast of Las Vegas, Nevada off the I-15. The highway exits are well signposted so should not be missed if you are paying a bit of attention or listening to your GPS unit.
How to visit Valley of Fire State Park on a USA road trip
If you have been visiting the North Rim of the Grand Canyon or even further north having some epic adventures around Moab as part as one of the great USA road trips and are heading toward Las Vegas, or the reverse, you will find Valley of Fire off the I-15 between St George, Utah and Las Vegas.
It adds 25 miles to the direct route but it will be one of the best extra 25 miles you will ever drive. Be prepared for some amazing scenery as you explore the Valley of Fire scenic drive.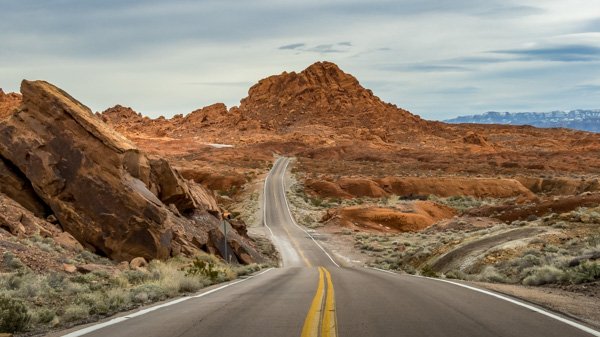 Do not schedule your driving time based on the speed limit through the park, you will make many stops to admire the views, take tons of photos and hike through some of the most amazing rock formations you will ever see. Plan on spending at least a few hours to drive the 25 miles.
"TIP #1 – IF YOU HAVE PURCHASED AN ANNUAL NATIONAL PARK PASS BE AWARE THAT IT DOES NOT COVER STATE PARKS. YOU WILL HAVE TO PAY A FEE TO ENTER THEM."
Our experience at Valley of Fire State Park
The plan was to travel from our overnight base at St George, Utah and head to Las Vegas to either pig out at one of the many all-you-can-eat buffets or eat at one of the celebrity chef places found all around town.
I was excited to have found the Valley of Fire State Park to break up the trip as the photos I looked at online were impressive, to say the least. I was even happier to find out you can drive through the park and not have to loop back to the starting point.
After almost 2000 miles (3200km) of a road trip so far I was ready for a day keeping the driving distance as short as possible but without sacrificing our overall experience.
From the moment you approach the Park's eastern entrance gate, you witness the first signs that there may be some truly spectacular scenery over the next 25 miles. And we noticed the same could definitely be said driving in the opposite direction based on what we saw leaving through the northern gate.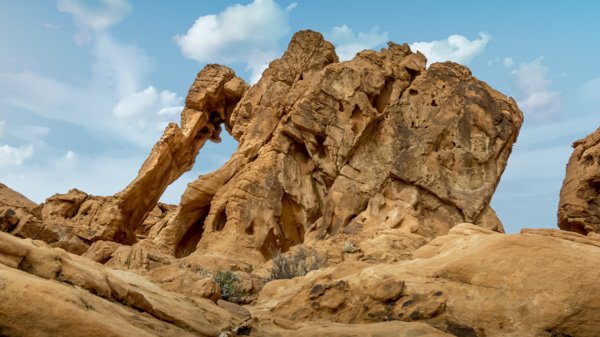 One of the first stops tells you it is the Elephant Rock trailhead and the hiking loop is only 400 yards. We thought it must be a mistake as there was nothing resembling an elephant anywhere near the car park.
We started walking the short trail, reached the top of the small hill and this came into view. OK, so now I know why it's called Elephant Rock.
Over the previous few weeks we visited some of the most stunning National Parks in the USA and I have to say, this place is right up there with the best of them. The rock formations and desert landscape are beautiful but what really makes Valley of Fire State Park stand out are the colours of the rocks.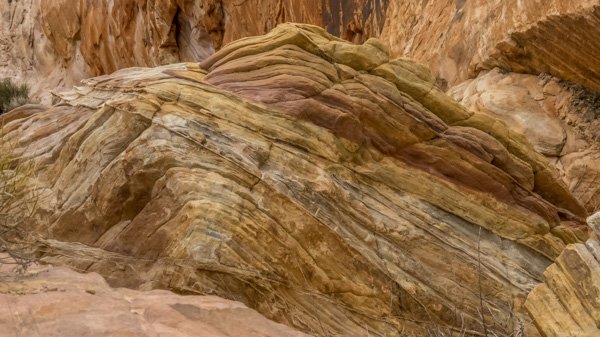 Unlike Sedona which is famous for its red rocks, this place features an incredible range of colours. With mountains that completely change colour halfway to their peak and giant rocks made up of a veritable rainbow of colours.
The other thing that amazed us was how the landscape changed every couple of miles. From the sharp rocks we witnessed as we entered the Park, which nature had forced up to a 45-degree angle, to the smoother multicoloured landscape around the centre and finally to the rugged mountains that looked like they had run out of paint while only half finished the job.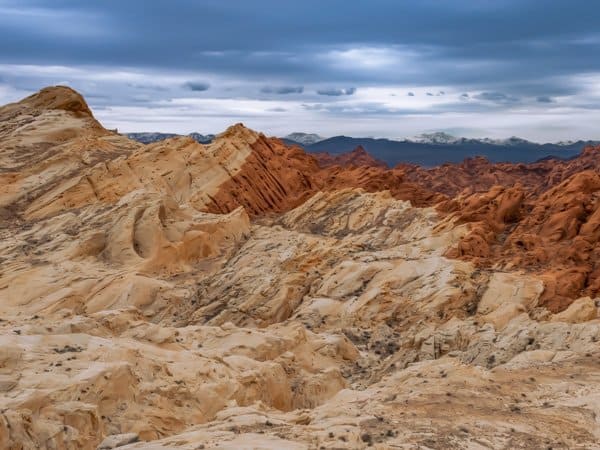 We spent over three hours in the Park driving, hiking and generally standing and staring, and could have stayed for twice that if not for the weather turning nasty. So much so that while in Las Vegas a few hours later we witnessed a snowstorm!
Driving the Valley of Fire State Park
As with most of the National Parks we visited the roads here were well-maintained and had plenty of places to stop and take in the views. There is also parking areas at the main trailheads for those who like to get out of the car and do some walking.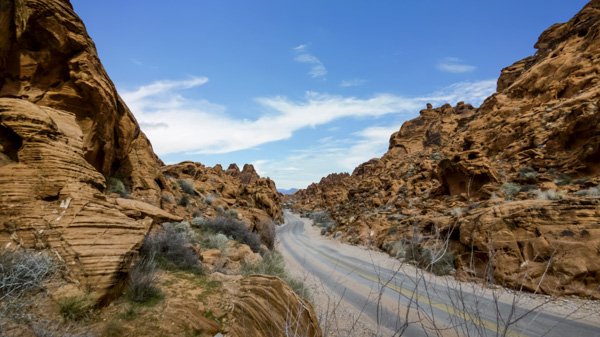 There are side roads off the main drive which take you to some of the more amazing parts of the Valley of Fire State Park and we highly recommend you take the time to experience everything that is on offer here.
One of the small side roads took us to an awesome little spot with a few simple stone buildings called "The Cabins". Not the most imaginative name but a great little piece of history among the beautiful surroundings.
"The Cabins" were built soon after the Valley of Fire became a State Park in 1935. For many years they were used as a shelter for campers and hikers taking advantage of the Park. Back then less than 10,000 people visited the Park annually but now there are hundreds of thousands each year.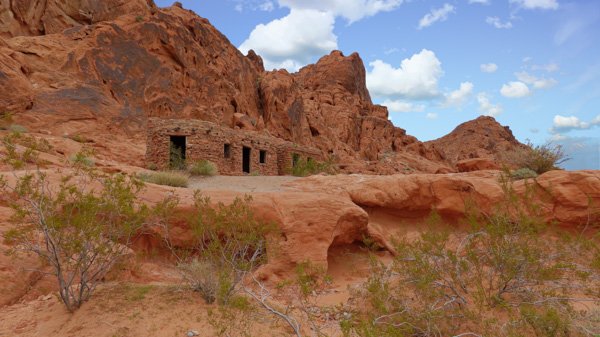 The roads are generally single lanes in each direction but there are plenty of places to pass if you want to bypass the scenery and just see how fast you can get from one end to the other.
Speaking of how fast you can go we noticed quite a few high-performance sports cars speeding through the Park while we were there. I assume they are people who rent them in Las Vegas and want to find somewhere off the Interstate to cruise around.
"TIP #2 – STOP THE CAR, GET OUT, AND EXPLORE SOME OF THE TRAILS. IT'S INCREDIBLY PEACEFUL AND THE SCENERY IS AMAZING"
Hiking in the Valley of Fire State Park
There are a number of trails in the Park and none of them are particularly challenging. We did almost all of the main hikes and found them easy to moderate challenges.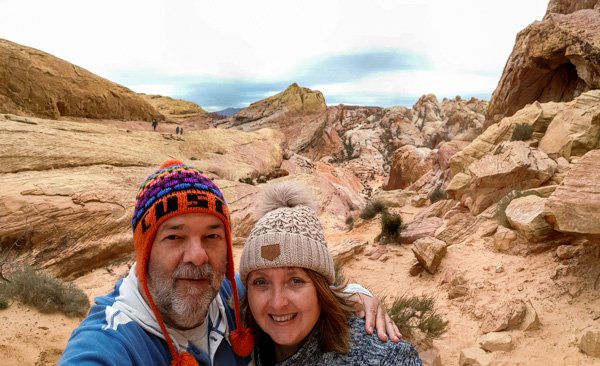 Once again we highly recommend getting out of the car and exploring on foot as some of the canyons and areas just behind the hills lining the road are far more impressive than the views you will get from the car window. Not that some of those are not spectacular as well though.
One of the things that I loved most about hiking through the Park was climbing through natural arches, exploring the small caves and being able to closely examine the strange multicoloured rocks.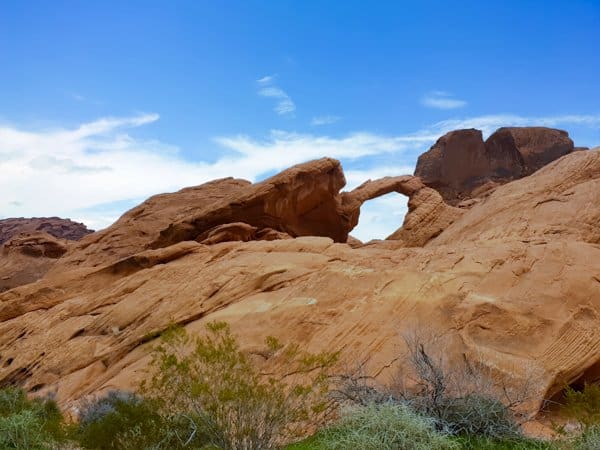 There are also signs along the trails that tell you about the Park's TV and Film history which feature plenty of names you would definitely know dating back to the 50s.
The one that made the most sense to me was reading about it being a location for filming a number of episodes of Star Trek: Next Generation. It's no wonder when you can see about half a dozen different alien-looking landscapes in the Park.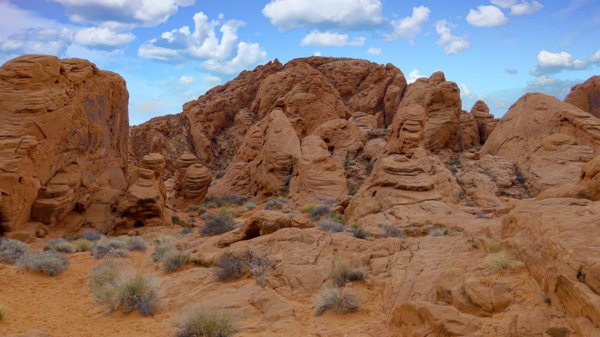 Is the Valley of Fire State Park worth visiting?
Absolutely it is worth visiting. This place had not been flagged in any of my research while planning this road trip and it would have been a huge disappointment to have missed it and found out about it on our return home.
The scenery was among the most impressive we witnessed on the entire trip and that includes places like Zion, Canyonlands and Arches National Parks.
The roads are good, the hiking easy and rewarding, and it is not out of the way if you are visiting Las Vegas or looping the Grand Canyon. As with many USA National Parks it would be wise to pick a suitable time of year, the weather was perfect for most of our day in late February but I doubt it would be as pleasant in the heights of Summer.

After seeing squirrels, deer and some unusual birds (unusual to us anyway) we came across a small herd of wild big horn sheep grazing beside the road. I quietly found a position close but not so close as to disturb them to get some photos.
I was quite surprised to turn and find this guy only about 3 or 4 yards from me and slowly getting closer looking for food. I suppose they are quite used to people but it was an experience to be so close.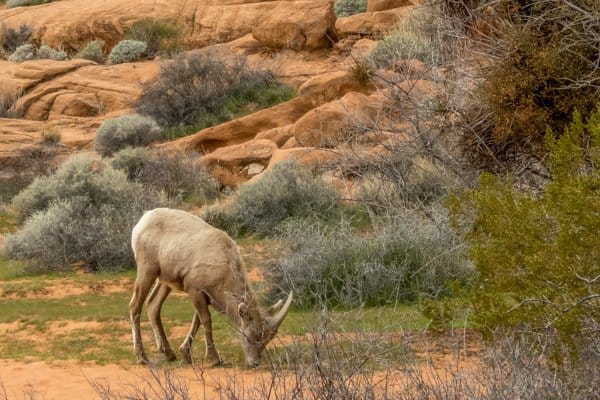 Conclusion
I am not sure how well-known Valley of Fire State Park is to people in the USA but it certainly seems to live in the shadow of many of the National Parks, which is a shame as you are missing out on a truly beautiful place if you never visit.
Whether you have been visiting the National Parks further north, looping the Grand Canyon or just have some time to spare in Las Vegas you should add this to your itinerary. It's less than an hour's drive from Las Vegas so makes for a very relaxed day trip.
And instead of doubling back and returning to Las Vegas on the Interstate you could make a fantastic loop road trip and return along the edge of Lake Mead. Sure it takes a bit longer than the highway but I bet it's a far less stressful drive with much nicer scenery and less traffic.
For more detailed information on Valley of Fire Nevada State Park see this official site.