Not everyone has the time or the inclination to hike the Inca Trail. But there are ways to make the most of Machu Picchu in just 24 hours and not feel like you are missing out. Let us show you.
We visited Machu Picchu as part of the incredible Amazon and Inca Adventure with Peregrine even though we never believed we would really enjoy the constraints of an organised group tour.
Read the in-depth trip report and see if we changed our minds.
Not everyone wants to rough it in the wilderness.
Most of the stories you find on Machu Picchu written by travellers, start with them toiling away for days while hiking one of the famous trails. Some will even try to say you are not even worthy of seeing it unless you have suffered through days of tough and uncomfortable trekking.
Well I'm here to tell you these travel snobs are talking crap! And while it is one of the most amazing places in the world just to see, there is so much more that you can experience with a little bit of extra effort.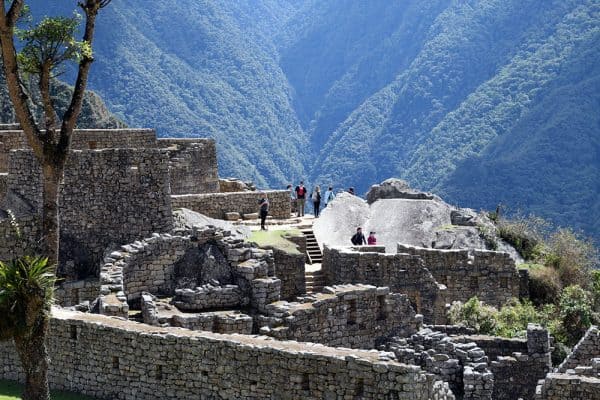 So, how should I get here?
If you decided against hiking for four or eight days then you have a chance to experience some amazing places on the way to the final destination. Cute towns, amazing ruins, unique transport, and great scenery.
We have always been independent travellers and never thought a guided tour would be for us, but it just happened that a Peregrine Adventures tour went exactly where and when we wanted to go. So we thought we'd give it a shot.
If you are time-poor then you could fly into Cusco and get the train to Aguas Calientes. Then it is just a short bus ride to the site. You'll see some nice scenery and it can all be done with a single overnight stay.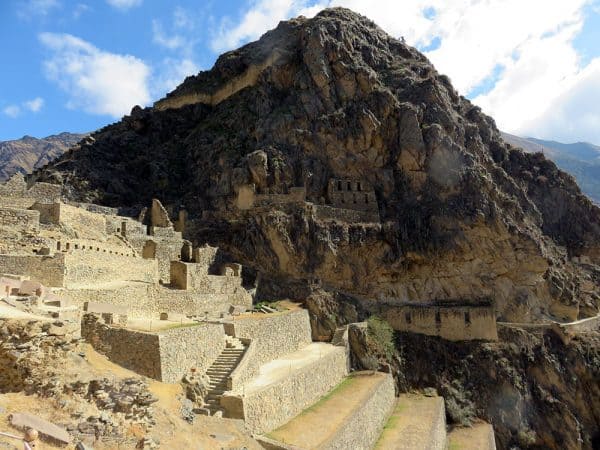 However, on this incredible trip, we left Cusco by private minibus, explored the Sacsayhuaman (pronounced Sexy Woman, almost) Incan ruins above the city, and made our way through the Sacred Valley to Ollantaytambo for the night.
Now this place has some ruins that are almost at Machu Picchu standard and makes the perfect lead-up to what is coming. The town is also quiet and beautiful, and it would be a shame to have travelled straight through on the train without looking around.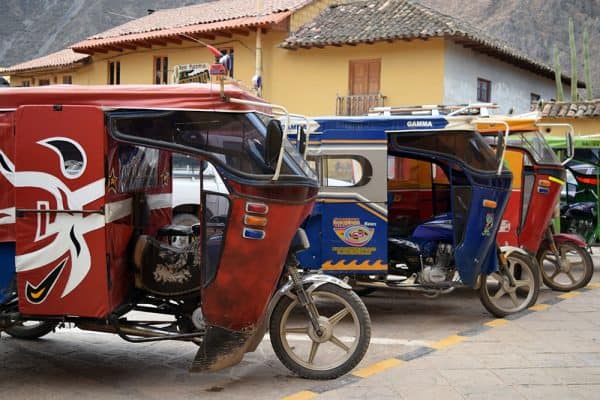 The next day had the morning to explore the remains of the Fortress of the Inca before we took crazy little moto-taxis to the train station for our Inca-Rail trip to Aguas Calientes. After arriving mid-afternoon we had time to check the huge tourist market before dinner and an early night.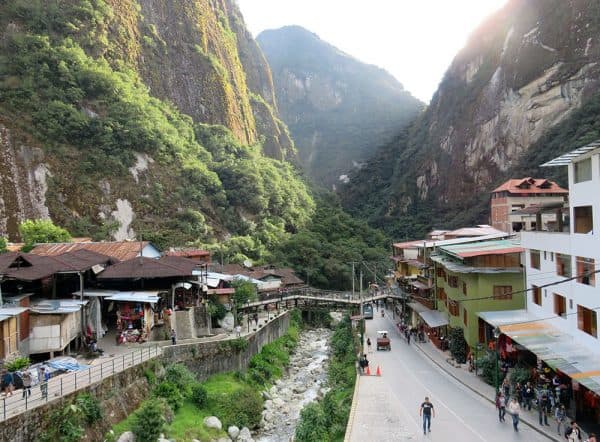 How to start the big day
Be prepared for a very early start to beat most of the tourists, avoiding the crowds and beating the hottest part of the day (depending on the time of year).
There is only one company with buses to take you to the entry gates of the site. The lines get quite long very early but don't panic, there is a constant stream of buses and it won't take too long to work your way to the front.
An alternative for those who want a bit more adventure is to hike from Aguas Calientes. A couple of hours each way but the general consensus seems to be your energy is better spent inside the site.
The bus ride offers some awesome views but also some nervy moments for those of us with any fear of heights. After about 20 minutes you will have reached the main gates.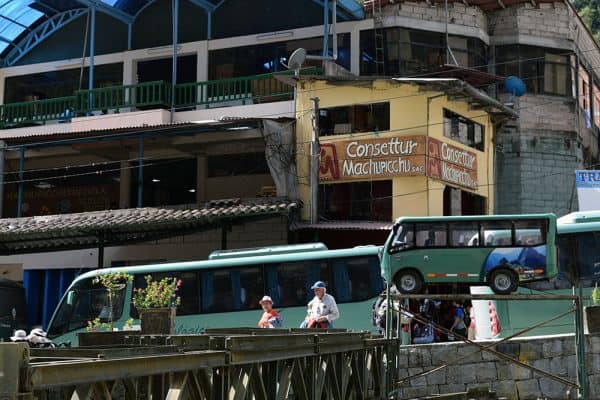 What to do when you arrive
Obviously, lots of people waiting for the bus means lots of people at the other end waiting for the gates to open. I highly recommend a guide to show you through the city, without our guide we would have photos but no insights, and learning about the history is a large part of coming to a place like this.
The gates open at six in the morning, you file in and then you climb quite a few steps and a reasonably steep path to get to the area where everyone tries to take that iconic shot. And you try to take it without featuring the dozens of selfie-takers.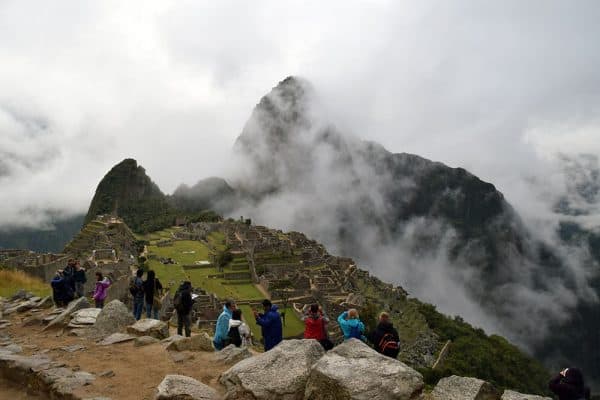 We had arranged to meet a guide in a few hours so before then we had the chance to hike to the Sun Gate. This is a pretty tough slog, uphill on a roughly paved path for about 90 minutes. The altitude makes it slow and hard work.
The view is amazing and it is quite a personal achievement to get there but be prepared for no view at all as the clouds can engulf you.
In hindsight, I probably would have stopped at the first monument halfway up the path and had more time to just sit and take in the whole experience. But I am a big fan of regretting doing something rather than regretting not having done it, and I have no regrets about getting to the top.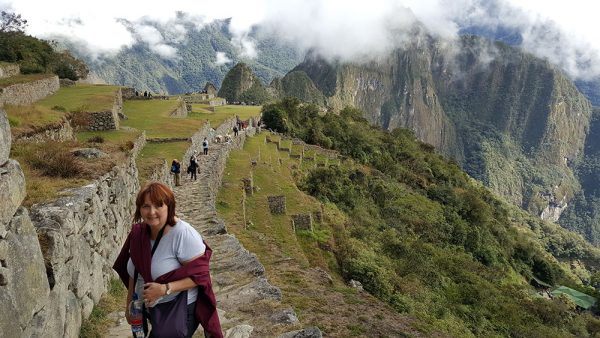 The Guide and the City
Arriving back at the initial viewing area we met our guide and headed into the city itself. To hear the stories of the construction of the city and the daily life of these amazing people helped bring history to life.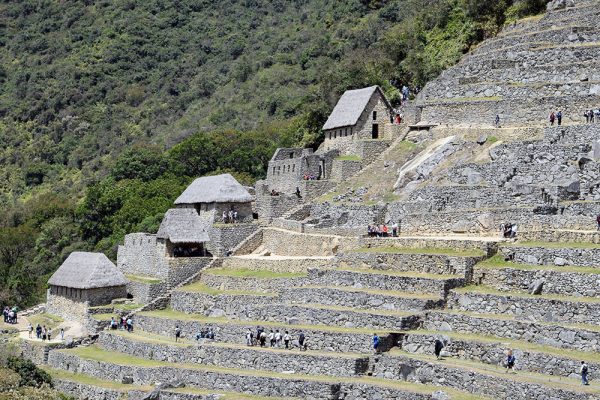 A half-square, half-round building was spectacular but so much better hearing it was a temple to the Sun god, Inti and the reason for the curved wall was to symbolise the feminine side, his mother Pachamama. And the square walls for his masculine side create a perfect union.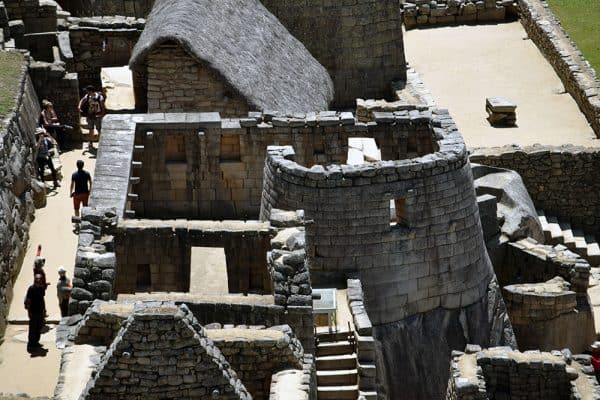 One of the most famous areas of Machu Picchu is the sundial. More stairs lead to the top of a tower with this impressive lump of stone. It is roped off to prevent damage although that ship has sailed!
In 2000 a film crew was shooting a commercial for the local Cusquena Beer when a lighting crane fell and chipped one of the corners of this famous stone. Locals and archaeologists were outraged, and rightly so.
Needless to say, they haven't filmed any more commercials since but it also means you can get close, but not too close.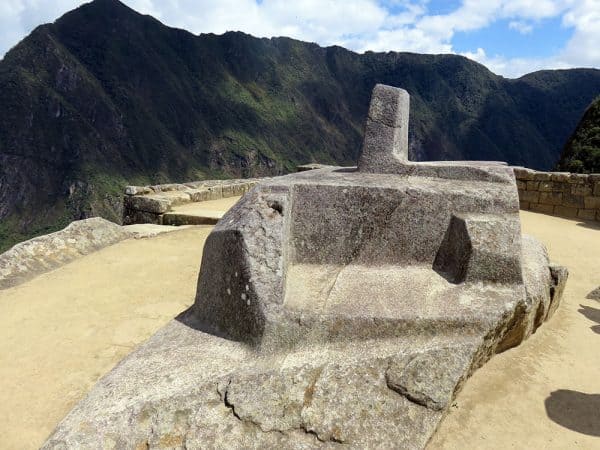 Be amazed at what they achieved
The masonry on display throughout the city is arguably better in many places than is achieved today, even with the use of modern tools. With stones joined so tightly that you can not even push a knife blade between them.
To hear about how and why they built the tiered foundation walls down the mountain and to see them at the highest points on some of the surrounding mountains bears witness to the skill, courage, determination, and ingenuity of these people.
Most amazing to me was the Sacred Rock. A massive 8-metre monolith in the shape of the distant Yamantin Mountain. Some say it was completely covered in gold in its day but even today is impressive.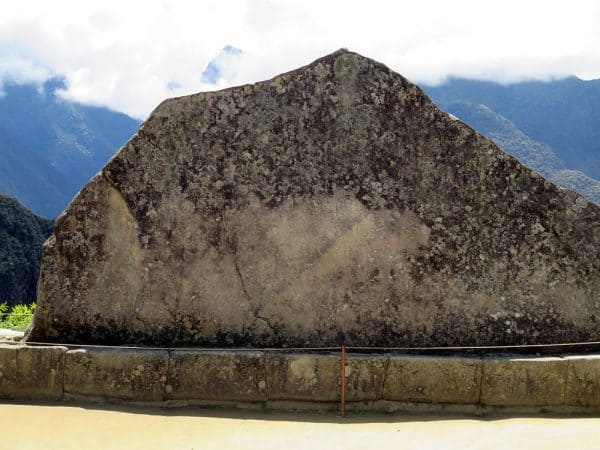 The city is not the only thing to see
There is no view from any point on the mountain that would leave you disappointed. Whether bathed in bright sunshine or with a heavy cloud cover you can't help but be left breathless. And not just because of the altitude.
From monuments to houses, temples to mountains, and llamas to rivers, the only problem may be running out of space on your camera's memory card.
But when all is said and done the main reason you are here is to witness the view across the city with the rugged mountain backdrop.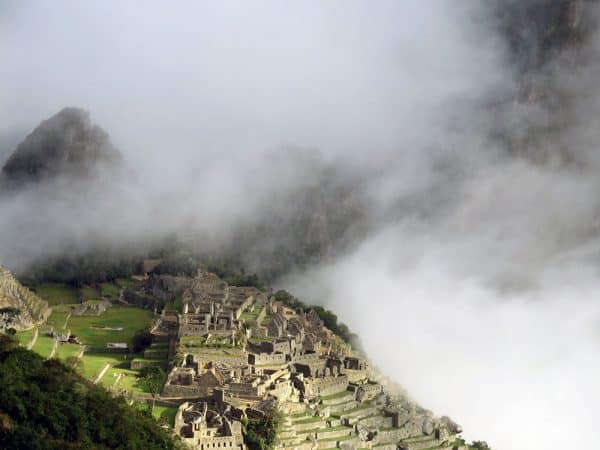 So take a moment, hey why not take a lot of moments, and just find somewhere to sit to just take it all in? Forget about the people, forget about your camera or phone, just look at it and think about where you are and what this place actually is.
It was number one on my bucket list and, as has happened before, there is a chance the massive hype surrounding some places results in an anti-climax.
This is definitely not one of those places.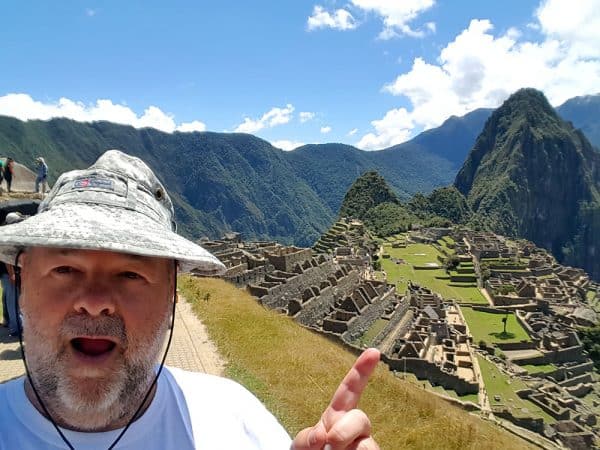 Time to head back
At some stage in the afternoon you will want to head back to town. Remember the day started here at 6am so it's already been a fairly long day. Maybe you have a train to catch or maybe you need a break from the sun.
Aguas Calientes, roughly translated to hot waters, has hot springs. Perfect for relieving those tired muscles? Well yes and no.
It would be perfect but remember all the sweaty hikers that have spent days trekking through the jungle? They also think this would be a perfect remedy for the pain but it also doubles as a bath for many of them.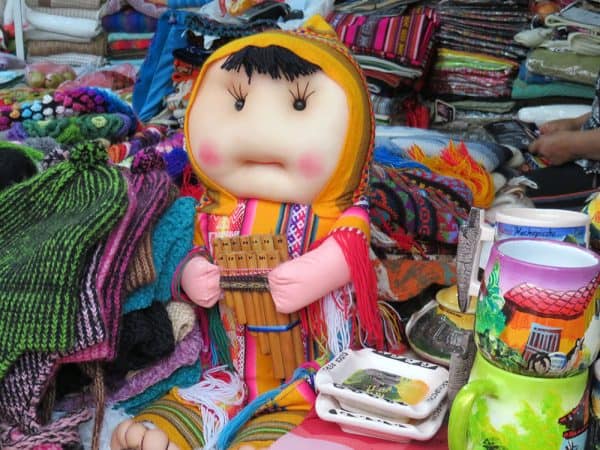 We decided to skip the thermal pools and opted for a meal instead, and to spend some time looking through the large and colourful Incan markets before catching a train back to Ollantaytambo.
These are arguably the best markets we visited in Peru. Some of the stuff is slightly more expensive than elsewhere due to the high tourist numbers, but the range was exceptional, and for visitors from Australia, Europe, or USA, still really cheap.
So how long do you really need?
I recommend taking the morning train from Ollantaytambo which will arrive mid-afternoon in Aguas Calientes. Check in to a hotel and do a bit of local exploring before dinner and an early night.
The next morning will be early as I said before and you will comfortably see all you want and more over the next six to eight hours around Machu Picchu. This means you can comfortably leave on the afternoon train back to Ollantaytambo or Cusco.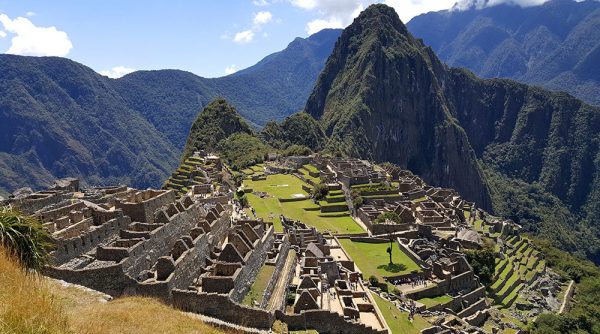 You could stay longer but there is so much to do throughout the rest of Peru that it would mean missing out on something else.
Our Peregrine trip had this stage perfectly planned and timed. Giving us support when we needed it and enough free time to explore everything the others may not have wanted to see or do.
So what's the verdict?
As I said, Machu Picchu was top of my bucket list and pretty high on Pauline's as well. The following day was our 25th anniversary and so this was even more special for us.
Not only did it exceed our expectations as a destination but will hold a special place in our hearts because of the time we went there and also because of the thoughtfulness of our Peregrine Guide Vanessa.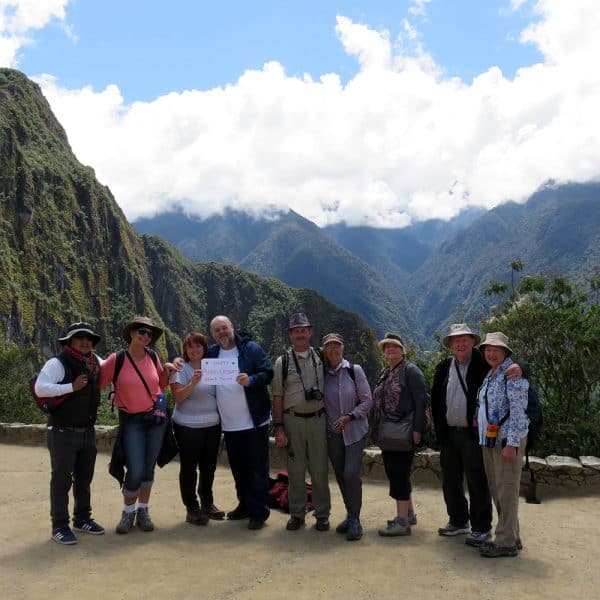 She had the group pose with us in the ruins with a Happy Anniversary sign. Just one more reason why we can't speak more highly of this company and are happy to promote them to all over 40's who want more activity and not just see the world through a luxury coach window.
Have you travelled with Peregrine or visited Machu Picchu? We would love to hear what you thought or if it's on your bucket list.