"You say like sexy woman"
The ten of us on the minibus laughed as our Peruvian guide, Rodrigo, did his best to help us pronounce the Incan name of the Sacsayhuaman ruins overlooking Cusco.
After a few incredible days of feasting on the sights and flavours of this amazing town, we were off on an adventure through the Inca Sacred Valley. One that is filled with ancient culture, eating strange animals, stunning views, and experiencing how the locals live and do business.
Although we chose to take on this adventure as part of an organised tour on the Peregrine Amazon and Inca Adventure, you could achieve a similar experience going it alone with more forward planning and the help of some local guides and tour companies. But why do all that extra work when this tried and tested trip already exists?
Read the in-depth trip review from our full adventure here.
Hasta luego, Cusco
So there we were, high on a mountain overlooking Cusco, surrounded by the intricate stonework of the Incans and learning about this "sexy woman". No matter how many ancient cities you are fortunate enough to experience in South and Central America you never get over the sense of awe at the engineering abilities of these ancient people.

There is an elderly Peruvian woman walking by, clothed in the wonderfully coloured traditional dress and leading her llama down the mountain toward town for another day of trying to eke out a living posing for tourist photos.
Seeing her walking past the perfectly crafted Incan wall makes you realise how fortunate we travellers are, but also that I may not be having this experience if our itinerary was not as well planned as this tour.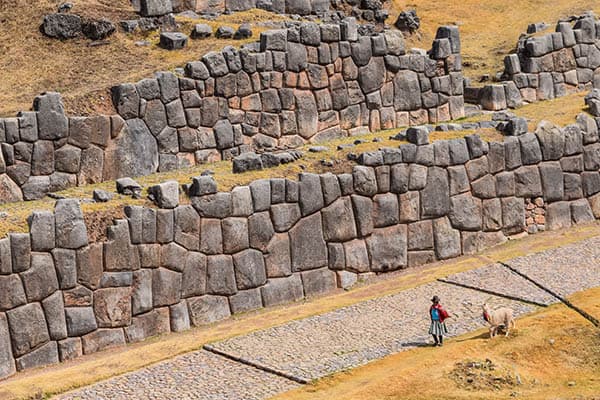 While some choose to ride the minibus to the neighbouring mountain, we decided that the walk is just too good to pass up.
Sure breathing is a bit tricky at this elevation but the vistas from the path not only make the regular rest stops scenic but act as a great excuse if you are accused of being a little out of shape and too slow.
"I'm only stopping this often to catch these amazing views!" (and not because I'm unfit)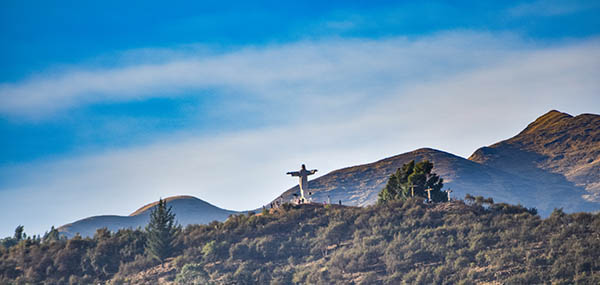 There is a mini version of the famous Christ the Redeemer statue that overlooks Cusco and is regularly spotted during the exploration of the city's backstreets. As he overlooks this remarkable place, I wonder how he would have felt watching the Spaniards kill thousands in his name.
It was now time to get up close and personal and find out exactly what it is he looks at every day.
I may burn in Hell for this but I just can't forget a comment a friend made when he saw my photo with Jesus, "I caught a fish and it was this big". I apologise to the religious among you but I couldn't help but laugh.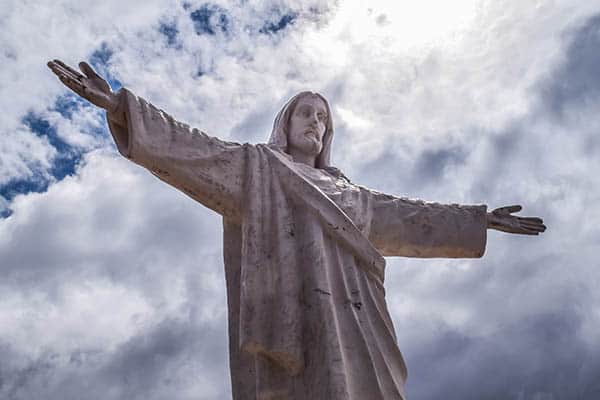 From the Sexy Woman to the Inca Sacred Valley
Soon it is time to head off to tonight's stop at Ollantaytambo, a village nestled high in the mountains around the Sacred Valley of the Inca. But before arriving we would have a few stops which allow an incredible look into the lives of the local people, many of whom are direct descendants of the Inca.
Sometime later our driver pulls off the road and shows us a spot to grab that #instaperfect shot of the Sacred Valley before continuing winding our way down the somewhat precarious road that leads to our next stop, Pisac. Home of vibrant and colourful local markets, a strange Cuy castle, and some of the best empanadas in the world!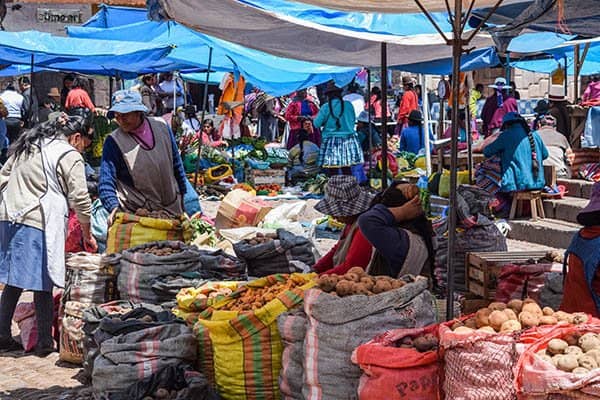 Pisac Mercado is not a place designed for tourists like many other markets in South and Central America. Sure there are parts of it that cater to souvenir hunters but it largely exists for the locals.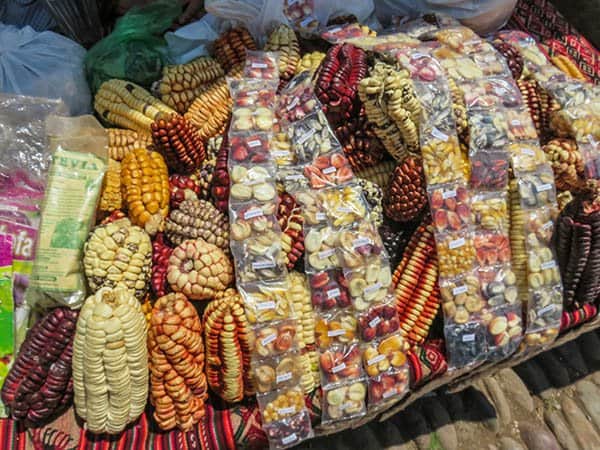 A stroll through the markets introduces you to so many unusual varieties and colours of fresh corn and potatoes, followed by a dazzling display of pots filled to overflowing with incredibly vibrant powdered dyes.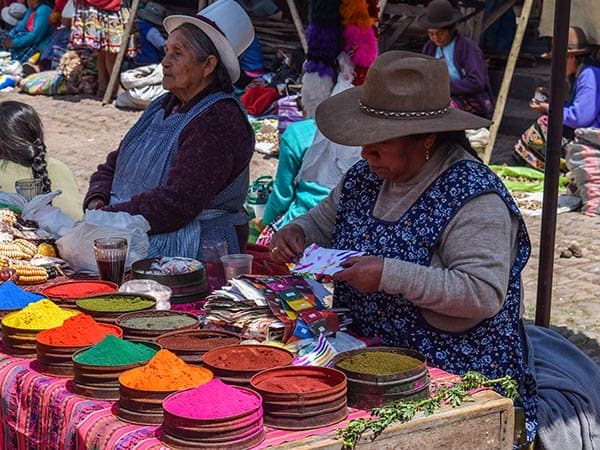 So much more than simply shopping for a Peru-labelled beanie or backpack.
Kings of the Castle
We had well and truly discovered one of the country's epicurean delights by this stage of the tour, the local delicacy of Cuy. Pronounced "Koowey" but probably better known as Guinea Pigs, you have to understand that they may be pets at home but here they are farmed for food.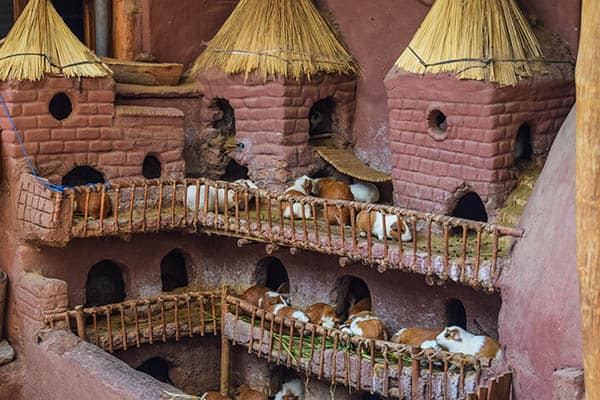 So when one of the group points out an elaborate, multi-levelled Castle built to house 50 or 60 of these furry critters we naturally react to how cute the scene appears. Until reality sets in and you see the oven beside the castle and everyone remembers that this ain't no petting zoo!
But fear not, if you find it difficult to see your food playing just minutes before it appears on your plate then it is empanadas to the rescue! Cheap and delicious with a choice of fillings and cooked in a massive stone oven, these magnificent pastries are the stuff food dreams are made of. So try one, or maybe two but save room for lunch later because it's something special.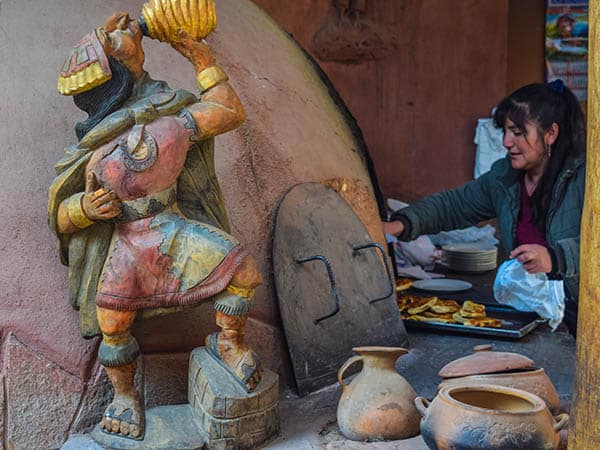 Following another walk of discovery through the market it is time to move on to visit some local artisans and industry and find something special for lunch. So back to the minibus for the short drive to the small community waiting to welcome us for lunch.
A town like no other
There is one place of note along the way that deserves special mention. Lamay is a very small town, more a village really, with little more than a single street containing a few houses and, as strange as it sounds, about the same number of restaurants.
So what makes this village special? Well, the first things that caught my eye were the signs featuring smiling Cuy in all sorts of festive clothing. We began to wonder arrived if we had arrived at some local circus featuring performing furry rodents, but looks can be deceiving.
At the request of group leader Vanessa our driver pull up outside one of these crazily decorated buildings and we had no idea what to expect. The building was a lovely little place with a couple of festively dressed cuy painted on the front wall.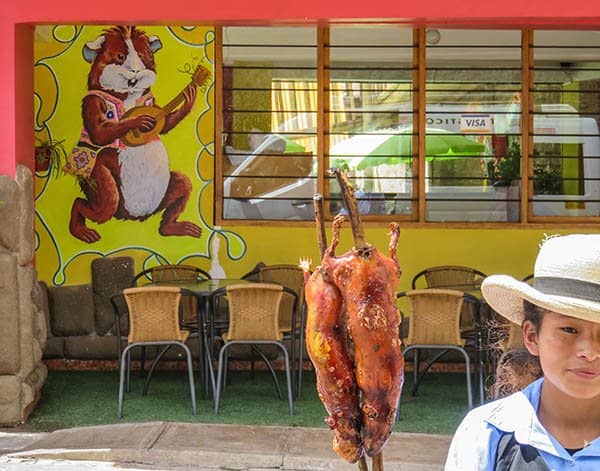 Before we could even ask what was going on we were joined at our van by a young lady, smartly dressed in a uniform, carrying some sort of sticks or small spears.
As she closed in on our location we soon realised that the spears are actually large skewers and, in the proud American tradition of serving all food on a stick, she was there to sell fire-roasted cuy, delivered to our door. Now can you get fresher food or better service?
As much as we wanted to support this enterprising young lady and get stuck into one of these unnervingly smiling, crispy-skinned morsels we agreed to hold off as lunch was soon to be served.
The honour of meeting with locals
Only 30 minutes farther along the road, we arrived in the tiny community of Chichu Bamba where it is immediately obvious how hard life is for the local people and, once you meet them, the positive spirit that drives them on.
It was here that we were treated to a rare honour, having a meal in the home of one of the local families. A home-cooked meal of traditional dishes prepared with love and served with great pride, simple food but so very special. No elaborate hacienda with servants here, just a small but lovely home with food prepared and served by the family.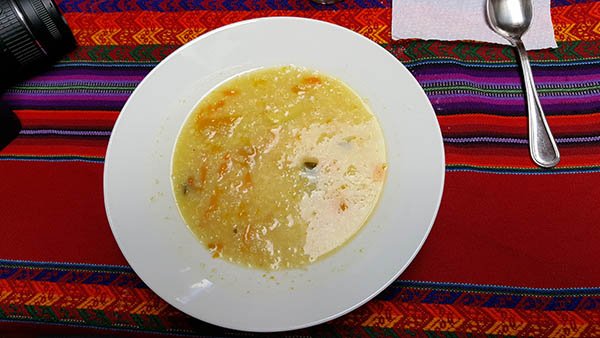 Our meal started with a quinoa soup which may sound as bland as is expected from any hipster "superfoods" currently in fashion, but the locals have farmed and eaten quinoa as a cheap staple for centuries. These people were trendy before the trend began!
The soup is beyond expectation. The broth was thick and perfectly spiced while the quinoa that floated to the top breaks the surface creating tiny, glistening crescents, and the finely sliced carrot hovered beneath like tiny koi fish. This is a dish that is eaten often by poor families, providing a cheap and hearty meal.
After a wonderful starter, our hosts served another common yet delicious dish of Peru, the local version of a Lomo Saltado. Served throughout Peru and probably regarded as the national dish it is similar to an Asian stirfry with vegetables and meat. The type of meat varies and may be chicken, beef, or even llama or alpaca.
Once again the food was simple but tasty and served with the love of a proud cook highlighting their traditions and representing their family.
My food is watching me
Vanessa had arranged a special surprise for our group. For a small additional fee, we now had the chance to finally get a taste of roasted cuy. The dish is often served on a bed of potatoes with the animal still fully intact.
It can be quite confronting to come face to face with your lunch and make it even more difficult for you to gather the courage to give it a try. It was time for a few cuy selfies and some nervous conversation.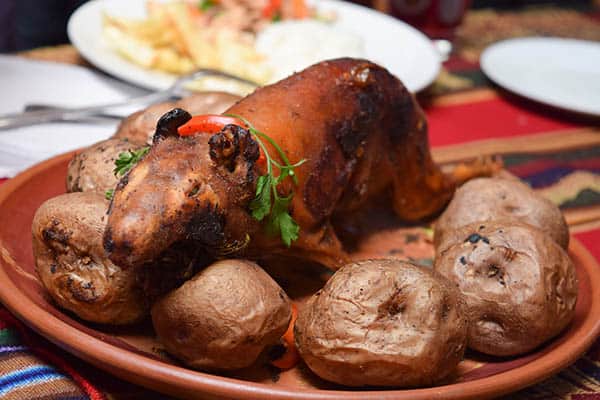 The dish was then taken back to the kitchen for the cook to cut the cuy into pieces much like would be done with a whole chicken. Things become a little easier when you are served a piece of cuy breast meat which could be one of a number of other meats if you did not know better.
When cooked well the skin is crispy and thicker than you may imagine, like a cross between chicken skin and pork crackle, while the meat is slightly gamey and quite difficult to find in any decent amount due to the size of a guinea pig. It's a lot of work for little reward but one of those once-in-a-lifetime things a foodie has to try.
Among the locals there can be healthy competition over who gets the head to pick at but it is rare for foreign visitors to be willing to try it. Something about the eyes and the little teeth that take it beyond the willingness of most. Being the only Peruvian in our group Vanessa had nobody standing in the way of her taking this "choice" piece of lunch.
Another unusual (to foreigners) custom is for the locals to chew on the paws and then use the tiny claws as a kind of natural toothpick. I can not confirm this as true as it may just have been our leader having some fun at our expense.
It's beer, but not as we know it
Throughout the meal, our thirst was constantly quenched with the local beverage chicha morada, a non-fermented corn beer made from purple corn. It actually tastes nothing like a beer and is a great compliment to the meal.
After the meal was completed we had the honour and pleasure of meeting the family and thanking the cooks before taking time to explore the village and meet some of the people who operate businesses to gain a deeper understanding of life in rural Peru. The first stop was to be a family-run chocolate business.
Chocolate the hard way
We almost walked past the tiny concrete structure, passing it off as just another basic family home. We were called back to discover that what lay behind the ordinary-looking door was actually an international chocolate manufacturing business.
Don't let the "international" description mislead you though, although technically correct it does suggest a much larger enterprise than the operation before our eyes. The sole employee, manager, business owner and chocolatier is a middle-aged lady who manages to do a ridiculous amount of work, way beyond that which most of us would even consider a heavy workload.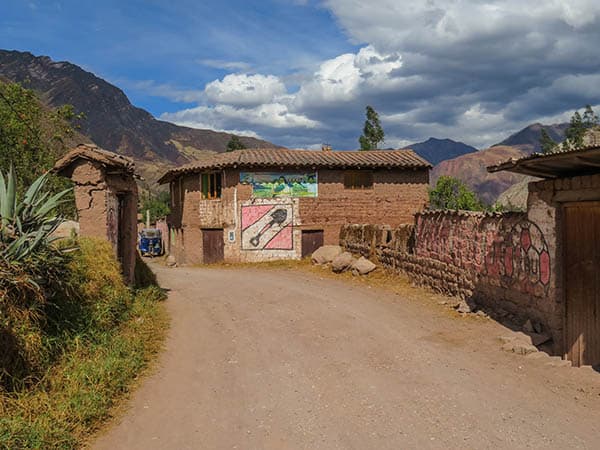 The international part comes from her husband who works in Colombia growing, harvesting, and shipping cocoa beans for this family business. It is a tough existence when not only does this married couple live apart for most of the year but for the short time they are together it is still almost all work and no play to ensure the business survives.
We gather in a small room of this humble factory for a demonstration of the chocolate manufacturing process. Our host leaves only to return shortly carrying a much too heavy sack filled to overflowing with raw cocoa beans and begins explaining the laborious journey that has brought them to this place.
It is then that we get the first glimpse at the reality of this type of operation in the poor regions of Peru. There is no machinery here, no production line, and not even animal-powered equipment. Everything is done by hand, every step of the way the work is performed by a single, elderly lady with a work ethic you can't help but admire.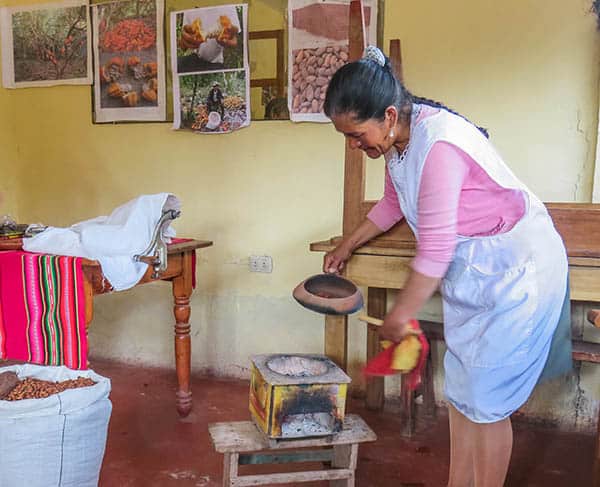 The process is incredibly labour intensive and we watch as she roasts the beans, grinds them, adds sweeteners and nuts, and packs them into molds that will set to become the finished retail product.
We take turns assisting in the process and it is soon obvious just how hard this job really is. Have you ever tried to hand-grind hot cocoa beans? Not something I would like to do for hours every day that's for sure.
We sampled the still-warm chocolate and purchased more than we really needed, not that it would go to waste and it seemed only fair to support this lady's generosity and hard work. Then it was time to visit a local pottery workshop.
Hola, anybody home?
After about ten minutes of knocking on the old wooden door, and a few unfruitful phone calls from our frustrated guide, a confused but friendly face appeared. Apparently details of our visit had slipped through the cracks but it was quickly sorted. Computer scheduling and secretaries are not really things that exist in this tiny village.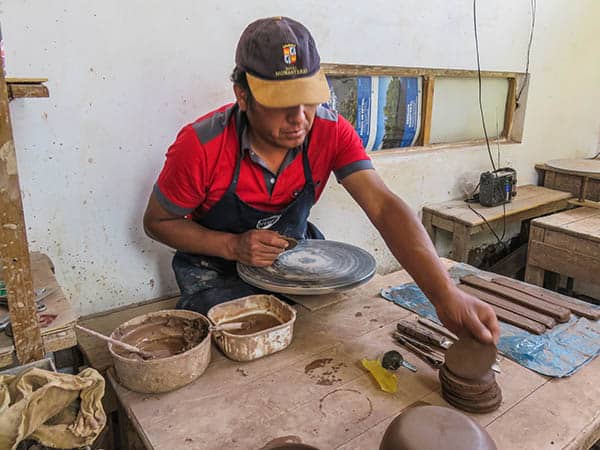 We were led through a basic but large courtyard before emerging from another doorway which gave way to a semi-exposed pottery workshop. I took the time to kick a barely inflated football around with the potter's kids while the others listened to an introduction about this family and their business.
After a demonstration showcasing the incredible skill of this master potter in which he amazed us at the quality of the product that is created on such rudimentary equipment, we had the chance to chat with the family members about their lifestyle.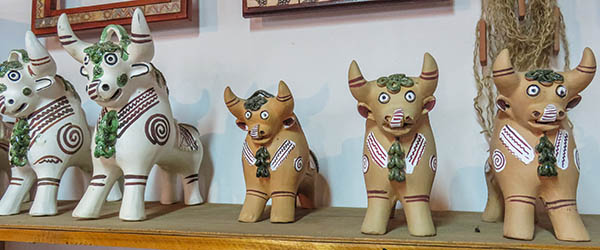 A few of us followed the lady of the house into the gallery / shop and were blown away by the craftsmanship and beauty on display in the tiny room. She showed obvious pride in her husband's work as she communicated the story behind some of the pieces with a combination of her broken English and my very broken Spanish.
There is no doubt that in communities like this one life is hard. But everybody still manages to have a smile and a friendly nod which once again proved to me that you don't need a lot of "stuff" to live a rewarding and happy life.
Farewells were exchanged with our latest gracious hosts and it was back on the minibus for the final leg of today's adventure, the short drive to Ollantaytambo. Somehow every day still managed to be better than the last on this incredible Peregrine adventure.