It felt as though it was just me and the incredible majesty of Machu Picchu, the crowd of smartphone photographers trying to outmaneuver each other for that elusive "perfect" selfie faded from my mind. I was captivated by my Amazon and Inca Adventure and nothing else mattered.
A few minutes later a thought broke the tranquility, was the tour we were on better than I could have planned myself? And since I have experience as a professional tour designer that is not a thought I was expecting.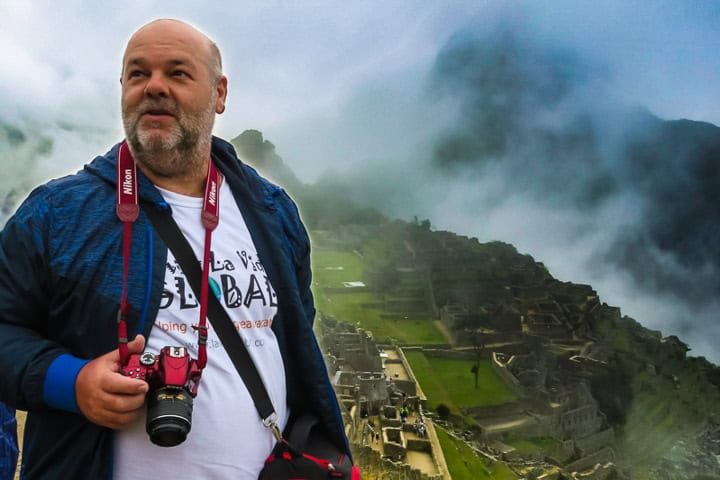 16 days chasing Incan history and culture through Peru including getting your Nature on in the Amazon sounds amazing, but doing it as part of a tour group is not something we would usually consider. We gave Peregrine Adventures a chance to change our minds.
You may be wondering what an "un-road trip" is and why we even mentioned it, or you may have worked it out for yourself! Either way, I'm going to mansplain it to you.
If you have browsed any of La Vida Global's other articles then hopefully you noticed we have a heavy focus on road trips. And while we love the flexibility of driving ourselves there are some places it makes sense to use other modes of transport, and sometimes when you just want to hand the reins over to someone else.
One of these places is Peru. While a visit to Machu Picchu topped my bucket list, I never had the slightest inclination of getting there sitting behind the wheel of a car. I realised I needed to research some options.
Travel options in Peru
The first idea that came to mind was to use private driver / guides for the separate legs of our proposed itinerary, but this was ruled out almost immediately as we got a better grip on the distances and potential costs.
Not long into my research phase I came across a bus company called Peru Hop, a nationwide Hop-on Hop-off company running luxury buses in an ongoing loop. Prices were reasonable, flexibility on travel dates suited our style and reports on the comfort onboard seemed more than promising.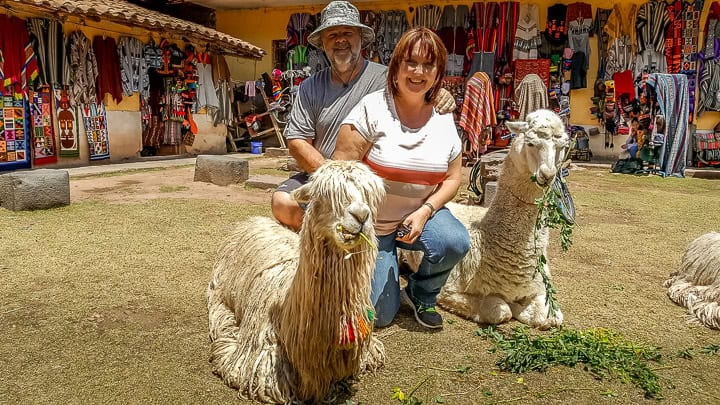 The only downside was the number of nights we would have to spend on the bus. Now I can't sleep on planes, which is a problem when you live in Australia and every other place is 8 – 24 hours flight time from home, so my confidence in being able to sleep on a bus was zero. This would mean wasted hours in hotels while I caught up on some rest.
The third option was to do the trip as part of an organised tour group and, as an experienced Travel Agent, I was not excited by this prospect at all. I had always felt these tours were little more than old people watching the world go by through a luxury coach window. Herded on and off and expected to adhere to a strict timetable.
However, I also knew that there were companies that offered a much different group tour experience. They use a variety of local transport options, keep group numbers low, and build free time into their itineraries. Now this just might be something we could live with.
The adventure begins in Lima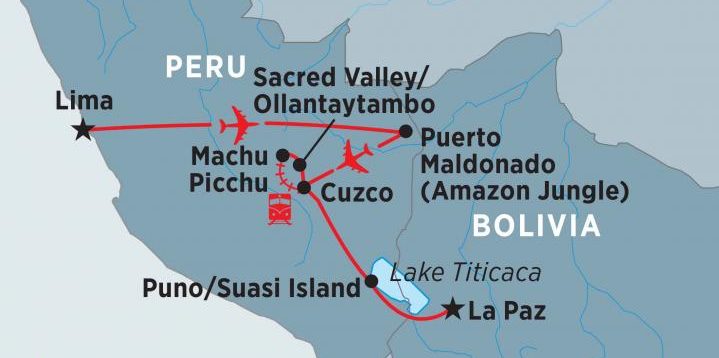 No matter how hard we try it is common for the Williamsons to be late, and the start of this tour was no different. Well, it was different in that it really wasn't our fault, unfortunately airlines really don't care if you have to be somewhere at a certain time.
While we sat in the typical "economy comfort" of our flight from Buenos Aires, our tour companions set off on what we were told was an interesting and scenic walking tour of Lima, trying some of the uniquely Peruvian sweet snacks and getting an insight into what the next two weeks had in store.
Luggage collected, airport transfer guy found, crazy airport traffic successfully navigated, we headed to the beautiful, upmarket suburb of Miraflores to meet our fellow travellers and Tour Director. Just in time for dinner!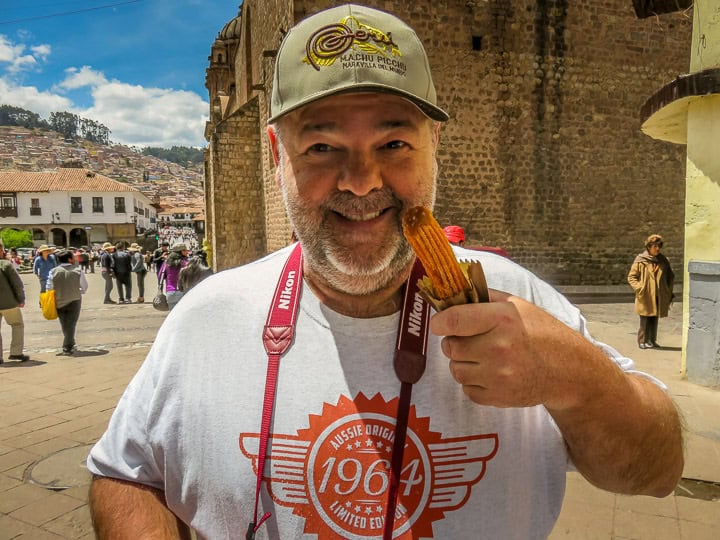 Our guide, Vanessa, is a Lima local and knew of the perfect spot for us to eat and get to know each other before the real action was to start the next day. We tried traditional Ceviche and Lomo Saltado, but nobody was quite ready for any of the more exotic national dishes, which would create some memorable moments deeper into the adventure.
Our Highlights
eating my first ever Churro Rollenos – a freshly cooked, crispy churro filled with molten dulce de leche. This may have been my first, but it definitely wasn't my last on this trip.
Amazon bound
Before the Geography Police start spamming me with a correction that the Amazon River does not run through Peru, let me clarify that much of the jungle in Western Peru is in the Amazon catchment area and still falls under the general Amazon name.
Read our in-depth review of the time we spent in the Peruvian Amazon.
Up and over the Andes by plane and a couple of hours later we were in another world. No fancy airport in Puerto Maldonado, no waiting in a seemingly neverending holding pattern hoping for a landing slot to open up. It's just get there, land, get your bags and get on your way.
It probably wouldn't come as a surprise to find out that it is hot and sweaty in the jungle, so a 13 seater van with questionable suspension and an open driver's window as air conditioning would not have been our first choice of transport. But then again, a 50 seat luxury coach takes away the local flavour, so we made the most of what we had.
Eight travellers, a Tour Director, a local guide and a driver packed into the van for the short ride to our meeting place. If we thought our ride was quite an experience then spare a thought for nine people's luggage which had been precariously stacked into a rooftop pyramid by a handful of locals.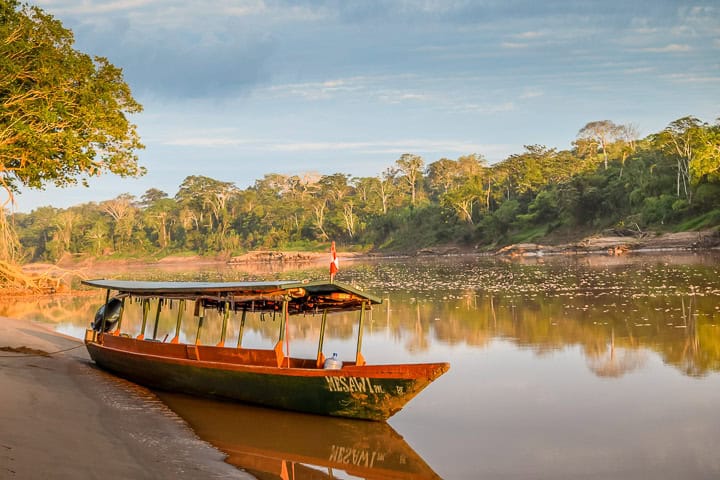 At the office of the lodge owners, it was time to downsize. Your suitcase will not be joining you at the Jungle Lodge, but staying here at the office. So pick out some clothes for the next few days and fill the provided duffle bag before squeezing back into the minivan for the short hop to the river.
The Tambopata River was brown but looked more like something from Wonka's Chocolate Factory than dirty or polluted, birds and animals dotted the riverbank, while friendly locals waved vigorously as we cruised by in our motorised longboat.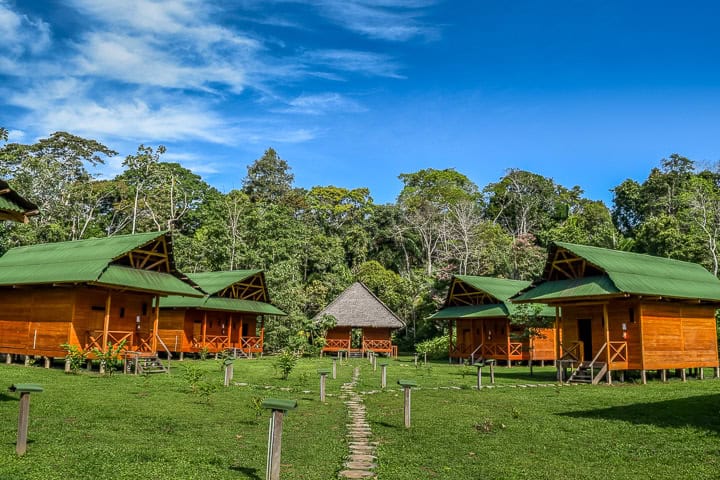 The cruise to the Lodge took about an hour and we were fed an intriguing local rice and vegetable dish cooked and served in banana leaves. This was amazing and the adventure had only just begun.
The lodges are owned and operated by the indigenous Infierno tribes, a word which translates to "Hell". Rest assured other than the heat there is nothing hellish about the experience you will have with these warm and generous people.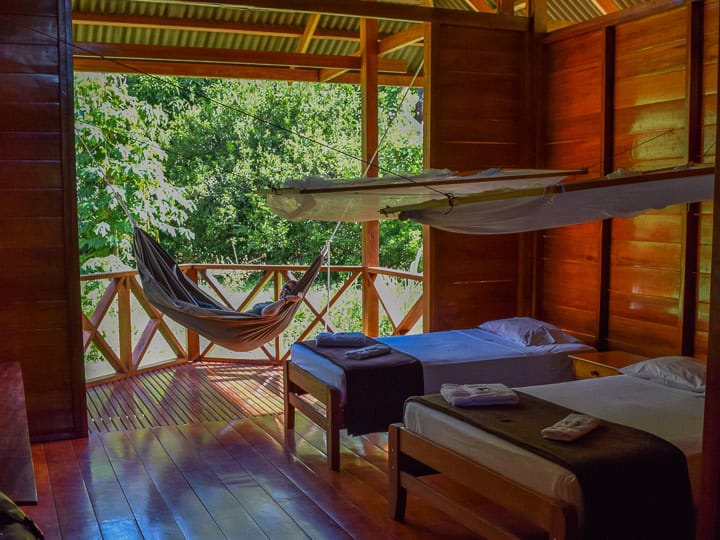 The cabins also gave us an exciting surprise. Nobody expected to walk through the front door to see that the cabin had only three walls and the entire back was completely open to the jungle. It is both scary and mesmerising to lay in bed staring at the tree line while listening to the sounds of the jungle, especially the rumble of the Howler Monkey alphas.
This exhilarating commune with nature lasted three nights for us. I think this is a good move as the downtime during this stay was a bit long for us, and the activities could certainly have been worked into a more active two-day stay.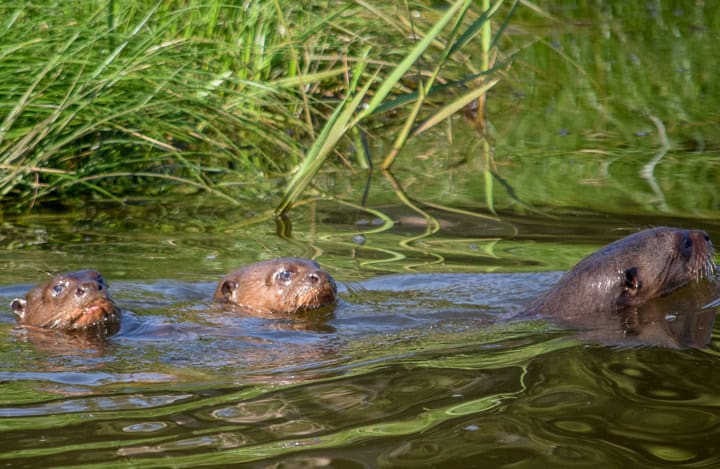 This is the type of place I never really had plans to stay but it proved to me that you should always be open to any new experience that comes your way. A closed mind is a surefire way to miss out on life's greatest opportunities. The location was remote, the staff and lodgings were beyond expectations, and the surrounding wildlife plentiful and varied.
Our Highlights
staying in a Jungle Lodge with the actual jungle as one of your walls.
watching around 50 monkeys playing in trees close to the Lodge.
fishing for Piranha – and eating one of the little beasties instead of it eating us.
the abundance of colourful Macaws and parrots eating the clay on the riverbank.
watching a family of otters frolicking in the reeds of the lake, alongside our boat.
laying in bed listening to the Howler Monkeys and other animals.
Spotting Caiman and Capybaras on the river bank.
learning about bush medicine and meeting Tarantulas.
On top of the World in Cusco
An almost mirror image of the first day today as we head back along the river to the office, hand in our loaned Duffle bags, and reacquaint ourselves with real suitcases. Roof pyramid reconstructed we once again make like sardines and squeeze into our travelling can.
It is only a short flight of around 35 minutes to Cusco but it is one of the most dramatic. From the Condor's eye views of chocolate rivers snaking through the unrealistically green landscapes to the landing in Cusco, where the mountains are so close to the airport you would swear the wingtips will touch them as you come in for landing.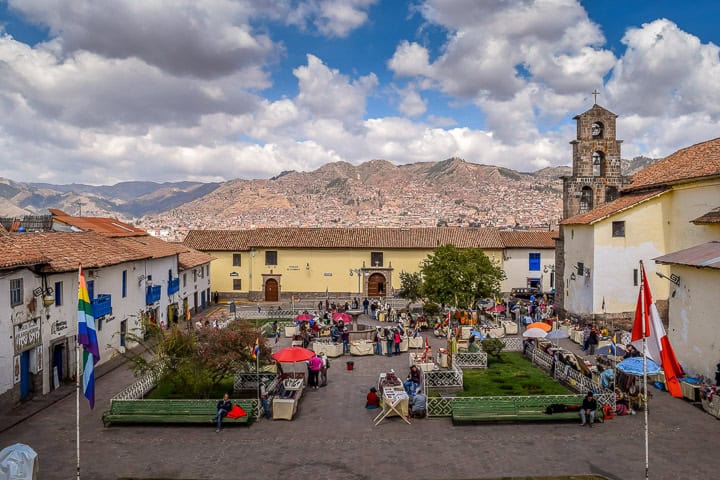 Next thing you know the minibus transfer is dropping you at your perfectly located hotel. At this stage you may also notice that even a minimal exertion will feel like you have just completed a five-mile run, dragging a full suitcase, while wearing snorkeling gear. In other words, the altitude is high, the air is thin and breathing can be a challenge.
A couple of our travel companions struggled with altitude sickness and Vanessa introduced us to coca leaves. Now these may have a more sinister use but in this case, they are an old Incan remedy for the effects of altitude. It was interesting watching members of our party shoveling leaves into their faces, while I avoided any symptoms and settled in at the bar to try Peru's signature cocktail, the Pisco Sour.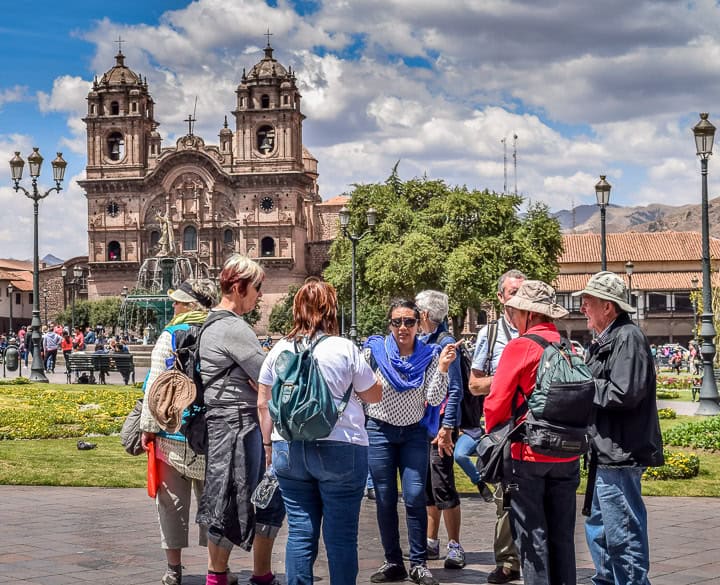 I never thought I would enjoy a beverage containing an egg white but this was just another example of leaving your preconceptions at home when you travel. They do recommend avoiding alcohol when you are acclimatising to the elevation but I figured one wouldn't hurt. It didn't and so I figured a second wouldn't hurt either!
The afternoon was spent wandering the vibrant streets of Cusco, with Vanessa pointing out some of the many interesting locations and sights. A stroll through the bustling local markets had a couple of our group wincing at the smells, but Pauline and I couldn't wait to get back and taste some of the dishes on offer.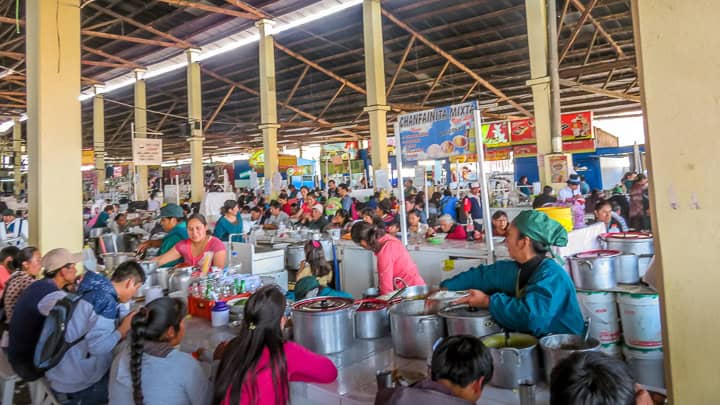 Another great way I have found to discover new tastes is to not be afraid of "wasting" money by buying some food you may not like. In markets like this, the food is incredibly cheap so even if you do not enjoy your meal, it doesn't break the bank to try it. As I like to say, better to regret doing something than to regret not doing it.
Cusco is my favourite city in South America (so far). It is a nonstop collection of rich history, colourful markets, and diverse architecture. Populated by a veritable United Nations of backpackers, indigenous locals, and expats who agree with me about this being an amazing town worthy of more time. And you will likely hear almost every language known to man during your stay.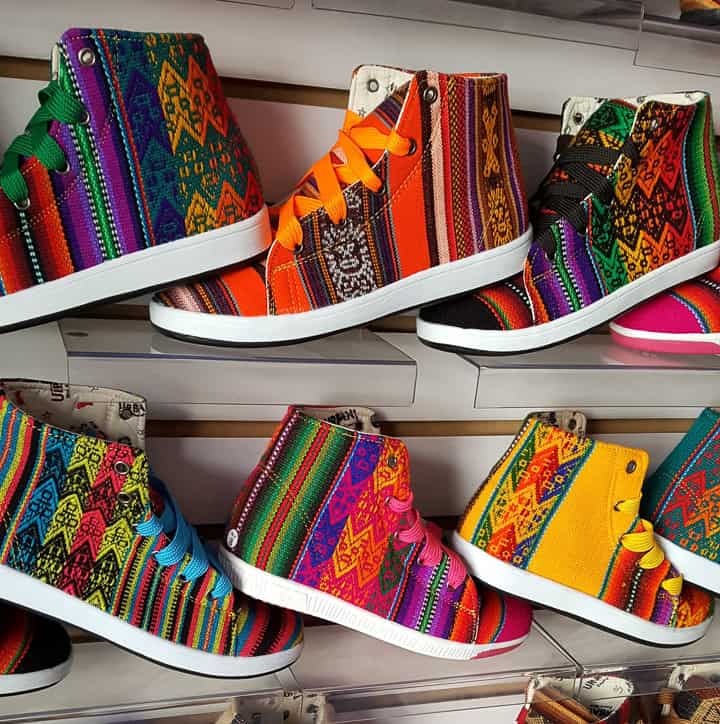 Our Highlights
experiencing the colours of the tourist market and the assault on your senses at the local food market.
seeing the indigenous ladies in their magnificent traditional dress as they go about their day.
walking through laneways with walls that demonstrate the Spanish invasion and defeat of the Inca.
discovering that coca leaves can help with altitude sickness and that a cocktail made with raw egg white tastes better than it sounds.
A trip through the Valley of the Gods to Machu Picchu
Back into a minibus again today but at least we don't need another roof pyramid. Backpacks only, and another specialist local guide, as we head through the Valley of the Gods to Machu Picchu. But let's not get ahead of ourselves, the road between here and there will provide some of the best memories of the entire trip.
Read our in-depth review of our day travelling through the Valley of the Gods.
Just a short drive up the hill to the ruins of the Inca city of Sacsayhuaman (yes, it is pronounced like "sexy woman"). This must have been an imposing sight for visitors during the height of Inca rule, even though the Spanish destroyed much of the city and took the stones to build their own Cathedrals in Cusco, enough remains to allow you to grasp the magnitude and construction skill of the original builders. Plus the view of Cusco in the valley below is as breathtaking as the altitude.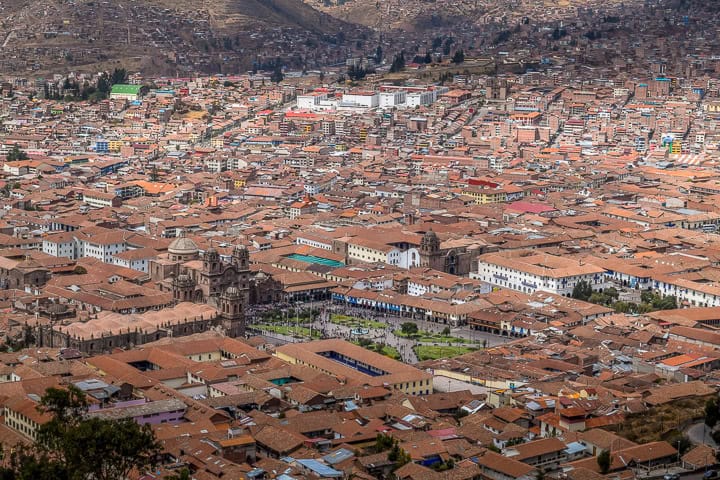 The day is far from over and just keeps getting better with a visit to a small community where we spend some time at a local chocolate maker and a family making pottery. Pretty cool but then we were in for the real treat; lunch in a family home.
We are not talking huge hacienda with servants doing the work while a glamorous host regales us with witty anecdotes. This is the real thing, a local family serving us the food they make for themselves.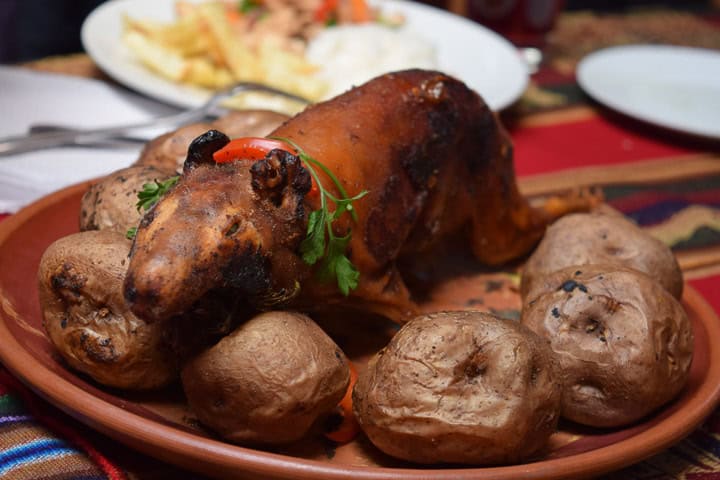 A deceptively tasty quinoa soup makes its way to the table, followed by the family's interpretation of Lomo Saltada. While that was delicious, we were in for a surprise, both visually and then to our taste buds.
In truth, it was more difficult to try the typically Peruvian Cuy when it came out as a full guinea pig on a bed of potatoes. We did request they cut it into pieces before we could try it for ourselves. The verdict; it did not taste like chicken! But it did taste quite good, like stringy beef. I would be happy to try it again, Pauline… maybe not.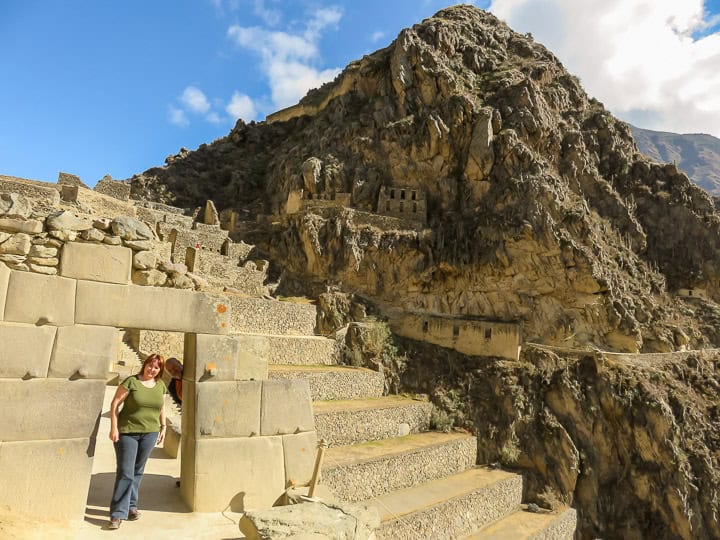 An incredible day so far but I feel the best was still to come. Mid-afternoon you will roll into the small Town Square of the Inca Fortress town of Ollantaytambo. Steeped in history, and surrounded by Incan ruins, this is certainly the perfect warm-up for our upcoming visit to Machu Picchu.
This town is the site of one of the greatest battles between the Inca and the invading Spaniards led by Pizarro, with two major sets of ruins on the hills on either side of the town. The great Citadel of the Inca, home of King Manco Inca, on one side and the equally impressive Granary on the other.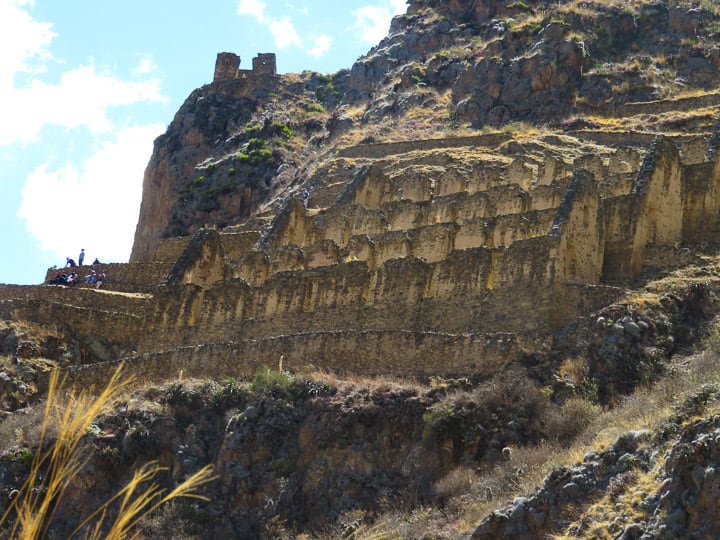 I recommend exploring the Granary when you arrive the first afternoon, and the Citadel as soon as it opens the following morning. I also have an insider tip to share… when you enter the grounds of the Citadel do not follow the signs pointing in the suggested direction of the trail, head off in the reverse direction and you will get plenty of time for crowdless photos for most of your visit.
Our Highlights
the view of Cusco from high above the city.
our first taste of traditional Cuy. And to have it served in a local house in a small village.
wandering the ruins of the Citadel of the Inca at Ollantaytambo.
Machu Picchu – a true Wonder of the World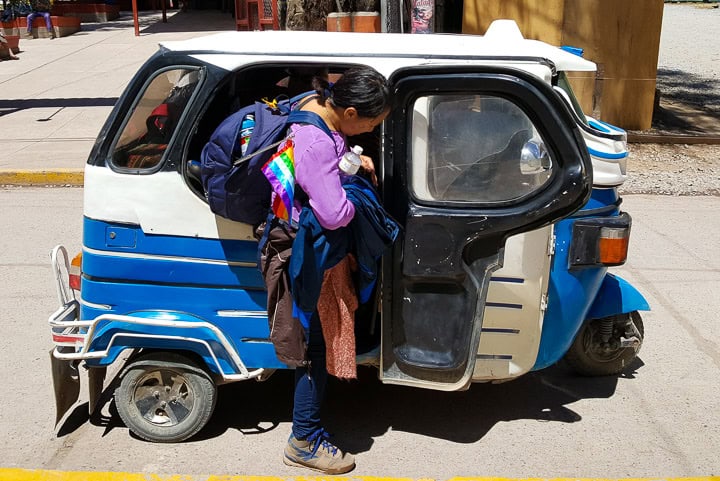 It was just a few hundred metres from the hotel to the train station but why walk when you can wedge yourself and your luggage into a motorised Sardine can? Not exactly comfortable but the local Moto-taxis are certainly the "cosiest" public transport option we have ever used.
Read our in-depth review of how to spend a day at Machu Picchu.
A ninety-minute ride in air-conditioned comfort aboard the Inca Rail to the town of Aguas Calientes sure beats bumping around in a minibus, and definitely beats a couple of days hiking and camping to get to the same place.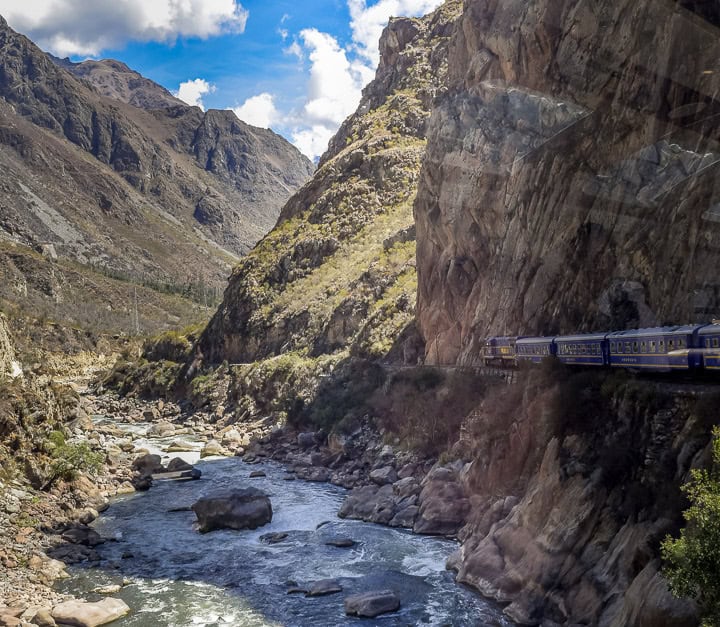 We arrived early afternoon and, after a quick freshen-up in our perfectly located hotel, met up with most of the group for a late lunch and a quick look around town. This place is jam-packed with hikers as it is the gateway to Machu Picchu. Most of them have just completed days of strenuous hiking and looking for some way of soothing tired muscles and relaxing.
As luck would have it, the name Aguas Calientes literally means hot waters, or hot springs in this case. We decided against a visit to the springs as we had heard it has become more like a giant warm bath for dirty and sweat-covered hikers rather than a relaxing place to enjoy your surroundings. What we did instead was spend a few hours at the massive tourist market next to the train station.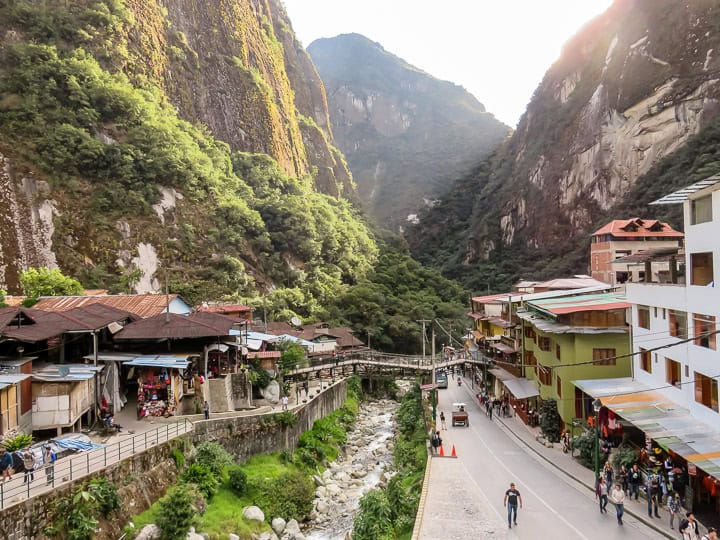 The following morning we were lined up with hundreds of others, waiting for the buses to take us on the short trip up the mountain to Machu Picchu. It was 5:30 am, it was dark, there was a light rain falling and it was on the cold side of cool, but none of that mattered… I was about to experience the place that topped my travel bucket list.
The bus ride is a challenge for the faint of heart or, as in my case, those who suffer from a fear of heights. The road is a collection of steep climbs and falls, and a seemingly never-ending sheer fall, far too close to the edge of the road. I closed my eyes and hoped for the best.
There was still the final hurdle of waiting for the site to open and those same hundreds of people we lined up with for the bus now joined us lining up to pour through the gates and witness the main attraction.
We entered the main gate, climbed the couple of hundred metres to the Insta-famous viewing area, and…. nothing! We were right in the centre of cloud so thick we almost needed fog horns to keep from crashing into each other. So it seemed like the perfect time to hike to the Sun Gate or Inti Punku.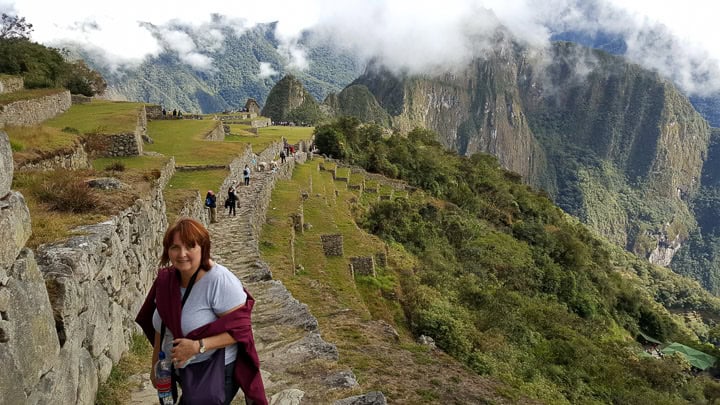 It takes 90 minutes to get to the top and is a good test of your fitness. Sure it's no Inca Trail hike but it's uphill all the way on dirt and Inca stone tracks. And the view from the top is absolutely spectacular… or so they tell me. The best we got was a couple of snatched glimpses through the clouds.
The good news was that 90 more minutes later we were back down at the main area of Machu Picchu and the clouds had cleared to give us that picture-perfect view everyone hopes for when they visit.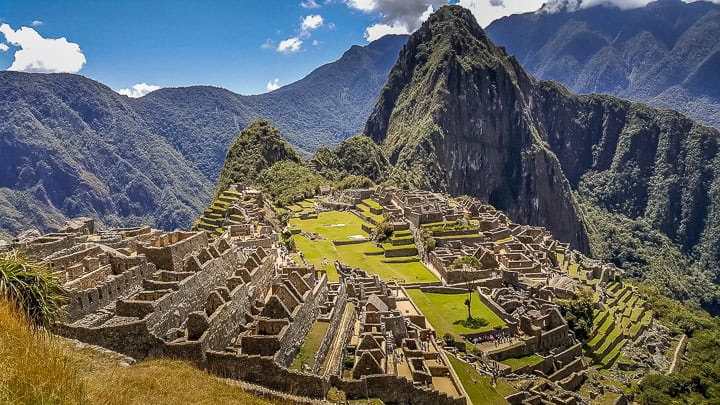 And that's where this story began, with me sitting and staring in awe, in my own little world. I had dreamt of this moment for many years and, while everyone else jockeyed for prime selfie positions, I thought of nothing but how amazing this was and how it surpassed my already lofty expectations.
A few hours later it was time to head back to Aguas Calientes, grab our bags and make our way back to Cusco. This had been one of the best days of my life, and also a perfect way to spend the day of our 25th wedding anniversary.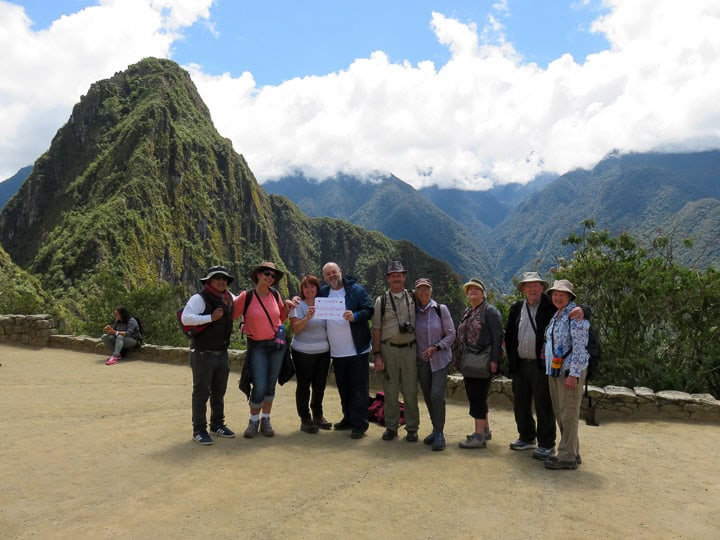 Our Highlights
having time to simply sit and take in the incredible spectacle of Machu Picchu
the views from the Inca Train as you ride through the mountains
Cusco, even better the second time
They say that your Tour Director can make or break your trip, during my time as a Travel Agent I had guests booked on the same itinerary on different dates regularly, and it was common to hear how one person loved it and raved about their TD while the next person was very disappointed in the same tour and didn't like the TD.
As mentioned previously, our TD was Vanessa. A Lima local who runs her own tour business when she is not freelancing for the big companies. And let me say, she made this tour one of our best ever trips, a big call from someone who was adamant they would never go on a group tour. Definitely contact her at Adventurous Travel when you are planning a Peru trip.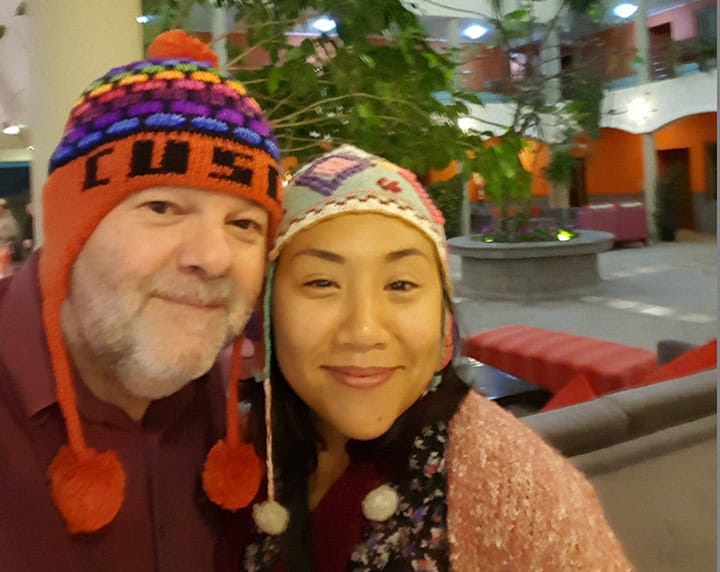 This second visit to Cusco is the perfect example of Vanessa's determination to delight her guests. I had let her know that we were celebrating our 25th anniversary and she went out of her way to do three amazing things for us:
while we were all lining up for a group photo at Machu Picchu, Vanessa pulled out a sign she had made and had us stand in the centre of the group for the shot. It said Happy 25th Anniversary Dean and Pauline.
She arranged for us to be upgraded to a Balcony Room on this second visit to Cusco, giving us an amazing view of the markets and, as luck would have it, a street parade that just appeared out of nowhere. She tried to claim the parade as her doing but I am skeptical!
She arranged a reservation for us to have dinner at the most romantic restaurant in Cusco, the absolutely brilliant Fallen Angel.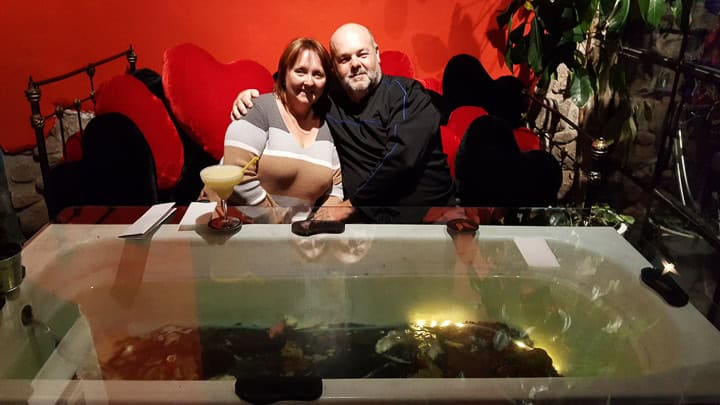 Our Highlights
watching a street parade from our hotel balcony
our anniversary dinner at Fallen Angel restaurant
walking around the city on a dulce de leche hunt. I just can't get enough of this delicious South American condensed milk caramel, and I found a number of different pastries filled with it during our walk.
watching the locals playing soccer and basketball
Lake Titicaca, water at the top of the World
Another early start on a day that read like a terrible travel day in the brochure. Ten hours on a bus from Cusco to Puno, on the shores of Lake Titicaca, is not my idea of a fun time.
Read our in-depth review of the bus trip from Cusco to Puno.
Turns out there was nothing to worry about. Not only was the coach extremely comfortable and air-conditioned, but there was also a drink and snack service and a stop at a buffet restaurant for lunch. Not to mention the other scenic and historic stops along the way to break up the day.
We arrived in Puno late in the afternoon and all anyone wanted to do was have a shower and a bit of a rest before dinner. A couple of our group were still feeling the effects of altitude sickness and stayed behind while the rest of us followed Vanessa for a short walk around the Town Square and then to an awesome little restaurant she had visited on previous trips.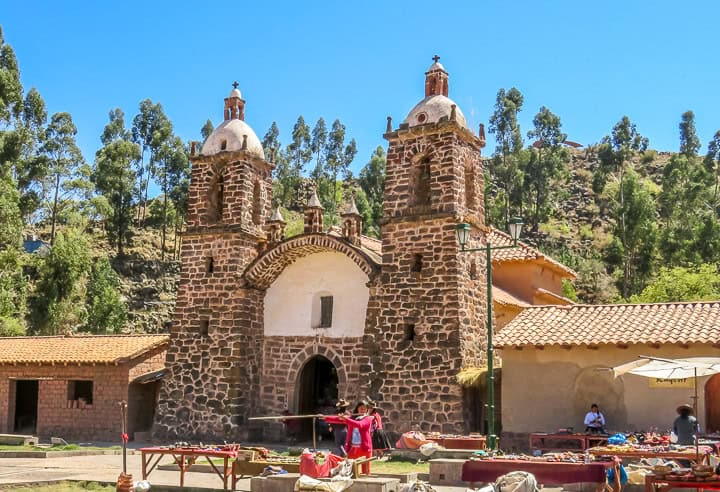 A quick note on the ongoing altitude issues. Our group had been affected in different ways, while I felt nothing more than shortness of breath whenever I tried to do things at the normal, sea-level pace, Pauline and a couple of others were suffering from headaches as well. One of our group had to have medical attention and was still struggling with serious respiratory issues.
With this in mind, it seems the perfect time to remind you that most of this tour takes place in some seriously high places, and even though the tour itinerary has been designed to build up as evenly as possible, you will feel some effects. Seek medical advice before booking if you have any heart or respiratory history.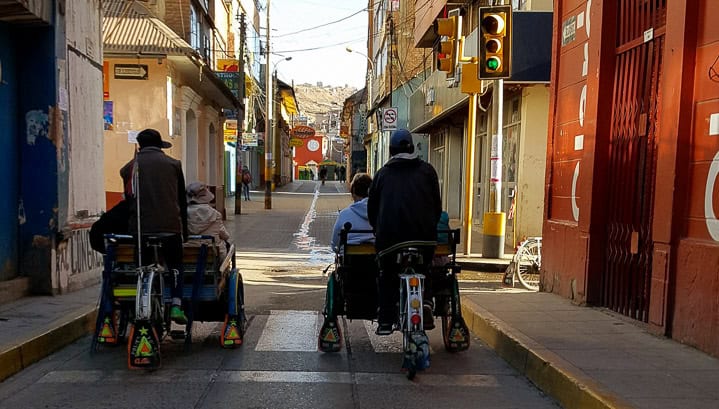 The following morning we meet outside the hotel to find Vanessa waiting with another quirky local means of transport, five Pedicabs. This is a fun way to get around at any time but on this occasion, the drivers were in the mood to race. Cheered on by their passengers they made the ride to the edge of the Lake even more memorable.
We sped across Lake Titicaca in very comfortable cruising speed boats and had a short history lesson from one of the guides. Lake Titicaca gets its name from two words in the local dialect, Quechua. "Titi" is the local word for Puma and it is believed the surrounding hills were home to large numbers of these wildcats.
The second word is "Caca" and, as our guide pointed out, must be pronounced with a very throaty inflection, like you are gargling. Pronounced correctly it translates to mount or mountain, and so it is the mountain of pumas. However, when "Caca" is pronounced in the usual Anglo way it just means pooh, and so the place would be puma pooh! We made sure to use the correct pronunciation around him from then on.
I then found myself in the position of checking off another high-ranking item on my travel bucket list, and one that often goes hand in hand with a trip to Machu Picchu. I was walking on the famous floating islands, home to the Uros people, and what a weird sensation it is, almost like walking across a trampoline as the ground below you compresses and then rebounds.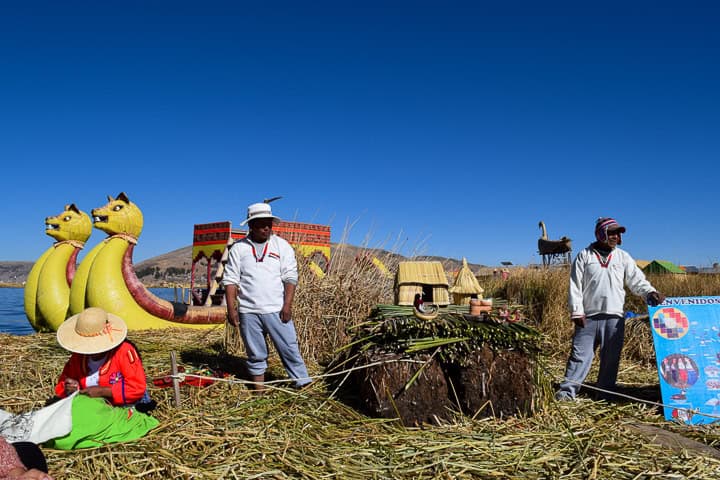 There was an interesting lesson from the tribesmen on how the islands are constructed before we were invited into their homes to witness how they have lived for hundreds of years and to try on some of the traditional clothing. It was a lot of fun and they are beautiful and warm people, but it was the two little girls who stole the show for me, letting me take their photo and then pointing and giggling at themselves on the screen. Something I will never forget.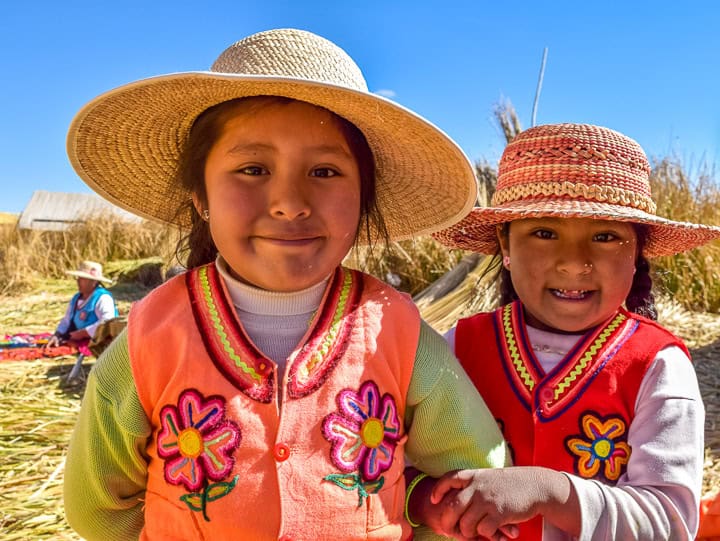 The day then continues on Taquile Island, a more standard, dirt and rock-based island in the middle of the lake. We were here for lunch but we had to work hard for it. The surface of the lake is almost 2.5 miles (4km) above sea level and so the air is already thin, what we discovered was that we needed to climb a path to the main village that rises another 250 lung-busting metres.
This is the home of the original Quechua people, who live a simple and self-sustaining life. So lunch was also simple but very enjoyable, made from the produce of the island, although I have my suspicions that the Cokes were probably not locally produced. A quick wander around the village and it was back to Puno for our final night in Peru, for tomorrow we cross the border into Bolivia.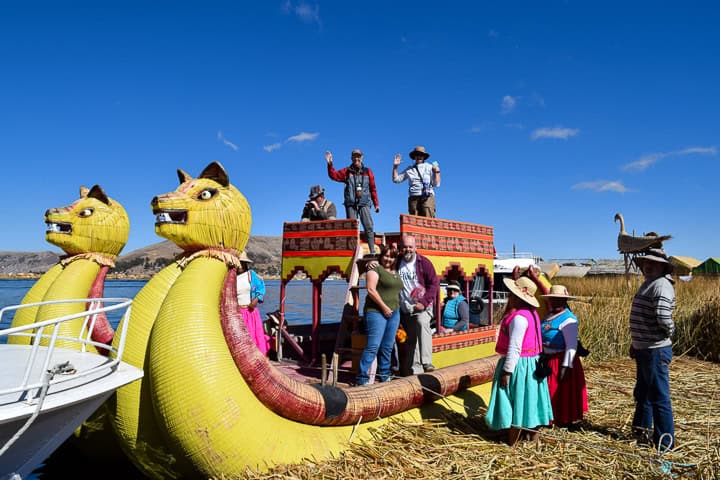 Our Highlights
our pedicab race through the backstreets of Puno
walking on the floating Uros Island and meeting the beautiful people who call it home
dressing up in traditional Uros clothing for some fun photos
sailing in a traditional Uros reed boat.
La Paz and the "secret agent" border crossing
Another minibus ride today as we skirted the lake and headed to the Bolivian border for our final tour destination, La Paz in Bolivia. The trip was fairly uneventful, highlighted by the driver stopping to get us all some of the local bread which was a nice gesture. Things changed as soon as the border came into sight.
Apparently, things can get a bit frosty between Peruvians and Bolivianos, not necessarily the everyday people but anyone associated with either government. We learned that our driver would be leaving us at this point and we would have a Bolivian guide, driver, and van on the opposite side of the river.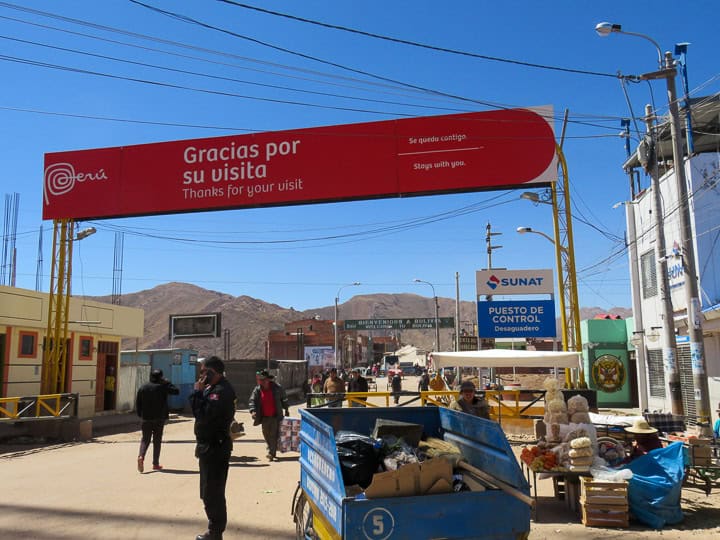 We made our way awkwardly through the crowds, people everywhere and traders loading and unloading trucks, dragging or carrying goods of all types across the border. Apparently, it's not just the bus drivers who are not welcome to cross into Bolivia. It was hot, and the dust from the street stuck to our sweaty necks and faces.
The Bolivian Immigration Office looked like the stereotypical Hollywood idea of a South American border crossing. It is a dingy building with long corridors, peeling paint, and heavily barred windows, and the line moved very slowly while the temperature seemed to increase with every step.
The Immigration Officer eyed every one of us with suspicion, I'm sure he checked our real faces against our passport photos at least three or four times each. The thing that made it almost surreal was that we were told not to let on that we knew Vanessa at all, she would be crossing the border with us to continue as our Tour Director but was not supposed to be working in Bolivia.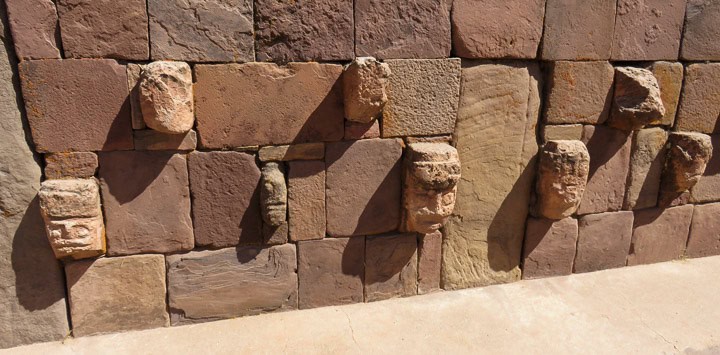 Our first impressions of this new country were not great, and it wasn't until we stopped to witness the Pre-Columbian ruins at Tiahuanaco that things started to look up. Sure it's no Machu Picchu but what is? Except for Machu Picchu! It does, however, have some really unique items of great historical significance and interest.
Not long after that, we caught our first glimpse of the city of La Paz sprawling across the valley below us and that's when our opinions really changed on Bolivia. It is an unusual city, slowly spreading higher up the surrounding mountains as the population increases, with houses becoming more and more precariously placed.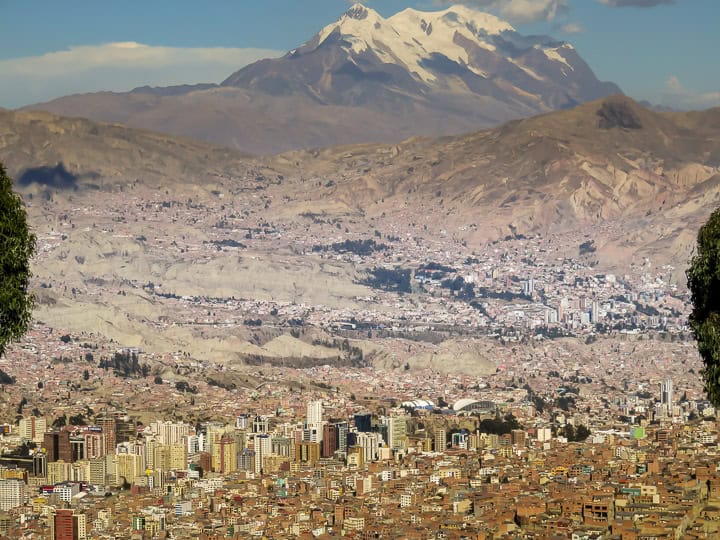 Another perfectly located hotel, something for which we highly commend Peregrine Adventures. There is no way we could complain about any of the accommodation choices on this tour and again we found ourselves right beside a flourishing market and close to bars and restaurants.
While most of the group chose to eat at the hotel, Pauline and I took Vanessa to a little "hole in the wall" place a few blocks from our hotel for dinner and took her advice on what to order. There is nothing better than having a companion with local knowledge, especially when it comes to dining.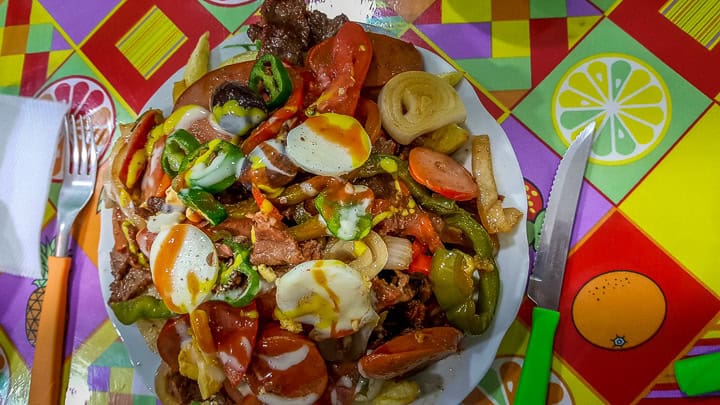 The place had about half a dozen plastic outdoor tables and chairs to match squeezed inside and was busy with locals, which is always a good sign. The food was crazy! Served on plastic plates it was impossible to eat politely as so much was piled on the plate any attempt to stick a fork in pushed something else off the plate. It was ridiculously cheap and definitely delicious.
The tour itinerary had nothing planned for our final day in La Paz which was really the only letdown on the entire itinerary. (*the current itinerary has been changed and there are now scheduled activities in La Paz).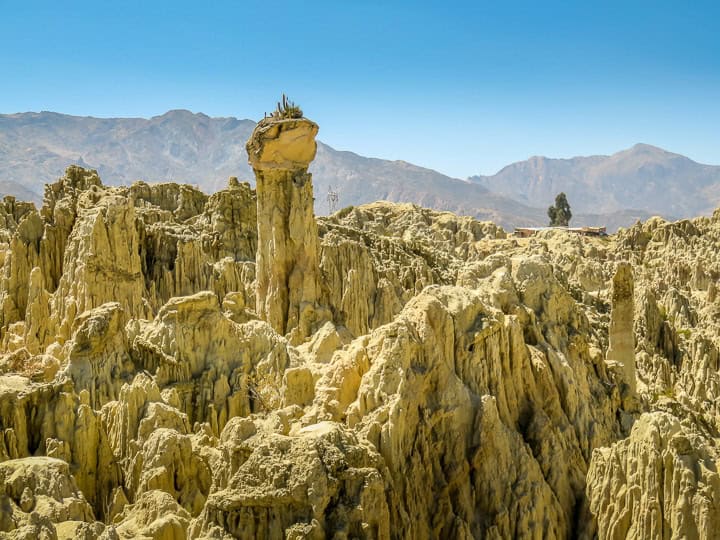 Thankfully Vanessa came to the rescue again, organising with our local guide to give us a minibus tour of some of the city's highlights, including the alien-like landscape at Valle de la Luna, or Moon Valley, a "thrill" ride on the cable cars, and a chance to wander around the town square and the Witches Market.
Yep, that's what I said, the Witches Market. Your one-stop shopping street for all of your Voodoo and magic needs. It is a place you have to see to believe. For a day that began with no plan, it turned out to be pretty awesome. Unfortunately, it also brought our Inca and Amazon Adventure to a close. The group was heading off in different directions but friendships and memories had been firmly established.
We did have half a day to ourselves as our flight was in the evening and we just wandered the streets, soaking up the local way of life. We noticed a group unpacking their mountain bikes and found out they had just returned from riding the infamous "Death Road". The tour operator asked if we might be interested but a very quick, yet polite "No thanks" was our answer.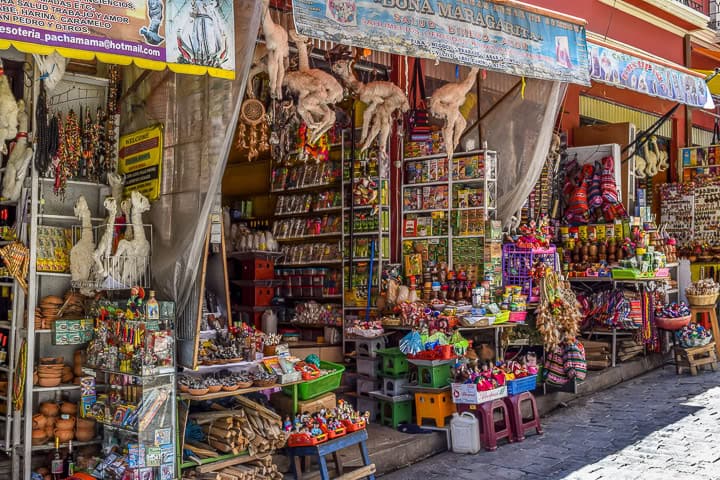 Our Highlights
our adventurous border crossing
the weird and wonderful Witches Market
watching kids playing in the beautiful La Paz Town Square
walking through the otherworldly landscape of Valle de la Luna.
wrestling with my fear of heights to ride the cablecar
Final thoughts on organised Group Tours
Before we started I doubted that this would be one of my favourite trips ever. To be honest, I thought the only things I would enjoy would be my time in Machu Picchu and on the Floating Islands, but I can admit when I am wrong.
I still have no interest in joining a bunch of "old people watching the world through a bus window" on some of the regimented luxury coach tours. Being told where to be every minute and slowing the tour down to the pace of the slowest guest is not my thing. However Peregrine had plenty of free time built into their itinerary to give us the bit of freedom we love during our travels.
Going beyond a standard coach tour by having us travel by other means like a minibus, longboat, pedicab, speedboat, moto-taxi, and train added enormously to the sense that you were experiencing the places rather than just seeing them.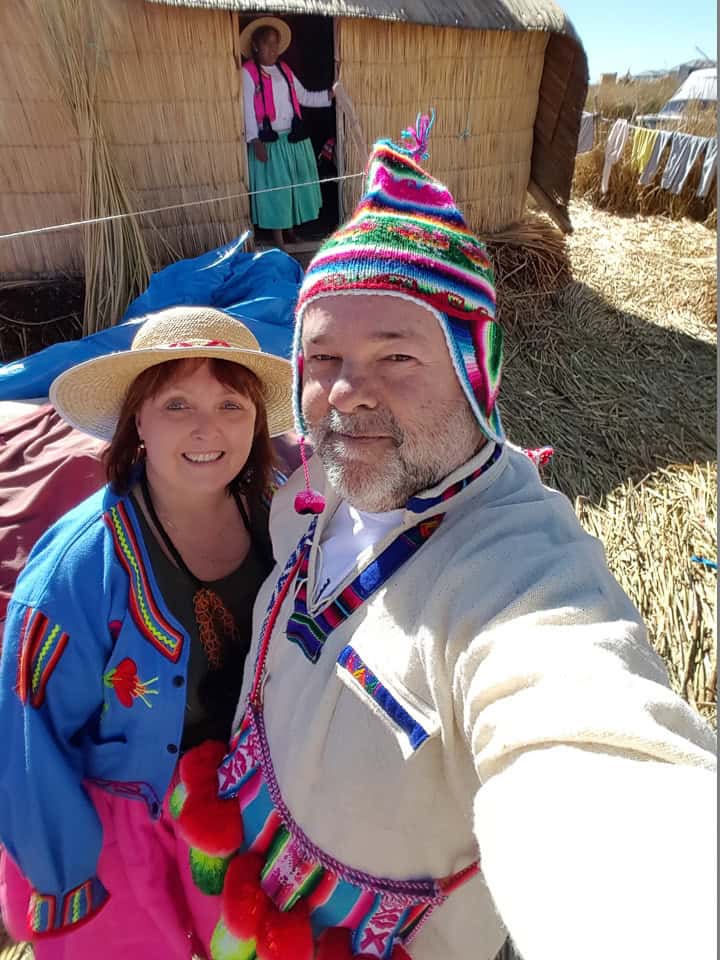 But it was the efforts of Vanessa that made this trip a massive success for us. She went above and beyond to help us personalise the trip in any way she could. She made such a great impression that we have plans to go back to Peru to visit her and meet her family in the next couple of years. Contact Vanessa if you are looking to arrange something in Peru, she is now offering Lima tours and even some extended options.
Would we go on another Group Tour? Only after researching the company and getting some honest reviews.
Would we travel with Peregrine Adventures again? Absolutely! They have shown us that the product they offer is as close to our own preferred travel style as an organised tour can get. One small side note though… we will always choose to take a road trip in well-established places like Europe or USA, but when it comes to Africa, South America, and even parts of Asia we will certainly be checking what they have on offer.
Let us know in the comments how you feel about group tours and if you have travelled with Peregrine Tours.