The land Downunder and its little brother New Zealand are a long way from the rest of the world, and because of that distance, most foreigners know very little about these island nations beyond Sydney's iconic buildings, kangaroos, and kiwis. But make sure to add some of these best places in Australia and New Zealand for a short getaway to your plans.
To show you some of the magnificent places you might be missing we have asked some experienced travellers to let us in on their favourite places in Australia and New Zealand to get away for a few days.
And to save you from severe culture shock we will start off with the obvious, but still truly visit worthy Sydney.
Sydney, New South Wales
with Stefano from Mel365.
Sydney is a city you cannot help but fall in love with. I still remember the first time I visited this beautiful corner of Australia. I arrived so early in the morning that I was probably one of the first people at Circular Quay, next to The Rocks, the site of the first British settlement back in 1788.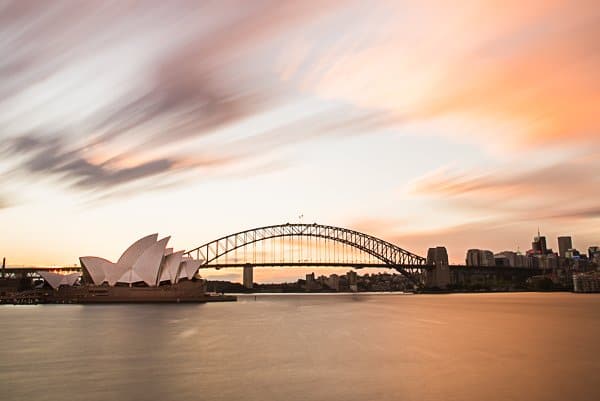 You have here one of the most incredible views in the world, with Sydney Harbour right in front of you, the Opera House on the right side and the Harbour Bridge on the left side. This is the place to start a short stay in Sydney.
Whenever visiting Australia or just for a weekend, Sydney has so much to offer. I live in Melbourne however I fly here at least twice a year. For the newcomer, I always suggest spending time at The Rocks and the iconic sites around the harbour. Then have a day in Bondi, the quintessential Australian beach, for some surfing and a swim in one of the many pools carved into the rocks along the coast.
What do I do on my short trips? Stay at other popular beaches such as Manly, enjoy the coffee culture of Surry Hills, have a good time with food and live music in Newtown and I could keep going.
Wollongong, New South Wales
The city of Wollongong is 80 km south of Sydney and is the ideal weekend getaway. The name Wollongong means 'between the mountains and the sea,' and that is literally what you get.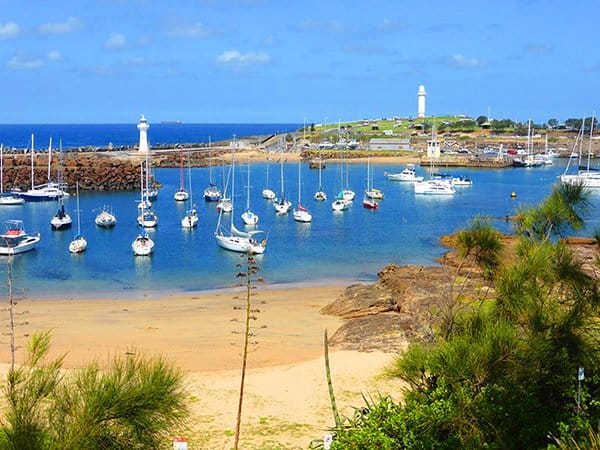 You can get to Wollongong by taking the Grand Pacific Drive, one of the most stunning roads in the world, which takes you through the Royal National Park, the second oldest national park in the world. You cross the Sea Cliff Bridge before hugging the coastline on one side, and the escarpment on the other and then you will arrive in the City of Innovation, Wollongong.
There are so many things to do in Wollongong which is a progressive and arty city that thrives on the beach lifestyle, you will also find the largest Buddhist Temple in the southern hemisphere here. As a weekend getaway, you can choose a beach weekend, a bushwalking weekend, a street art weekend, or an eating and drinking weekend because Wollongong is the perfect getaway in Australia…and we live here. #you'rewelcome
Bunya Mountains, Queensland
with Janine from Families Magazine.
Located approximately 3 hours northwest of Brisbane the beautiful Bunya Mountains are a tranquil slice of Queensland that will have you enchanted from your very first peek. It's impossible to visit and not be captivated by the crisp clean mountain air, those soaring Bunya Pines, and the majestic scenery that can take your breath away.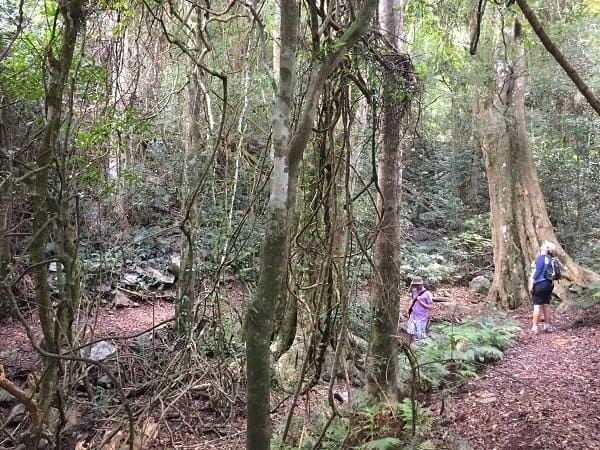 There is something for everyone at the Bunya Mountains; from bush walks to long hikes, and log-fire homesteads to camping grounds and more native wildlife than you could possibly imagine. The birds (king parrots, crimson rosellas, sulfur-crested cockatoos) are likely to eat out of your hand, they are so used the being hand fed! The wallabies, less likely to be hand-fed, are literally everywhere and slowly bound away if you get too close.
With limited mobile reception, there is no excuse to switch off your devices and soak up the natural environment. If you go on the last weekend of any month you can enjoy the Bunya Mountain Markets. The stalls are bursting with fresh local produce and artisan arts and crafts.
You can buy jewelry, pottery, baby goods, local fruit and veg, specialty teas, home-made pickles, jams, cakes, and more. With a small grocery store, two local cafes, and excellent accommodation at really affordable rates (whole houses from $100 a night), the Bunya Mountains should be high on your list of 'bucket-list' destinations.
Margaret River, Western Australia
with Michele from Legging It.
Living in Perth, the most remote city in the world our choices for a long weekend getaway is limited due to distance. However there are still many places you can escape, luckily we have the Margaret River area practically on our doorstep.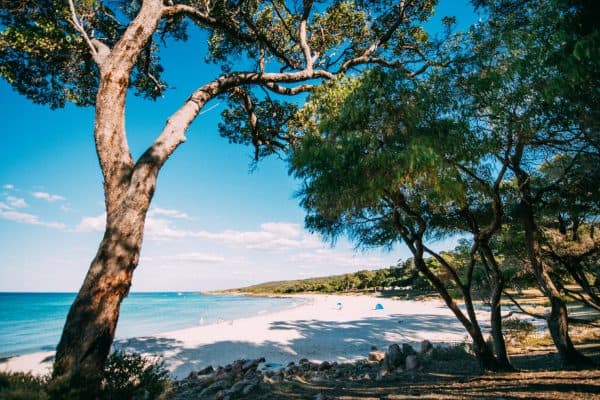 Situated just two hours south of Perth, it is an easy drive (or bus journey) with many beautiful places to stop along the way. We love going down there to enjoy the relaxed atmosphere, it offers many choices of accommodation from caravan parks to boutique hotels so you can always find something to suit your budget. Margaret River is a well-known wine-growing area so it is the perfect place to meander around and try some local wines and enjoy the award-winning food available.
There are also some beautiful coastal walks to take in the stunning coastlines and in the season the whales migrating are a sight to behold. Whether you are a foodie, a wine buff, a surfer, or just enjoy beautiful coastlines the area is a winner for everyone who visits.
Barossa Valley, South Australia
with Sandy from Tray Tables Away.
Being time-poor with work, teenagers and annual leave restrictions short breaks are often all we can do. But they are better than nothing!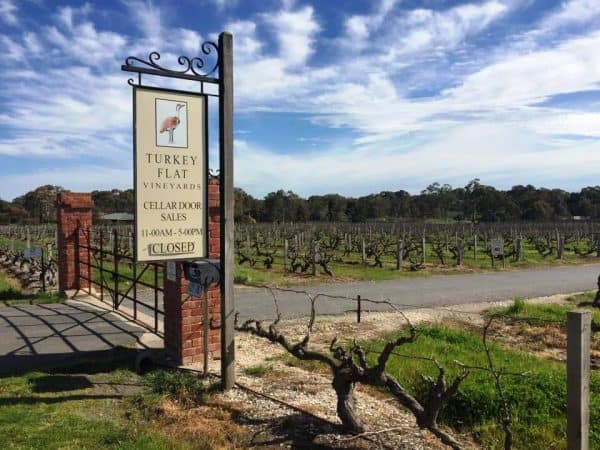 We've done so many over the years but a place that really stands out is the Barossa Valley in South Australia. There are so many great wine regions in Australia and we've done most of them but the Barossa stands out to us as a destination that ticks every box for the perfect short break – accessible, beautiful, easy to get around, relatively crowd-free, and of course, great food and wine!
We stayed in a beautiful chateau-style B&B in Tanunda which is central to everything and is home to some of the Barossa's best restaurants. Within a few kilometers in any direction, you can visit outstanding wineries such as Penfolds, Henschke, Jacobs Creek, St Hugo, and over 150 more.
There is a great farmers market, Maggie Beer's gorgeous cafe and store and you can extend your stay to include the Clare Valley to the North or the Adelaide Hills wineries on the way back to Adelaide ( which is only an hour away).
Cruise to Nowhere
with Penny from Itchy Feet Family.
Australians love to cruise, if you only have a weekend to get away why not try a weekend cruise to nowhere?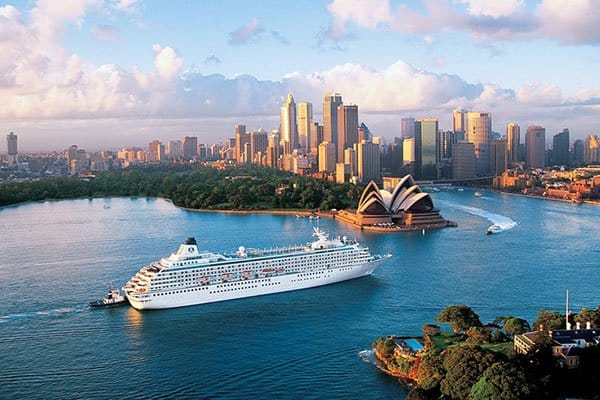 P&O Australia offers short break weekend cruises out of Melbourne, Sydney, Brisbane, Cairns, and Adelaide that collect passengers for a Friday departure and return early enough on a Monday morning that you can head straight from the ship to the office!
The ship does not port anywhere, it simply sails the seas for a relaxing weekend to nowhere. And many of the cruises are themed either Comedy or Food & Wine.
Spend a weekend of laughter at sea with late-night comedy shows, afternoon comedy workshops, and open mic nights. On the Food & Wine cruise, world-class chefs provide cooking demonstrations sharing recipes, tips, and tricks, sample wines from some of Australia's greatest winery regions, and relax. Two of the ships, Aria and Eden, even have a cellar door onboard for an afternoon of wine tasting.
Your meals are included and restaurants are readily available, no one needs to drive after a few drinks and your bed is only minutes from the dance floor. And for families, with an onboard kids club included in your fare, everyone is in for a fun weekend.
Broome, Western Australia
with Becca from Kanguru Adventures.
Broome is a small town in the upper part of Western Australia and a famous tourist destination in the Kimberly region. I love it for the relaxing atmosphere often called "Broome time" by locals.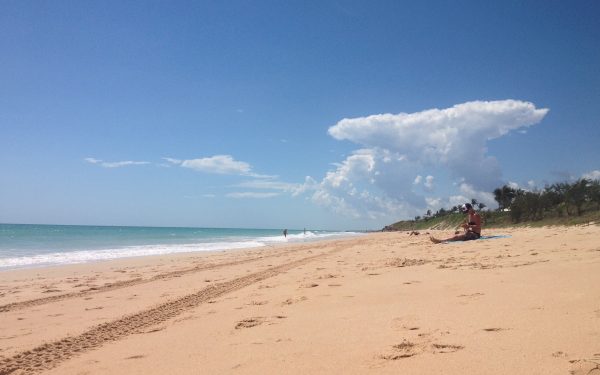 It is a great stopover after a long road trip around the West Coast. A lot of attractions and activities are free to visit like watching the sunset at Cable Beach. A great place for a relaxing day at the beach or join one of the famous camel rides along the 22
kilometres of white sand.
If you visit Broome at the right time, you might be able to see the Staircase to the Moon, a natural phenomenon best seen from Roebock Bay showing the full moon rising. You can also visit the local markets, where artists offer their crafts and stalls are selling food.
At Gantheaume Point you can see the dinosaur footprints or join some young adventurers jumping off the cliffs at high tide. For the fishing enthusiasts join the locals at the wharf and catch some dinner for yourself. Broome is although famous for its pearl farming, trips to Cape Leveque, and the Horizontal Waterfalls.
Coolum, Queensland
with Kathy from 50 Shades of Age.
If you are looking for a less hectic and uncrowded holiday spot on the Sunshine Coast, then the coastal town of Coolum is a great alternative to Noosa or Maroochydore. Just 15 minutes south of Noosa and 1 1/2 hours from Brisbane, Coolum still retains the charm of beach holidays from bygone years.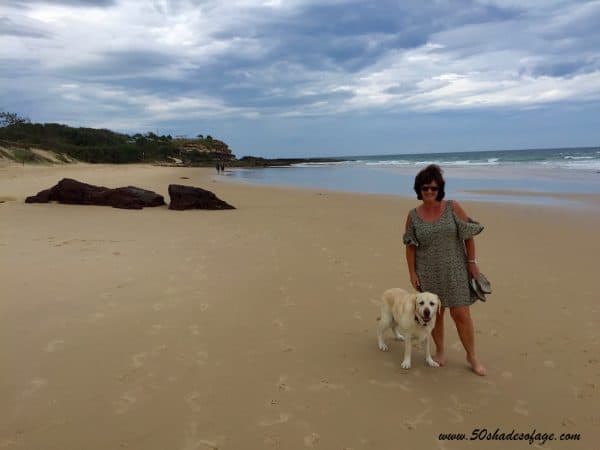 This is the place where my daughter lives and we like to visit often, sometimes staying in our caravan in the fantastic Caravan Park right on Coolum Beach.
Coolum is made up of kilometres of pristine beaches for you to stretch out and have all to yourself. You can also explore the Coolum bays to the south, First Bay, Second Bay, and Third Bay, between the scenic lookouts at Point Perry and Point Arkwright for a private beach. Or you can head north to the Stumers Creek end of Coolum Beach, which is a dog-friendly area.
Coolum is surrounded by exceptional walking trails and excellent bike tracks. With levels of difficulty ranging from easy to fairly strenuous, there is something for people of all levels of fitness. For those looking for a challenge, the Mount Coolum walk to the summit, although challenging, rewards you with majestic views of the Sunshine Coast.
Coolum offers a wide range of cafes and restaurants perfect for a quick bite or a leisurely meal. The newly renovated esplanade on the David Low Way is a lovely shady spot to enjoy a coffee or meal and watch the world go by.
Perisher, New South Wales
with Gordy from Short Holidays and Getaways.
Not a lot of people from overseas realise that we ski in Australia, but an excellent short break is skiing at Perisher in NSW. Perisher is located 5 hours from Sydney, and 2 and a half hours from Australia's capital city of Canberra, which is a great place to stop on the way to the snowfields.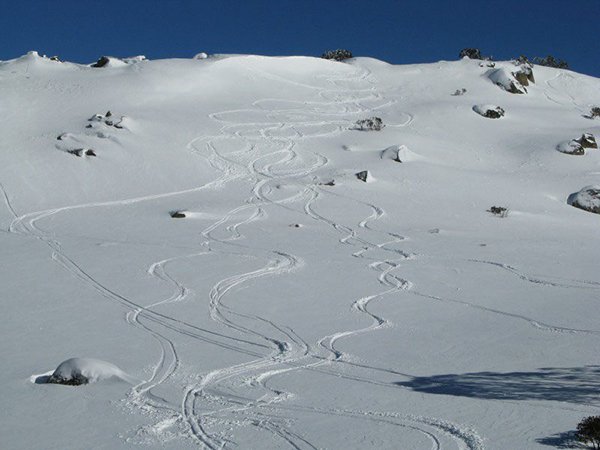 Skiing at Perisher is not cheap, but then again Australia is not particularly cheap. The best thing is, however, that when the snow is good, the skiing is fantastic, and the off-piste activities are fun. People get on well together at the snowfields.
Perisher has some excellent black runs like Olympic, and there are some great intermediate and beginner runs, making Perisher a destination for everyone. A huge advantage to skiing at Perisher is that you can also ski at Smiggins, Blue Cow, and Guthega, so you get four resorts to play in. Having a few days at the Perisher snowfields of NSW is an amazing Winter getaway in Australia.
Rottnest Island, Western Australia
with Amanda of Not a Ballerina.
Rottnest Island, or "Rotto" as we locals call it, is my absolute favourite short break to take from Perth. It's a quick ferry ride away – less than an hour, shorter if you leave from Fremantle – and it's like escaping to paradise.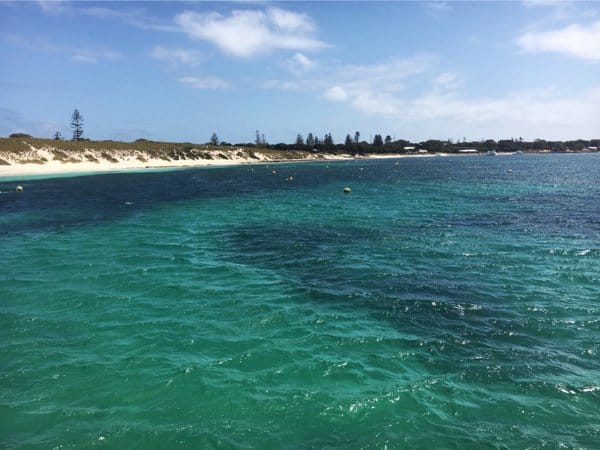 Rotto is a small island, and you can easily ride your bike around it in half a day, except that it'll take longer when you stop off at all the gorgeous beaches along the way. It's peaceful because apart from the round-the-island bus and a few service vehicles, Rottnest is car-free so it's quiet and safe. You'll compete more with quokkas, our gorgeous local animals who are famous now for the smiles in quokka-selfies (google it!).
It's traditionally the island we Perthites flee to during the school holidays, and you can stay in simple bungalows and villas and spend your days swimming, snorkeling, and cycling. There are also dive sites around Rotto and you can rent dive and bike equipment on the island. Another great option is to take a Rottnest Island day trip from Perth if time is limited. It's a great way to experience something very different from the city.
Newcastle, New South Wales
with Kell from Happy Go Travel.
Newcastle is often overlooked as a holiday destination when compared to its city sister, Sydney. But there are a number of reasons why Newcastle should be your next weekend escape.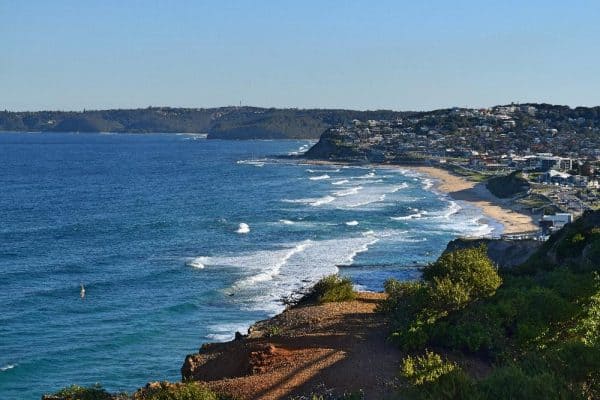 Newcastle offers an abundance of sights and activities to suit everyone. Here are some of the best attractions available in Newcastle.
Beaches – It doesn't matter if you're a surfer, swimmer or just enjoy relaxing by the ocean; Newcastle has some of Australia's best beaches.
ANZAC Memorial Walk – You cannot visit Newcastle without taking a stroll along the ANZAC Memorial Walk. Soak in the gorgeous ocean views from the bridge overlooking Bar and Merewether Beaches.
Glenrock State Conservation – The Glenrock State Conservation Area offers a vast array of sights. A moderate hike will give you the chance to explore, discover the bush or enjoy some quiet time at a virtually secluded beach.
Dining – Increasingly known for good food, Newcastle is expanding on its culinary delights daily. Offering all styles from fine dining, burgers, pub food, and more. You will not have a shortage of restaurants and takeaway options to feed your hunger.
Talk to the friendly Novocastrians about other great attractions in the area. You will have endless options to choose from.
Liking this article? Please Pin It!
Cradle Mountain, Tasmania
with Cindy from Free Two Roam.
Our favourite Australian short break was a long weekend escape to the Cradle Mountain-Lake St Clair National Park, just across the Tasman Sea from us in Tasmania. An easy two-and-a-half-hour drive from Launceston, it is one of Tasmania's most visited national parks. With its spectacular alpine wilderness featuring ancient rainforests, glacial lakes, and alpine moorland, it's little wonder it's so popular.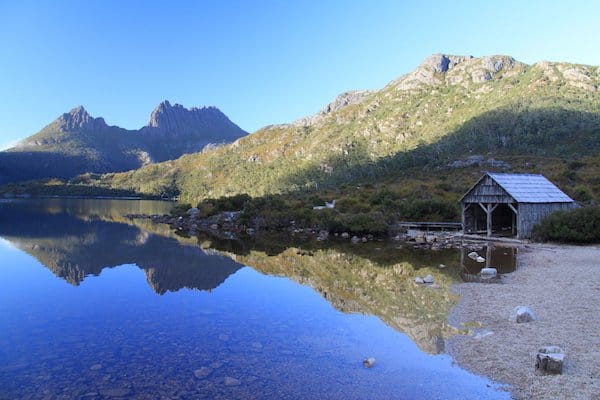 If you love wildlife, you'll be in heaven at Cradle Mountain. You'll often spot Pademelons, Wallabies, and Wombats in the park, especially at dawn or dusk. You should also visit the Devils@Cradle wildlife sanctuary at the edge of the park to check out some cheeky Tassie Devils and to learn about the sanctuary's breeding program and other conservation efforts.
We love hiking and Cradle Mountain is a hiker's paradise. It offers many great hikes, ranging in difficulty from easy to very tough. While there we tackled the iconic Cradle Mountain summit itself. It was the most challenging hike we've done to date, with lots of clambering over slippery boulders, but we were rewarded at the end with a dazzling panorama of the park.
Cradle Mountain is renowned for its stunning beauty and it's hard to fully appreciate it without being there. For example, catching the reflection of Cradle Mountain's rugged peaks on the mirrored waters of Dove Lake was a breathtaking experience that's hard to put into words. One quick word of advice, keep your camera handy at all times; you'll need it!
Bright, Victoria
with Sally from Our 3 Kids vs the World.
One of our favourite places for a short break in Victoria is Bright in the Victorian high country. Its located at the foot of Mt Hotham, a very popular and probably our best ski field during winter. During summer Bright is beautiful, there is so much to do especially for kids.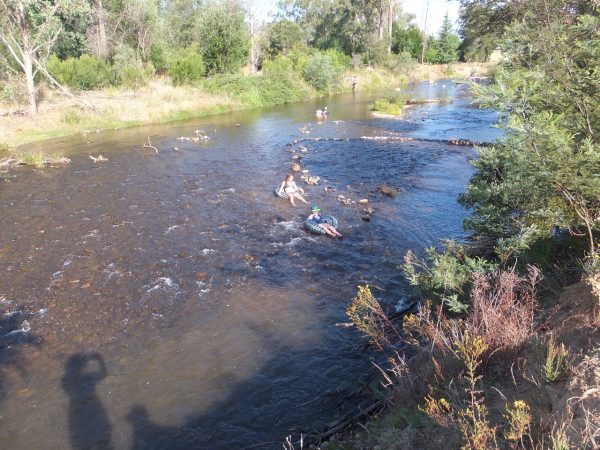 We camp there each Cup Weekend and Christmas and the kids enjoy tubing on the Ovens River or bike riding the Rail Trail which links the local towns. Bright has a great public water hole behind the Bright Brewery that provides loads of fun for everyone and even has a splash park for the little ones.
Bright holds a lot of festivals, in particular, the Australian Adventure Film Festival in February each year which I always attend. Bright is also the premier cycling destination in Victoria, not only do you have the Rail Trails which provide rides as short as 6 km between Bright and Porepunkah or up to 80 km from Bright to Wangaratta. You can also test your cycling endurance by cycling up to the top of Mt Buffalo, Mt Hotham, and Mt Bogong.
Bright is renowned for its food and wine with plenty of choices in the area, our favourite is Ringer Reef in Porepunkah but there are plenty to choose from. You can pick fruit, my favourite is the strawberries at Christmas time. There are so many things to do in Bright, you'd need a month to do it all. If you haven't been put it on your bucket list.
Phillip Island, Victoria
with Bec from Wyld Family Travel.
Sometimes with our work getting away for a weekend can be hard but we were determined to go somewhere. Phillip Island is just under 2 hours from our home so it was perfect for a couple of nights away.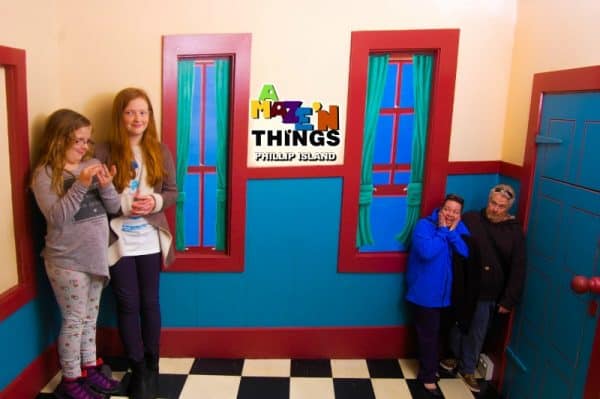 It was an amazing place to stay as we found out… it is not all about those cute little penguins I can tell you! (Although we did go and see them) We had amazing fish and chips after a walk to Pyramid Rock, Marley milked a cow at Churchill Island Heritage farm, we searched for Koalas at the Koala Conservation Centre, hot chocolate was sipped from the Chocolate shop while it rained lightly outside, Willow fell in love with the Cape Barren Geese and their little babies as they wandered near us, A'maze N things also kept us totally occupied for over 5 hours and we relaxed at the amazing Ramada Resort after all of our fun.
There really is something for everyone on the Island rain, hail, or shine!
Canberra, ACT
with Christine from Christine Knight.
Canberra, Australia's capital city, makes for the perfect short escape. It ticks all the boxes: great food, bountiful nature, a rich history and beautiful art, and plenty for the whole family.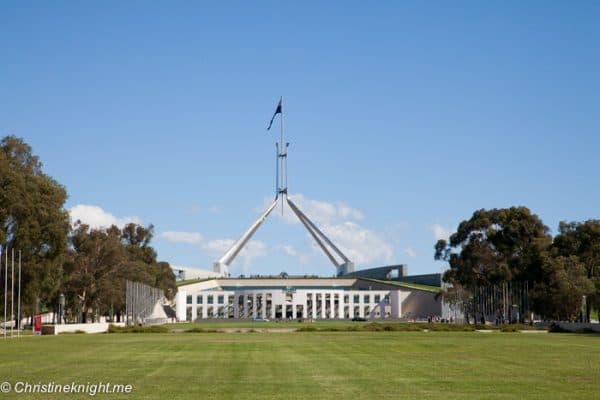 When visiting Canberra, be sure to have the following attractions on your hit list:
The National Gallery of Australia – with its large indigenous art collection.
Old and new Parliament Houses – a visit to the top of new Parliament House and a roll down the grassed roof is a must!
Australian War Memorial – at 4:55 pm for the playing of the Last Post and the National Arboretum Canberra, a 250-hectare arboretum featuring large-scale art installations dotted among its undulating hills.
Questacon – the National Science and Technology Centre has some fun and educational hands-on exhibits and experiments for all ages.
Canberra is also a flat, extremely walkable city, and it's possible to get between most attractions either on foot or by bicycle. Have a sweet tooth? Don't leave without trying one of the famous milkshakes served up at Pâtissez, home of the "freakshake".
Kangaroo Island
with Kerrie from Travels With Mum.
With Kangaroo Island only being an hour and a half from Adelaide, we found it was the perfect escape while travelling in South Australia.
The first thing that grabbed our attention when arriving on the island was its stunning, natural beauty. Rugged cliffs, unusual rock structures, beautiful beaches, and abundant native animals…exploring this unique place in Australia was a treat for our senses. Our favourite part of our short 4-night stay on Kangaroo Island is hard to pick.
Was it exploring the Flinders Chase National Park and climbing over million-year-old rock structures at the Remarkable Rocks? Was it finding ourselves driving along back roads and discovering the unbelievable Red Cliffs? Was it watching the vibrant colours of the sun setting over the lagoon from our tent? Was it watching the seals playfully frolic along the beach at Seal Bay? Was it cooking dinner on a secluded beach while enjoying the absolute peace and quiet of our gorgeous surroundings? Or was it flying down the sand dunes on a toboggan at Little Sahara?
While all those experiences were amazing, it was joining the guys at Kangaroo Island Marine Adventures on a dolphin swim that blew us away! Jumping in with those majestic animals in their natural habitat, and having them swim so close to you that you could reach out and touch them was an experience we will never ever forget!
Busselton, Western Australia
with Lyn and Steve from A Hole in My Shoe.
2.5 hours from Perth on the Southwest tip of Australia, is the perfect getaway place for a few days. The Mediterranean climate, coastal walking tracks, protected beaches, picturesque forests, rivers, and caves make Busselton an ideal location for a short break year-round.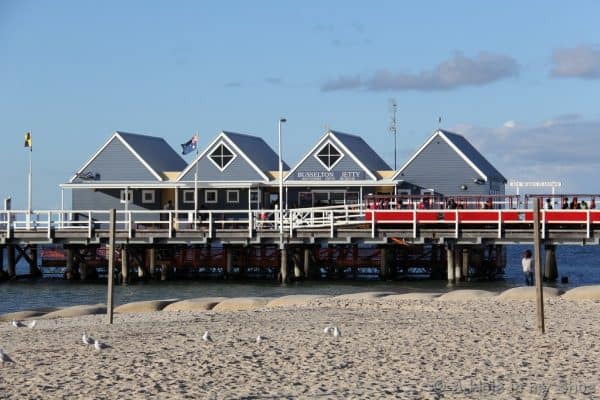 The focal point of the beachside town is the oldest wooden jetty in the world. Due to the booming agriculture and timber industries in 1865, this now-famous Busselton Jetty was constructed to service exports. At 1.8 kilometres it is the longest in the southern hemisphere and those not wanting to walk to the end can board the train at Roy Morris Platform. Across the clear, calm waters of Geographe Bay near the end is Bovell Platform. Experience the Underwater Observatory, one of Australia's greatest artificial reefs, and view 300 species of corals, fish, and other marine life and look back at the waterfront precinct on the tranquil, sandy beach.
Busselton's calm waters and beautiful beaches are perfect for paddling, snorkeling, swimming, or fishing and there are many beachside cycle paths. The shady, grassed areas are perfect for relaxing and are dotted with seaside cafes and kiosks.
Between September and December, a charter boat from Port Geographe Marina offers whale watching. Another unique activity in the area is a scenic drive through the only pure tuart forest in the world, enjoying a picnic by day or a possum walk by night. Geographe Bay hosts many local and international events like the Ironman Festival, Busselton Jetty Swim, and many others.
Busselton is a biodiversity hotspot and the unique wildflowers are spectacular between August and December. 2,500 species of wildflowers and 80 species of birds can be enjoyed throughout Wonnerup Estuary, Ludlow Tuart Forest, Ambergate Reserve, Whicher Range, and Captain Baudin Reserve.
Moreton Island
with Jennifer from Travel Bug Within.
Moreton Island – or Moreton as the locals refer to it – is close to Brisbane, only 35 kilometres from the mainland. Moreton is a popular destination for anyone seeking isolation, beach activities, and the opportunity to camp in a safe environment.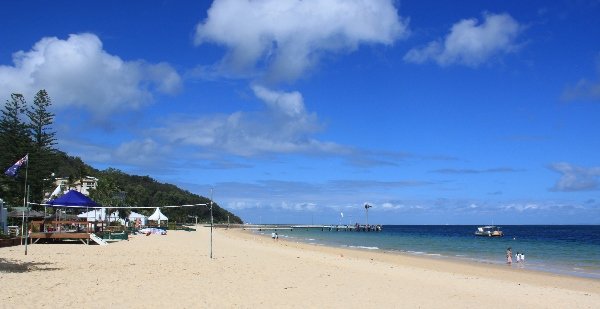 As the world's third largest sand island, its 170 square kilometre expanse is 98% national park. And this is what I love about Moreton. Because most of the island is undeveloped, it's an untouched wilderness harbouring unique native wildlife and diverse vegetation. The perfect location for the nature lover. Access to Moreton is via water (although a landing strip at Cowan Cowan is available for small aircraft.) A ferry departs from Brisbane's Pinkenba Wharf and 90 minutes later drops passengers at the Tangalooma Island Resort.
The resort offers a number of activities for day trippers, or those staying overnight can pace themselves. If you enjoy getting up close and personal with wild dolphins, I recommend the sunset wild dolphin feeding run by the resort's Marine Education centre.
Alternatively, if you're an adventure enthusiast and don't mind beach bashing (4WDing across long stretches of sandy beaches) consider taking your 4WD over to Moreton. All roads on the island are unsealed and some are narrow in parts presenting many interesting 4WD experiences. A car ferry provides easy vehicle access to the island. Campgrounds are easy to find. And if you enjoy snorkeling or diving, the wrecks within easy access of the beach provide unparalleled underwater experiences. I'm so grateful I live in southeast Queensland with Moreton on my doorstep.
Shepparton, Victoria
with Madison from A Roaming Aussie.
When you think of Shepparton the first thing that might come to your mind is the SPC factory, it's been there forever but there is more to Shepparton than the cannery. The Yorta Yorta and Bangarang Aboriginal people call this area home and if you find yourself here during the week then a visit to Kaiela Art Gallery is a must-do!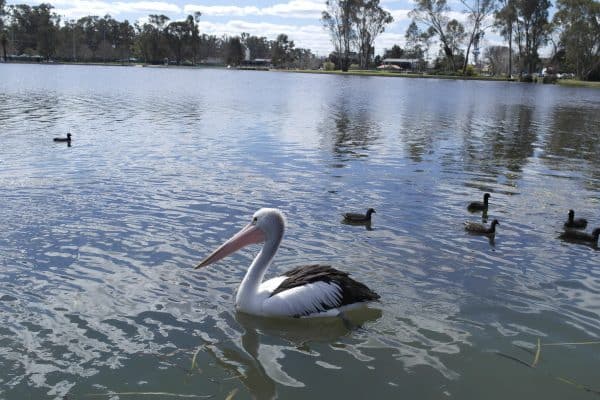 The Australian Botanic Gardens Shepparton is located on top of the old rubbish tip site, which makes it unique! The garden showcases everything that this region has to offer such as an Indigenous Garden, a Refugee Garden, and a River Garden.
The thing that surprises most visitors is that we have two different types of cows, the normal ones that live in the surrounding farms and the Moooving Art ones that are located around the region. The Moooving art is an art installment of Fibreglass bovines that are painted brightly and have different designs on them my favourite is the Meteorite Cow and the Clown Fish Cow.
This area is also known as a foodie destination with lots of restaurants, and cafes. There is even a Chocolate Apple Factory in one of the many orchards around Shepparton. Their famous chocolate apples are covered in caramel and chocolate and are then decorated in many ways including with marshmallows and 100 and 1000s. the Shepparton region is home to many great things waiting to be explored is perfect for a short break because there is something for everyone.
Yorke Peninsular, South Australia
with Michela from Rocky Travel.
If you are in Adelaide and would like to explore more of South Australia, I would recommend going on a 3-day road trip to Yorke Peninsula. It's a less-known and amazing destination, home to beautiful beaches, a rugged coastline, and an impressive landscape brimmed with campsites and natural attractions.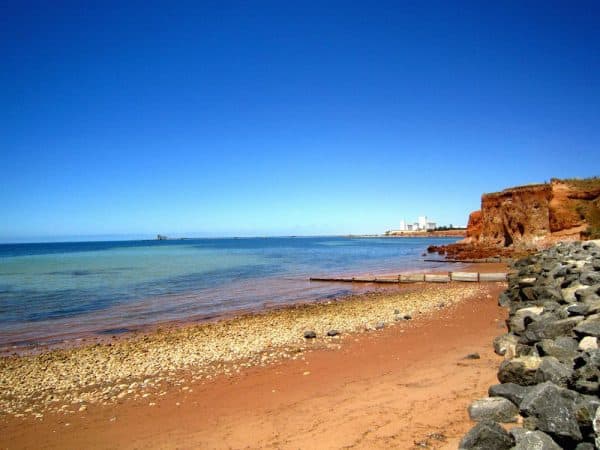 Innes National Park is the highlight of this region, stretching for 20 km along the coast. But the Yorke Peninsula is also home to a rich heritage of mining and farming history. A road trip between October to November will take you through long stretches of picture-perfect golden farmland. Make sure you stop at Minlaton Visitor Centre to learn about the farming history of the region. With 1.3 million tons of cereals produced here, Minlaton is the Barley capital, producing the highest quality of barley in the world.
A visit to the Yorke Peninsula is not complete without a stop at Ardrossan, the most photogenic coastal village in Australia. Located on top of massive red cliffs, the sunset light creates glowing shades of ochre and contrasts of deep blue ocean. Ardrossan is famous for crabbing, a fishing activity that involves catching Blue Swimmer Crabs from a boat. The Yorke Peninsula is truly a fascinating destination that will delight all nature lovers. You can learn more about road tripping Yorke Peninsula.
Ettalong, New South Wales
with Paula from Sydney Expert.
Just under 100km from Sydney and an easy 1.5-hour drive, the Central Coast is an area that has more than its fair share of beauty. With over 25 beaches, many deserted outside holiday periods, and three national parks on its fringes it is a spot more than worthy of a weekend escape.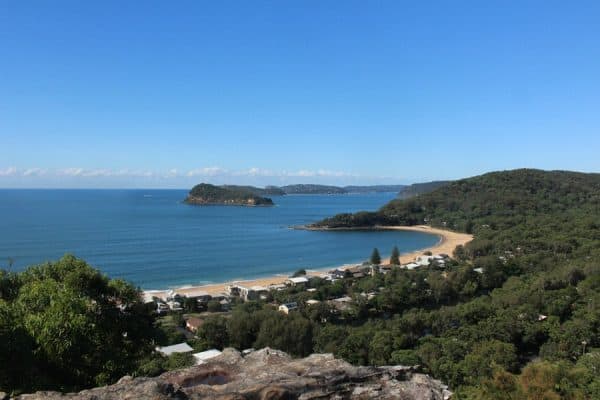 We started coming to this part of the coast as kids and spent many school holidays in the Ocean Beach Caravan Park, but these days we base ourselves at Ettalong Beach which is just a ten-minute drive from Bouddi National Park. The main reason we keep coming back to this part of the coast is its natural beauty, but in recent years the area has developed a really good local food scene with lots of quality local restaurants and cafes.
There are loads of activities to fill your days too.
Kayak your way around the calm Brisbane Waters
Track down indigenous rock art in the local bushland
Feast on fresh seafood from Fishermans Wharf at Woy Woy
Visit Somersby Falls and have a picnic at the bottom of the waterfall
Take the 3km hike from Pearl Beach to Patonga
With its proximity to Sydney and the abundance of natural beauty on its doorstep, Ettalong is a perfect place to escape the rat race for a few days and see how the other half lives.
King Valley, Victoria
with Jean from Traveling Honeybird.
The King Valley in Victoria offers the time-poor traveller some of the best activities that Australia has to offer. Located in the High Country, King Valley is approximately three hours from Melbourne.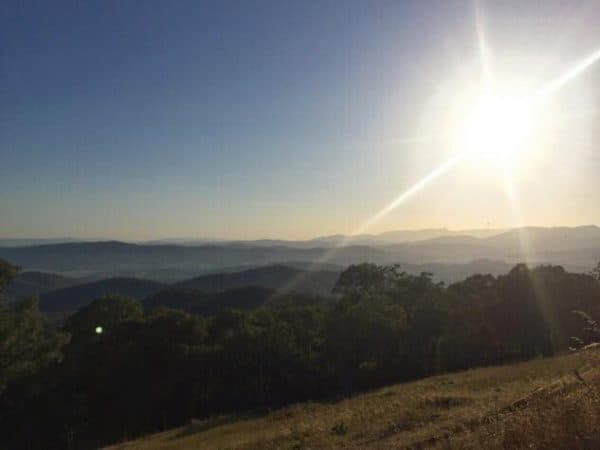 It's the perfect spot for camping, hiking, mountain biking, and horse riding. Not to mention fishing in the summertime or if you are keen to base yourself and partake in a bit of skiing in the winter.
But no good adventure is complete without some fantastic food. This area of Victoria is world-renowned for cheese, wine, and all things fine. With a heavy heritage of post-war immigration, you'll soon see the European flair from the buildings to the local produce.
Wellington, New Zealand
with Thais from World Trip Diaries.
Wellington is the capital of New Zealand. It's chilly, windy, and rainy, but it's so beautiful! Even the city sign displays the wind.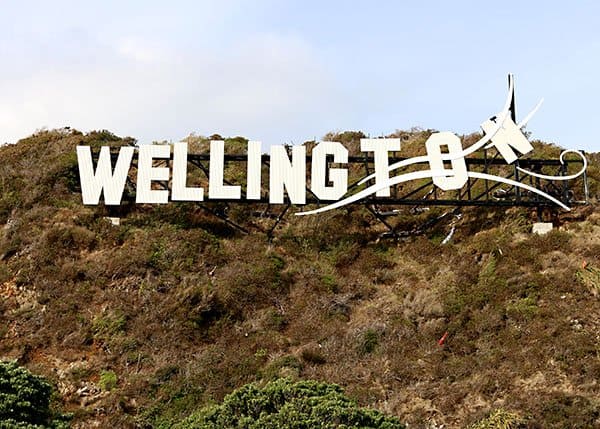 I love the food in Wellington – the best chocolate ever, plus good coffee everywhere. Fish & Chips are also a very serious business there. Every time we go there, there are a few things we always do:
Te Papa Museum is probably the coolest museum in the world. Highly interactive, enormous, and fun!
Weta Cave is where our nerdy sides get more excited. Even though we don't do the tour every time, we do go to the shop just to see stuff. You do need to see the tour at least once.
Cuba Street is a pretty shopping street with great cafés and awesome shops all around. A few small playgrounds scattered to entertain little humans too.
A nice walk around the Harbour, with a stop at the Beehive because there's always something going on, and almost always, fun. Even when there's nothing, it's one pretty sight!
Everything is relatively close and you can cover a lot of the tourist spots in a very short period of time. It's also the departing and arrival point of the ferries between NZ's two main islands, so it's handy. And, remember, chocolate.
Queenstown, New Zealand
with Tom from The Travelling Tom.
Queenstown is perhaps the best place for a short break if you're on the South Island of New Zealand. The sheer number of things you can do make the journey there and back well worth it!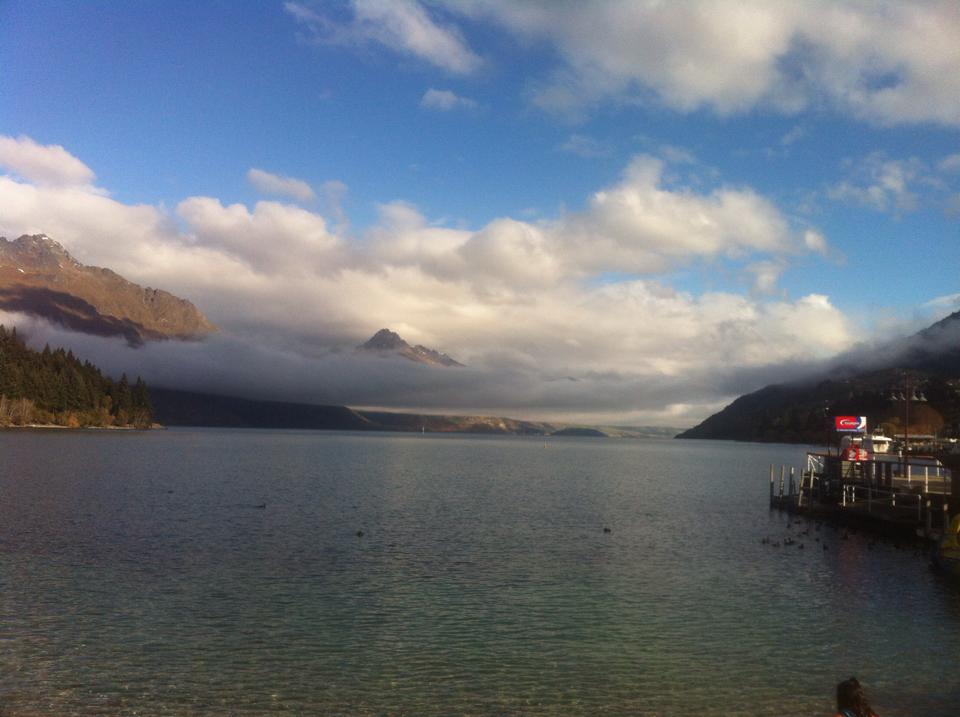 It is known as the adrenaline capital of New Zealand and it may just be the adrenaline capital of the world as well. Think of any activity that gets your heart racing and you can probably find it here!
The most famous of all is the Nevis Bungy, which is 134m above ground. Certainly not for the faint of heart. You can go also go jetboating, skydiving, ziplining, and skiing if you need another shot of adrenaline.
For those of you that are more relaxed in nature, have no fear, there are plenty of less strenuous activities in Queenstown. You can go on numerous walks around the town. Take the gondola to the hills overlooking Queenstown and admire the view, or you could play frisbee golf in the botanic gardens if you want!
One place you must eat in Queenstown is Fergburger. The burgers here are legendary and they were easily the best that I've ever eaten. The seemingly permanent queue outside is a testament to this!
Queenstown is small enough that you can see and do nearly everything in one weekend. The only problem is that the beauty and energy of the place will make you want to return asap!
Want more great options for a short break in Asia, the Americas or Europe then follow the links.