Some come to Bali for a lazy beach break while others search for the perfect wave or to connect with the underwater world, while others seek out culture and spiritual awakening. It is this group that most likely will find themselves drawn to Ubud.
Considered one of the cheapest and most easily accessed overseas holiday destinations for Australians and an exotic and somewhat mysterious destination for travellers from other parts of the world, Bali is a small island choc full of diversity.
About an hour by car from the craziness that is Kuta and Legian, Ubud is a world away as far as attitude and scenic beauty are concerned and perfect for a short getaway. Take a look at what to do with 3 days in Ubud.
Where is Ubud?
Ubud can be found in the central hills region of the famous Indonesian tourist island of Bali, which is approximately halfway between the northwest coast of Australia and Singapore.
[put_wpgm id=1]
How do you get to Ubud?
The first step is to get to Bali's Ngura Rai International Airport at Denpasar. A large number of major International Airlines fly into Bali and also many of the low-cost carriers in the region.
To continue on to Ubud you will require transport with a travel time from 60 to 90 minutes. It is only about 40km / 25 miles but don't expect to get anywhere in Bali very quickly. The roads are narrow and quite busy in many places.
The main options are :
Official Taxi from the Airport – you will find the official taxi kiosk in the arrivals hall at the airport just behind the swarm of private drivers waving name cards in the desperate hope of catching the attention of their arriving guests.
You will also be asked by many random people if you would like a taxi but we recommend you keep with the official taxis and pay the set fare.
Public Transport – this will still require getting a taxi but only for the shorter trip to Kuta, where you can catch a bus to Ubud. This is a cheaper option but for the sake of a few dollars, we feel it is not worth the extra time and effort.
Accommodation Transfers – make an enquiry with your Ubud accommodation as they may be able to arrange a transfer for you. Do check their offered price with other options because they are not always good value for money.
Private Driver – as in many Asian countries Bali has many locals who operate their own small tour business and it is a great idea to find one that you like and build a relationship with. Word of mouth is a great way to find good drivers and you will find them not only a good source of Airport transport but go a step further and hire them for at least one full day during your visit. It is a very inexpensive way to get a personalised tour for you or your group and if they know you want more than just a single journey they will negotiate better prices.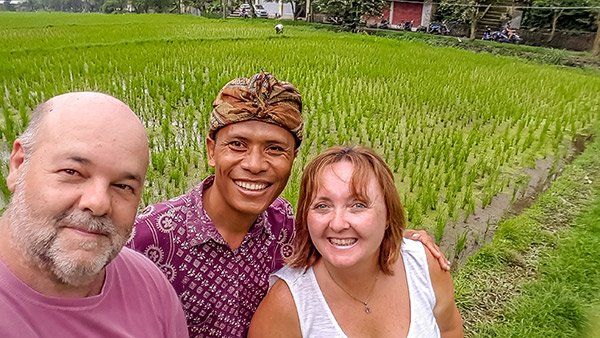 We have now used the same driver during Pauline's visit to see our daughter and again when we both travelled to Ubud. His name is Wayan (as are many Balinese men) and he can be contacted through Facebook Messaging.
His English is excellent and his local knowledge amazing. We used his services for multiple airport trips and a full day of sightseeing which took us to all of the places we requested plus a few others that Wayan thought we might enjoy. Please feel free to mention us if you get in touch with him.
Who should visit Ubud?
There are many faces of Ubud but it is probably best known as a modern-day Hippie hangout, filled with vegan food options, wellness centres, and yoga studios. A place where one may go to "find themself" as Elizabeth Gilbert did in what became Eat, Pray, Love.
It is a place that lends itself perfectly to this ideal of inner peace and spirituality. The locals, almost exclusively Hindu, are very religious and you can't help but be influenced by their calm demeanor, the beauty of the many temples, and the tranquility of the surrounding rice fields.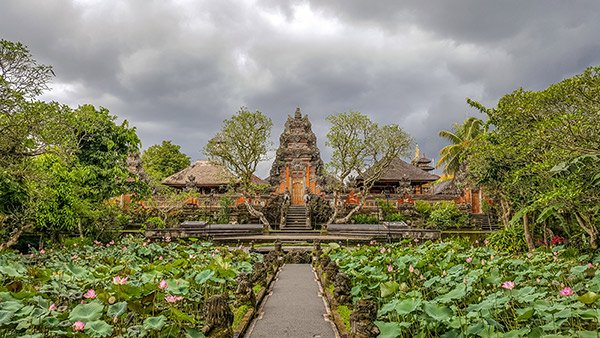 But do not feel that you should avoid Ubud if you do not fit the mold created in the previous paragraphs, we are neither vegan nor spiritual and still rate Ubud as one of the great small towns of Asia.
If you want to explore the history of Bali and Indonesia, experience the traditional food made for locals by locals, or just get a sense of Bali life far from the crowds and singlet-wearing, Bintang-guzzling Aussie tourists in Kuta, surrounded by beautiful scenery then Ubud is a place that will definitely make you feel right at home.
Where should you stay in Ubud?
It's a pretty simple choice when you are making this decision, you can stay in the centre of town or on the outskirts of the town. By looking at the map you will quickly realise that the CBD and it can barely be called that while keeping a straight face, is easily navigated on foot and nothing is far away from any of the central accommodation options.
[put_wpgm id=2]
Even when I suggest the outskirts of town as the second option you will find most of these places are still within comfortable walking distance of the centre, even though you will feel like you are in another world.
For me, the central area would be anything inside or around the rectangular area between Jalan Monkey Forest and Jalan Hanoman which are clearly marked on the map above. The lower left of this area is the actual Monkey Forest, the top left is the Ubud Palace and the tourist markets cover the area between those two roads.
There are many choices when it comes to Ubud accommodation ranging from the usual Hostels to Homestays, from Guesthouse and Hotels to amazing Villas. What you do not find are the global chain Hotels which is a pleasant surprise.

For us, it was ideal to be staying around the centre of town because we didn't feel comfortable riding scooters and didn't want to have to rely on taxis. In the end we chose the Honeymoon Guesthouse and it turned out a great choice for its location, facilities, and Balinese charm, as you can see on the map.
The package we chose also included a cooking class at the Cooking School operated by the Guesthouse, the Casa Luna Cooking School, which is among the highest-rated in Ubud. The rooms were quite large and the grounds and facilities were amazing. We couldn't have asked for anything more.
During Pauline's previous visit, she had spent some time with our daughter in the Kakul Villas outside of town and while she raved about the surrounding countryside and the price of the huge and luxurious private pool Villa, the location was too far out of town to suit our needs.
How do you get around in Ubud?
The roads around Ubud are generally in pretty decent condition, traffic gets busy sometimes but never gridlock busy, and the whole town is pretty compact so getting around is not likely to cause you many problems.
These boots are made for walking.
While Ubud is situated in the hills of Bali and more of the local roads have some degree of incline rather than being flat, walking is an easy and cheap way of getting around. You won't be forced to walk up dizzying slopes and exploring the town on foot should be a comfortable experience for travellers of any fitness level.
The biggest issue with walking around the streets of Ubud comes to light when it is time to cross any of the busier streets. While they do have the occasional pedestrian crossing marked it is more of a suggestion that a rule that drivers will slow or stop for you.
We learned the secret to successfully getting across without risking death like the main character of Frogger and it is to gradually move onto the road holding your hand up in a STOP gesture and continue walking. It takes some time to become confident in your new superpower but it works. Apparently, if drivers see you standing on the edge of the road just waiting to cross they think you are waiting for someone else unless you signal your intent.
Hit the road on a Scooter.
The Balinese people love their Scooters and you will undoubtedly be tired of being asked if you would like to rent one after just a few days. It seems every second person owns a spare Scooter or two and hires them out as a business.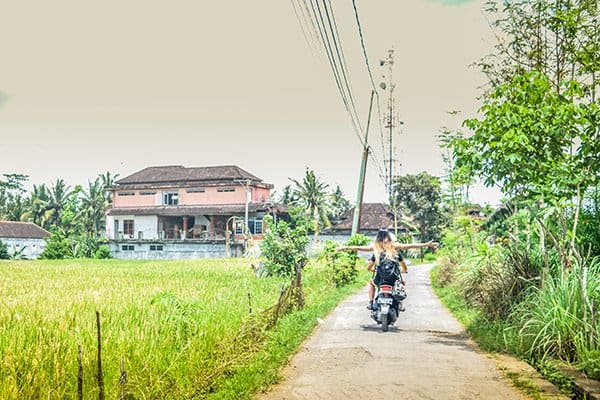 They are incredibly cheap to hire by the day, usually not much more than a few dollars, and even cheaper if you are looking at longer rental periods. It looks like a lot of fun but there are a few points for you to consider.
Helmets are not mandatory so if you want that extra bit of security make sure you hire from someone that will supply your safety lid as well.
Road rules do not apply nearly as strictly as in most Western countries. Learn to ride like the locals and don't expect them to behave the way drivers do back home.
You will need to fill the Scooter with fuel before returning it and may have some trouble finding Petrol Stations. What you will discover are little sidewalk stands filled with recycled bottles containing a distressing-looking yellow liquid. It's not what you may think but in fact the local fuel stop. Buying Petrol in a used Coke bottle is an unusual experience.
Make sure you are insured because there is always a chance of having an accident. Many insurance companies will not cover you for Scooter or motorbike riding unless you have a Rider's Licence back home, and others may require you to wear a helmet. Check the fine print before you leave home.
Get on the back of Moto-taxis.
It's a big enough challenge to trust yourself piloting a Scooter on the roads of Bali, weaving through the dozens of others with the same goal and avoiding pedestrians who may simply step out in front of you holding up a hand, making them the king of the road and invincible. It is a different challenge to jump on the back of a Scooter with a complete stranger and put your life in their hands.
On the upside, you can have an expectation that this person has far more skill and experience riding than you do and understands the traffic flow. It is also a very cheap way to get around and you don't have to worry about finding a place to park, or finding your Scooter when you come back.
But as mentioned the road rules are pretty loose and you could find yourself rising on the footpath or on the wrong side of the road with traffic heading toward you, but it's all part of the adventure.
Metered Taxis and Private drivers.
You will also be able to find official taxis driving around the streets of Ubud and also unofficial, or unmetered, taxis. If there is a meter then be sure it is activated when your journey commences, for other taxis be sure to negotiate a price before you get in the car.
Far more common in this area, and a big part of the local economy, are the Private Drivers. I have mentioned these people already and a good Guide can be a very economical and also an entertaining way to get around.
Finding a Driver that you can build a bond with could mean you can agree on a rate for a transport package for your entire stay, everything from airport transfers, getting around while you are in town, guided tours to other parts of the island, and even activities. This is a great way to not only help the local economy but also get a more rewarding sense of how the locals live.
You will be surprised how little it costs to have your own driver but remember, do not try to screw them down on price because, while it may feel like a victory to you, the few extra dollars means a lot more to them than it does to you.
What should you do with 3 days in Ubud?
Day 1
Take some time to get your bearings by heading into the town centre and exploring. Don't worry about getting lost or checking your phone for a map to show where you should go next, just walk and take it all in.
I mentioned previously that the main area of Ubud is a rectangular section in the centre, filled with Warungs tempting you in to enjoy their cheap and flavour-packed food, market stalls with the usual souvenirs but also some more unique items that are fun to discover, and discuss with the vendors, and an assortment of small businesses like tattoo parlours and day spas.
Check out the Ubud Palace at the top of this area or the magnificent Lotus Garden tucked in behind one of the larger restaurants, or grab a coffee and just watch local life happen before your eyes. Ubud is a great place to experience Balinese life at a realistic pace.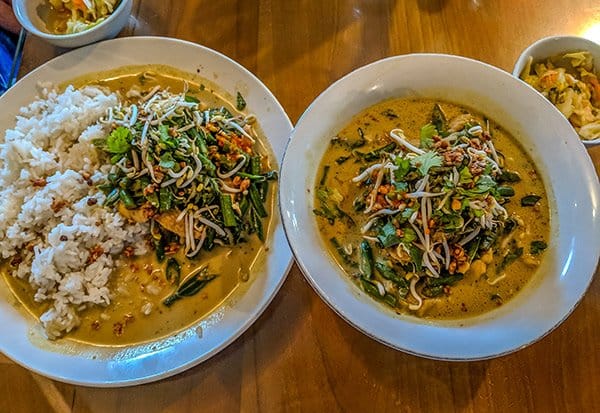 Make your way to the Melting Wok Warung on Jalan Gootama for some of the best Balinese curries or Gorengs for lunch. This little restaurant is incredible value for money and the staff are all so nice. It's the perfect place to recap the morning's discoveries and plan your afternoon.
You could make your way just a few blocks from lunch to the Monkey Forest, and yes, this is exactly as the name suggests. Officially called the Sacred Monkey Forest Sanctuary this nature reserve is also home to a Hindu Temple complex and the monkeys roam freely throughout the park.
A word of warning though, understand that these are wild animals which makes them unpredictable, although they are quite used to humans do not try to pet them. Also take care of your possessions as the monkeys are great collectors, and are especially fond of hats, sunglasses, and phones. And don't expect to get your gear back if they take it.
We were taking some photos of a mother and baby monkey from a couple of metres away and all was good. The same cannot be said for the young Japanese girl who stepped in front of us to try and capture a face-to-face selfie only to see her camera/phone heading off up a tree before she knew what had happened. An expensive lesson to learn.
Or maybe you prefer to start your time in Ubud on a more relaxing note and head to one of the many spas. There are many quality establishments offering pampering services around town, most looking very similar to those places inundating local shopping centres back home.
The big difference is the price and the friendly locals of course. Pauline spent an evening at a spa across the road from our Guesthouse where she thoroughly enjoyed a four-hour extravaganza that included mani-pedi with nail painting, a one-hour foot massage, stone relaxation massage, and more for less than the price most westerners pay just to have their nails done.
As the afternoon draws on maybe it's time to turn your focus to pre-dinner preparations. You will not have to look very far to find Happy Hour cocktail deals. Now cocktails are relatively cheap anyway but when you get 2 for 1 or three for the price of two then it's almost cheaper than buying bottled water back home.
Our favourite Happy Hour was spent at OOPS Restaurant and Bar where we had incredible Pineapple Dacquiris and shared a serving of roast duck spring rolls. Four cocktails and an appetiser for under 20 Aussie dollars… yes, please.
After dinner take another walk around the Palace area before heading back to your room for an early night (take that to mean whatever you want). Tomorrow will be an active day.
Day 2
An early start today as you head a few hundred metres from the centre of town for a sunrise walk through the rice fields. There are a couple of options here with the most popular arguably the Campuhan Ridge Walk, although we took a path slightly closer to town which loops back around and takes about 90 minutes at a leisurely pace with plenty of photo stops.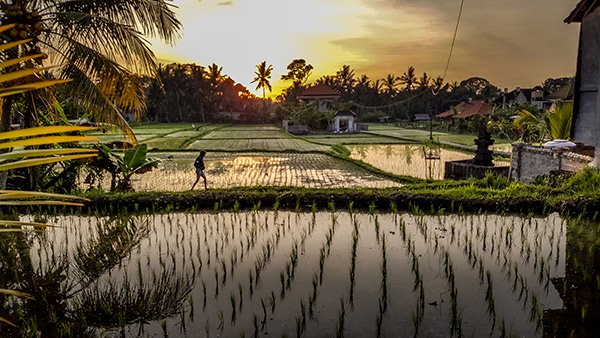 Back in time for a quick freshen-up and some brekkie before heading off to your cooking class. We stayed at the beautiful Honeymoon Guesthouse which happens to be the home of one of Ubud's top-ranked classes, the Casa Luna Cooking School.
For less than $40 we had an informative and fun half day learning the ingredients behind some of Bali's best-known dishes before cooking and eating our banquet. Our experience started at 8 am at the Casa Luna restaurant in town where we met our group and headed off to the local farmer's market.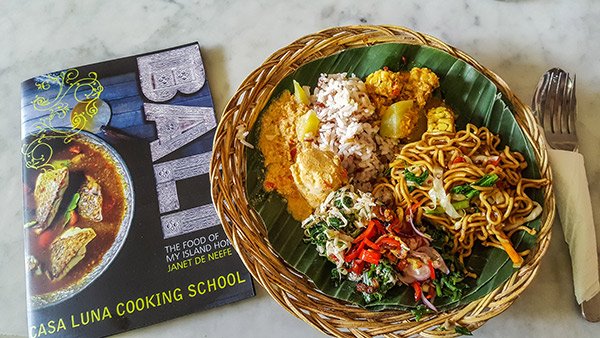 We learned about the ceremonial food offerings you will see everywhere in Bali, about the incredible variety of fresh fruit and vegetables available at rock-bottom prices, and about the foods and eating habits of the local people. It was a great precursor to our cooking class.
Then it was back to the kitchen/classroom for a couple of hours of meal prep under the guidance of Aussie expat and something of a local celebrity, Janet De Neefe. Janet and her team are entertaining and great sources of knowledge about Balinese food traditions and flavours.
We chopped, ground our own curry pastes, tried exotic salad ingredients, and then took control of woks that sizzled away over industrial-level flames. It is great fun to be this hands-on making local food anywhere in the world but equally as entertaining to watch the experts do it. The Balinese ladies are like machines when it came to grinding the pastes on huge volcanic stones, seemingly never tiring while the rest of us have to rotate in shifts of just a few minutes.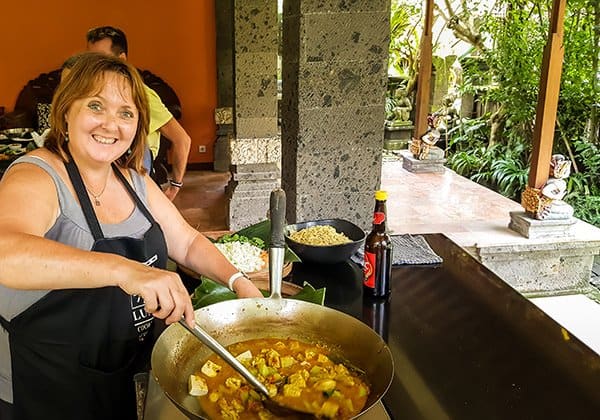 The final spread of dishes smelled every bit as good as they looked, and the taste was even better still. Too often you see cooking classes priced at over $100 and I always wonder how they justify the price, especially when you can have an experience like this for well under half that money.
After the class take a break, maybe hang out around the pool if you have one, and let your energy levels rise because this afternoon you are out and about again. But this time you will strap on a helmet and cycle your way through the rice fields.
If you are concerned that your level of fitness may not be sufficient to be riding around the countryside of Ubud let me put your mind at ease. eBikes Bali have you covered, with the "e" in eBikes standing for electric. That's right, these bicycles have a small electric motor you can use to replace personal peddle power whenever you need a rest. Perfect not only for those who need assistance but great for everyone. After all, who wants to be too exhausted to take in the stunning scenery along the way?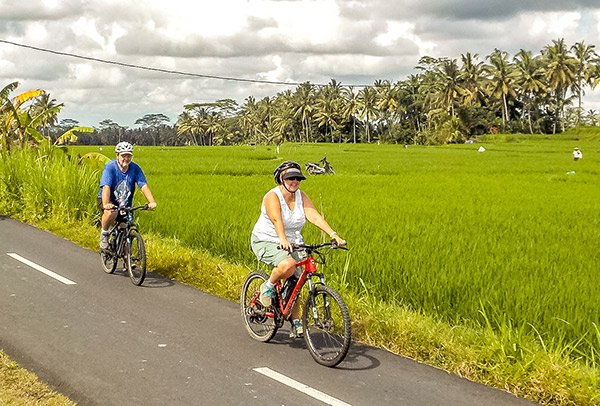 These guys will pick you up anywhere in Ubud and take you to the tour starting point. After signing the standard indemnity waivers and applying sunscreen it's time to hit the road. The tour lasts about three hours and includes a few stops for photos and finishing with dinner at a local Warung. Great value for money and a brilliant way to see where the locals live and work, not to mention the distant volcanoes beyond the rice fields.
For movie buffs this tour takes you riding along the very path that carried Julia Roberts in Eat, Pray, Love. So get ready to recreate your favourite moment among the rice paddies. And then they take you back to your hotel for a well-deserved rest unless you want to squeeze in a few last-minute Happy Hour cocktails again.
Day 3
Today is a day to spend with that Private Driver we mentioned earlier which means the possibilities are endless. You can discuss these options with your Guide in advance or see how you feel on the day and go with the flow. However, some activities will need advance planning.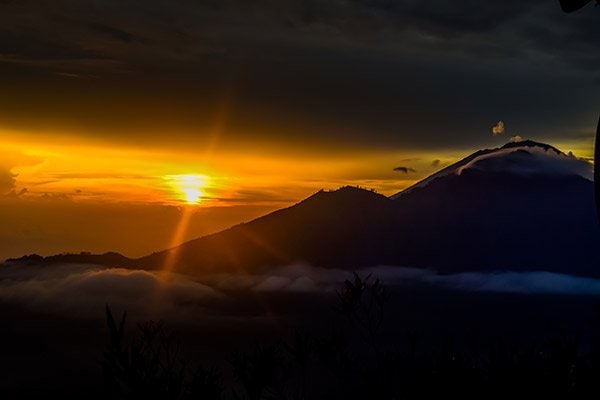 If you like the sound of starting your day halfway through the night then a hike up the Mt Batur volcano to watch the sunrise is a must. This one will have to be prearranged with both your driver and the company that operates the hikes. Expect to leave your hotel at two or three in the morning.
Dana did this trek and said that the views were amazing when the sun started to throw some light on the situation but she was quite nervous during the hike up in the dark. Loose and uneven surfaces lit only by small flashlights may not be ideal for everyone. That being said you may well end up with some incredible sunrise photos, great memories, and a story that your friends will look forward to hearing over and over. (*accuracy of this statement may vary depending on your friends)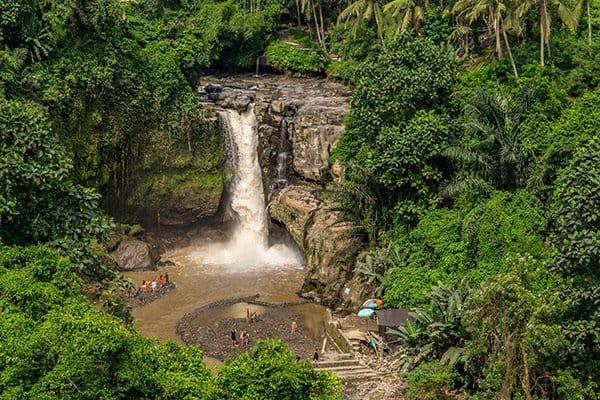 The benefit of having your own driver take you to this hike is that you can continue seeing the sights of North Bali as soon as you reach the bottom again, whereas those who use the transfers arranged by the hiking company will be taken all the way back to Ubud, and are you really going to want to head halfway back North after that?
While you are slowly making your way back to Ubud have your driver take you to some of the impressive waterfalls, and be sure to have them stop at the Ulun Danu Beratan Temple (or the Temple on the Lake). This Pagoda-style Temple is built on one of Bali's high mountain lakes, about a mile above sea level, and the building and surrounds are peaceful and incredibly scenic.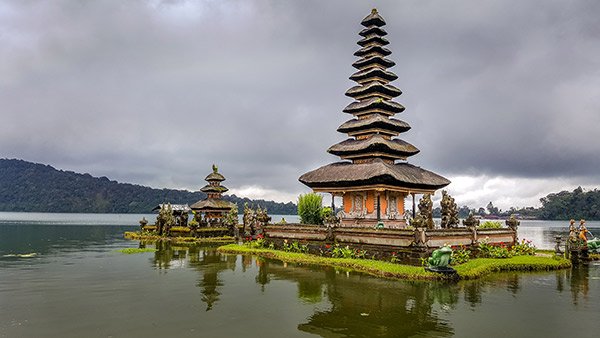 We also visited some of the local craftsmen, stone and wood carvers, and master painters who produce beautiful artworks in many styles, and sell them for much less than their skill and time deserve. I felt a little guilty admiring their work and not making a purchase but, being an artist myself in a past life, have no more space on the walls at home to hang anything.
Get your Driver to take you somewhere truly local for lunch, the type of place that you may not go if you were just driving by. This is one of the great treats of travelling with someone that knows the area very well.
On the way back to Ubud we were lucky enough to be invited to Wayan's home (our guide) and meet his family. He comes from a village of wood carvers and we got to see his work and get a feel for how he lives. Like many Balinese he does not have a house as such, but a family compound with a number of buildings filled with members of the extended family.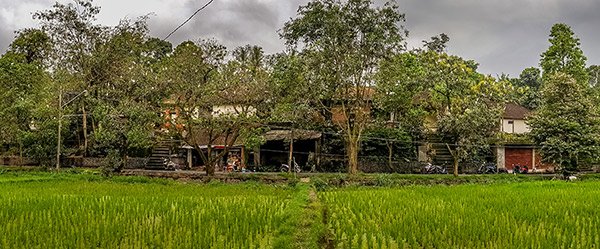 His village is quite beautiful and home to a huge colony of Heron. Every year up to 150,000 of these birds arrive and nest in the trees that line the road through the village. We visited late in the season and so only a few thousand birds remained, but enough to give us an indication of how dramatic it must be in peak breeding season.
You will definitely be needing a bit of a rest when you get back so either grab a nana nap, have a massage or head out for Happy Hour. It's your last night so hopefully you have enough energy to get out for your final meal in Ubud. Maybe another visit to that favourite Warung or perhaps something special to bring the trip to a close.
What should you eat in Ubud?
As mentioned before, Ubud is a hub for Vegans but don't start thinking that you will struggle to find anything else because I assure you the food scene doesn't stop there.
From local Warungs to the usual tourist trap restaurants, and authentic cooking classes to once-in-a-lifetime eating experiences, you will never be short on eating options regardless of your price range.
Even if you aren't a budget backpacker, stopping by a local Warung is a great way to get a taste of the local cuisine and culture for a ridiculously low price. Many of them are little more than basic "hole in the wall" type places so don't go in expecting a 5-star experience, but don't let that hold you back.
With most set up like a buffet; you go in, choose what bits and pieces you want and the total cost is based on the items you choose. Here you will find most of the Balinese classics including: Nasi (rice) or Mie (Noodle) Goreng, Babi Guling (traditional whole roasted pig), and Bebek Betutu (traditional deep-fried crispy duck).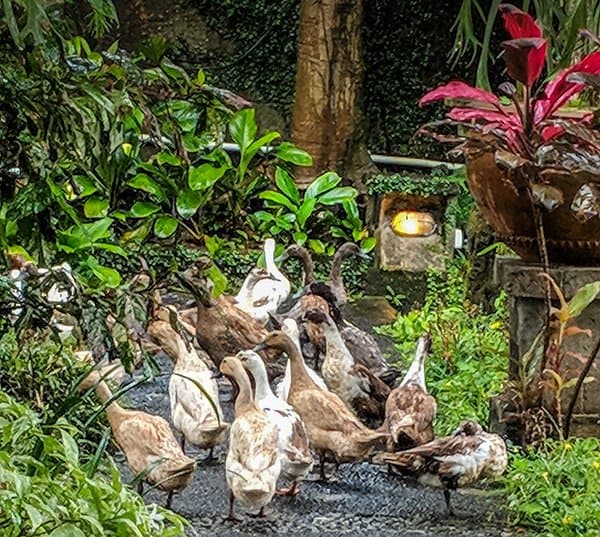 Possibly the most famous place to get the classic Bebek betutu is at Bebek Bengil, better known as the Dirty Duck Diner. The establishment has a really nice story behind it and although it does lean toward being one of those tourist trap restaurants you will still find some amazing food with fantastic views, even if the price is set for tourists.
Duck isn't for everyone which brings us back to our non meat eating types. My family are definitely not Vegans but were pleasantly surprised by the wide range of truly delicious options available. Possibly the best purely vegan restaurant in Ubud is Kismit. Although a little on the higher side in terms of Balinese meal prices, it is certainly worth it for high-quality, visually appealing, and mouthwatering vegan food. Oh and did I mention cocktails?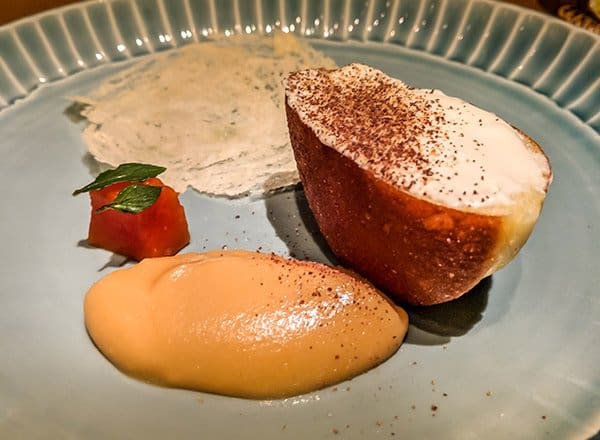 If you are after a night of cocktails or looking to satisfy a sweet tooth, you need to add Room4Dessert to your bucket list right now. Dana took Pauline here as part of her Bali birthday celebrations when she visited and they haven't stopped raving about it as one of their best eating experiences to date.
This restaurant offers a 9-course dessert menu which changes each season but not only that, they also offer a 9-course cocktail menu to match. The price may seem high for Bali but is a fraction of the price you would pay in Western cities and the quality is every bit as high. In the end, what you get is totally worth it and averages out rather cheap per serve.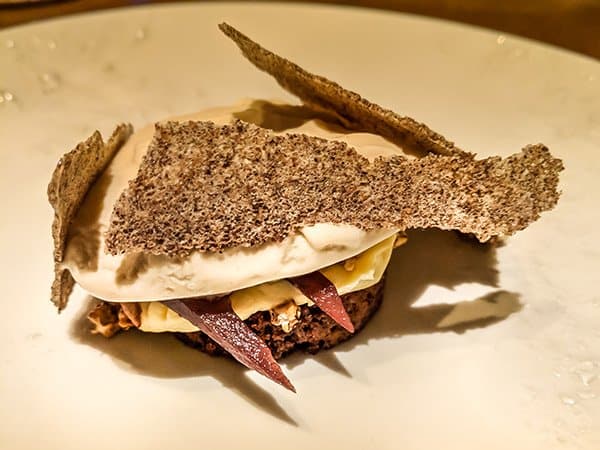 The one Ubud food experience Dana continues to rave about even more than dessert is Melting Wok. So much so that I think she would have disowned us as parents if we didn't test it out for ourselves on our recent trip and now we know why. This small restaurant packs a big punch with unbeatable prices on a limited but delicious menu of local specialties. And the staff are awesome.
Be sure to try the local Warungs and not limit yourself to the "fancy" looking restaurants. If you do then you are not only paying too much for your food but probably missing out on the best dishes.
The short guide to Ubud.
If you want to bypass the full rundown on how to spend your time in Ubud then we have provided a quick overview of the best and worst parts of the town.
The best of Ubud.
For those of us that travel to experience authentic local culture, to watch the people go about their daily tasks in the same way their families have done for generations, to eat the same food the locals eat at home every day, Ubud is a place you should get to at least once in your lifetime.
If it is the beauty of a place's natural surroundings that drives you to explore then Ubud will tick all the boxes. And the same can be said if you are seeking a place to "find yourself", to have that little piece of Paradise where you can find some serenity.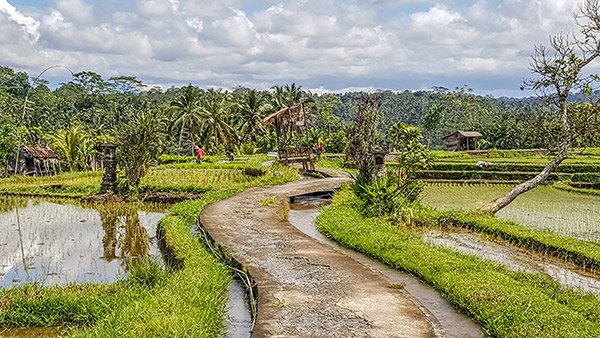 What did we feel was the best of Ubud? Without a doubt it was the scenic beauty to be found among the rice paddies. Whether it be the small streetside family fields, the vast hilltop areas around the town or the UNESCO-listed rice terraces just north of town, it is an amazing experience to explore. And incredibly peaceful.
But it doesn't end there. So many things in Ubud have contributed to making it our favourite part of Bali. For Pauline, the cheap but professional spa treatments are a real winner with all the services you would expect for a tiny fraction of the price you would pay in any Western country.
I also loved the fact that everything is so close. From the centre of town you can walk in almost any direction and within about 15 minutes feel like you are 100 miles from civilisation. Surrounded by nature and not a car in sight, although you will probably still have to dodge the occasional scooter.
Ubud should also be on your radar if you are the type of person always on the lookout for good traditional food. Balinese dishes may look simple but to understand and appreciate the work that goes into the preparation of these dishes you should try one of the highly regarded cooking classes on offer.
The worst of Ubud.
There is little not to be liked in Ubud but if I had to find fault with anything it would centre around the tourist markets, but even that is just a victim of tourist demand.
After escaping from the commerce-fueled mayhem that is Kuta, with its aggressive stall owners with an annoying habit of putting on exaggerated Aussie accents, I was hoping for a much more laid-back attitude in the Ubud markets and a better range of traditional craft rather than a range of different colours for Bintang singlets.
But it seems the growth in tourist numbers has brought in "foreign" Indonesians to Bali and they don't seem to have the same humble and friendly presence that the locals are famous for. On the bright side, if you have only come to Ubud for the tourist markets then you are probably part of the problem and deserve the treatment you get.
Our highlight of Ubud.
Without a doubt the memory that will stay with us longest and bring smiles to our faces will be our time making our way through the rice fields around town.
Our sunrise walk was incredibly relaxing and we only made contact with a handful of other people during the 90 minutes we were out. Watching the sun come up behind the trees at the far edge of the rice fields was a wonderful experience.

But our bike tour through the rice fields, on the very same path that carried Julia Roberts in Eat, Pray, Love may just top the sunrise experience. Not because of the movie but for the seclusion and the magnificent views all the way to the volcanoes in the distance.
The rice fields are everywhere around Ubud and taking the time to explore some of their locations is a must.
Should you go to Ubud?
To be honest, as I always try to be, Ubud is not for everyone. But then again the same could be said for every place in the world. It is a little sad to see that tourist numbers are starting to swell and it is very possible that in the not-too-distant future tourism could damage the charm of this interesting place in the hills.
But it's definitely not too late to seek tranquility, centre your chakras, or see locals going about their days in the same way their families have done for generations. There is still plenty of authentic Bali to be found here, you just need to scratch through the shallow surface of tourism.
So don't bother with Ubud if you have come to Bali for beer on the beach and to fill your wardrobe with Bintang singlets and sarongs, stick to Kuta and Legian where that type of lifestyle flourishes. There is nothing here for the surf crowd or those chasing the perfect sun tan ( or sunburn more often)
Leave Ubud to the people who will appreciate the beautiful scenery, those who want to escape a busy world and find a little peace and quiet. Leave it to people who really want to delve into the local culture, understand the people, and appreciate their traditions. If Ubud is left to those travellers then it will be able to maintain its unique identity for a long time to come.
If you are the type of person that likes to immerse yourself in local culture, slow down the pace and experience a place, and appreciate how the locals live without needing to find parts that remind you of home then you should add Ubud to your next Bali itinerary.
It is a place that will live long in your memory for its friendly locals, breathtaking scenery, and mellow way of life. We loved it.