Whenever someone mentions anything about a beach in Bali you could be forgiven if you immediately thought of nothing more than a crowded Kuta or Legian, chairs and umbrellas filled with obnoxious Aussies drinking cheap beer and getting their hair braided.
And while many people find enough to like about these beaches that they return time after time, Bali has so much diversity to offer when it comes to coastal attractions. We asked some of our friends that take travel seriously to tell us about their favourite Bali beach and why you should make the effort to visit too.
We have also included a few special places on the nearby islands as well since they are easily accessible as day trips and still considered by many to be Bali.
Where are the beaches in Bali?
[put_wpgm id=3]
Bali beaches you must visit.
Legian Beach
by Allison of Flights to Fancy.
Legian Beach is sandwiched between its more famous neighbours Seminyak and Kuta but should not be overlooked by visitors to the Island of The Gods. Legian truly has something for everyone and is the focal point for many celebrations such as the Malasti Festival.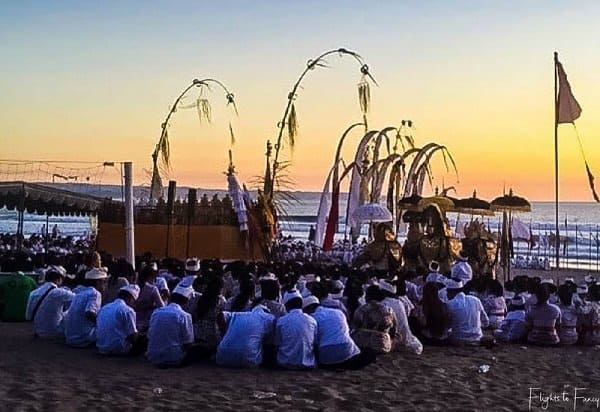 Drag yourself out of bed early, slip on your runners, and enjoy a brisk walk close to the water's edge as the sun rises. A dip in the cooling waters when your exercise is done is all the reward you need for starting the day right. Water sports abound and visitors can enjoy a surfing lesson, parasailing or jet skiing to name a few.
The best places to stay in Legian close to the beach.
While away the day on the sand catching the sun's rays and watch the little ones play in the gentle waves of the shallows. Pop back at sunset and grab a beanbag at one of the many beach bars for a front-row seat to a spectacular sunset. Make sure you order the local brew (Bintang) and ask for it icy cold. When the sun has slipped below the horizon grab dinner at one of Legian's fabulous restaurants, many of which line the beach path.
Seminyak Beach
by Dave from Jones Around the World.
While there are several beaches in the Kuta / Seminyak area of Bali that offer a similar experience, I think that Seminyak Beach is by far the best! In my experience, it tends to be less crowded and has a much more relaxed yet upscale vibe.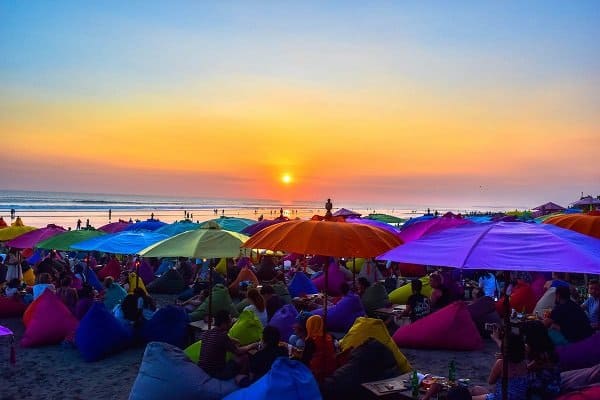 There are dozens of amazing beach bars and restaurants, and watching the sunset here every night is an absolute must! My favorite place to hang out in the evening is La Plancha Beach bar, mainly because they've got an amazing collection of colorful umbrellas, bean bag chairs, delicious drinks, and a DJ spinning fun music.
It's one of my favorite things to recommend visitors to Bali to check out! There are some really popular day clubs in the area as well, that are tons of fun! The most popular of these would be "Potato Head", and while it may be one of the more expensive options in the area – it's an awesome place to spend a day!
Canggu Beach
by Sandy from Tray Tables Away.
Canggu – affectionately known as The Gu, is a little further north along the beach from its much busier neighbour Seminyak and has a much more laid-back vibe. Home to all the cool young hipsters, baristas, and surfers it's Bali's Byron Bay and changing rapidly.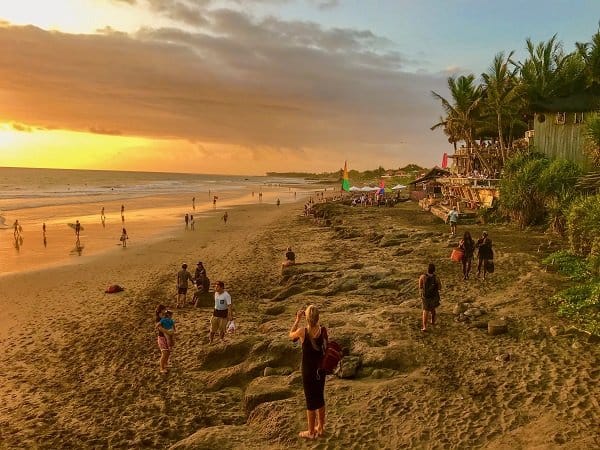 A few years ago it was mostly known for its inexpensive seafood BBQs at Echo Beach ( a much cheaper alternative to Jimbaran), budget villas, and mid-year waves but now there are many luxury villas, boutique resorts, and more vegan/gluten-free/paleo places than you will ever need.
Add to that the fairly recent addition of a couple of fantastic beach clubs with Finns and LaBrisa and some of the best sunsets on the island and its no wonder I end up there every time I visit the Island of the Gods.
Jimbaran Beach
by Kate from Rolling Along with Kids.
Jimbaran Beach is well known for its seafood restaurants. You select your fresh seafood then the chefs cook it up for you while you enjoy the sunset with your feet in the sand. This is not all to love about Jimbaran Beach.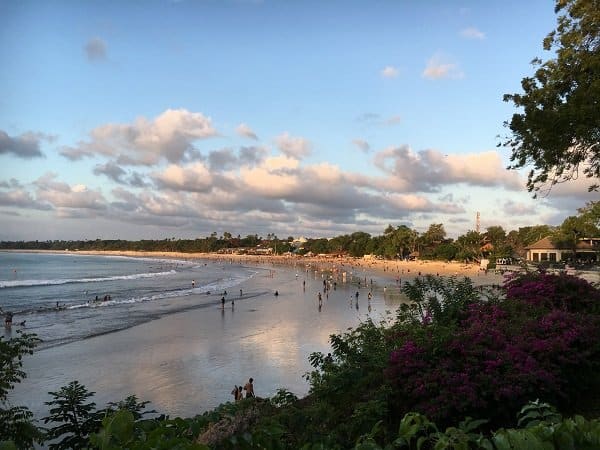 Walking along the beach in the morning when the sun is just rising and the planes are descending into Bali airport just a short distance from the beach, is one of my favourite times of the day. The locals are fishing and if you have a strong stomach, visit the seafood market is a sight of the real Bali that you will never forget.
If you have 5-star tastes you are well looked after on Jimbaran Beach. The Sundara Beach Club at the Four Seasons Resort comes with its very own infinity pool and you can pay to enjoy their facilities. If you like the simpler things in life, wander down to the beach late afternoon and order yourself a delicious corn cob and Bintang from one of the vendors. Then sit back and relax while you experience another gorgeous Bali sunset.
Padang Padang Beach
by Kathy from 50 Shades of Age.
Many years ago I travelled to Bali for the very first time with my daughter, where we stayed in Seminyak for a blissful week. However, I must confess I wasn't that impressed with the nearby beaches around Seminyak, Legian, or Kuta. I feel being an Australian living on the Gold Coast it is pretty hard to beat our gorgeous beaches.

A few days into our holiday we hired a driver for the day who took us out to Uluwatu on the Bukit Peninsula to the beautiful Padang-Padang Beach. This magical little beach is accessed down a hundred or so stairs through a cave. The beach itself is only around 100m long, but the aquamarine water and the limestone rock formations make it spectacular.
It is one of Bali's finest surfing beaches with a steady set of barrels attracting wave riders from all around the world. This is evidenced by the fact that there are a couple of surfboard rental huts right on the beach.
During our visit the surf was pumping out the back and we watched surfer after surfer take off on massive waves. We enjoyed a lovely swim in the clear aqua water – very refreshing!
Lovina Beach
bt Ariana from World of Travels with Kids.
With striking volcanic black sand beaches Lovina isn't what you would first expect from Bali. And herein lies the appeal!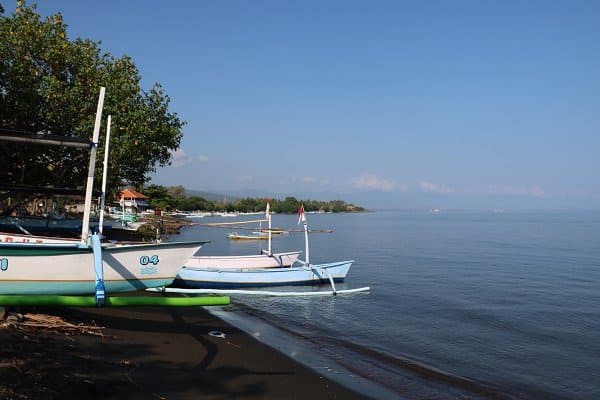 Located about 3 hour's drive North of Denpasar Lovina is less touristy than many spots in Southern Bali. The beaches themselves are dramatic and different due to the black sand, and many of the bays surrounding Lovina are filled with typical fishing boats. This feels like it might be more like typical Balinese beach life!
The locals are welcoming and things seemed pretty cheap. Lovina is most famous as a spot to take early morning boats to see the Dolphins, but also a great base for other attractions. While based in Lovina we spent a couple of days exploring historical Singaraja and also the green, hilly areas around Munduk and Bedugul which are abundant in cultural attractions and waterfalls.
Double Six Beach
by Clemens from Travellers Archive.
Double Six (66) Beach is located in the bustling heart of Seminyak – an area of Bali, that is filled with bars, restaurants, and shops. It's one of my favourite beaches since it offers relaxation, parties and good surf.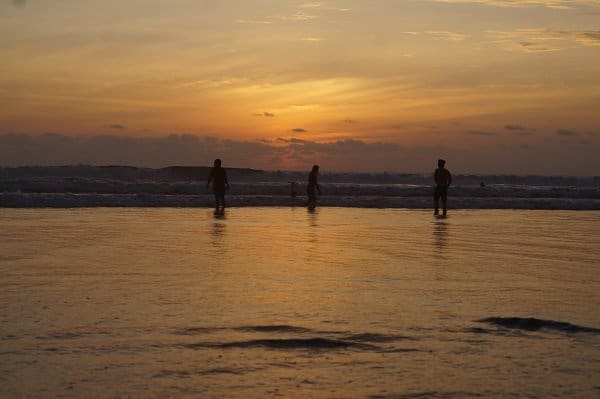 Come here for a day filled with massages from the ladies working here on the beach, a nice surf session for anyone from beginner to top professional, and an ice cold Bintang beer with one of the beach boys that sit here day by day and rent out sunchairs and surfboards. Could you ask for more?
Oh, yes. It has an amazingly picturesque sunset, believe me! If you are more of an active person, you can also go for a nice walk as Double Six has an endless stretch of sand that will get you up until the old airport. Have fun!
Sanur Beach
by Sally-Ann from Tips 4 Trips.
Sanur is located on the west coast of Bali only 16km from the Bali International Airport. It first became popular as a tourist destination in the 1960-70s. In the 1980s people turned their attention to the East and Southern coasts.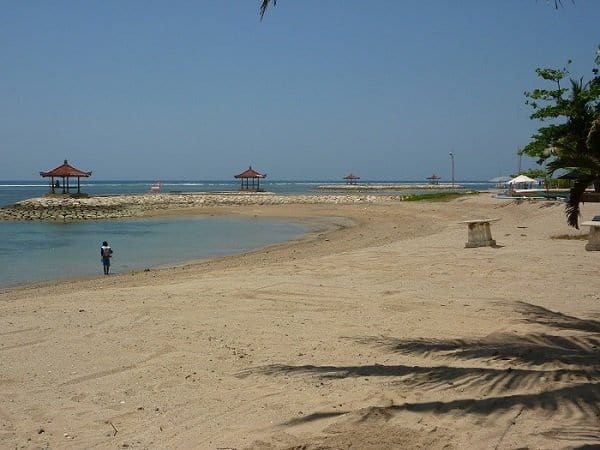 Fortunately Sanur has kept its initial charm from those days. There are no boom boxes blaring rock music and the local Balinese accept a polite no thank you as they tout their wares. The vibe in Sanur is chilled and relaxed – this is why I love Sanur.
Walking along the shaded boardwalk the white sandy beaches stretch as far as you can see. Bikes are available for hire at a minimal cost so you can explore further up and down the coast. Take the time to stop in at the local shops then treat yourself at one of the many beachside Sanur restaurants looking out over the turquoise Bali Sea.
When you're ready to explore further afield many of the Bali tourist attractions and major shopping complexes are only 30-45 minutes away. Sanur is the perfect place to base yourself for a chilled-out vacation yet be close enough to explore all that Bali has to offer.
Jemeluk Beach
by Ian and Nicky from Above Us Only Skies.
The black volcanic sand of Jemeluk's beach in Amed might not be to everyone's taste. But, under the watchful shadow of Bali's sacred volcano, Gunung Agung, it boasts one of the most stunning backdrops on the island.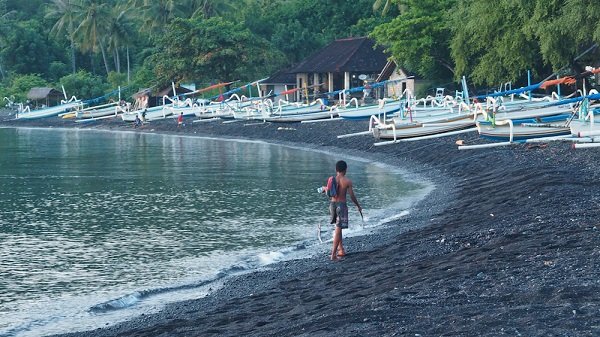 And beyond the clean, coarse sand and the rows of fishing boats that line the shore, there's a truly stunning underwater world that's accessible right off the beach.
Protected by the bay, the water is calm and clear, the variety of fish is impressive and the coral is in good shape. In fact, locals and conservation teams have installed an underwater gallery of statues that serve as a nursery for fish in an effort to regenerate the underwater ecosystem.
And then, of course, there's the sight of Gunung Agung bathed in the warm glow of another famous Bali sunset to cap off a perfect day. It might not be a sunbather's paradise, but Jemeluk Beach remains right up there as one of our absolute favourites.
Dreamland Beach
by Reasons to Visit.
Down around Uluwatu there are a number of small, secluded beaches made for great surfing and relaxing on golden sand by turquoise waters, and Dreamland is probably the biggest and the best.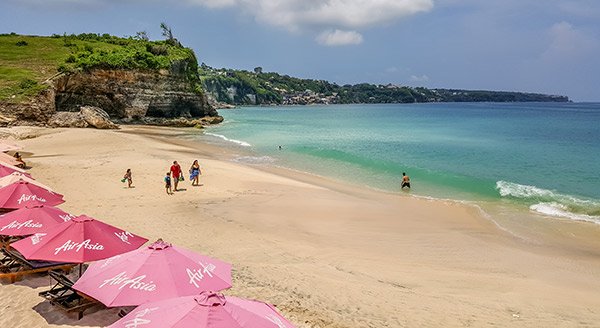 It may be off the beaten track but Dreamland has everything you could want for a great day at the beach. Trendy beach club, cheap restaurants, lounging chairs under bright umbrellas, and warm water. Did I miss anything?
Having been born and raised just a stone's throw from one of Australia's many beautiful surf beaches I understand and respect the power of the ocean. I know how and when to go over, under, or through a wave. Many tourists do not have that same level of understanding and the results, while somewhat scary to some of them, can also be quite hilarious to others.
You may find the waves break quite close to the shore here so it is important to time your entry into the water and get out beyond the breaking waves as quickly as possible. Floating over the unbroken waves and watching first-time beachgoers from around the world get bowled over like ten pins can keep you amused for hours!
Great beaches close to Bali.
Gili Nanggu
by Melissa from Thrifty Family Travels.
The most beautiful, clearest beach I have ever swum at are the gorgeous beaches on Gili Nanggu in Lombok, which is one of Bali's neighbouring islands. Getting to Lombok is easy with fast boat transfer options available.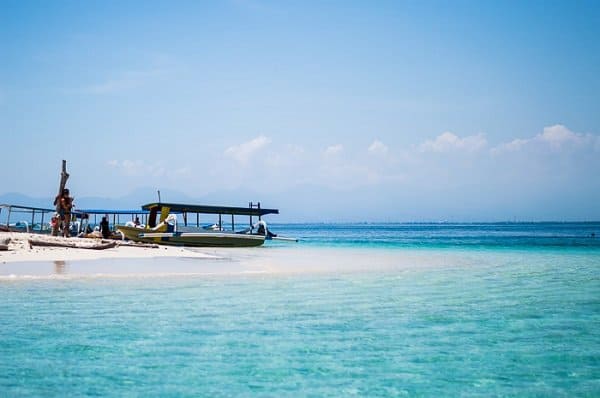 This place is an absolute paradise and the water surrounding Gili Nanggu is so clear you can see your feet even when the water is up to your shoulders. The sand is so soft, the water so warm and the fish are colourful and friendly!! We were absolutely surrounded by fish keen to come and say hi! Seriously it was like swimming in an aquarium.
Gili Nanggu is a small island off the mainland and there is only one place small place to stay on the island (Gili Nanggu Cottages), so you don't have to worry about it being overcrowded.
Tembeleng Beach
by Daniele and Elena from Cycloscope.
During our cycling trip in Bali, we made a detour to visit the magic island of Nusa Penida. The landscape in Nusa Penida is totally different from Bali, the island is very dry and there are few trees around.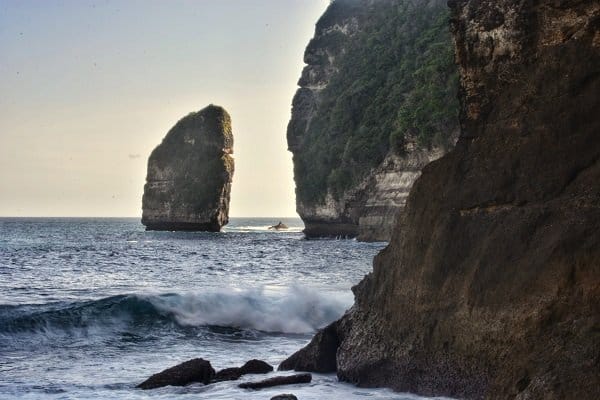 Among the few jungle areas in Nusa Penida, Tembeling is a stunning place with holy significance. From the small parking area, there's a ten-minute easy hike through a luxurious jungle, past a small temple, before you get to a fresh natural spring just a few meters away from the ocean.
There are three pools, the top one, hidden in a small cave, is a sacred pool, where bathing is not allowed but for ceremonial purposes, the water there is holy and there's a small shrine.
The second pool is the big one, about 80 square meters and 5 meters in depth. Supposedly, as the local custom, only males are allowed to swim here. But we when we saw a local couple bathing together we went for it too.
The third pool, small and shallow but still inviting, is for women. Located down by the beach it features a pretty view and a water drop that makes up for a pleasant natural massage.
The beach itself is majestic, surrounded by tall, vertical cliffs and with a limestone pinnacle standing in the middle.
Dream Beach
by Dana from Wandering Donut.
As soon as you see Dream Beach it's not hard to figure out how it got its name. With soft white sands and fluorescent blue waters calling your name from the top of the cliff, it feels like a little slice of paradise.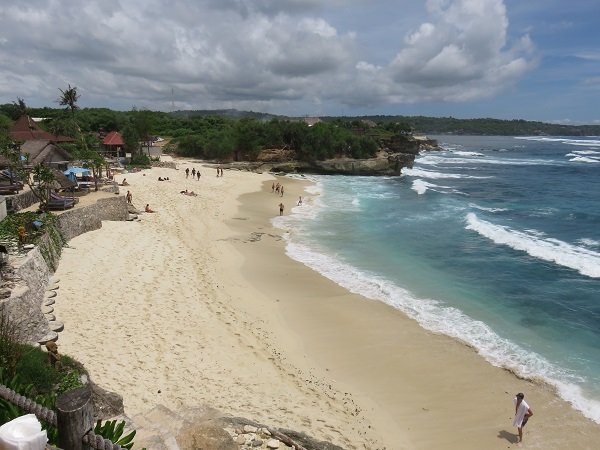 The beach is hugged by little hotels and restaurants all making the most of the pristine view. Although it is not technically in Bali, you will find Dream Beach on the little island of Nusa Lembongan a 30-minute ferry ride from Sanur.
The Nusa Islands remain relatively untouched by tourism in comparison to the mainland so you are very likely to have, or at least almost have, the beach to yourself. However, you may notice from Instagram alone that the Nusas are becoming increasingly popular.
Be warned that once to twice a day you will get busloads of tourists flocking to this one small beach as part of group island tours. This may seem annoying to some but it can be extremely entertaining to watch especially if a giant wave crashes into that very large group of tourists as they all try to get their perfect Insta shot.
It also means that staying for a night or more gives you plenty of time to avoid those tourist crowds, and it's a beautiful place so that's a bonus.
… and so many more.
We have barely scratched the surface when it comes to discovering amazing parts of the Bali coast and its neighbours. If you are now asking is Bali worth visiting then we have plenty of opinions to help you decide.
If you have a favourite Bali and beyond beach that we have left off this list let us know in the comments. Maybe we will have to make a bigger list next time.