A history to rival any destination, diverse architecture, warm and welcoming locals, vibrant personality, and a food culture that is so good it is World Heritage listed.
And the best place to experience every aspect of Mexican life is Oaxaca.
Find out our reasons to visit Oaxaca, and why it represents the best that Mexico has to offer. And why you should make the effort to visit.
Where is it?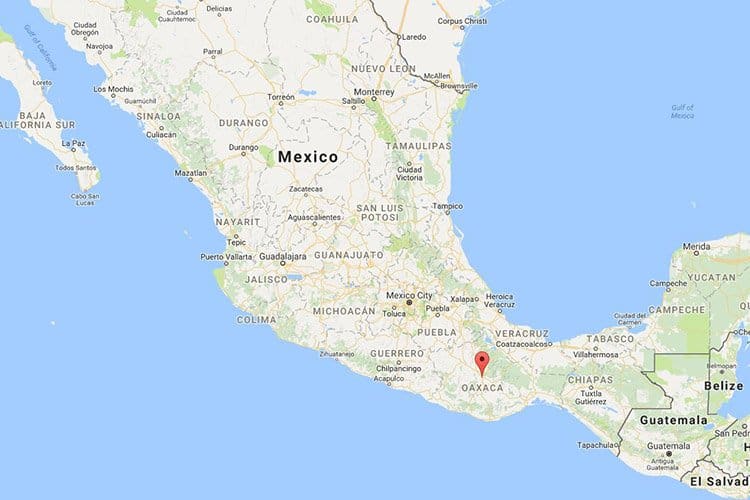 Why would you go?
If you have always wondered what it would be like to go to Mexico, or even if you have been to the more touristy areas like Cabo or Cancun and wanted a more authentic experience, then there is no better place than Oaxaca.
Laid back, colourful, historic, and friendly, and with no shortage of amazing food to keep your strength up for all the walking you will want to do. Oaxaca combines the best of Mexico in one small package.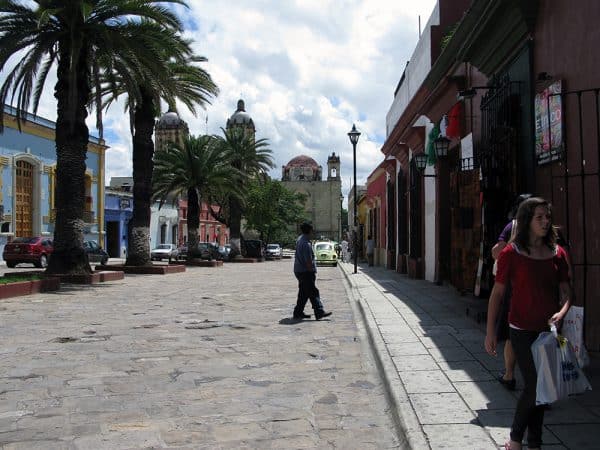 How much time do you need there?
El Centro, the main area of the town is built around a tree-studded park or Zocalo and is filled with churches, markets, restaurants, and eye-catching colourful buildings lining cobblestone streets.
You could "do" this area in a couple of days or you could get into the local vibe and want to stay a week or more.
You will need more time than just enough to experience this part of town or risk missing out on some incredible experiences not to be had in many places around the world.
A day should be spent at the suitably impressive Monte Alban ruins. They spent many years leveling the top of a mountain before commencing the building of this once-great city.
Another day or two is barely enough to experience the outer villages. Home of some world-famous artisans honing their craft and creating most of the souvenirs Mexico is best known for. Pottery, textiles, clay statues and ornaments, and my favourites, the colourful wooden alebrijes are all created here. With entire villages devoted to the manufacture of a single type of product.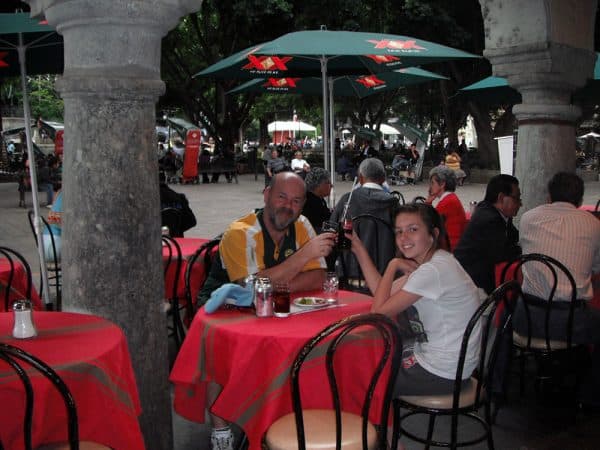 How do you get there?
Most people would utilise the local airport with flights arriving regularly from many destinations but in particular from Mexico City.
We chose a local bus line to take us from Mexico City so we could better get a feel for the everyday life of the locals. It is a trip of about six hours and not only cheap, but some beautiful scenery is to be witnessed during the trip.
The town centre is close to the airport and the bus terminal right in town. Taxis are available and reasonably priced but only really needed for arrival and departure as Oaxaca is a perfect town for walking once you have settled in.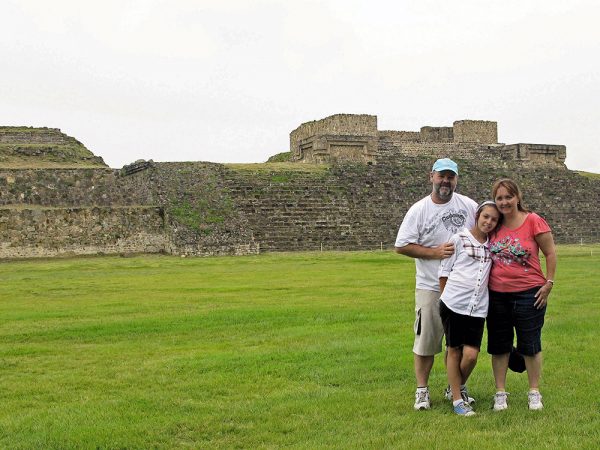 What are the "highlights"?
Mexico is famous for many things and most of them are available in Oaxaca. It's like Mexico's Greatest Hits (but not in a cartel kind of way, we are safe here and a long way from the crime in the north)
Many people would leave totally fulfilled by wandering the Centro area for a few days and chilling around the Zocalo. I say you really need to experience the whole package. You came a long way so why not do it properly?
Four things that we will never forget are:
The ruins of Monte Alban – not only are you able to get a sense of the grandeur this ancient city once commanded but the incredible story that becomes obvious on arrival of the magnitude of the leveling of the mountain top.
Not as famous as some of the other ancient cities like Chichen Itza but we can assure you it is every bit as breathtaking as any of them.
The Cathedral – may have been built by the Spanish but bears little internal resemblance to the great churches of Europe.
While not as large as its continental cousins the Cathedral of Our Lady of the Assumption has a ceiling that has to be seen in person to truly grasp its beauty.
Being surrounded by cobblestone streets and colourful buildings just adds to the unique charm.
The Artisan Villages – not only will you watch world-class craftsmen plying their trade and have a chance to purchase quality souvenirs at a fraction of the usual price, in many villages you will be given the opportunity for hands-on demonstrations.
There is nothing quite like bringing home a traditional Mexican souvenir you helped produce.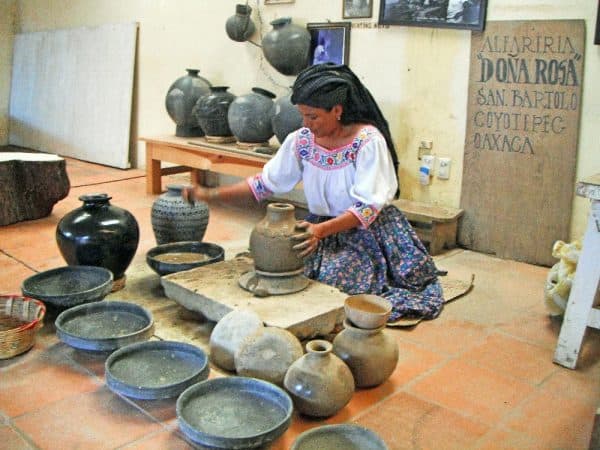 Cooking Class and the food – Mexican cuisine is one of the very few regarded as UNESCO Intangible Cultural Heritage of Humanity. So when in Mexico, eat local and authentic.
We took a cooking class at La Casa de los Sabores with world-renowned chef Pilar Cabrera and it was one of the top foodie experiences of our lives. From shopping at the local market, through prep, and then sharing a meal and finishing with Mezcal tastings.
A food tour or cooking class should be at the top of the list.
What can you eat?
Well… Mexican food. And I don't mean those piles of meat covered in weird, flourescent cheesy stuff they pass off in the States, I mean real Mexican food.
Mexicans cook with chili but that doesn't necessarily mean it's spicy. Unlike many of the Asian countries that use chili for the heat factor, in Mexico it is all about flavour. You can ask for it mild but don't ask for no chili, the dish would lose so much.
Oaxaca is also highly regarded on the world stage for chocolate. So much so they have devoted an entire street to it where you will find manufacturers, growers, chocolate shops, and hot chocolate vendors. How does that sound?
We also developed a taste for Paletas. Delicious blocks of frozen fruit and juice on a stick. So many flavours and so delicious, although you may find some strange combinations that could take some getting used to.
Finally one for the brave. Chupalines, more commonly called grasshoppers, are a common sight in the markets and on the menus across the city. Most commonly you will find ladies carrying basket loads of them, fried in lime and chili to a crunchy texture and sold like potato crisps. I tried them… not bad but I won't be rushing back for more.
I might try them on a taco next time though, hidden in a tortilla I can then claim what I can't see can't hurt me.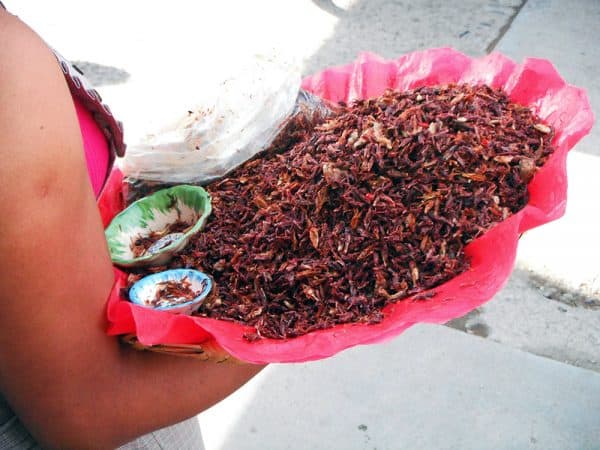 Where should you stay?
Anywhere around the Centro area is ideal as a base to explore and there are plenty of colourful, quality hotel choices that are amazing value for money.
We stayed in a small B&B a little further out of town and it was lovely but when we return we will stay closer to the centre of town purely for convenience.
How is the walkability?
Many of the streets around the Zocalo are blocked to traffic or at least limited which makes for a perfect walking adventure. The town centre is also quite level so the only challenge is navigating the cobbled streets.
There is a lot to see and do on a comfortable day of wandering. From vibrant and active markets to world-class but cheap restaurants, from parks and fountains to colourful buildings and stunning churches.
Further afield the Monte Alban site is quite level once you take a bus to the top of the mountain and the outlying artisan villages are generally all on very flat land.
It is a place where you will walk all day without realising how far you have travelled. There is so much to see, smell, taste, and do that time will fly by.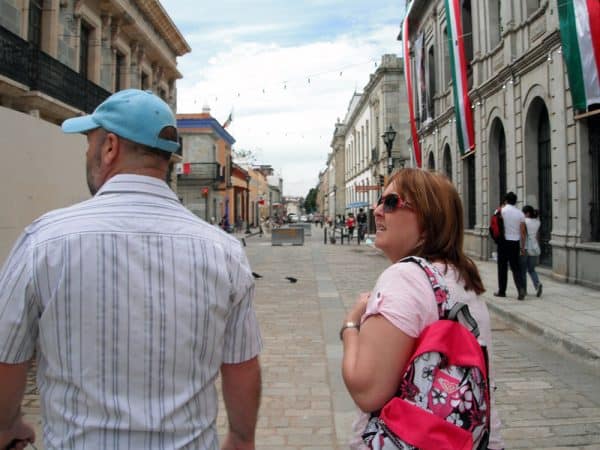 It's just our opinion.
Mexico gets an undeserved bad wrap in the media. Don't get me wrong… if you decide to travel through the drug and people smuggling regions along the USA border then you could be taking your life in your own hands.
But move further South and Mexico is one of the truly amazing experiences on Earth. It has everything you could want with historically significant sites, world-class food, a colourful culture, and family-focused, friendly locals.
And if you want the best of Mexico in one small package then Oaxaca is the place to go.
Have you been to Mexico, or are you a bit wary? Join the conversation and leave a comment. Please share this post if you enjoyed it.