Unlike Pauline, I have lived almost my entire life in the same part of Australia, in various suburbs of Newcastle, near a beach.
This is an area built on the sweat and blue-collar toil of coal miners and steel workers, but it slowly working on life after the death, or serious injury, of those industries.
I grew up in a suburb called Dudley, which is technically in Lake Macquarie City but we still say we come from Newcastle. When we moved there in the mid 1960's it was considered the outskirts of town. Dirt roads, a few houses, a Primary School, a single officer Police station, a corner store, and two Pubs pretty much covered it. Now it is considered a somewhat upmarket beachside suburb hosting quite a few million-dollar-plus houses.
The one constant is the fantastic beach. I was never a surfer like most of my childhood friends but Dudley Beach offers so much more than just great waves and golden sand.

The beach itself is unpatrolled, which means if you can't swim well or don't respect the ocean then there are no lifesavers to come to your rescue. The flipside is that the crowds stay away so you will certainly be able to find a nice chunk of sand for yourself.
I mentioned earlier that Newcastle was a coal town, well, I recently learned that Dudley Beach was the site of the first discovery of coal in Australia in 1791 and in more recent times local mine tunnels extended under the beach and then up to a mile under the sea.

For me, the most interesting thing about the beach, and the part that captured much of my time as a kid, is the rock platform at the Southern end of the beach. Formed by volcanic action around 250 million years ago, the rock platform is quite incredible.
Here you will find a number of small rock pools which, depending on the tides, can be home to a myriad of sea life. There are also the remains of a petrified forest and a difficult to get to, but very worthwhile tessellated pavement.

While there are bigger and better blowholes carved into the rocks in other parts of Australia's coast, the blowhole at Dudley can still manage to throw up some WOW moments if you catch it with the right tide and swell conditions. I have experienced it when the water was being propelled a good 10 metres (30 feet) into the air.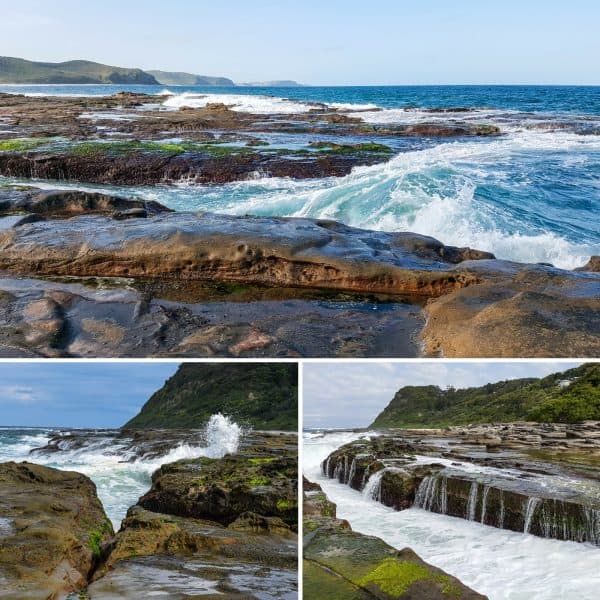 While the meeting of lava and ocean is quite a spectacle in Hawaii, Dudley Beach shows what happens to that scenario after many millions of years of erosion from the pounding ocean, salt, and the influence of man.
You can spend hours looking over the rocks shelf and wondering how nature can create such seemingly precise lines and shapes. It seems anything but random.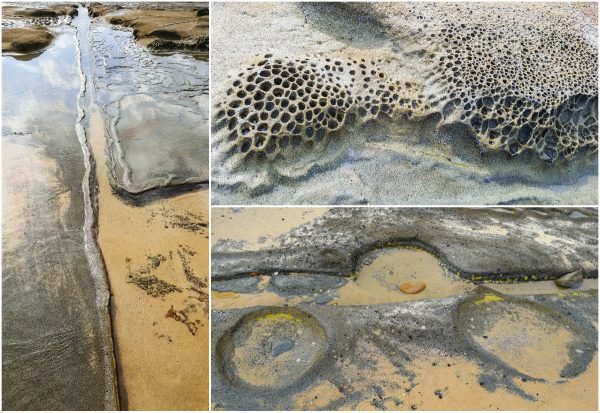 Moving further south a few hundred metres you come to a spot we called Shell Beach as kids. So-called because of the thousands of shells and small, smooth rocks washed ashore when the tide is high and the waves are pounding.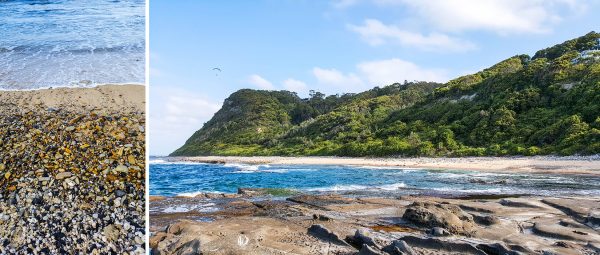 Shell Beach is more protected from strong currents than the main beach as it lies between two rocky outcrops which act as a natural breakwall.

I had forgotten how much I use to love this place and am excited that my daughter, wife, and dog have now found the same excitement in visiting. We tend to make it the first place to take visitors when they come to see us. Maybe that's just an excuse for me to keep going back though.