We spent a couple of weeks seeing some of the most amazing parts of Peru on an Amazon and Inca Adventure. We prefer to visit new places as part of a self-guided road trip but there are some parts of the world we feel it is better to let someone else have control.
You can read more about of full South American adventure that included this amazing opportunity to stay in a Peruvian Amazon lodge that is owned and operated by the local tribe.
After flying from Lima to Puerto Maldonado we headed out on the Tambopata River for a three-night stay in a jungle eco-lodge. It was an experience I never really thought about having but one that will definitely stay with me forever.
The scenery was as unspoiled as you would expect in a place well off the busy Peruvian tourist path with wildlife plentiful and varied. From a photographic standpoint, the only disappointment was that almost none of my wildlife images are good enough to add to this gallery as they were all taken from a moving boat or with the long zoom of our point-and-shoot camera without a tripod.
That being said there are still enough shots to create a reasonably sized gallery. Please take a minute to look through these images and get a feel for what it is like to visit a Peruvian Amazon Lodge. We would love for you to post a comment or leave some feedback.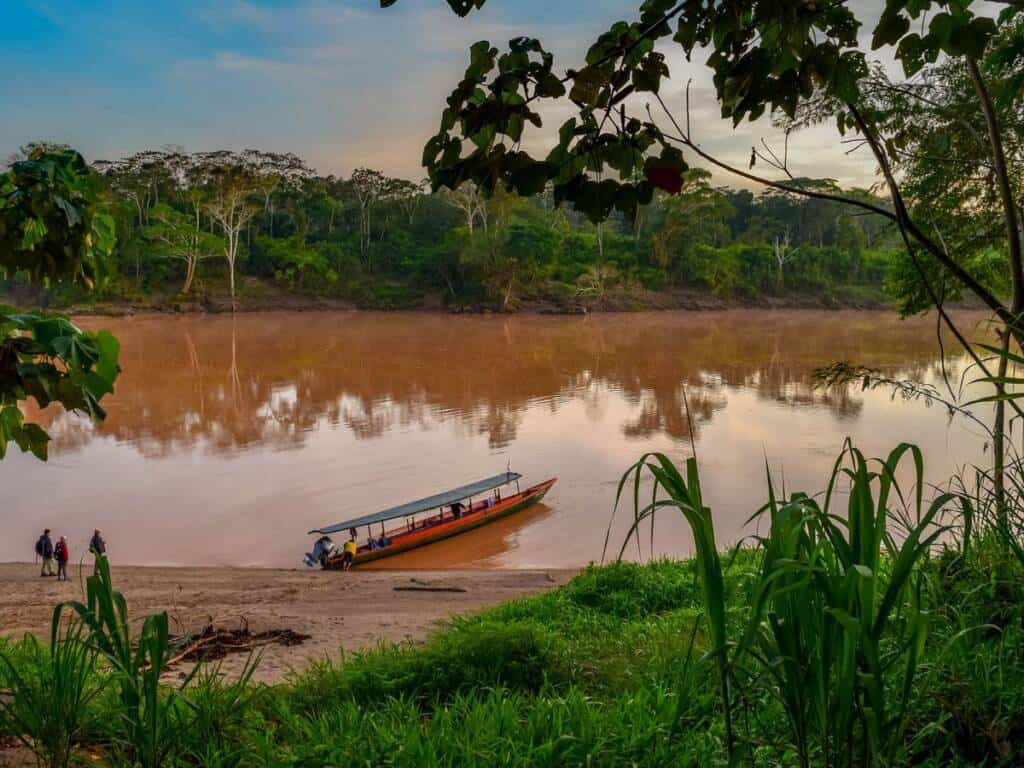 In most cities, brown rivers are a good indicator that you should keep out of the water, but in the jungle, it just looks like something from Willy Wonka's Chocolate Factory. Although having caiman frequenting the area probably makes it a good idea to stay out of this water as well.
The colour comes from the pigment in the clay that lines the riverbanks, and while it may look dirty to many people, I loved the extra colour to create the amazing palette of brown water, green jungle, and blue skies.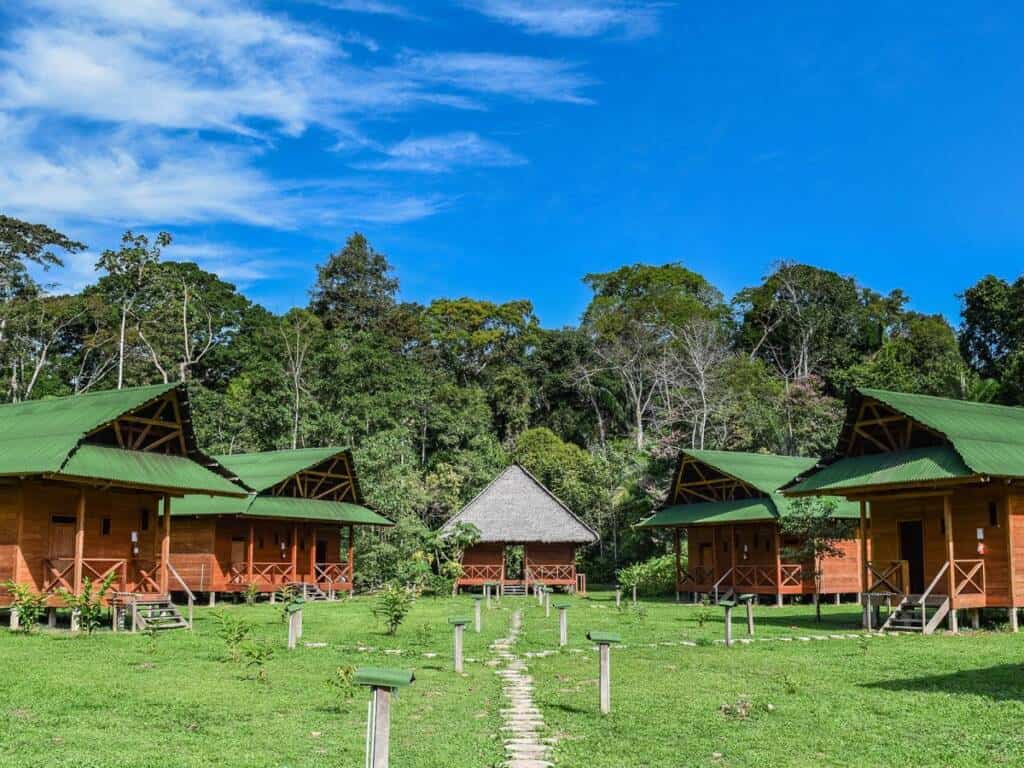 Jungle luxury, although the cabins are built with only three walls and an opening to the jungle where a fourth should be. It gives you glamping feel to your stay, but sleep may be difficult for some people with those scary wild animal noises all night! Absolutely perfect for this experience.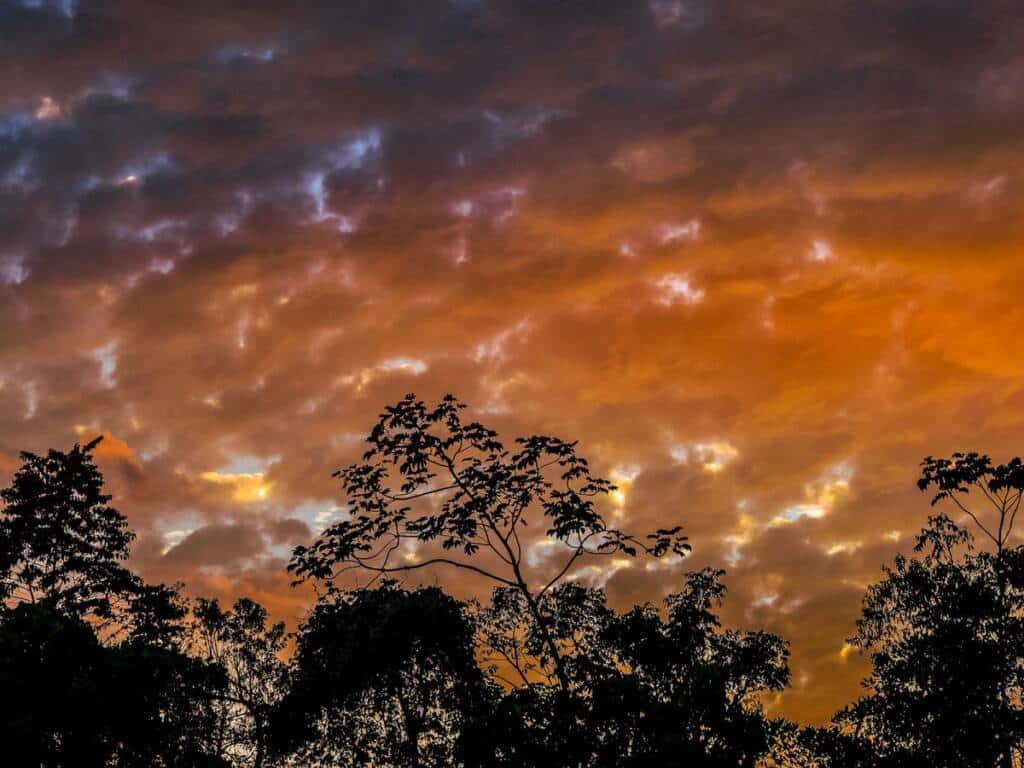 A little bit of rain, it is a rainforest after all, and a few clouds hanging around do nothing to ruin this once-in-a-lifetime experience. One thing that seemed to be proven day after day was, jungle sunsets never disappoint.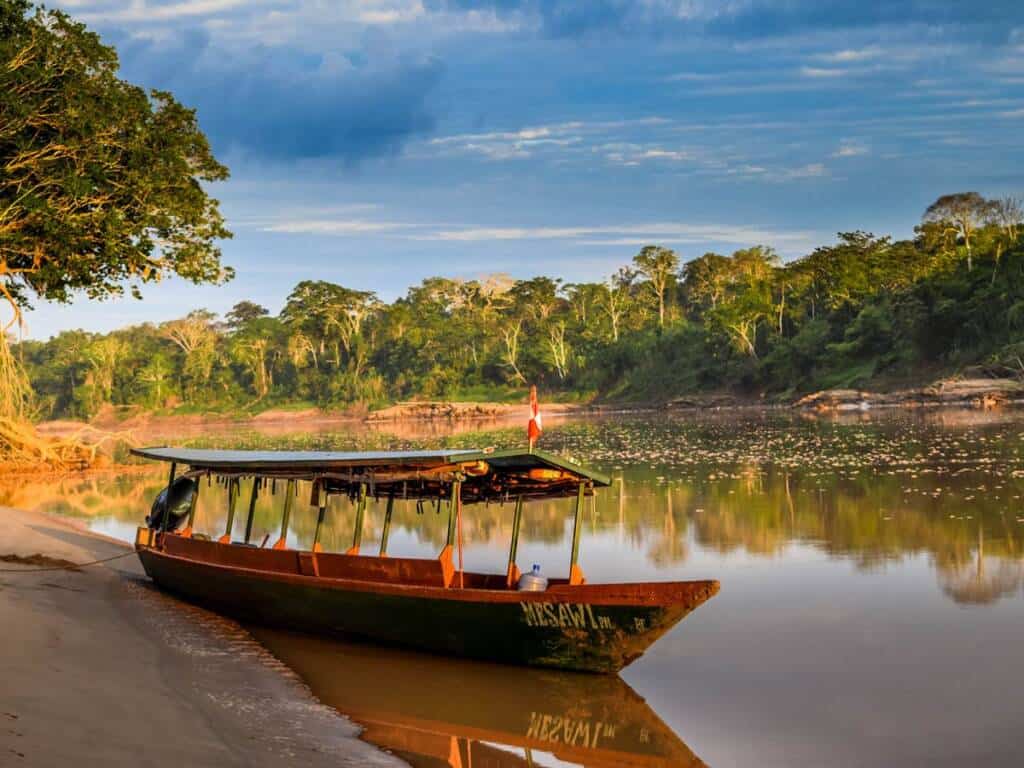 I would often be up early in the mornings, roused by the booming calls of the local howler monkeys, exploring the area around the Lodge before the rest of the group, and found it to be such a peaceful way to start each day. I especially liked to wander the river's edge before heading off on another day of adventure, but keeping an eye open for any caiman that get too inquisitive.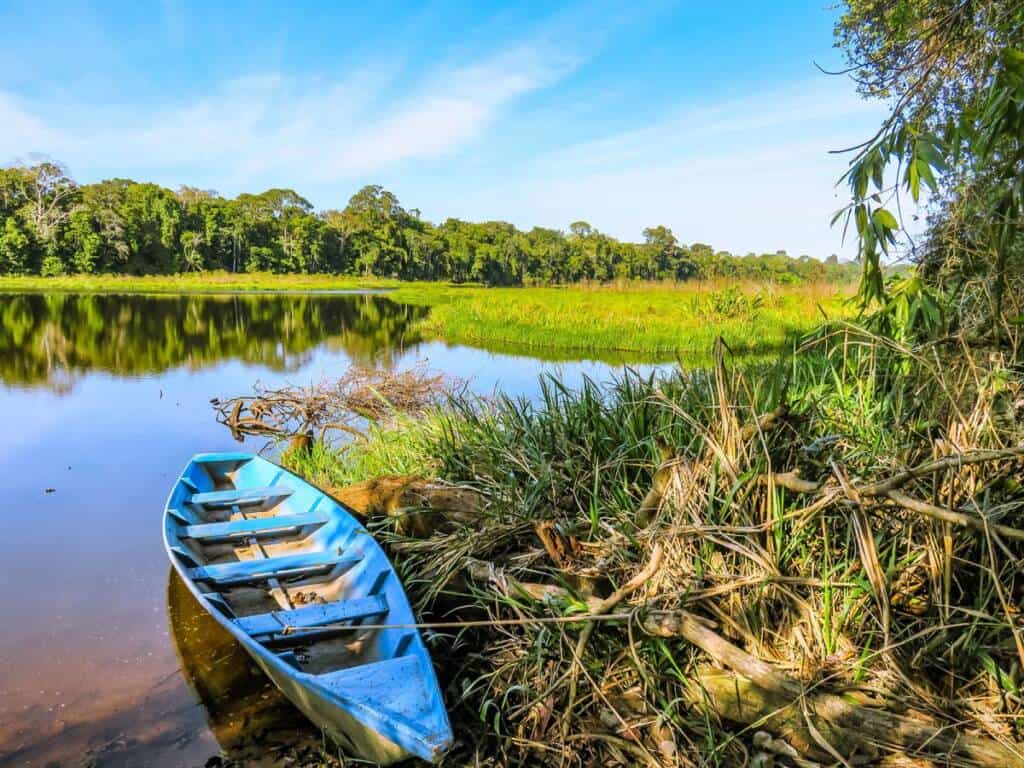 After a short jungle trek from the river's edge, you are met with the sight of a magnificent lake, hidden from those who only cruise the river. Except for the handful of small boats used by the locals for fishing the lake seems like an oasis in the middle of an immense jungle. On closer inspection you find the lake to be home to a playful family of otters as well as a healthy number of piranhas.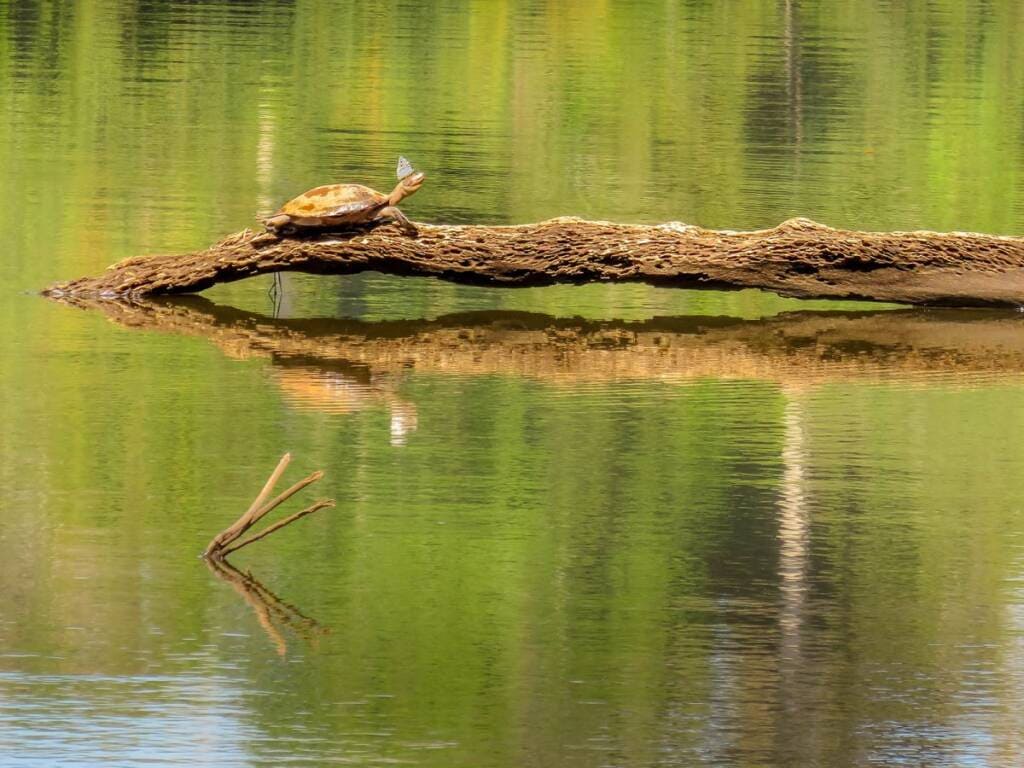 While I was scanning the lake admiring the stunning reflections on the water I noticed part of a fallen tree sticking out of the water at one end of the lake. After zooming in I noticed the strange-looking tortoise wearing a butterfly for a hat. And he seems particularly proud of his fancy attire!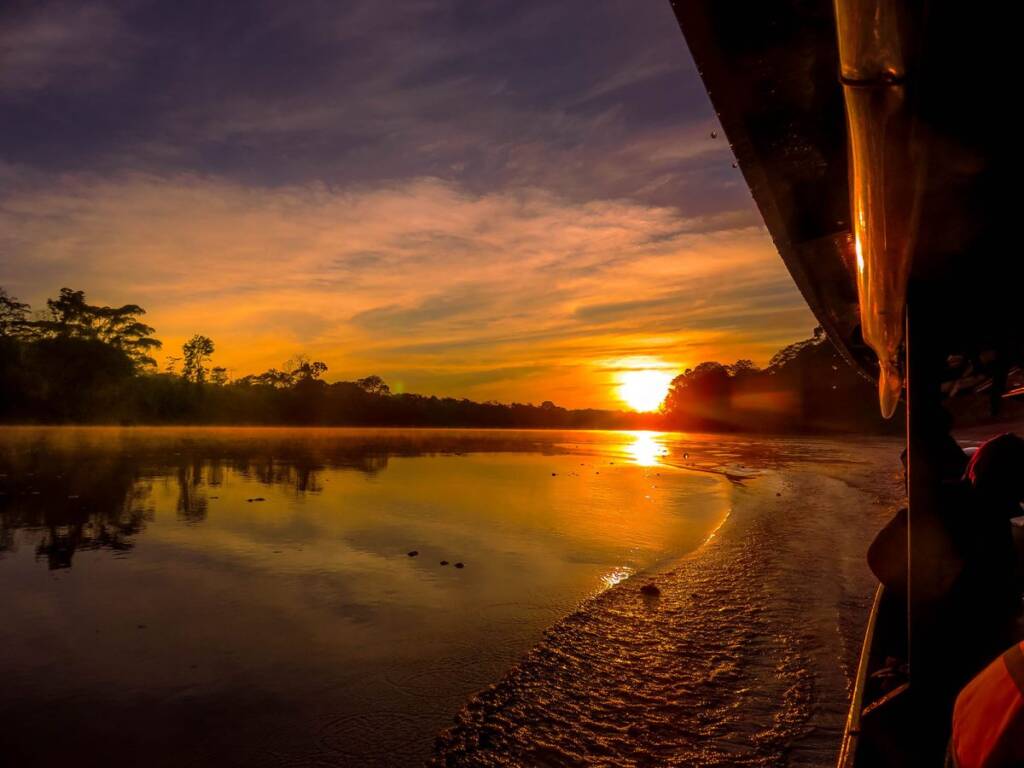 Sunset over the Tambopata River was always the perfect time to be on a boat. The sun created the most amazing colours in the clouds and the reflection on the chocolate-brown water makes a truly astonishing image.